Do you love Spiderman? Do you also love skateboarding? You are in luck if you answered yes to both of those questions. I love both and am ecstatic to share the sweet, spidey decks and complete skateboards I've found for you. I hope to share something for all age groups because, let's face it, even if we are old now, we are still kids at heart. It's just our joints and bones that might not agree! 
I have searched high and low on the great plains of the internet to bring you the following list of the finest and best quality Spider-man skateboards you could ever want. It's just in time for the holidays and for blowing that money that grandma gives you for the holidays every year. But, even if the holidays aren't your thing, there's never been a better time than right now to get your funky spidey on with one of these magnificent skateboards.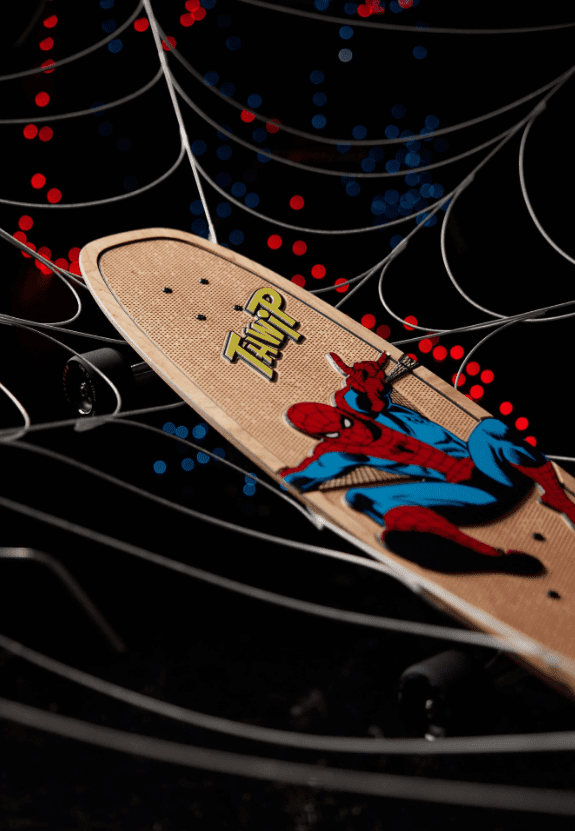 Bottom Line Upfront
Here it is; the article's short and sweet for those who want to cut to the chase and avoid my long-winded explanation of each and every board out there. If you want to know what my top Spider-Man inspired skateboard is, look no further!
The winner in adult skateboards is the Bear Walker Official Spider-Man 2099 Limited Edition Deck with Optional Equipment.
The winner in kids' skateboards is the Ultimate Spider-Man Kid's Cruiser Exodus Longboard Company.  
My Search Criteria 
Anybody could write about Spiderman skateboards, but wouldn't you so much rather read about the absolute best out there from the words of someone who loves Spiderman and skateboarding? So let's first look at what makes these skateboards the best and what criteria I follow when making these tough choices.
I choose boards that really stand out to me.

I select skateboards for everyone, from kids to adults.

I will only ever include a Spider-Man skateboard that is high ranking in terms of visual quality. 

I like to include different eras of Spider-Man in my board selection.

I add brand new Spiderman skateboards for every budget. If you want to check out pre-owned skateboards, check eBay, Mercari, and other fine reseller sites. 

I add an array of color schemes for everyone. 

I will only list Spiderman skateboards that are currently available for purchase. I completely understand the frustration one faces when searching for the merch you absolutely cannot live without, only to find that it no longer exists on any platform. Que the sad violin music. 

Whenever possible, I like to name small shops and local places to purchase these skateboards through. Supporting grassroots operations is always important. 

I will never include cheesy, poorly-made skateboards.

Spiderman has undergone numerous transformations in his career, and I want to capture that in my skateboard selection.

Top Three Contenders
I am only focusing on the top three contenders out of the best Spider-Man inspired skateboards. This is not to say that the other boards listed here are less than quality. But keep in mind that they are still in the top picks category or wouldn't have made it onto this list. 
This skateboard is my all-around winner in every category. You can purchase just the deck, or you can buy trucks and wheels along with the deck. They even have an optional wall mount you can buy. Since this is a limited edition skateboard, it makes it more special as if it needed any help. If you leave the optional note for the seller asking to call before building, they can guide you through what trucks and wheels they intend to use. You may be able to modify it to your expectations.
2. Ultimate Spider-Man Kid's Cruiser Exodus Longboard Company
This is a great kid's skateboard. It's well-built, wooden, and has steel axles, which is very important. The trucks are composite, so your guess is as good as mine. This is an actual skate shop, not a chain superstore, so it's safe to say you will be met with stellar customer service and quality. Make sure your small skater has the appropriate safety gear. I have linked the helmet I purchased for my small rider in the conclusion section of the article. They are also available in adult sizes—hint, hint, wink.
3. Spider-Man Ghost Board Clear Longboard
What makes this board even more special than it already is, is that you can design the entire thing yourself. Once on their site, you will be prompted to choose a board shape. From there, you will get the option of all the parts and accessories available. This could take you some time to decide if you're a bit like me. So many choices and so many excellent choices can certainly be confusing and overwhelming.
There is no better way to ensure you have the board you want than to have a say in the build itself. As a skater, everyone needs to know how to change out parts on their board. That means having the correct tools, which this skate shop can include with your purchase. Why not go all out and buy a backup pair of bearing and a set of wheels?
Best Spider-Man Inspired Skateboards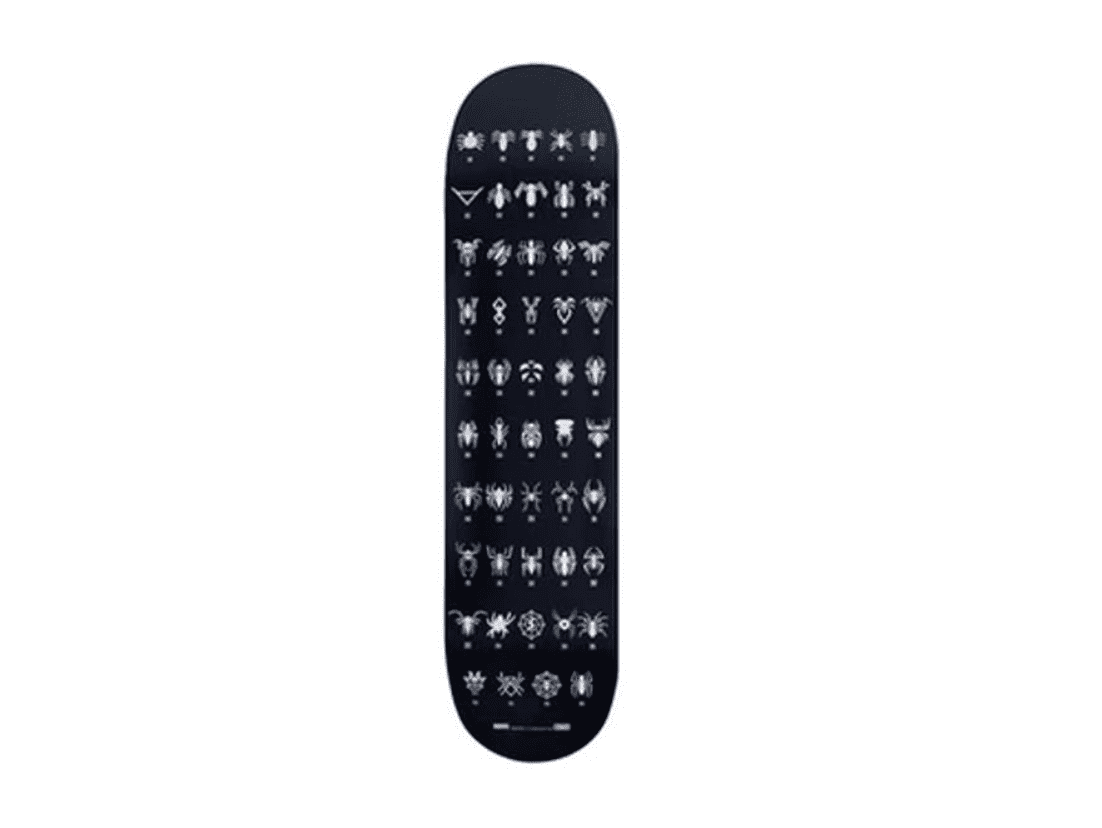 The upper side of the deck looks like white and cream-swirled marble. The reverse side shows rows upon rows of spiders. These cute arachnids have all been the spider icons used in Spider-Man movies and comics since day one. It's definitely attractive, and the older, more serious crowd will really appreciate this board.
A nice thing about only buying the skateboard deck is that you can pick your favorites when it comes to accessories. Nobody ever said you couldn't have spider wheels to go with your Spider-Man board.
Dimensions: 8 x 31.75 inches
Materials: wood
Weight Limit: standard adult sized
Pros
This is a really original-looking deck. Whether you love Spider-Man or really love spiders, this is the one you want. I love both, so I think this will sneak onto my holiday shopping list.

I like that this listing is only for the deck. You can dress it up however you'd like. Rainbow wheels would be impressive. 
Cons
Scratches will show too well on the black deck, but are you even a skater if you don't have the top layer of paint shaved off your skateboard? 

The top deck will be covered in grip tape so that you won't see much of that cool marble/wood design. 

This deck is challenging to find, and when you do find it, you may be a little sad at the sight of the price tag. Hint, hint, the holidays are here.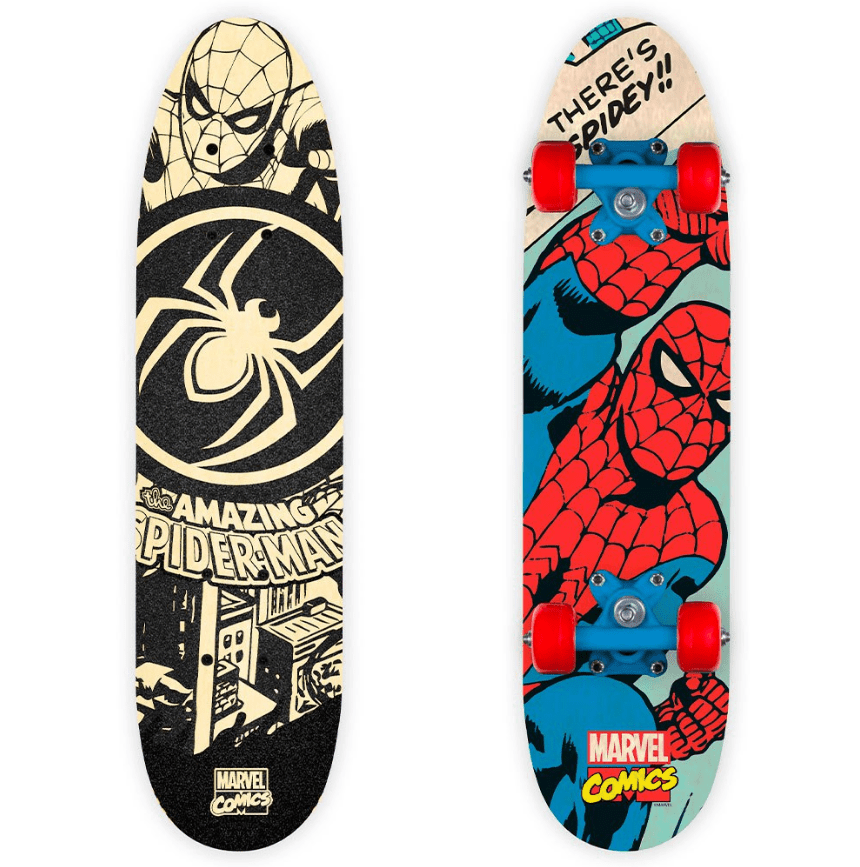 This colorful skateboard deck and blue wheels stand out. This board is for the smaller and younger riders out there since the weight limit is 50 kilograms/110 pounds. It is also a bit shorter for the more petite frame and legs it will be carrying. It's an official Marvel skateboard which is also cool. Kids are sure to love the comic-themed skateboard just as much as their parents will. What's even better is that the comic-style graphics are one both sides of the deck. It's definitely a throwback to a long-ago Spider-Man.
Released: Unknown
Dimensions: 8 x 24 inches
Materials: nine ply maple wood
Weight Limit: 110 pounds/50 kilogram
Pros
This kids' skateboard has a nonstick upper surface, so no grip tape is needed.

Both sides of the deck have Spider-Man graphics, and neither disappoints. 

The little red wheels are adorable. 
Cons
This is for small people and kids, not their adult parents.

No information is given about the anatomy of the skateboard. Proceed with caution and consider a 

better set

 of bearings.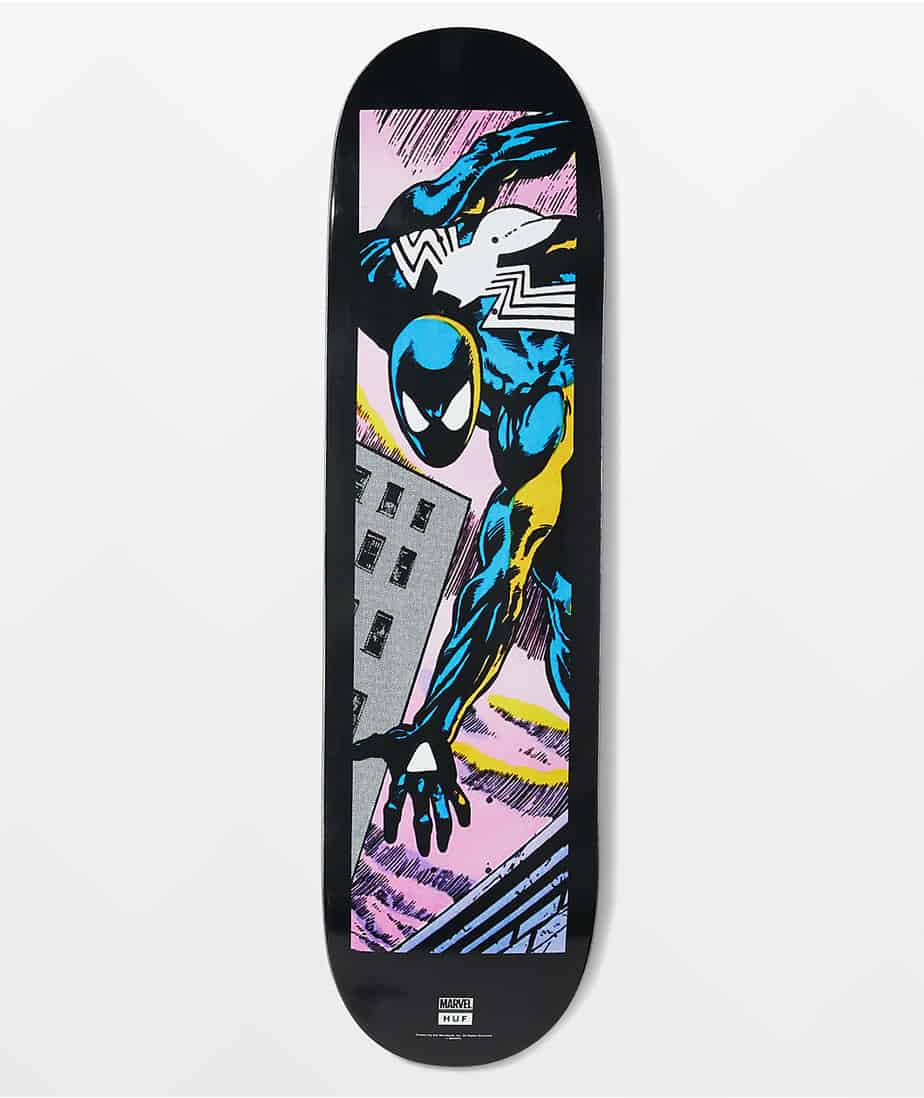 This board is an all-around winner. The top and bottom of this deck are colorful and represent a slightly darker side of Spider-Man. The graphics on the bottom look like they were torn out of an old comic book. This skateboard deck will surely appear to both newer and older fans alike. The graphics of Spider-Man go along with the Darkslide theme and show a relentless superhero thirsty for revenge. 
Dimensions: 8.25 x 31.875 inches
Materials: seven-ply maple wood
Weight Limit: standard adult-sized
Pros
This is a slightly longer and slightly wider board.

You can accessorize your board at the same time as you purchase the deck. 

You will have plenty of grip tape options.

Official HUF and Marvel's Spider-Man collaboration.
Cons
It might be challenging to find one if you don't hurry.

The white logo on the top will get scuffed up quickly unless you opt for clear grip tape to protect it and still be able to see the icon.

This is only the deck. You still need to purchase trucks, grip tape, wheels, and bearings.

Not the best design I've seen as far as Spider-Man decks go.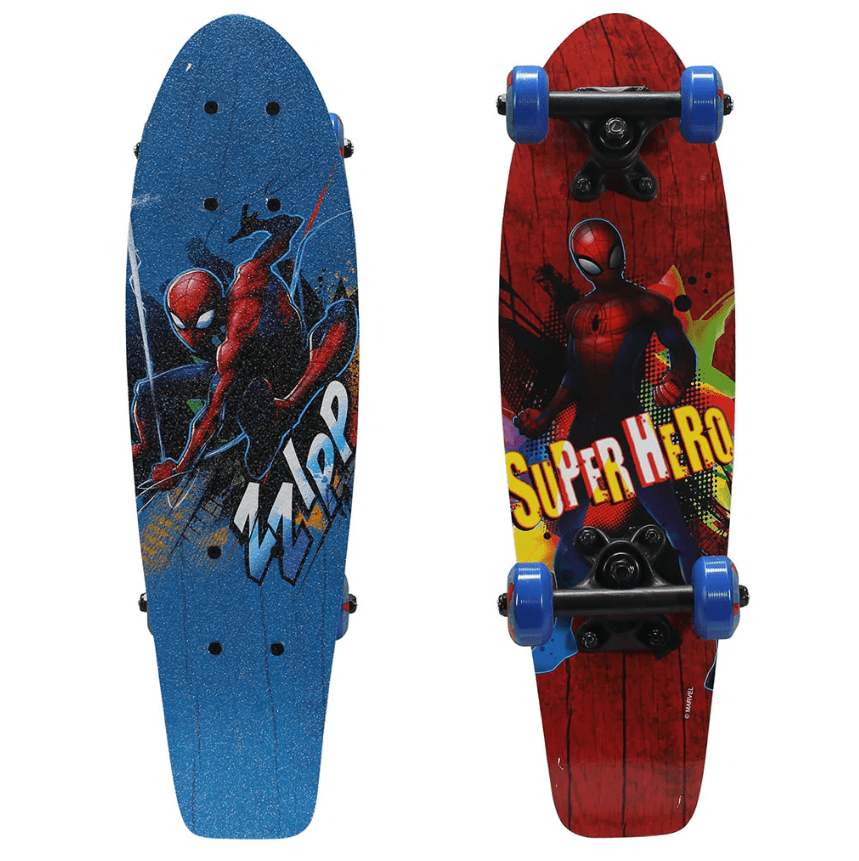 This board would make an excellent gift for those kiddie newbies in your life. The deck is super cute and is suitable for up to 100 pounds. The age requirement is three years old and up. You can start your little one off skating now, and by the time they are ¼ your age, they will be pulling out some wicked stunts while you complain about knee pain. This board could pass for a small child's longboard. It is shaped perfectly for it.
Dimensions: 6 x 21 inches
Materials: nine-ply maple wood
Weight Limit: up to 100 pounds
Age: 3+ years and up
Pros
The longboard street-style shape is perfect for little unsure feet.

The extra cushiony blue wheels help keep those feet steady over bumps.

This youth skateboard is made by a rock-solid trustworthy company and is backed by many parents.

The skateboard is complete, which means no buying parts and putting the board together.

This board has a single kicktail design, which is safer for those new skaters.
Cons
The bottom side of the deck looks too dark to me. 

The top of the board's graphics looks a little off to me. Spiderman is shooting his web, but it looks like he only has three fingers, and his body is twisted at an unnatural angle.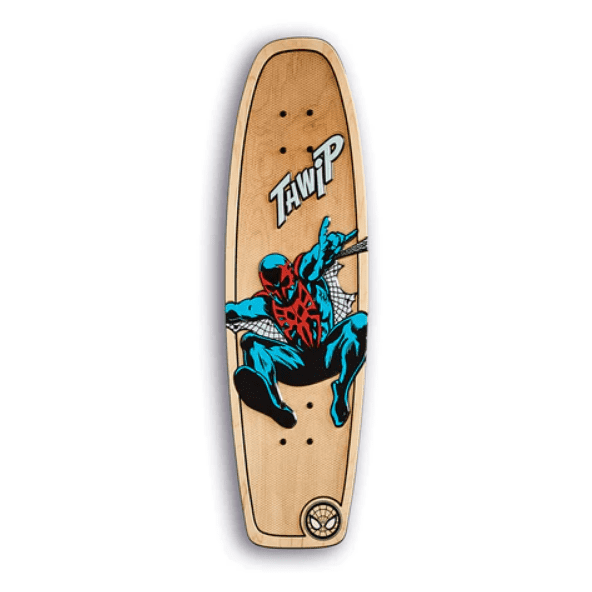 This artsy board is an immaculate design, and it's also a limited edition of 250 decks. You can purchase just the deck or accessorize it while you make your deck purchase. The custom artwork on this board is by Rupert Gruber. The creation of the deck comes from old-school woodworking techniques and is not shot out fast by a machine. This deck is pure art.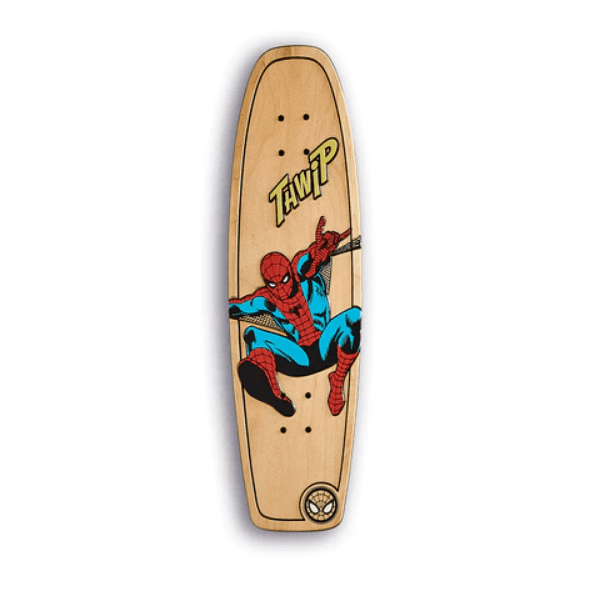 Also, You can choose from four different Spider-Man designs created by Gruber. Not one of those boards disappoints. There is a Peter Parker board, a Miles Morales board, a Ghost-Spider board, and a Venom board. You might as well buy one of each.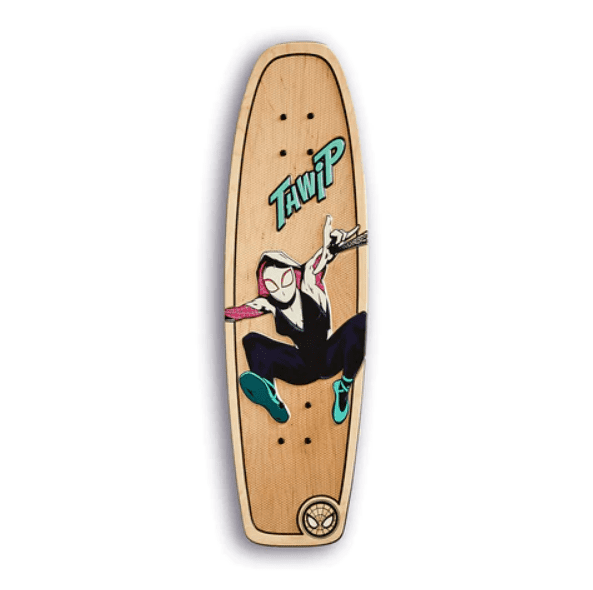 Dimensions: 8.75 x 30 inches
Materials: hand tooled natural wood
Weight Limit: standard sized

Pros
This board is a genuinely excellent board in every way. The smooth finish on the hand-tooled wood is beautiful.

I like that Rupert Gruber's artwork is on the top of the deck, so you will always see it, and that it doesn't get shaved away after one too many rail slides.

You can almost hear the "thwip" of Spider-Man's webbing shooting out from his wrist, just like it states on the board.

The artwork is brilliant and in true comic book style. 

You can choose from four different Spider-Man designs created by Gruber. 
Cons
It would be best if you practiced patience after you place your order. The build of your board takes four weeks, and then you'll be looking at the shipping time. 

If you live outside the United States or Canada, you won't be able to order this fantastic board. 

Not that this is truly a con, but you can only purchase five of these boards, so there's something left for the rest of us.

The price is for the deck. If you want to add trucks, bearings, and wheels, you will be paying an additional $90.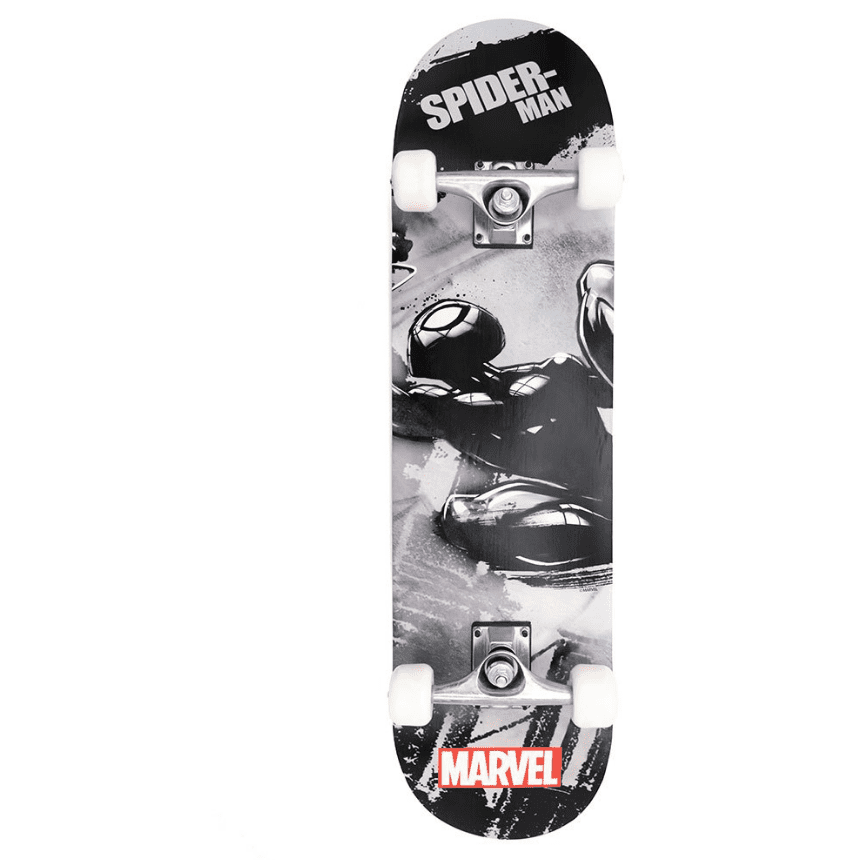 This board is a nice, solid, no-frills, full-sized skateboard from Marvel. You can choose between four designs, though only two are strictly Spider-Man. This affordable skateboard comes with all of the accessories already installed. This board would be best for those just starting out or collectors. If you are neither and just want this board because its a Marvel skateboard, consider switching out the trucks for something a bit sturdier.
Dimensions: 8 x 31 inches
Materials: nine ply maple wood
Weight Limit: up to 176 pounds/80 kilogram
Pros
You won't break your heart too much scratching up this affordable board.

The price includes everything your board needs.

I like the red deck with Spider-Man's head outlined with what looks like a soot finger painting.

Honestly, the black and white Spider-Man deck option is also great. Very simplistic but classy looking. Indeed a great deal.
Cons
If you are looking for a one-of-a-kind collector's style board to hang on your wall, this isn't it. 

It would have been awesome if you were able to "build your own board" like you used to do in skate shops, but alas, this is the internet, and the board is under $50, so you can't complain.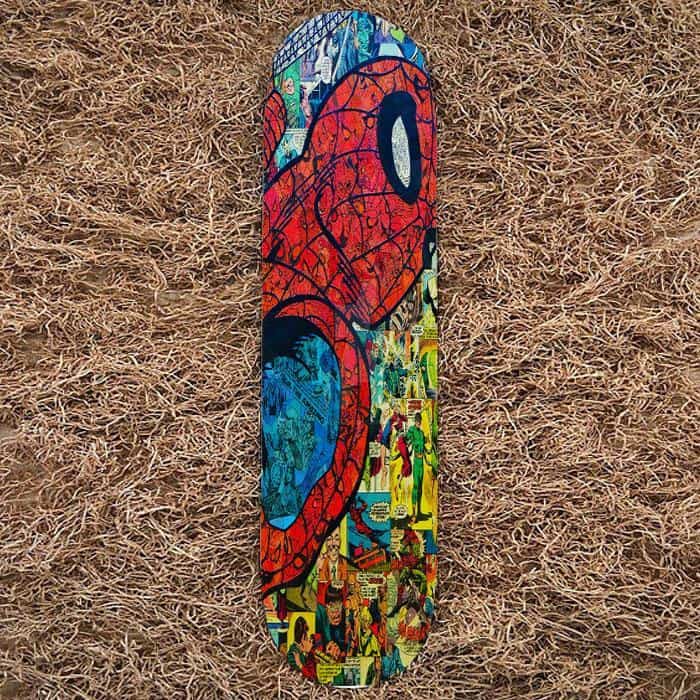 This skateboard is excellent and isn't super expensive; however, you are only getting the deck at that price. I love how it captures the comic book style but also primarily focuses on Spider-Man himself. The entire board art is of Spider-Man comics. The designers just shaded some of the comics to make part of Spider-Man's face and sholder. Since this is only the deck, you can accessorize your skateboard however you would like. 
Dimensions: 8.25 x 30 inches
Materials: Canadian maple wood
Weight Limit: standard sized
Pros
I love how Spider-Man is actually made up of comics, and you can faintly make them out under the red and blue colors.

I like the ability to customize my skateboard with whatever trucks, wheels, and bearings I want. 
Cons
If you are looking for a quick and easy gift for the fully-grown skater in your life, this isn't for you. This is only a deck. 

The website is relatively new, and there are few reviews.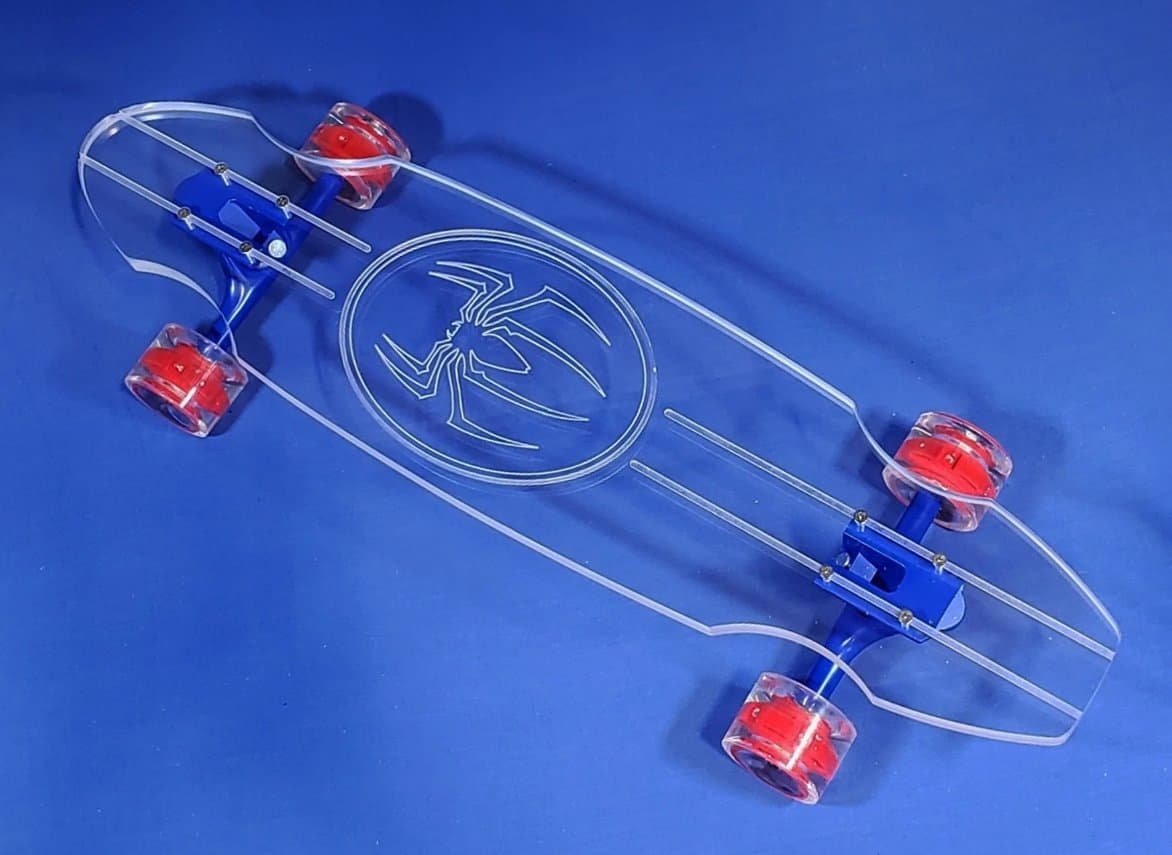 Skateboards are generally wooden and all very similar. Then you have the Ghost Board. This longboard is fully customizable all the way down to the tool it comes along with each purchase. This unique longboard is crystal clear and pretty spectacular. If longboards and cruising is your thing, check out Ghost Boards.
They are a fairly small grassroots operation out of Utah. This board was built for those looking for something a little different and also the collectors. These great skateboards can even come with a mounting kit for hanging on your wall.
Dimensions: 30 – 48 inches long 
Materials: High-quality clear acrylic
Weight Limit: standard deck is .75 inches, and the 1-inch thick board is for those over 220 pounds
Pros
This longboard is fully customizable to show your personality and style.

You can choose the length and shape of your longboard.

You can watch the road pass by through the clarity of your longboard.

This is a one-of-a-kind type board, something few people have seen. 

The acrylic board even comes with your choice of colors for a bumper.
Cons
These acrylic boards are a bit expensive. 

I'm not sure how easily these would crack, but I know acrylic scratches very easily.

You might get lightheaded when deciding which details to use to customize your longboard. This could take a while.

They only offer the Spider-Man board in longboard-style acrylic. They also sell numerous other types and sizes of skateboards.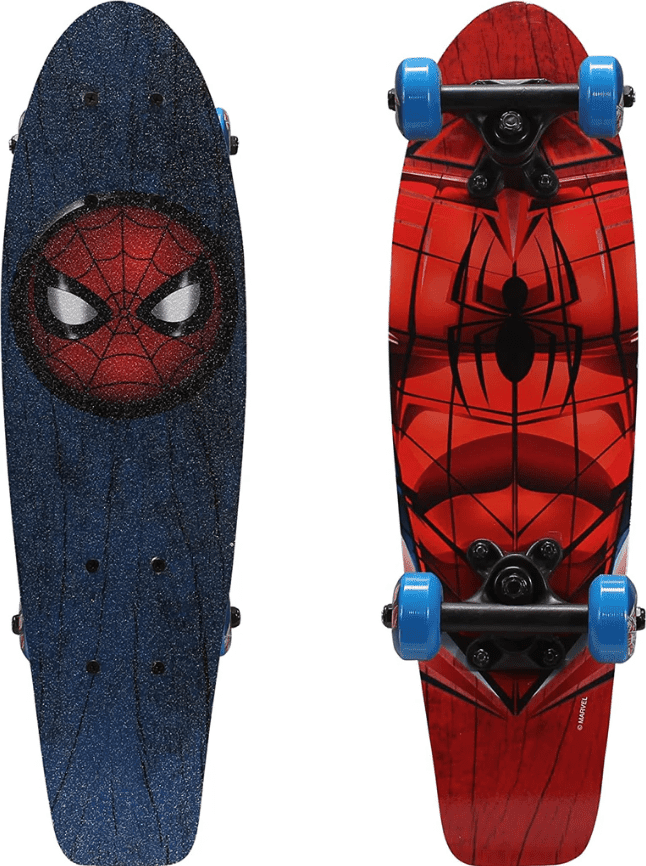 Finally, we have come to the last of the fabulous Smier-Man skateboards. This model by Exodus Longboard Company is nice, and that kid you know who loves Spider-Man will love it. It comes complete, so there is no worrying about which trucks, bearings, and wheels will work best. I would trust this board with my child. The Exodus Longboard Company really stands behind its products, which helps to reassure me as a parent that my little minion will be skating in style and with safety.
Dimensions: 21 inches long
Materials: nine ply laminated wood deck 
Weight Limit: up to 100 pounds and kids ages five through ten
Pros
The trucks included are steel, not aluminum, so they will be extra strong supporting those little feet.

The single kicktail design is perfect for novice skaters and allows for easier braking.

The blue top design and red bottom design are simple and child friendly. 

The thick laminating on the top and bottom offers more protection against scuffing the board.
Cons
This isn't a long-term board, but it's worth it for the price. 

It would be nice if the deck had different child-friendly Spider-Man-themed options. 
FAQ
Question: Who skateboards in The Amazing Spider-Man?
 Answer: None other than the Texas native and Spider-Man stuntman William Spencer, aka Skate Ninja. He is well known in Hollywood for his work as a stuntman, actor, filmmaker, and of course, for his next-level skateboarding tricks. As far as Spider-Man goes, we first met Spencer in the first two "Amazing Spider-Man" movies. Spencer has also used his fantastic skateboarding in The Kids are Alright, Cobra Kai, and Johan Hex.
Question: Is the spider that bit Peter Parker, played by Tobey Maguire, real?
 
Answer: The short answer to that question is yes, the spider was a real spider. Initially, a CGI spider was attempted, but it looked pretty bad, so they went with a real spider for the final cut. They used non-toxic paint on the spider's body so that it would fit the script perfectly.
The spider used in the movie was none other than the steatoda grossa, a brown spider commonly known as the cupboard spider. This spider, though brown, is frequently called the false black widow because its shape and size resemble that of a black widow spider.
 
Question: In the history of marvel comics, has there ever been a skateboarding superhero?
 
Answer: Yes! The only known legit skateboarding superhero introduced by none other than Marvel Comics was called the Night Thrasher. If you are an old-school and true skateboarding fan, you can surely attest to spending countless hours reading and making wish lists while reading the magazine Thrasher.
Unfortunately, Night Thrasher was mainly a flop and never really made it past a handful of mentions in comics like Thor way back in 1989. However, we may see Night Thrasher join the other superheroes on the big screen one day.
Nose Slide to the Finishline
We have arrived at the end of our journey searching for the most extraordinary Spider-Man inspired skateboard. I have listed many great new options, and there are also many fantastic used options. Many of those used options have never been taken out of the original box, so theoretically, they are just as new as those listed here. However, the stock for these reseller site boards is generally not very good, so they have been left off the list on purpose. 
If you want to check out the reseller sites, I highly recommend the usual suspects like eBay and Mercari, but also Grailed and StockX. You will want to take advantage of some rare and super collectible boards on those sites. One is the Surprise Superhero Skateboard made by HUF. It is not available on the HUF site but is available on reseller sites. You will be paying two or three times as much, but it is a rare collectible board.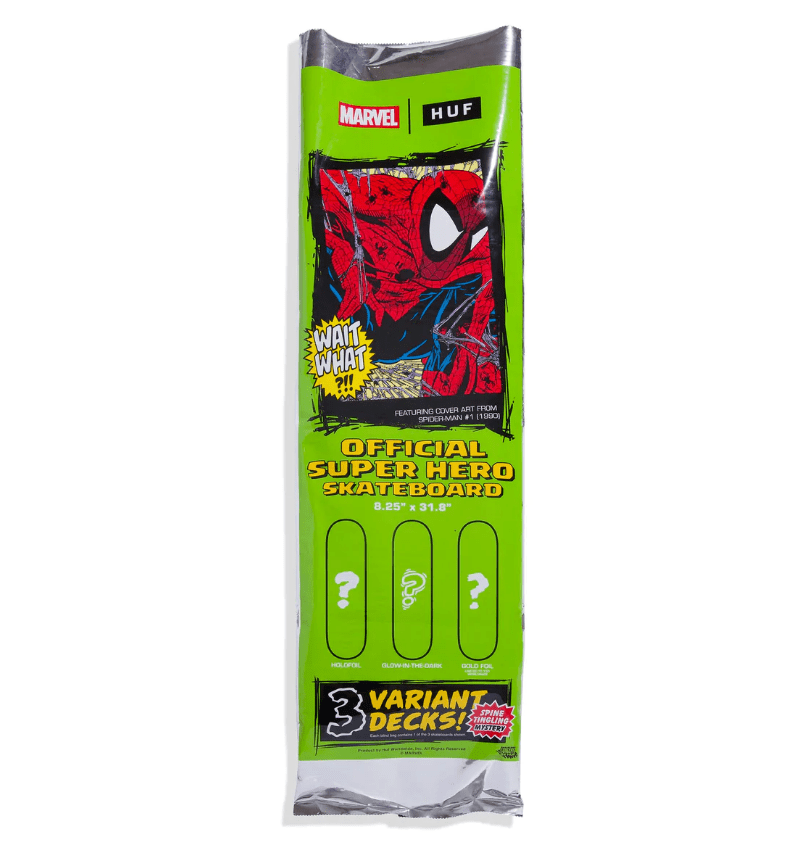 Now, back to business. Let me wrap this up by reiterating which skateboards are my top picks. My favorite adult-sized skateboard is the Bear Walker Official Spider-Man 2099 Limited Edition Deck with Optional Equipment. It just doesn't get better than that board. If you're a fan of the Ghost Spider, she's also got her own board on the Bear Walker site.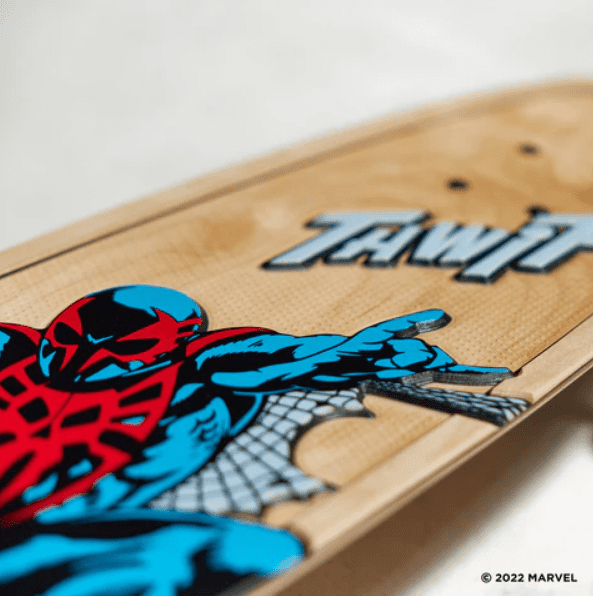 These boards are just too perfect; high-quality material, carefully hand-made by people who love skateboards, and the artwork is phenomenal. I highly recommend begging Santa for this board. 
Secondly, my other favorite skateboard is Ultimate Spider-Man Kid's Cruiser Exodus Longboard Company for our little novice skaters under 100 pounds. As a "retired" skater and mama to a five-year-old Eval Kineval wannabe, I have been checking out the best boards for little feet and, of course, the best protection for them while they test out their scary stunts.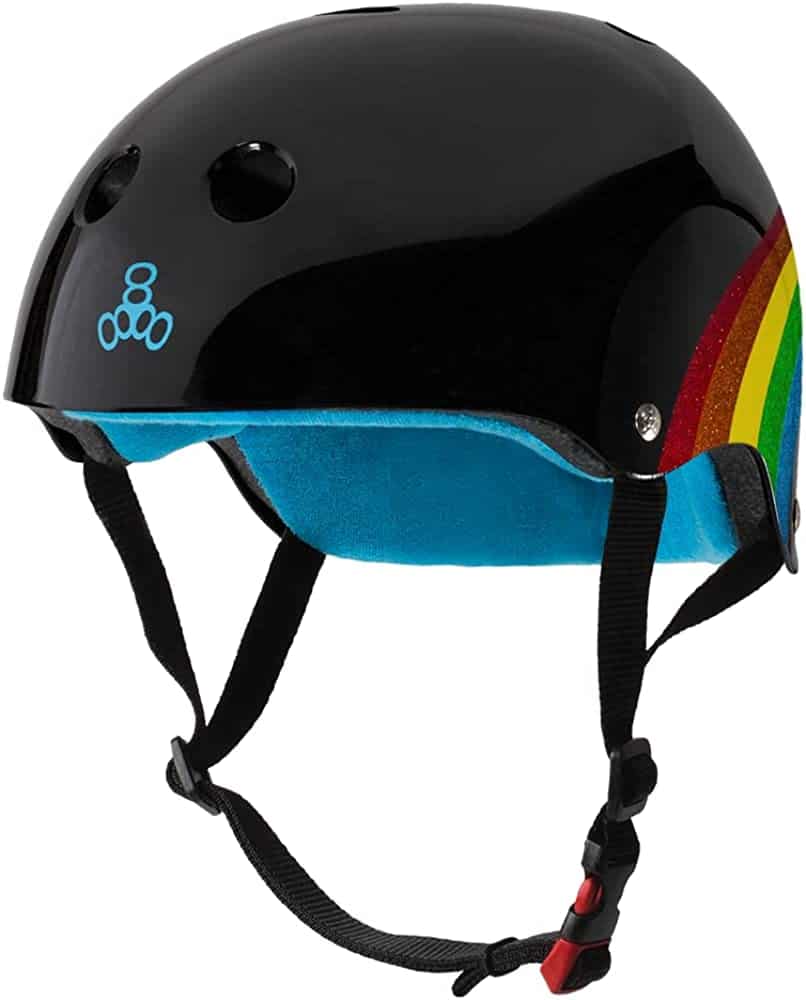 We have an excellent helmet by Triple Eight. So far, it is an excellent buy. Wouldn't it be great if you and your little one could have matching skateboards? Life goals.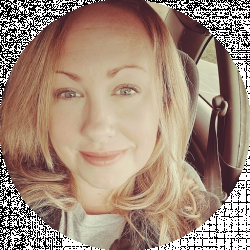 Latest posts by Katie Downey
(see all)