At the time of writing, spooky month has been and gone, and Santa's elves are demanding overtime at the workshop, but that doesn't mean the creepy vibes have to fizzle out. The goblins and ghouls may need to park it for another year, but there is one thing that exists year-round, and that's True Crime. True Crime, whether it be in the form of documentaries, feature films, or enthralling podcasts, is a phenomenon that practically everyone can't seem to get enough of. I can't tell you how many times I have caught my wife with a content smile on her face as she's snuggled up in bed, listening to grizzly case files revolving around dismemberment, gore, and murder. Each to their own. 
Well, as you would imagine, the world of content creation hasn't slept on this trend, and there are some truly captivating stars out there that have taken the True Crime format, and tweaked it ever slightly to provide a new take on the medium. One such creator is bailey Sarian. This star is best known for her blend of make-up tutorials where she puts on a fresh face while she usually talks for well over an hour in detail about some of the most notorious serial killers, cult leaders, and nefarious figures in the world of True Crime. So if you want a companion when getting ready for a night out, Bailey is your gal.
However, if you ended up here, you probably already know all this. However, you may be wondering how you can show your love for this popular Youtuber in the form of hot and trendy merch. Everyone wants to represent their favorite creators, and with my help, you'll be able to show off just how much of a true crime junkie you are. So without further delay, here is our Bailey Sarian Merch Guide; enjoy! 
Selection Criteria 
Okay, before we jump into this wonderful cesspool of Crime, murder, and beauty products, we need to lay down some ground rules. We want a complete and comprehensive list of all the best merch, not just any old tat. So here are the criteria we used to create this list: 
It must be directly related to Bailey Sarian (not just true Crime in general)

We will only provide officially licensed products (alternatives will be added as a separate section)

All products must be of the highest quality. 

I will do my utmost not to be repetitive or include products that are extortionately priced, or make you say, 'why would I buy this.' 
Okay, enough admin; it's time to dive into Bailey's merch catalog and see what's on offer! 
Bailey Sarian Official Merch Guide
Clothing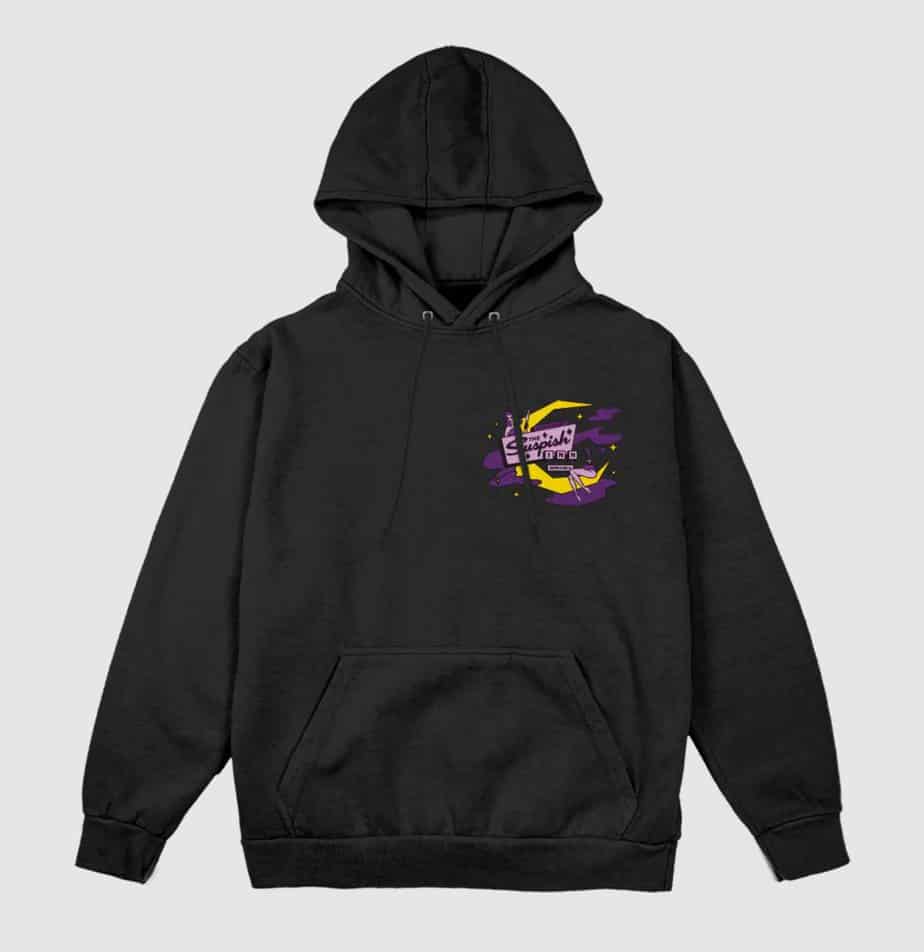 We begin with the Suspish Inn collection, and of the T-shirts and Hoodies on offer, I decided to go with this incredible design. This one showcases a fictitious motel that I would absolutely want to visit, although I may not stay the night on account of valuing my life. On the front, you have a simple motel sign with a poster girl chopped in half, and then the back design is an advert for the motel, posting the address, which makes nods to a few well-known gags from Bailey herself. It only comes in black, but hey, It's Bailey Sarian. Would you expect anything else? 
Pros
Nice blend of contrasting colors on a black background

A killer back design that gives Bates Motel vibes 

Plenty of sizes to accommodate all true crime fans
Cons
Not crazy about the front logo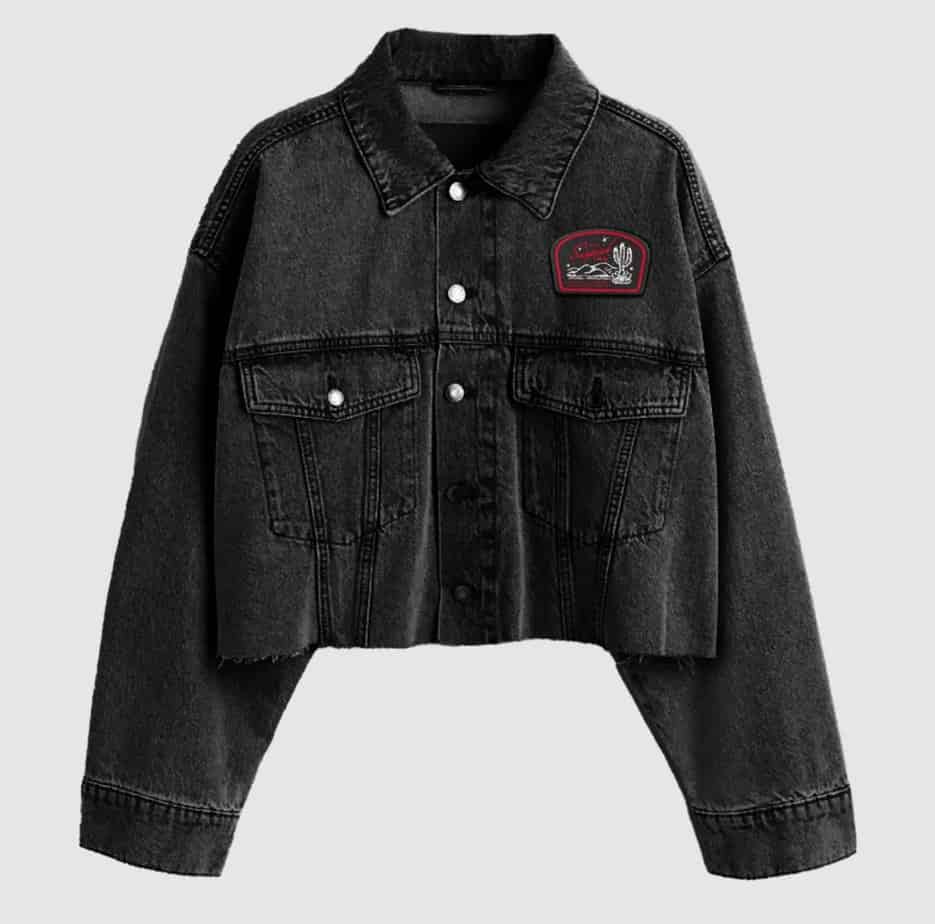 I considered only adding one clothing item per collection, but then I saw this amazing bit of craftsmanship. This denim jacket offers a similar design to the hoodie above, with an advert for the Suspish Inn on the back, complete with the fake address, but alters slightly to provide a more biker/nomad sort of vibe. The jacket is cropped to offer a unique look, with a raw hem that looks like a DIY job. Then to top it all off, there is a snazzy bit of embroidery on the left-hand side, repeating the design on the back. I'm telling you, if I could pull off a cropped jacket, I would be wearing this one daily! 
Pros
Really aesthetically pleasing crop and DIY hem

The Suspish Inn logo design is badass

This will go with just about anything
Cons
A little bit pricey 

Pre-rusted buttons are a little tacky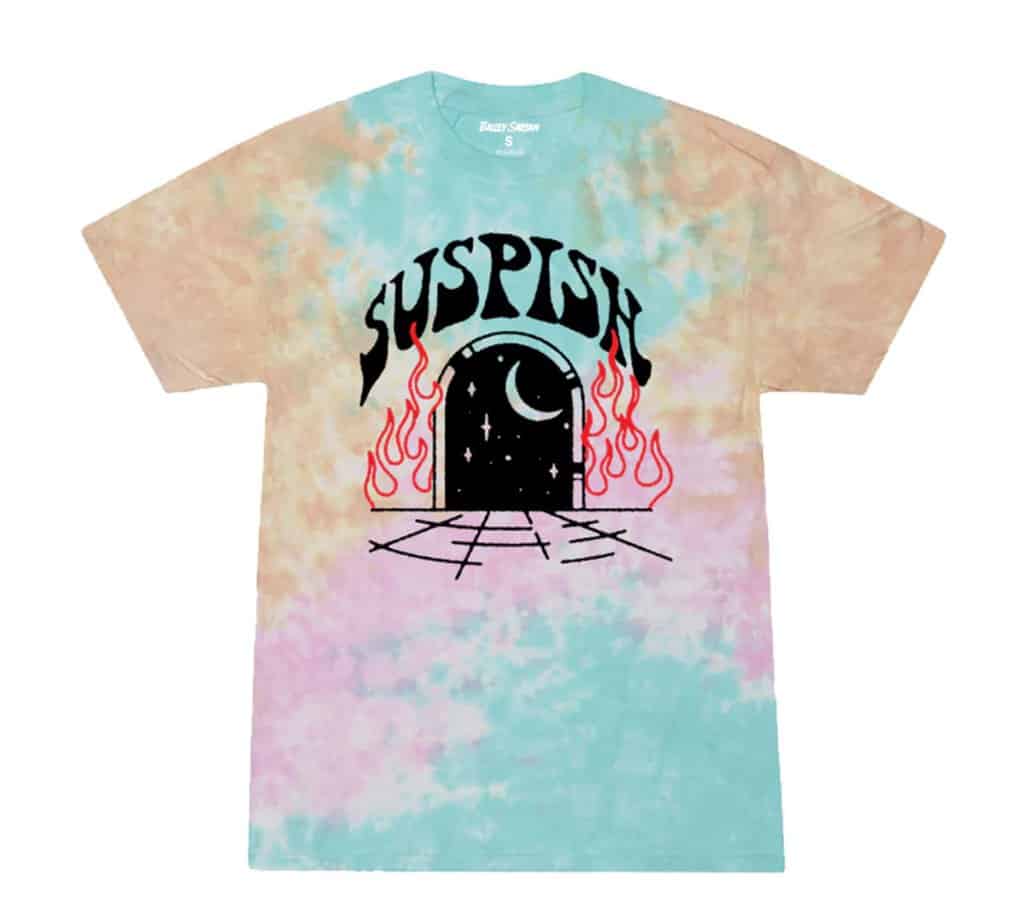 I wanted to include just one t-shirt from the Suspish Collection, mostly because they are all pretty similar. However, one that stood out to me was this Tie-Dye effect version. The design is spooky and spiritual, married with traditional pop-punk to deliver a fun, but simplistic design. The bright and vibrant tie-dye may go against the dark and ominous theme that Bailey tends to go for, but for you vibrant guys, gals, and others out there, this may be more your speed. 
Pros
Offers a pop of color, in contrast to the all-black products

Plenty of sizes 

Goes really well with the joggers from the same collection 
Cons
The design is a little rough around the edges. Won't be to everyone's taste.

It is quite a weak tie-dye effect.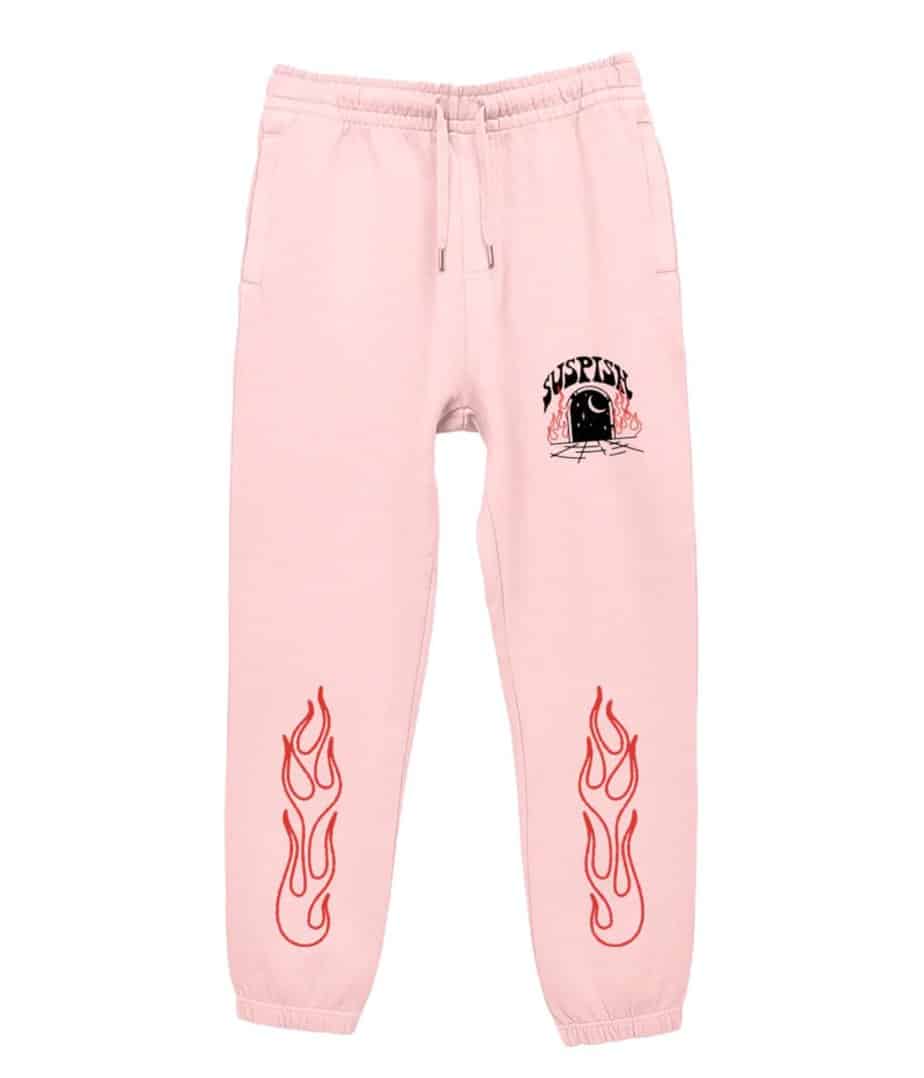 When watching Bailey's content, I can only imagine that most of you reading this are lounging around in comfy sweatpants. I know I am. So why not get some Bailey Branded joggers to make the experience even more authentic? There are a few options to choose from colorwise, but of all on offer, the Salmon Joggers are my personal favorite. Now, at the time of writing, these are sadly sold out, but I've included these as this is Bailey's signature collection, so I would assume these will return again relatively soon. 
Pros
Awesome color, with an alternate choice of light green

Suspish Logo isn't as distorted as the T-shirts

Goes great with hoodies and t-shirts from the same collection 
Cons
Currently sold out (but will return)

Sizing runs small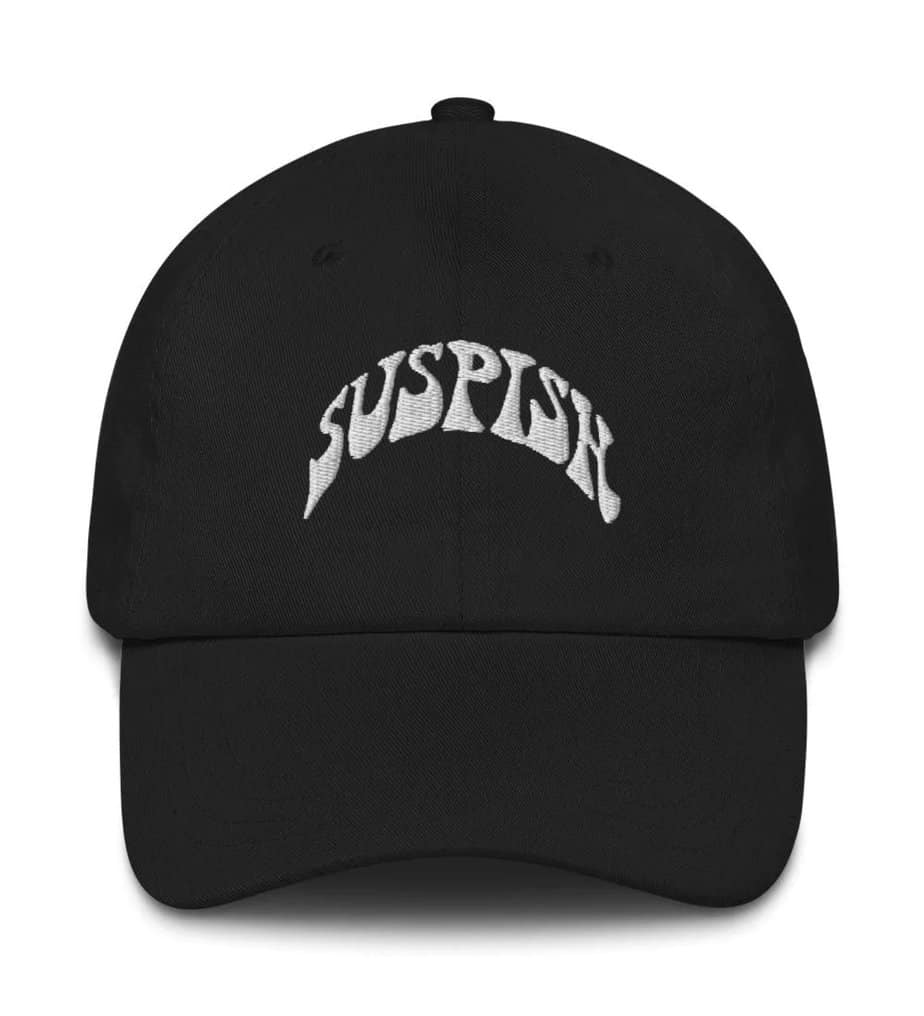 There are a tonne of hats to choose from in Bailey's Official store, including beanies and Trucker hats, but I'm a sucker for a plain old cap, and this embroidered Suspish dad hat is my personal pick. I just like the simplicity of the design, the neat embroidery, and that it comes in a variety of color options. I would personally go for black wif anyone was wondering. Although, I do have to give props to the Dark History Season 2 Trucker Hat. It was a very close second.
Pros
Simple but effective design

neat and tidy embroidery

Color options
Cons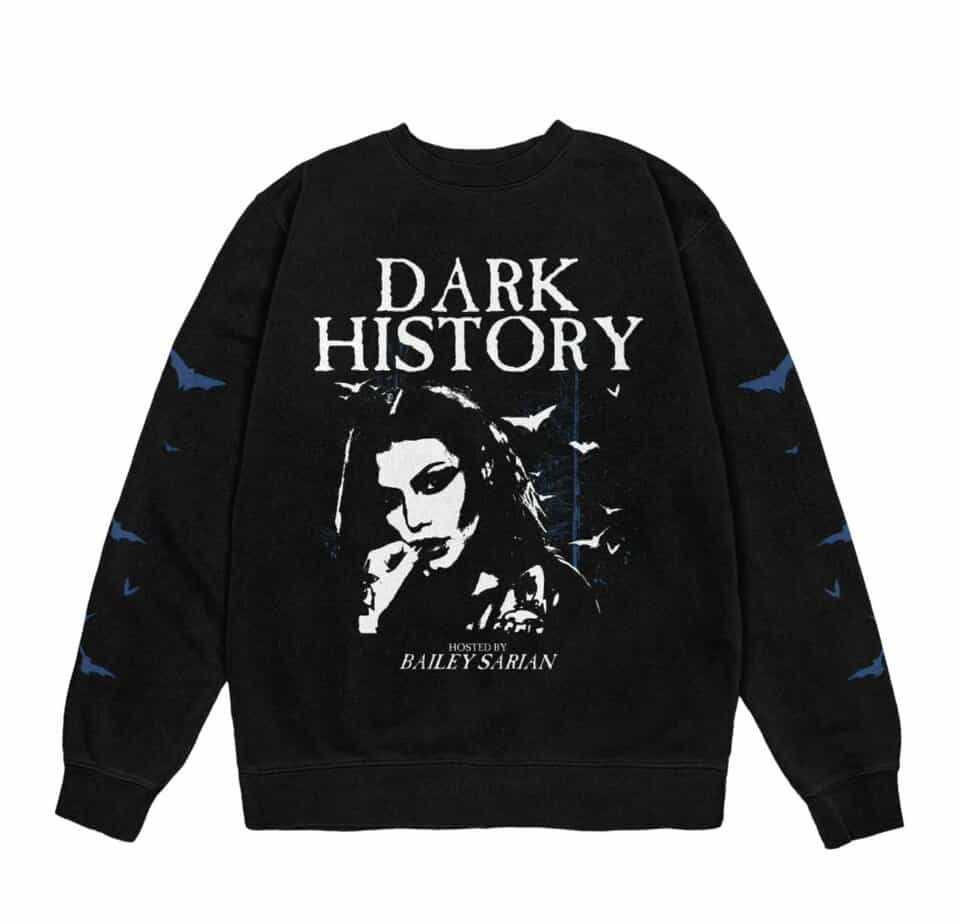 On to the Dark History Season One collection. Honestly, I found it quite hard to justify including these products because, in truth, they feel like a throwback, and not in a good way. Bailey's merch is much better than it was back then. However, of all the items listed in that collection, I have to say that this crewneck is pretty cool. It's unintentionally retro, like a throwback to 1990s shows like Buffy the Vampire Slayer, and that's something I can really get behind. It's a vintage look, and while some may feel short-changed, I know plenty will adore this design. 
Pros
Retro, Vintage feel to the design

Will go with any sort of 90's aesthetic

Love the bats up the sleeve. 'It's friggin bats; I love Halloween' 
Cons
Does lack the character and refinement of more recent products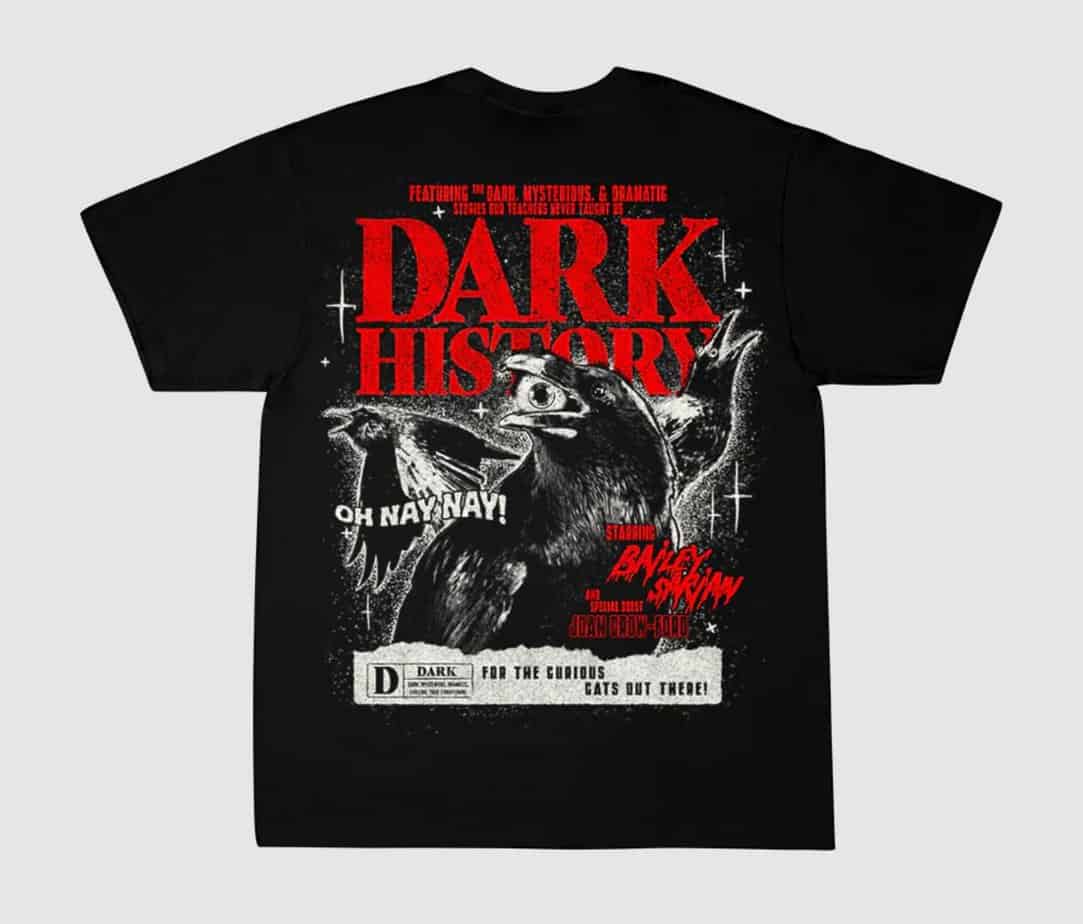 Now onto the more hot and fresh Season two collection, kicking things off with this stunning t-shirt. This shirt is a play on classic movie posters for Alfred Hitchcock's The Birds, or if you are a Schitt's Creek fan, The Crows Have Eyes. It showcases a beautiful blood-red text depicting the Dark History series, and a murder of crows, with one carrying an eyeball in its mouth. Throw in some crow-related puns and some classic Sarian catchphrases, and you have a perfect shirt for all you Bailey fans out there! 
Pros
A classy nod to classic horror movie posters

Full of fun gags and puns

A subtle front of shirt design 

100% Cotton
Cons
Some may find this shirt a little 'busy'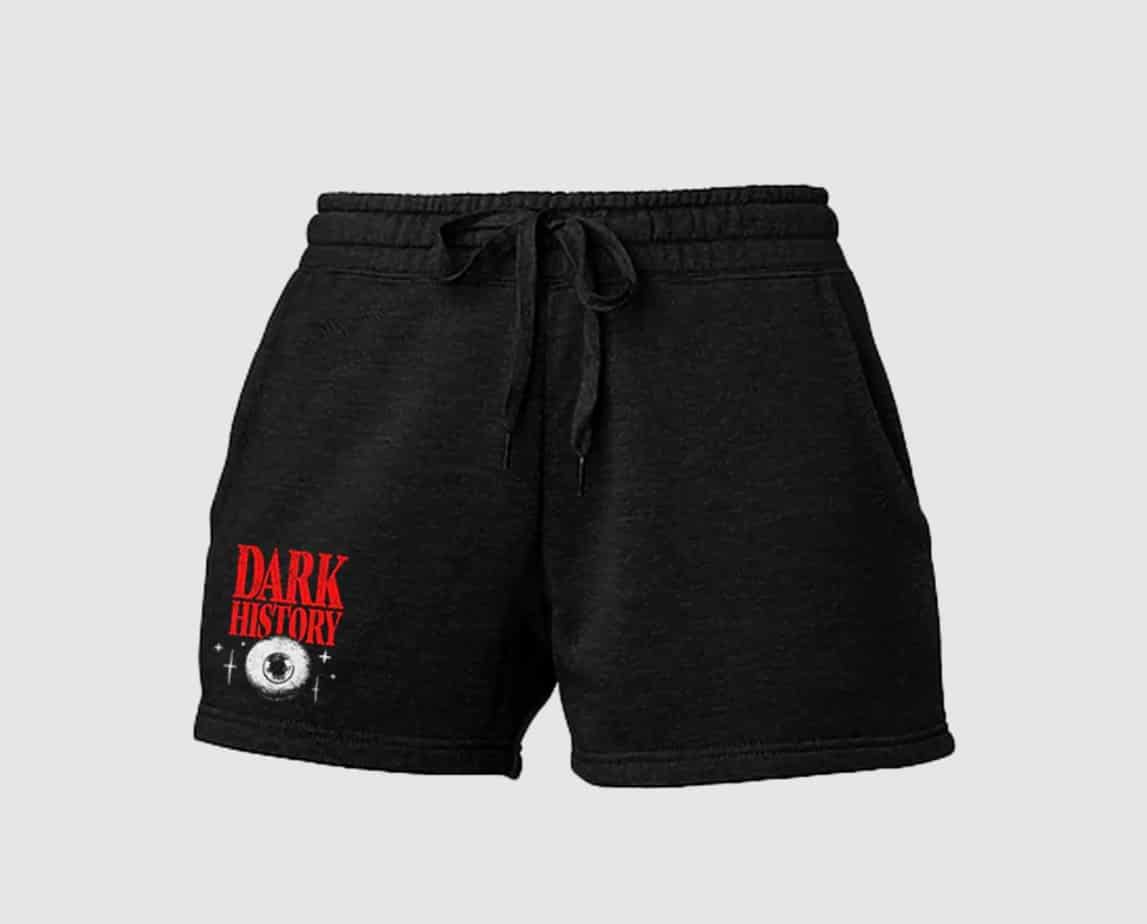 Then to wrap up the clothing section, we have these Dark History Fleece shorts. Honestly, there isn't too much to say about these. They are black, with the Dark History print and a severed eyeball on the leg, and they look comfy as hell. Plus, they are 100% cotton, so I can practically guarantee comfort when lounging around in these stylish shorts. Much like the joggers, these are currently out of stock, but since this collection is linked to Bailey's most recent season of content, we would think that these will have another run in her store soon. Keep an eye out, quite literally. 
Pros
100% cotton means super comfy and cozy

Lots of sizes

simple but stylish design
Cons
They are quite pricy for what they are
Accessories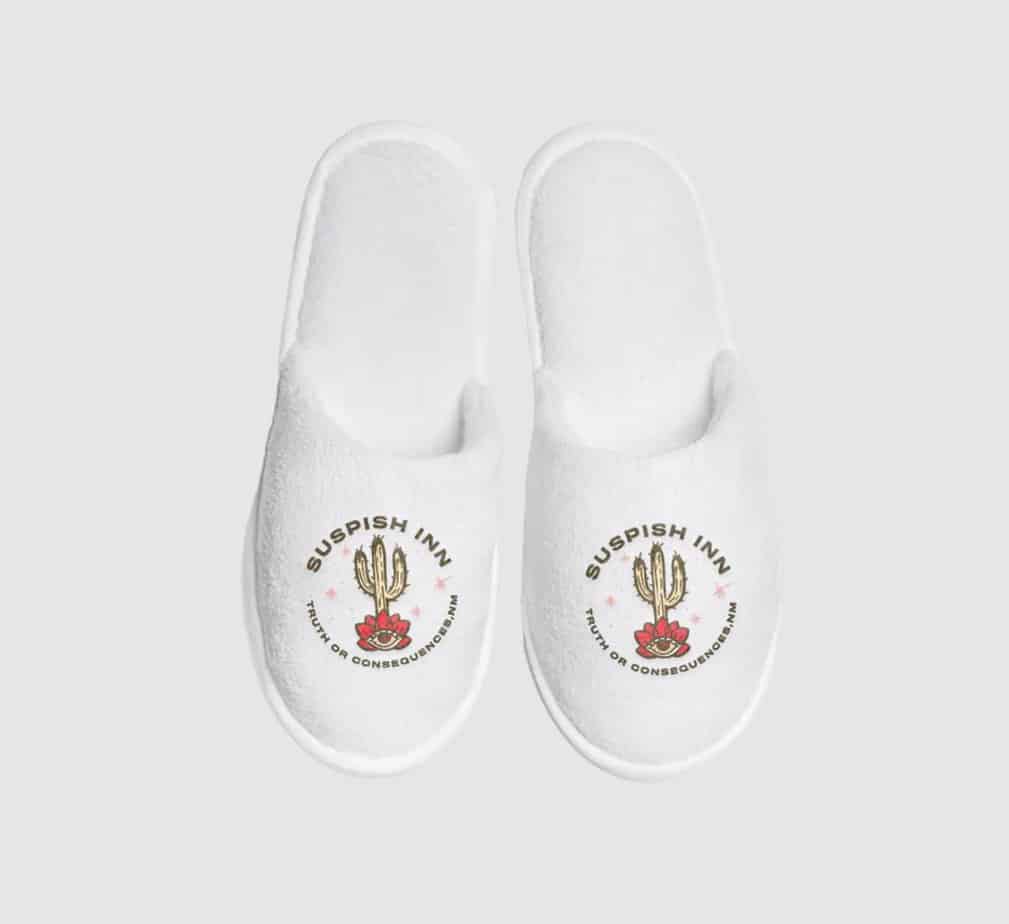 Okay, onto the accessories, and we begin with a nice pair of slippers from the Suspish Inn Collection that you can slip into after a long, hard day. I've never been much of a slipper man myself, but there are plenty of folks out there that simply cannot navigate their home without some fluffy clouds below them. So you may want to invest in these cool embroidered slip-ons that are a nod to complementary slippers that hotels and motels tend to hand out to guests. 
Pros
Classy Embroidered Design

Grippy rubber soles

A great double purchase with the

 Suspish Inn Robe
Cons
Not machine Washable

Limited sizing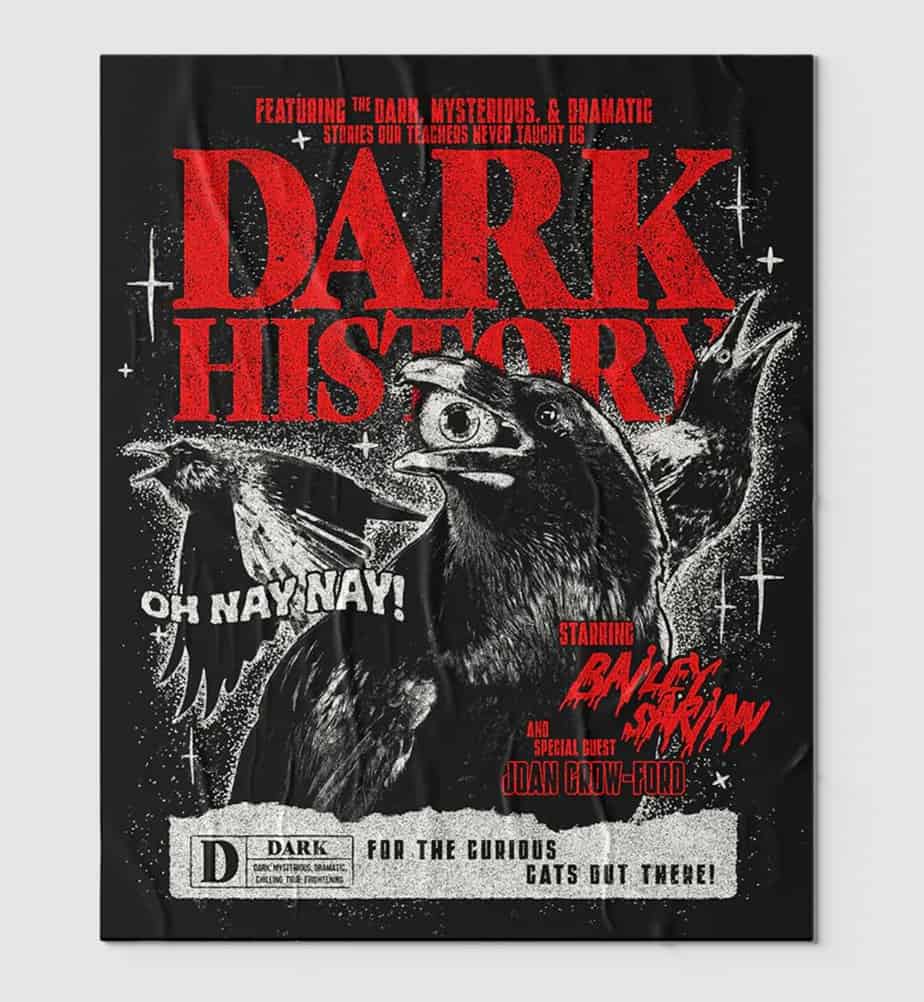 if you loved the design on the Dark History Season Two T-shirt, and loved its nod to classic horror movie memorabilia, then why not decorate your fans with a genuine movie poster? This has the same cool design seen on the shirt, comes in a matte finish, and is in standard A1 poster size. This is perfect for turning a drab bedroom into a dark and sinister lair where you can binge Bailey's videos. 
Pros
Standard Poster Sizing

Classy matt finish

Amazing Design
Cons
Doesn't come in smaller prints

Okay, so I know I said no silly or pointless purchases, but I'm making allowances for these because they are really cute, and they do serve a purpose as well. This matchbox has the Dark History ticket stub design on the front, and has a bunch of white-tipped matches inside. Now, I know this is super pricy for what it is; that isn't lost on me, but picture this. You have a little table with your candles, your crystals, and your incense. Wouldn't this matchbox, even for decorative purposes alone, complete the set? I think so. 
Pros
An awesome decoration

Functional if you love candles and incense
Cons
It's very hard to justify the price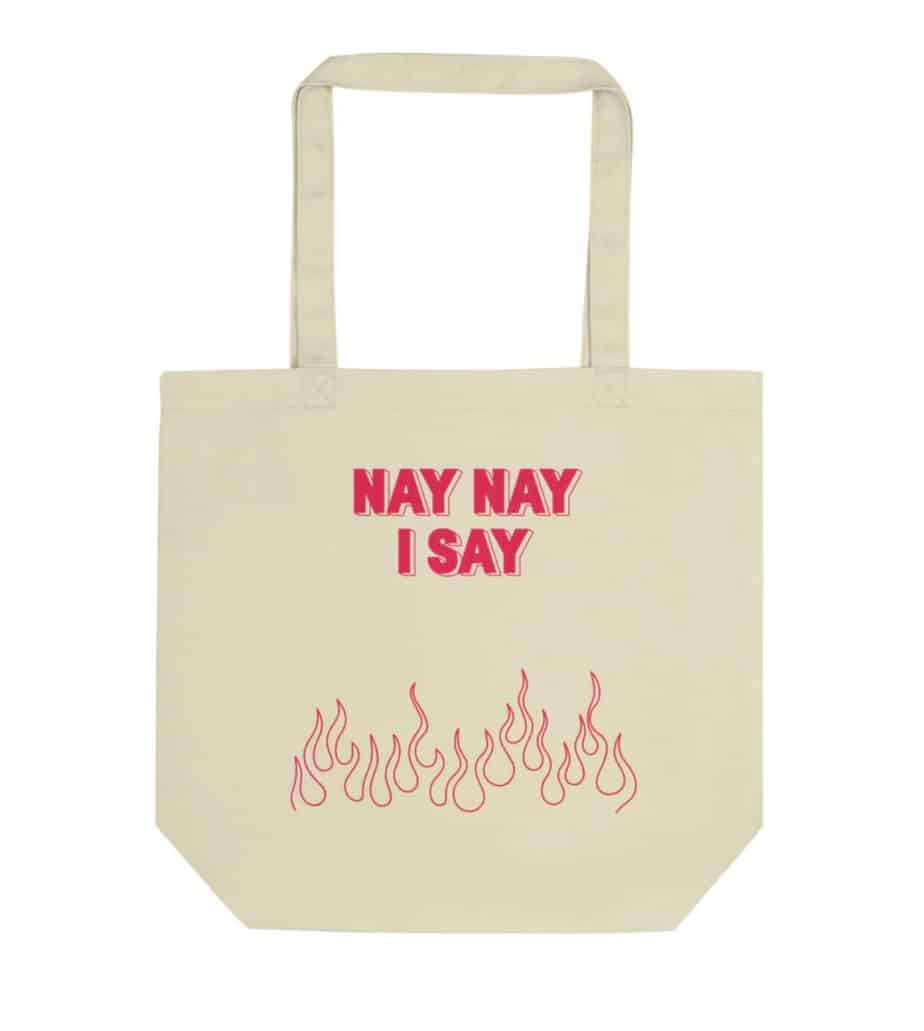 Our penultimate official merch enrty is this 'Nay Nay' tote bag. If you are like me, you'll have countless tote bags lying around the house showcasing all your different fandoms and passions, and to that, I say, what's one more? This design is simple and is in line with the Suspish collection's design. I'll level with you, I think the Dark History Tote is infinitely cooler, but I want to offer as much variety as possible. 
Pros
Classic Tan Tote design 

Makes reference to Bailey's most famous line
Cons
The design is a little plain
Then lastly, we have the Dark History Season 2 Frayed Blanket. Now, you may be expecting the same movie poster design you have already seen a few times, and I mean, you wouldn't be wrong. However, this blanket takes the bold red coloring out of the design, offering a more subtle design that allows this blanket to blend in with just about any interior decor that you've chosen for your home. The blanket also has a cool fringed hem effect and is machine washable, which is convenient. This is such a cool accessory to have when you snuggle up for a grizzly tale. 
Pros
A good size for full coverage

Nice fringe effect and design

Machine Washable

100% Cotton
Cons
It's pretty expensive for a blanket

It's missing the pop of red for those that prefer to have it
Cool Alternatives
Now, as you can see, Bailey's official store has plenty of cool options to choose from. However, if you are looking for something a little different, or even looking for something that has a true crime feel without the Sarian branding, then you might want to check these items out below: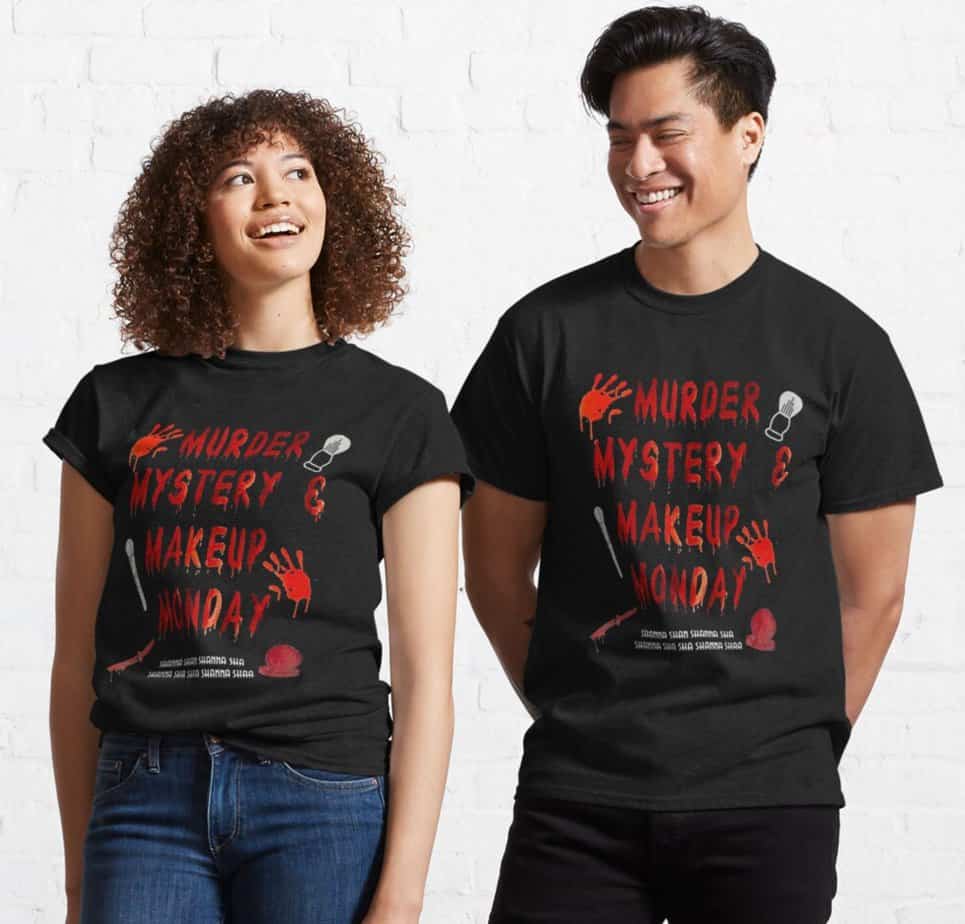 If you want to make reference to how it all began, and arguably what Bailey is best known for, then you might want to grab this Murder Mystery and Makeup Monday shirt. Who says that primer and foundation can't be spoken about in the same breath as cults, gore, and severed heads? Not me, anyway. 
Pros
A design for the OG fans

Classic black on red color scheme

Includes a Shanna Sha reference 

Comes in lots of colors, sizes, and styles
Cons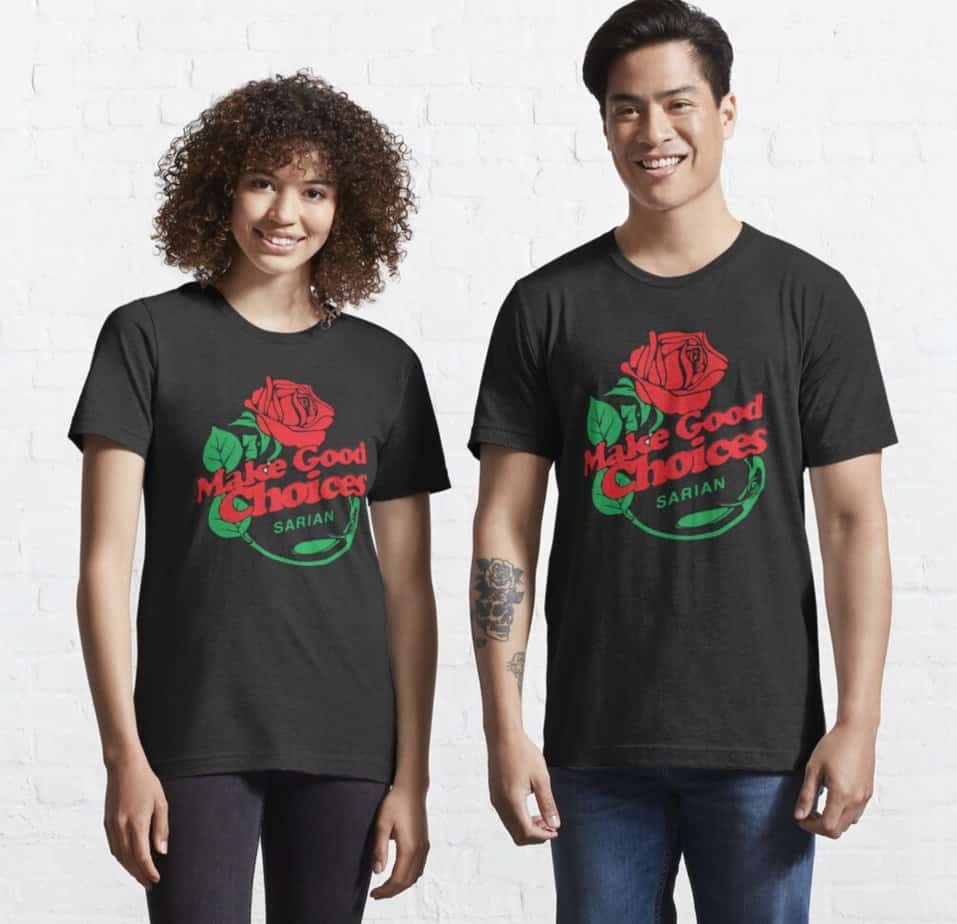 Of all the gags and quips that Bailey comes out with, the line 'make good choices' always gets me as she pleads to these maniacs to just chill and make healthy decisions. I think that ship has sailed. However, if you to want to be that voice of reason, then you will love this shirt that has the iconic line, which is tangled up in a rose's stem.
Pros
An iconic reference 

Comes in lots of colors, sizes, and styles
Cons
It is a slim fit, so sizes run small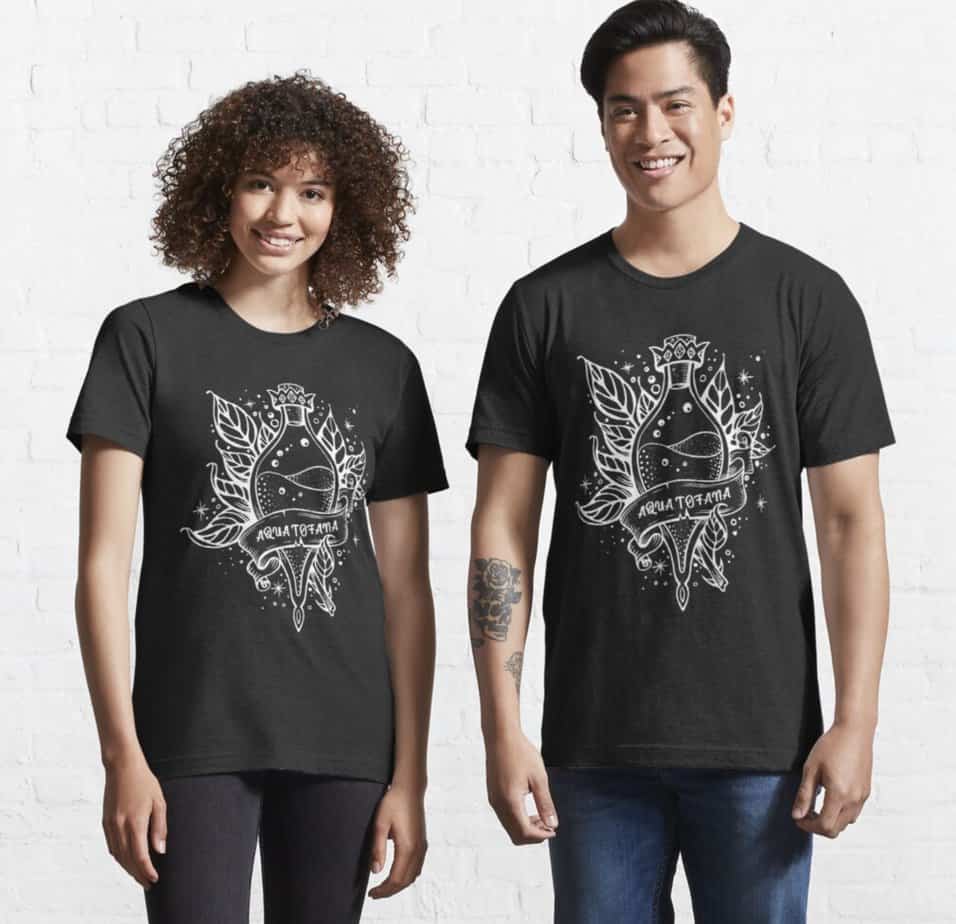 For those unaware, Aqua Tofana, which pops up in a Bailey Sarian video more often than not, is a pretty potent poison. Well, it's also what Bailey would consider as one of her favorite essential oils, and it's also the name of the nail polish collab that she had with Loud Lacquer. Well, in honor of this love for this arsenic-based poison, why not grab this classy black and white tee showcasing the solution in a fancy little bottle. It's witchy; it's pretty; it's perfect! 
Pros
Another nod to a good reference. One of the real fans

Subtle monochrome design 
Cons
Does glorify murder, just a touch
Yes, Yes, I say! 
I love hearing the classic catchphrase 'Nay, Nay, I say' as much as anybody, but just looking at the abundance of cool and occult options listed above, I can't help but be positive. There's nothing suspish about these products, as they are all top-tier in terms of quality, design, and aesthetic. Meaning that if you want to fan girl over bailey, then adding these items to your collection is a must! I hope that this guide helped you find exactly what you were looking for, and as always, thank you for reading Avid Fan Merch! 
FAQ Section 
Question: How Much is Bailey Sarian Worth?
Answer: With the ups and downs of Youtube's CPM, it can be hard to be super accurate with this figure. However, taking into account her viewership, and her other business ventures, we would wager that Sarian is worth approximately $900,000-$1.2 million. 
Question: Is Bailey Sarian Single?
Answer: Yes, Bailey broke up with her long-term partner Fern as recently as this year (2022), as she quote, "just needed a break." She's always been a strong advocate for mental health, so we reckon this was likely the right move for her, and she will bounce back romantically in no time. 
Question: How Many Subscribers Does Bailey Sarian Have?
Answer: This is an ever-changing figure so forgive me if time isn't kind to me here, but at the time of writing, Bailey has a grand total of 6.65 million subscribers. Not bad for a girl rambling in her bedroom and putting on makeup, huh? 
Latest posts by Callum Marshall
(see all)