I Solemnly Swear I am Up to No Good.
There is something special about Harry Potter that bewitches the mind and ensnares the senses. The joy I found reading Harry Potter as a child morphed into an obsession with the movies as a young adult, and now as a grown-up, Harry Potter is a full-blown personality trait. Because I am such a total Potterhead, I spend a significant amount of my time collecting Harry Potter Merch of every kind.
I enjoy embracing my obsession by wearing merch that shows my love for the magical world wherever I go. When the Harry Potter X Vans collection was released, I could not wait to get my hands on a pair. The tricky part was choosing which style to purchase.
Bottom Line Up Front
If you're short on time and just want to get to the good stuff, my favorite pair of Harry Potter Vans are these Harry Potter Icons Vans. They are perfect for any Potterhead, no matter House affiliation. They feature a minimalistic portrayal of many Harry Potter emblems such as the Nimbus 2000, Harry's glasses, and the Sorting Hat! Check out other options below. There are some fantastic finds, even for muggles!
My Top Picks Up Front
Vans made it easy to rep our Hogwarts house by creating a signature shoe for all four houses.
Vans Shoe Styles
Harry Potter Vans come in a few of their classic shoe styles:
The Harry Potter x Vans collaboration was initially released in 2019. Since then, they have stopped making them. Now, the Harry Potter Vans collection can be found in new condition on some websites and in used condition. Luckily, almost all the original styles are available on one platform or another! 
Top Tips to Help You Shop
You might think that finding a pair of Harry Potter vans is an impossible task, but it's actually more attainable than you might imagine. These Vans are very popular in certain circles—especially with people who really like Harry Potter (and if you don't count yourself among that number, I suggest re-reading books 1-3).
So yes, they may be rare; but they're not impossible to find. Here are some tips for purchasing them. Because Vans no longer makes and rarely sells the Harry Potter collection Vans, I recommend looking at resale websites such as Mercari and Poshmark. eBay is often an excellent resource for limited-edition merch as well!
Where to Shop for Harry Potter Vans
Selection Criteria
Condition
Harry Potter Vans were initially released in 2019. Unfortunately, they are no longer in production by Vans. As time has progressed, fewer of them have become available online. However, I have found that with persistence, you can still come across every style made for sale somewhere on the internet. If you are looking for new and unworn only, you'll need to stick to websites such as Flight Club or StockX. You may also be able to find some occasionally on Amazon or Zappos. 
If you are open to shoes in different conditions, you can find these options at places like Poshmark, Mercari, and eBay. When shopping these sites, be sure to check the condition and sizes carefully! They are often not returnable! 
Cost
Because Harry Potter x Vans are no longer in production, their value has increased. For new pairs, they may even be listed for higher than the original price from Vans. If you are looking for the most cost-effective option, try shopping second-hand like eBay! If price isn't an issue, you'll have the most luck finding various new pairs at websites like StockX!
Product Recommendations
Both Harry Potter and Vans focus on creativity, quality, passion, and fun, so they're perfect together! When you love Vans as much as I do (and trust me, I do), then you'll want to add these fantastic pairs of Harry Potter Vans to your collection ASAP. Check out my favorite pairs of Harry Potter Vans below!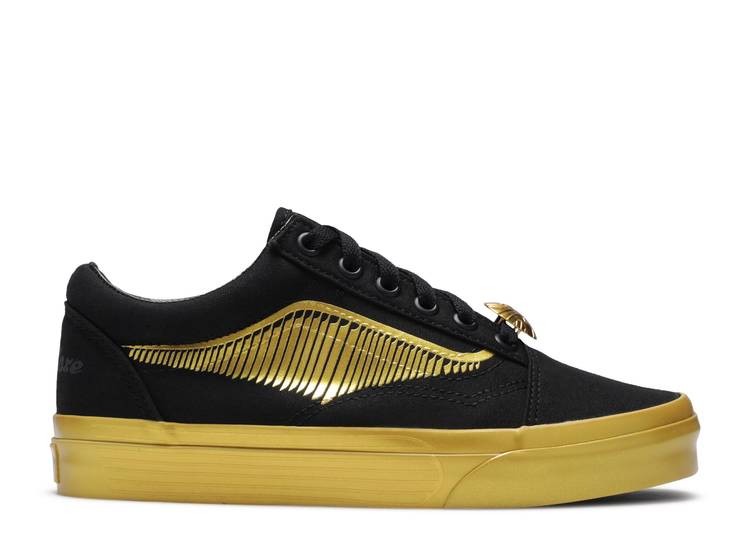 Best for fans of Quidditch
Quidditch fans will love these Vans' golden snitch designs regardless of team favorites. Too bad Vans are for muggles; otherwise, I am sure these would be sported all over the Quidditch World Cup. Black shoes are a wardrobe staple, and these offer that while also being Harry Potter-related.
Pros
They feature the Old Skool style Vans, which offer more cushion and ankle protection.

Classic gold and black design.
Cons
More understated design.

No house colors are available in this design.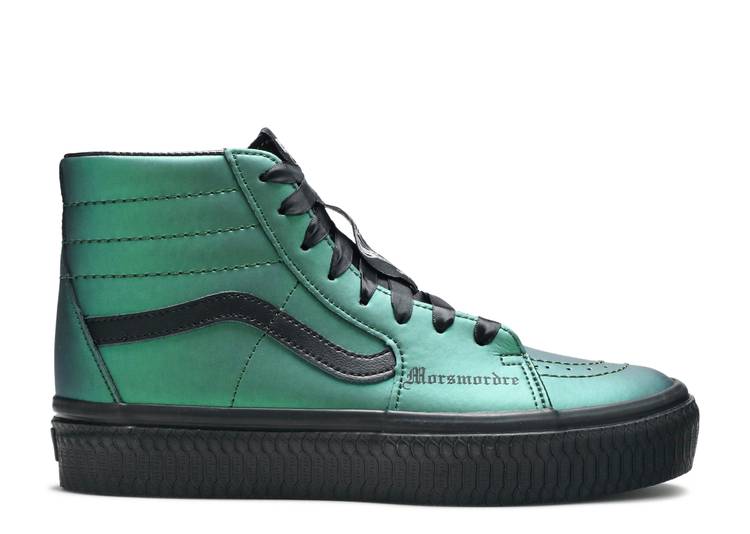 Best for the Villain in all of Us
These SK8-Hi Vans highlight the spell that all Death Eaters know by heart, Morsmordre. This spell conjures the Dark Mark and projects it into the sky. With its skull and serpent composition, this pair of vans illustrates the macabre that Voldemort and his followers favor. I love that these Vans feature a Dark Mark on the tongue of the shoe. It makes the design very unique and representative of the films in the best way. 
Pros
Feature Classic Slytherin Colors which many Death Eaters originated from.

The SK8-Hi style Van offers an eye-catching shoe design.
Cons
Only available in iridescent green. Surely not all Death Eaters are Slytherins.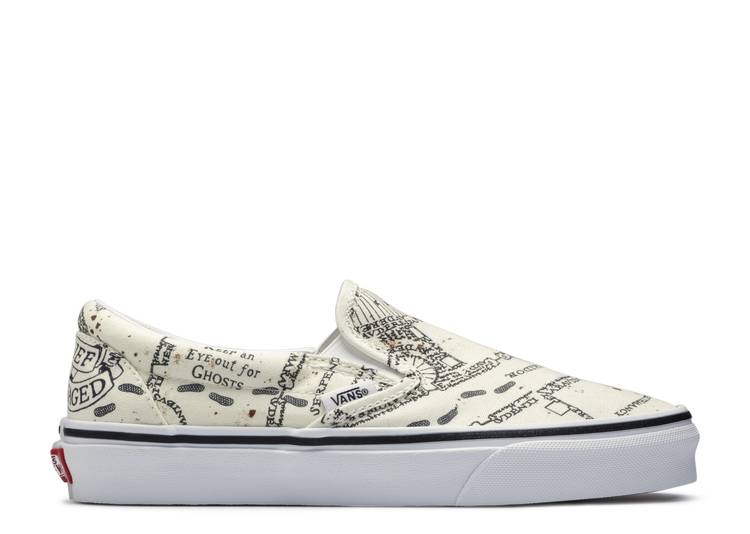 Best for Weasley Fans
Fred and George would be proud of these Marauder's Map Slip-on Vans. Maybe if I say, "I solemnly swear I am up to no good" while wearing them, I can avoid Filch and not get detention!  
Pros
Vans' classic Slip-on style is one of their best sellers for a reason. 

Understated map design in neutral colors makes them perfect for everyday wear.

"Mischief Managed" is written on the heel. A favorite quote of many Potterheads. 
Cons
Only available in the ivory and black color scheme. Not available in the ivory and burgundy that is featured on the Marauder's Map in the films.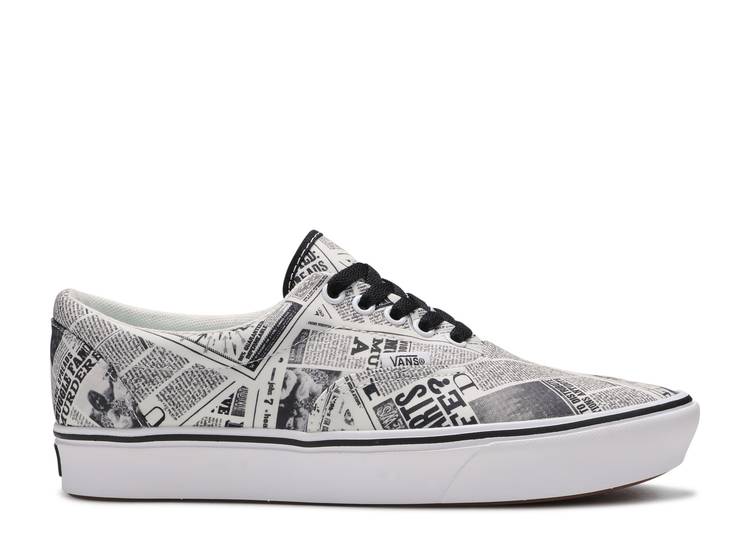 Best for Subtle Harry Potter Vans
Part of the original Harry Potter x Vans collection, these Comfycush Era Vans feature print from the Daily Prophet. One can only hope Hermione still has Rita Skeeter stuck in that jar, so we don't have to read any of her Riddikulusness (Yes, I spelled it that way on purpose, Rita Skeeter is my personal Boggart). If these were slip-ons, I would have them in my closet.
Pros
The classic black and white color palette that will match most outfits.

Amazing overlapping newspaper print design.

Comfycush Era Vans offer the most padding and roll support for skaters. 
Cons
Only available in one Vans shoe style, Comfycush Era.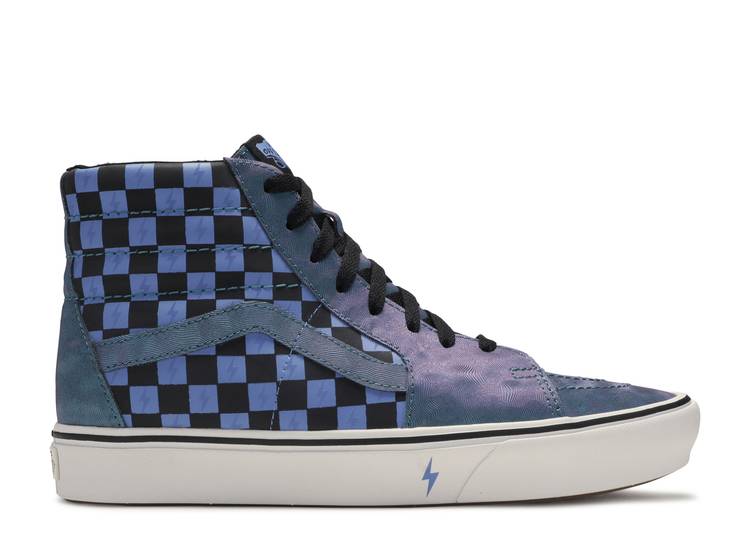 Best for Those who Love Luna Lovegood 
These Harry Potter Vans are probably the most understated merch of the bunch. They have a purple hue which honestly reminds me more of our favorite Ravenclaw, Luna Lovegood, than it does Transfiguration. When I think of Transfiguration, I constantly am reminded of the dear to my heart, Professor McGonagall. However, these SK8-hi shoes are great for those who want a minimalistic Harry Potter Van as they feature Harry's lightning bolt. 
Pros
Beautiful pastel purple color.

Vans famous checkerboard design

Features Harry's lightning bolt. 
Cons
No Transfiguration-related art or anything to make it actually Transfiguration related.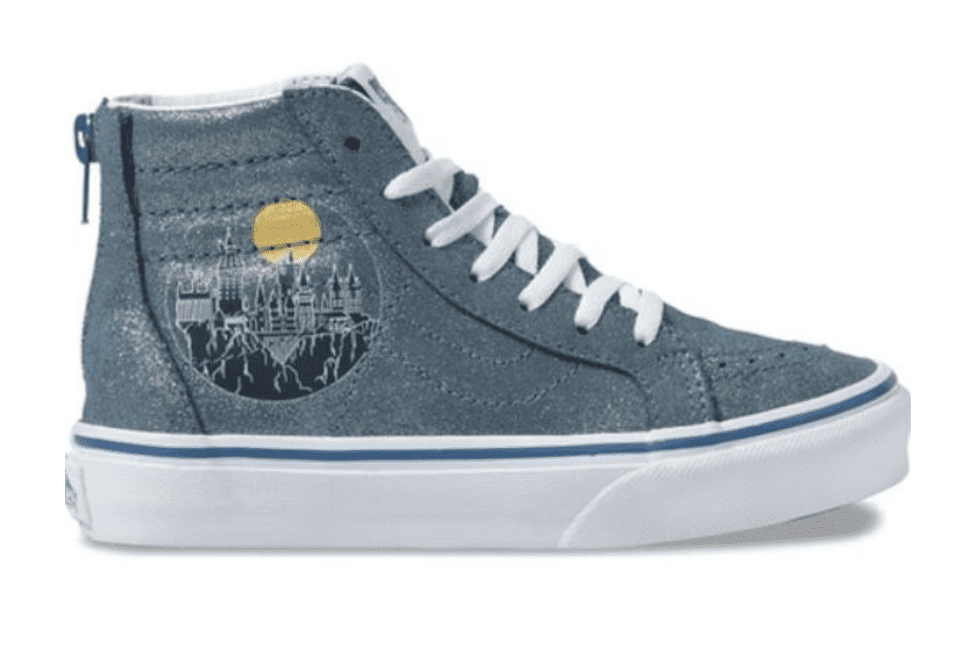 Best for Kids
This Vans Sk8-hi Zip shoe for kids features a silhouette of Hogwarts. This pair is perfect for any kid waiting to receive their Hogwarts letter! I firmly believe they let the Weasley's owl, Errol, deliver my acceptance letter, and the poor bird is still somehow lost. I'll keep waiting. 
Pros
Cute and classic design, perfect for kids.

Features a zip-up back for children's ease. 
Cons
Does not come in adult sizes

Only depicts Hogwarts castle; Hagrid's Hut is not included.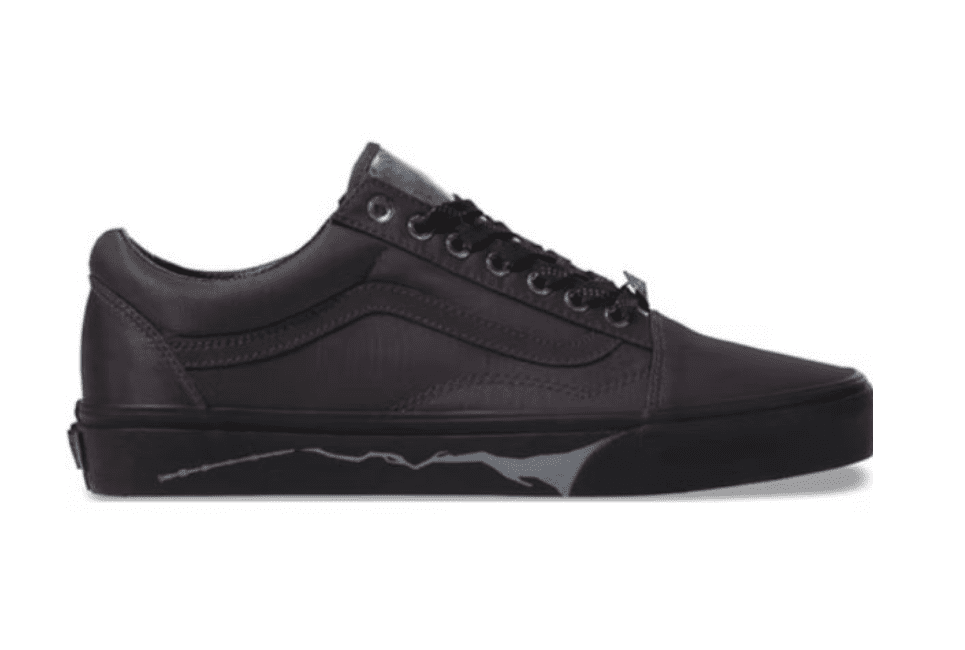 Best for Fans of the Deathly Hallow Films
Featuring the Elder wand and the Deathly Hallows symbol, these Old Skool style Vans embody all that is the hallows. With a dark grey on black color palate, they exude power. I will be honest. Harry Potter and the Deathly Hallows are my least favorite. I think they lack the feeling of magic the earlier installments have in abundance. For that reason, these are not my personal favorite, but if you love the Hallows, they may be yours!
Pros
Understated design makes them great for everyday wear.

Easily recognizable as Harry Potter merchandise. 
Cons
Only come in one dark color pattern.

Owning them does not actually grant you mastery over death itself.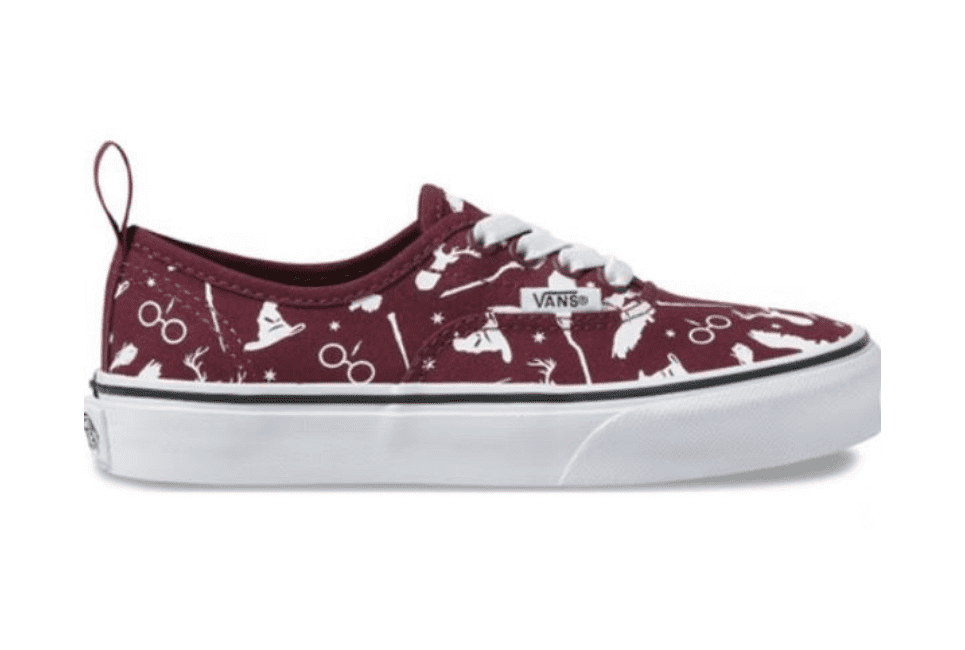 Best for New Harry Potter Fans
I believe these Authentic style Vans are the perfect pick for any Harry Potter fan. They don't box you into one house and instead illustrate some of the best moments of Harry Potter. I absolutely love that they feature a Stag, Harry's Patronus. 
Pros
Cute design that appeals to almost all Harry Potter fans.

Minimalistic icon design that looks clean and polished. 

Features icons from multiple Harry Potter books and films, not just one.
Cons
Only available in one color, red. This may deter some Ravenclaws, Slytherins, or Hufflepuffs from purchasing. I wish they were available in the four house colors.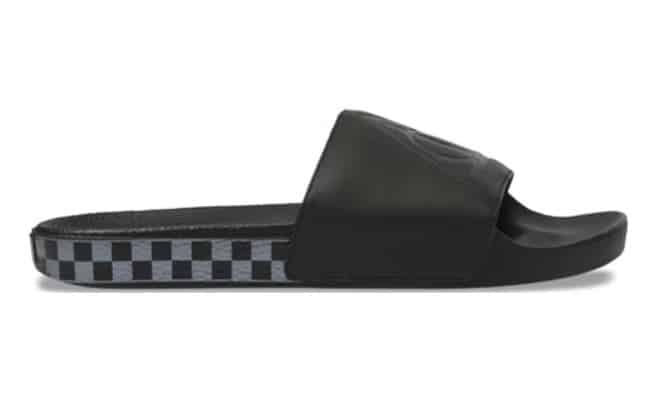 Best Sandal Option
Much like the Old Skool pair of Vans we already discussed, these Deathly Hallow Vans Slides feature the symbol for the Deathly Hallows with a black and grey palate. They also feature Van's iconic checkerboard pattern on the side. 
Pros
Simplistic design that is obviously Harry Potter merchandise

Slides are a favorite of mine for summer temperatures. These slides would be great to throw on and go hang by the pool! 
Cons
Very similar to the Deathly Hallow slip-on Vans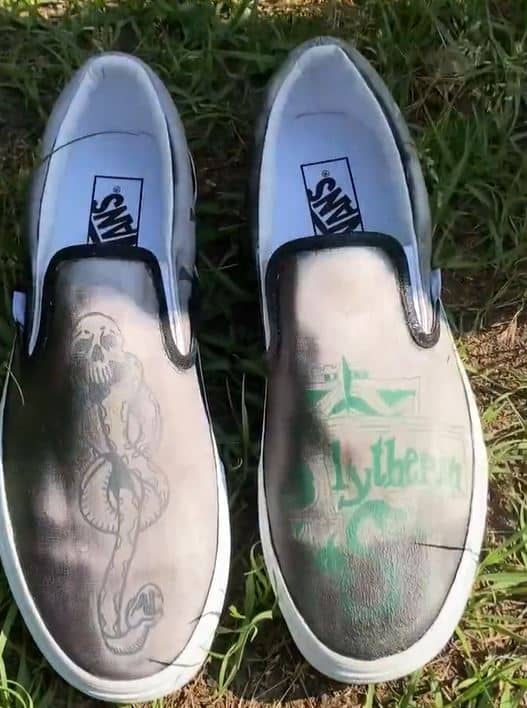 Best Customizable Option
If none of the styles above are to your taste, there is a large market for artists who paint on Vans Classic Slip-Ons. Harry Potter artists are no exception to this! While you will have to wait a while to receive your new kicks, these custom-painted vans are some of the coolest things I've seen since the Weasley twin's Skiving Snack boxes. There are many options on Etsy, from portraits of the main characters to Hogwarts House Crests and even Quidditch scenes, but these thermal reveal Vans are my favorite! 
Pros
Can be completely customizable in shoe style or design

You can order exactly what you want; your imagination only limits the possibilities!
Cons
Cost- on top of the already pricey shoe purchase, custom-painted Vans include another charge for the artist's labor.

Time- hand painting shoes takes many hours, depending on the design's complexity. This means your Vans could take multiple weeks to arrive at your doorstep.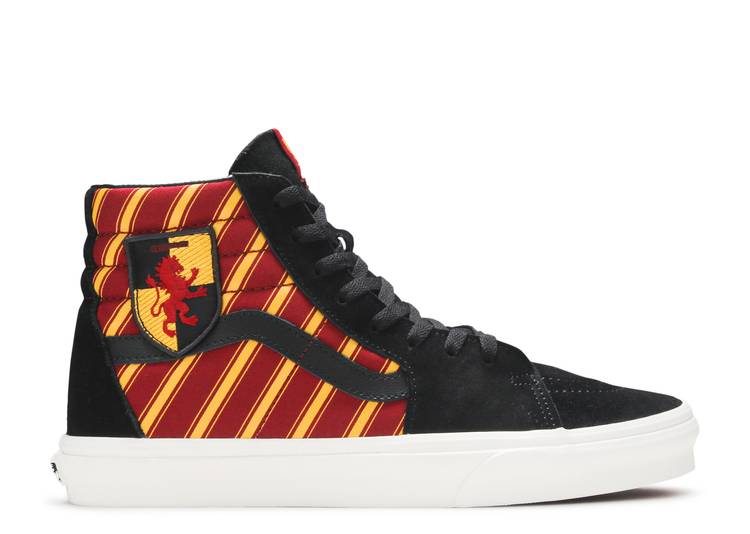 Best for Gryffindors
"You might belong in Gryffindor, where dwell the brave of heart, their daring, nerve, and chivalry set Gryffindor apart;."
All right, fellow Gryffindors, there's no question that bravery is one of our greatest strengths—but it's not our only strength. Gryffindors are also witty and creative; friends know they can always count on a good laugh around a Gryffindor. We often like making the first move, taking risks in all areas of life, and have such passion for whatever we believe in.
Although this may make us slightly competitive with other houses (*FIGHT FIGHT GRYFFINDOR*) our energy drives us forward to do what needs to be done without worrying about failure or challenges. The Gryffindor house Vans explode with color in a way that our personalities do as they feature the SK8-Hi style in our house colors, Red and Gold. 
Pros
Great red and gold coloring that is obviously Gryffindor.

SK8-Hi style Van that features the classic stripe and makes a statement with the heightened ankle. 
Cons
The suede material is prone to staining when wet.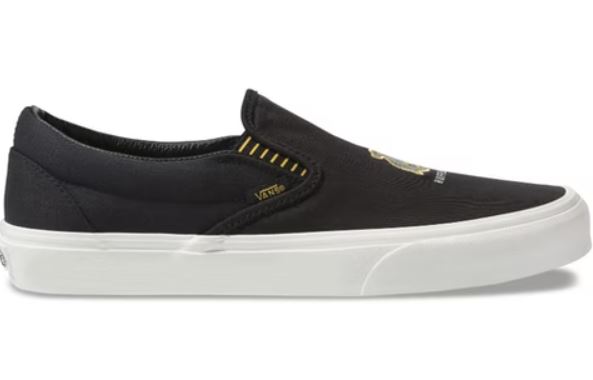 Best for Hufflepuffs
"You might belong in Hufflepuff, where they are just and loyal, those patient Hufflepuffs are true and unafraid of toil;."
Hufflepuff is one of my favorite houses. Criminally underrated and often overlooked, Hufflepuffs are the unsung heroes of the Wizarding World. My favorite character, Nymphadora Tonks, proved that it's not only Gryffindors who are brave or Ravenclaws who are wise.
She embodied all of that while remaining both loyal and cunning. Hufflepuffs never give up, no matter how tough things get. These Hufflepuff-inspired Vans feature the laid-back slip-on style and the adorable badger we all secretly love. 
Pros
Slip-on style Vans offer comfort and are great everyday shoes.

Feature the Hufflepuff mascot.
Cons
Only available in black. No yellow option.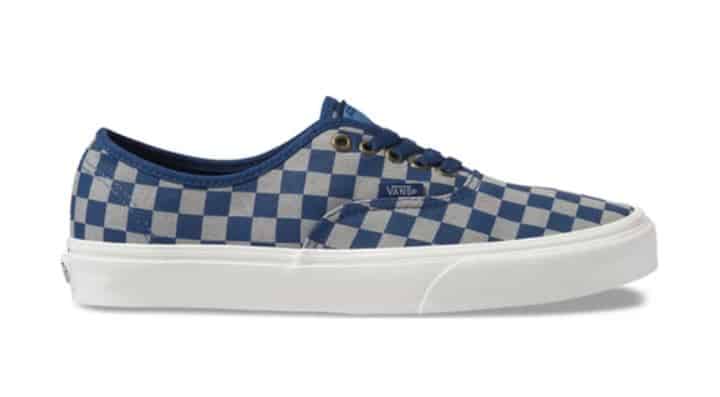 Best for Ravenclaws
"Or yet in wise old Ravenclaw, If you've a ready mind, where those of wit and learning, will always find their kind;."
These Vans feature the Authentic style shoe with Ravenclaw's primary house color at the forefront. I'm sure Rowena Ravenclaw would be proud of the intelligent design. The checkerboard pattern is an icon of the Vans brand and also features the Ravenclaw crest.
Pros
This lace-up style of Vans is their most popular style. Along with the classic checkerboard pattern, this pair of Vans embodies the best of the brand.

Correct mascot on the crest, which is very often incorrect for Ravenclaws.
Cons
Incorrect Hogwarts house colors. Instead of illustrating Ravenclaw's other house color, bronze, these Vans use grey.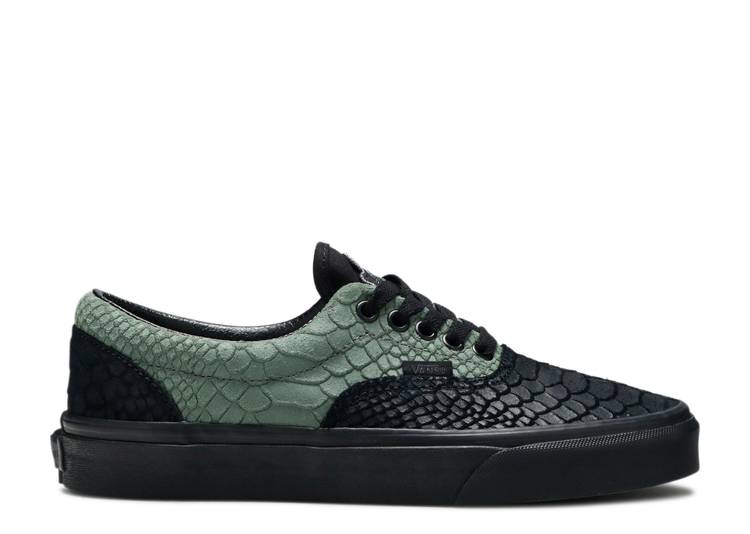 Best for Slytherins
"Or perhaps in Slytherin you'll make your real friends, those cunning folk use any means to achieve their ends."
These Slytherin-themed vans are too good not to include. For all you Slytherin folk out there, these kicks have your name written all over them. Draco Malfoy is known for his hatred of Harry Potter, his family's pure-blood status, and his overuse of hair products. Draco isn't just a fictional character, though—he's an inspiration for sneaker-heads everywhere.
There is no doubt in my mind that Malfoy would trade his dragon hide boots for these Vans at the first opportunity. These Era Vans are a Sacred 28's dream shoe with their snake-like appearance and classic green and black coloring.
Pros
Epic snakeskin pattern that hints at the Slytherin house mascot.

Attention to detail- the bottom of the soles of the shoes are green to match the uppers. 
Cons
The Slytherin crest is mostly hidden by the shoe laces. 
FAQs
Question: What Harry Potter House am I?
Answer: One's Hogwarts house is a crucial piece of information to know about oneself. There are many quizzes online that claim to tell you your house, but in my opinion, the only one to be trusted is the Hogwarts Sorting Quiz from The Wizarding World. They have a desktop and app format; I took both just to ensure I am a true Gryffindor!
Question: Which is the Best Harry Potter Wand?
Answer: While I find Hermione Granger's wand the most aesthetically pleasing, the best wand title must be given to the Elder Wand. As the most powerful wand to ever have existed, it deserves the top spot!
Question: What are the Best Harry Potter Locations?
Answer: If you're traveling to England or Scotland anytime soon, there are many amazing places you can go to that were featured in the Harry Potter films. I think the best option is to ride the Jacobite Steam Train across the Glenfinnan Viaduct. This trip from Edinburgh to the Scottish Highlands mimics the journey we see our Golden Trio traverse on the ride to Hogwarts. If visiting the outside of Hogwarts is more your cup of tea, head to Alnwick Castle in Northumberland, England!
Mischief Managed
Whether you're an avid collector or just want to sport a little Harry Potter merch, the Harry Potter Vans collection is a great way to show your love for the Wizarding World. Wearing merch for our favorite stories brings a little magic into our own world and often puts a smile on our faces. If you're on the hunt for the best Harry Potter shoes, the best choice is the Harry Potter x Vans collection!
Want to find other types of Harry Potter Merch? Check out these links below!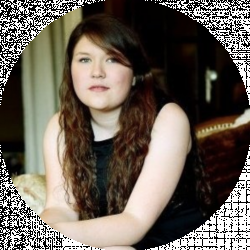 Latest posts by Kendra Gerken
(see all)