Lest you live under a rock and have been hibernating for the last 12 years, you know who Harry Styles is. If you are unaware, allow me to welcome you to the world above sea level and give you a pair of sunglasses to adjust to the light. You have missed a lot, so sit down and relax, because to understand what makes Harry Styles oh so golden, you need to understand the man himself. Don't worry; you'll understand the golden line later.
Harry Styles was born February 1st, 1994, in Redditch, Worcestershire, England. He enjoyed a modest upbringing in Holmes Chapel in Cheshire. Like many stories of stars before they were young, Harry was said to have enjoyed karaoke, singing and lead a rock band at school called White Eskimo. Already known by the truly dedicated fans, Harry worked at the W. Mandeville Bakery in Holmes Chapel. I'm sure it's a great bakery, and should I ever find myself there I'll check back in and let you know. 
In April of 2010, the world met Mr. Styles on the seventh series of The X Factor, a wildly popular British singing competition. He was a soloist, and so were four other boys: Louis Tomlinson, Niall Horan, Liam Payne, and Zayn Malik. They lacked talent apart, but once the judges threw them together in an unprecedented move, a global sensation was born. Enter, One Direction.
Named by Harry, the youngest of the group, One Direction would go on to produce five chart-topping albums, sell out four world tours, win 177 of 285 nominations across innumerable award shows and then go on an indefinite hiatus in 2016 after a whirlwind six years. Arguably one of the best boy bands of all time, the boys of One Direction grew into men and decided to take some time off from a group effort and focus on solo projects. 
You may now be saying, "I'm here for Harry Styles sweatshirts why am I getting the One Direction backstory?" To that, I say: you need it. Each members has gone off and created a solo name for themselves (some have delusions of grandeur, Mr. Payne) the man at the top of the pack is Harry Styles. He was the clear frontman for One Direction something that has played over into his solo career. Take one look at him, and you'll understand why.
There's a reason his last name is Styles.
Bottom Line Up Front
The man has a flair for fashion and a keen eye for taking a trend further than once socially accepted. Now Mr. Styles is a mainstay for everyone; gender is an idea, and Harry steps outside the color conventions to create signature looks. By all accounts, Harry is a visionary, and I don't say that with any sarcasm. Trailblazers come in all shapes and sizes, and styles. See what I did there?
My top pick for a Harry Styles sweatshirt is the Treat People With Kindness Hoodie (Blue). I'm open to all the colors of the rainbow, but this one hits all the marks for me. A minimalistic design, a stunning blue color understated but eye-catching, and it bears a simple message: Treat People With Kindness. That is a song from Fine Line, but a timely sentiment with a timeless energy. The world is a tough enough place already. Treat each other with a smidge kindness.
Behind Mr. Styles is a legion of fans eager to wear his merchandise and support him in his endeavors, whether musical or on the fashion side of the spectrum. Harry Styles merchandise has been a top seller amongst One Direction apparel and now that he has branched out on his own, with more options come more creativity. If you love Harry (how could you not) then you understand the sweatshirts, and this will help narrow down what to buy, where to buy them, and my personal confidence in your ability to wear them with style and class.
Selection Criteria
In order to create a comprehensive guide with so many options, I had to factor in a few crucial details. 
Legitimacy

With an artist like Harry Styles, replicating a logo or something of that ilk with a minor defect (or outright copy infringement) and pass it off as merchandise that's marked down.

I went straight to the Harry Styles 

Official Store

 to find sweatshirts and used my Google Shopping trick as I kept looking.

Price

Supporting an artist tends to come with a hefty price tag. Mr. Styles is no exception, but that is okay because he has pledged money from his merchandise sales from his current Love on Tour 2022 concert series to Everytown for Gun Safety.

His merchandise is created from sustainable items made using renewable energy from solar and wind power.

The Artist

I know, how does the artist factor into the price? Simple! What do they stand for?

Harry Styles is an LGBTQ+ human safe space, and his concerts are too. Sometimes you have to separate the art from the artist, but not in this case.

Your hard-earned money is going to be something great.
And now without further ado, in no particular order, your guide to Harry Styles sweatshirts.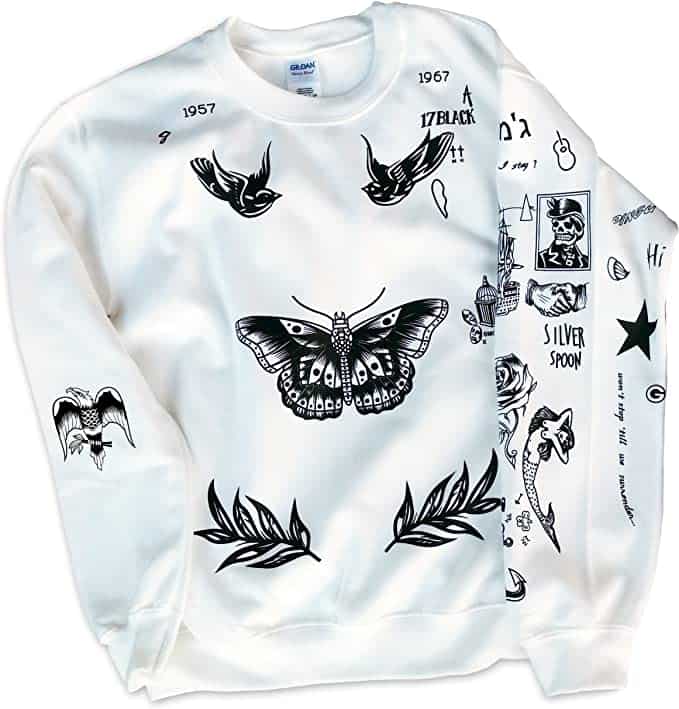 Arguably one of the most popular sweatshirts, the Harry Styles Tattoo Sweatshirt is an instant eye-catcher for anyone who knows about Harry. The most tattooed member of One Direction well known for iconic tattoos like the butterfly on his stomach. Double stitch seams at the collar, shoulders, waist, and sleeves allow for a roomy fit while remaining snug in all the right places, giving an even fit.
Pros
Roomy fit.
Contains iconic, noticeable tattoos.
Classic crewneck cut.
Cons
Lack of updated tattoos (to be fair, that's quite the task though)
Labor Day might be coming up, but that wouldn't stop me from wearing this pearly white beauty, and it shouldn't be for you. To be honest, I'm still not sure why wearing white after Labor Day is a fashion no-no, but I'll revisit that another day. Lightweight with a fun font that melds from one word to another and glitter silver hearts, it's for anyone and everyone who wants to spread a little love.
Pros
Lightweight for versatile wear.
Attention-grabbing font.
Cons
Glitter gets everywhere. Literally everywhere.
White is easily dirtied.
Did I mention glitter gets everywhere and stays forever?
Minty green keeps a look fresh, and having one of the biggest pop icons in the world reclining while smiling out at the world against the backdrop is a cozy conversation starter. A unisex (as is almost all Harry Styles merchandise) the extra long sleeves allow for a comfortable fit with room to grow. Or, scrunch up and keep your hands warm. Ah, versatility. 
Pros
Toned down green is unique.
Harry looks fantastic.
Cons
Longer sleeves can pose a problem for longer armed people, leaving them with just sleeves and no extra novelty.
Don't let the name fool you; this is a sleek black crewneck with a black and white picture of possibly the most photogenic human the camera has seen in a while. Golden is an easily recognizable song off his second album Fine Line, and trust me when I tell you that wearing this, baby you're so golden.
Pros
Stands out.
Easy to spot one fan to another.
Cons
Bad for marathon games of hide-and-seek.
Here is one that I don't get tired of looking at, and I'm sure you won't either. The Love Soup Crewneck is a 2022 tour piece, as evidenced by the 2022 bubbles throughout the Love On Tour alphabet soup, you're reading your way through. Pops of color from the black backdrop make this a sweatshirt that's good to go for almost any occasion, and the cuffed sleeves add for a tapered look and classy effect.
Pros
Unique style that's hard to find elsewhere.
Black is universally compatible with other colors.
Tapered to look chic.
Homage to one of my favorite soups.
Cons
Not for those who don't like abstract art.
Minimal color selection for the letters.
On the back of a light gray hoodie is one Mr. Harry Styles, on top of the world. On the front is simply Harry's House the title of his newest album. Simple with a sweet picture on the back, it's a nice homage to the new album because you know… it's not the same as it was.
Pros
Cons
With a slightly distressed look, this Love on Tour (2022) hoodie has a slight punk feel with a checkered background, circa every pair of slip-on Vans in the last two decades. With that are two rabbits that are under a fair amount of speculation. It's said to be a message from his mother, Anne, who says that bunnies at the beginning of the month are good luck. I'll leave you to be the judge of that.
Pros
Vintage punk look is in right now.
Bunnies are one of my favorite animals.
To the untrained eye, you're just wearing a punky sweatshirt and fighting authority.
Cons
The bunnies are confusing with little context.
Also available in gray, the simplicity of the design on the cozy Champion hoodie is beautiful. Treat People With Kindness is a staple song of Harry's, as is his overall brand. The phrase is spelled out in rainbow colors, suggesting that the whole world would be better off if we all took inspiration from the slogan.
Pros
Perfect message.
Great colors to compliment any outfit.
Rainbow inclusivity.
Cons
I have nothing for you. *chefs kiss*
A black backdrop with a white bunny adorned with Love On Tour. Simple but elegant, again with the theme of rabbits. I have to look further into that, but overall a great design. To the untrained eye, you might not know it's Harry Styles merchandise but to anyone who's ever belted Falling or Sign of the Times in the car after a long day; you already know.
Pros
Simple, yet elegant.
Good for belting the above mentioned songs.
Cons
I seriously still don't know what the bunnies are about.
Black is an essential color for hoodies, as we all know, black goes with pretty much everything and it's easy to style a look around. The metallic glitter lettering is a perfect way to push the message of kindness and help Harry's overall brand grow and show. Simple but effective, a key wardrobe piece.
Pros
Black goes with everything.
Metallic is a fantastic contrast for most colors.
Cons
Glitter.
Seriously, glitter everywhere.
Pink, yellow, blue, and red that sparkle on another black hoodie speak volumes. The glitter is there for the boldness Harry puts forth with everything he does, and the colors catch the attention of anyone taking a look as you walk past someone on the street. Forget walking, strut with these pieces on, especially this one. Look fabulous and be proud! 
Pros
A fun abbreviation.
A good acronym can get your further in life than you'd anticipate.
It's bold and beautiful!
Cons
I feel like I'm not being heard when I tell you: glitter is going to be apart of you forever.
Say the name three times fast, I dare you. Harry's House is his latest album, and the name embroidered in royal blue over the heart. Subtle but lovely. On the back, we've got the album cover in negative color, bringing out a bit of extra creativity and certainly giving pause for a double-take. The 3D effect is a nice touch and a way to round out a stellar collection.
Pros
Trippy 3D effect is fun.
Negative color is sparingly used in his collection, so you've got a more unique piece.
No glitter.
Cons
Jealousy comes in many forms. Take care of the sweatshirt, or it really won't be the same as it was.
Final Thoughts
Overall, my top pick is Treat People With Kindness Hoodie (Blue). A theme throughout the clothing line, the brand Harry pushes forward, and the message behind the music is simple. Treat people with the same kindness that you'd like. Hoodies are one of my favorite go-to items for clothing so my pick was a no-brainer. As the world stands now, treating each other with a little more love and a little less hate, a bit more dignity and cutting down on cutting each other down, a resonant message is one we need to see over and over. And my eyes are blue; might as well wear something to compliment them, right?
Harry Styles is a renaissance man. His over-the-top style is appreciated by millions, and the fact that his official merchandise is more on the simple side of the spectrum is a juxtaposition I appreciate on new levels. If you look for clips online or have managed to secure a ticket, you know that his concerts are a place of love and acceptance, music punctuated with speeches of self-expression, self-love, and the occasional gender reveal of an expected child per the parent's request.
Harry's also known to help fans announce their sexuality to the world when asked. Perhaps the reason for his subtle sweatshirts is because he's paving the way for blurring the line of gender conformity for his fans, and by wearing the simplicity-based clothing, there's room to be yourself without a feather boa as Harry often does. He's a complex man; he walks a fine line and truly is a sign of the times. He's so golden.
Frequently Asked Questions
Question: How do I Find Legitimate Merchandise?
Answer: I go straight to his official merchandise store on his website. There are a few based on region, but the options are almost the same, give or take a few pieces. Going on Amazon or Etsy is a personal choice, but when I'm going to spend money on something like clothing that supports an artist, I like to go right to the source. There are also licensed vendors, like Target, Walmart, Kohl's, and Hot Topic. However, I remain steadfast in going right to the website. Or, if I ever manage to get tickets to a show, I'll be getting a souvenir there.
Question: How Does Shipping Work Between Countries?
Answer: Processing time between the US and the UK varies, depending on new releases and restocking times. International orders can take between 2-4 weeks, however, those are estimates. Thankfully, there are resources to contact the company and track your items!
Question: Do the Sweatshirts Run Big or Small?
Answer: When it comes to buying a sweatshirt, regardless of where it's coming from, I assume that it's going to run small. Plus, I always enjoy a little extra room in sweatshirts. When it's cold, you can layer, and being able to curl up with extra material is always a plus.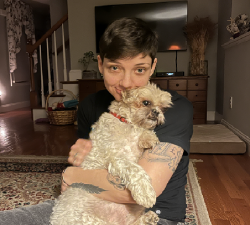 Latest posts by Sarah Weisberg
(see all)