One of my favorite movies when I was a kid was Toy Story. I enjoy the franchise now too, and as an adult, I can appreciate the film on a different level, with jokes that raced right over my young head now hitting differently. I believe I had one or two items of Toy Story clothing, but at this point, it's pure conjecture. I'm certain that if the merchandise on the market now had been available when I was younger, I would have tried to grow slower so I could have some Toy Story memorabilia from childhood.
I suppose it's okay though, because I grew with Toy Story as it grew with me. Andy and I left for college at the same time, each making the difficult decision to part with some toys, effectively leaving our childhoods in the past and letting the next generation make memories with what we held so near and dear to our hearts.
Perhaps that's why I enjoy this franchise as much as I do; I have a 5-year-old nephew now who watches the movies and plays with the toys and wears the clothing, and he has the wide-eyed wonder I like to think I had the first time I saw Buzz Lightyear fall with style. One day, he'll have the same dilemmas I did: deciding when it was time to stop playing with the old favorite toys and move on. I wonder if he watches to see if toys come to life when we're not looking like we all did. I'll have to ask him.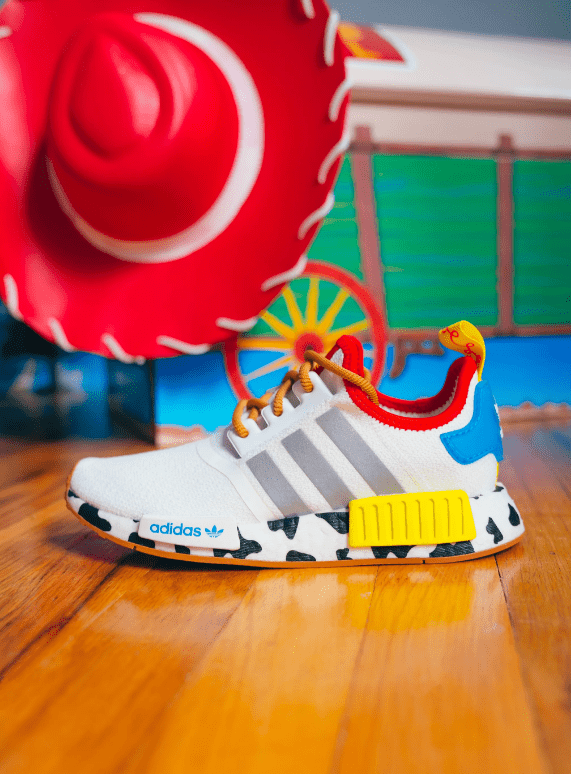 Bottom Line Up Front
Adidas is a company based out of Herzogenaurach, Bavaria, Germany. As sporting apparel companies go, Adidas is successful. The three-stripe logo is world-renowned and a prevalent sponsor for a roster of athletes. Toy Story is also world-renowned; Woody and Buzz are iconic characters that need no introduction. It only seems fitting that two brands of such stature would come together to create products with universal appeal.
The Adidas x Toy Story collaboration came to life in October of 2020 to celebrate the 25th anniversary of the release of Toy Story in 1995. The clothing and shoes were geared towards youth, children, and infant sizes. Depending on the product, there's a little wiggle room.
A few other brands, like Vans, have put a Toy Story collaboration out as well, unfortunately though, the product primarily isn't sized for adults. Short of finding anything second hand or questionable, these are kids clothes.
Since I fancy myself an aficionado of athletic wear and movies, I put together this helpful guide for finding the best of the Adidas x Toy Story collaboration. I have scoured the internet for the best items I could find and the things I want to wear the most while keeping in mind that we're all on a budget. Fear not; there's something for everyone!
Selection Criteria
The price tag

Everyone is on a budget, and there's a way to wear some fresh merchandise without breaking the bank.

Reputability

 

With price comes reputability, and I like to ensure that when I invest in something that runs a little higher on the price scale, I'm buying from a trusted store.
Materials and Sourcing

 

Ethically sourced merchandise is paramount and recycled plastics are quickly becoming a staple in fashion. Sustainability is a factor that I take into consideration immediately and one that I refuse to take lightly. If I picked it, I've done my homework, and now you won't have to.

My Top Picks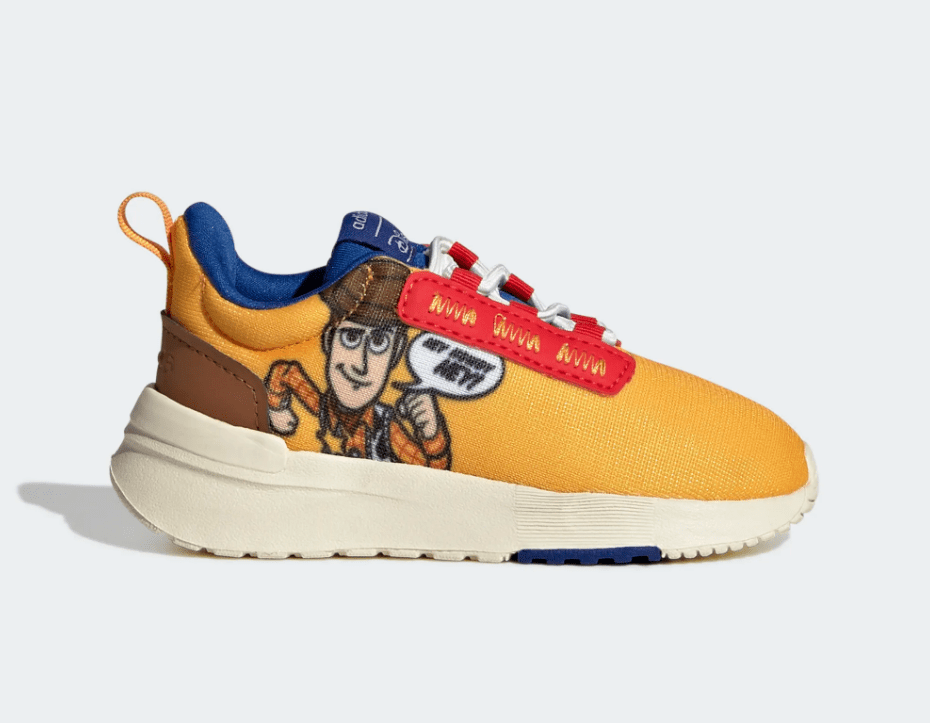 This pair is the only shoe in the collection expressly for infants, but it's still applicable for the littlest feet. These bad boys are ready for little ones to slip on and take off on their next adventure. Sheriff Woody is right along with them, adorned on a mesh toe enclosure to keep cool while using rubber soles to race around.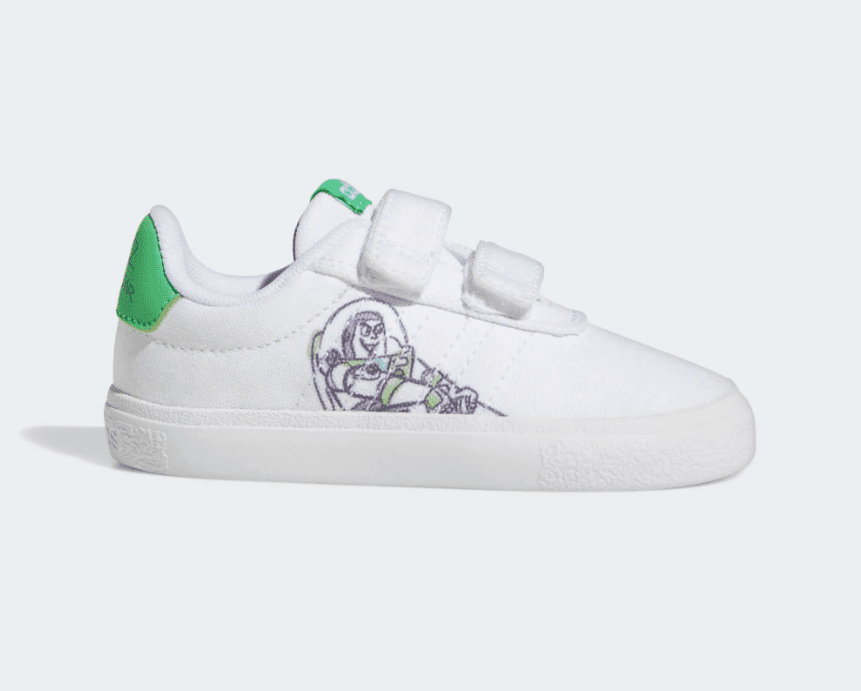 Starting kids young with the concept of falling with style is a pivotal moment in the life of any Space Ranger. The shoes are built with a classic skater style but have a regular fit with Vulc foxing tape for a snug closure that won't let the little sneaker go flying away. Even though Buzz is on the side in a purple minimalist graphic, we still don't want footwear getting away.

If your goal is to wear the comfiest shoes at the playground, look no further, because I found them for you. Complete with a Cloudfoam midsole, the elevated fitting shoe looks like Buzz Lightyear turned into a shoe and snugged up to your feet. A hook and loop at the top for easy access to get the kicks on before it's time to blast off.
Kids Shoes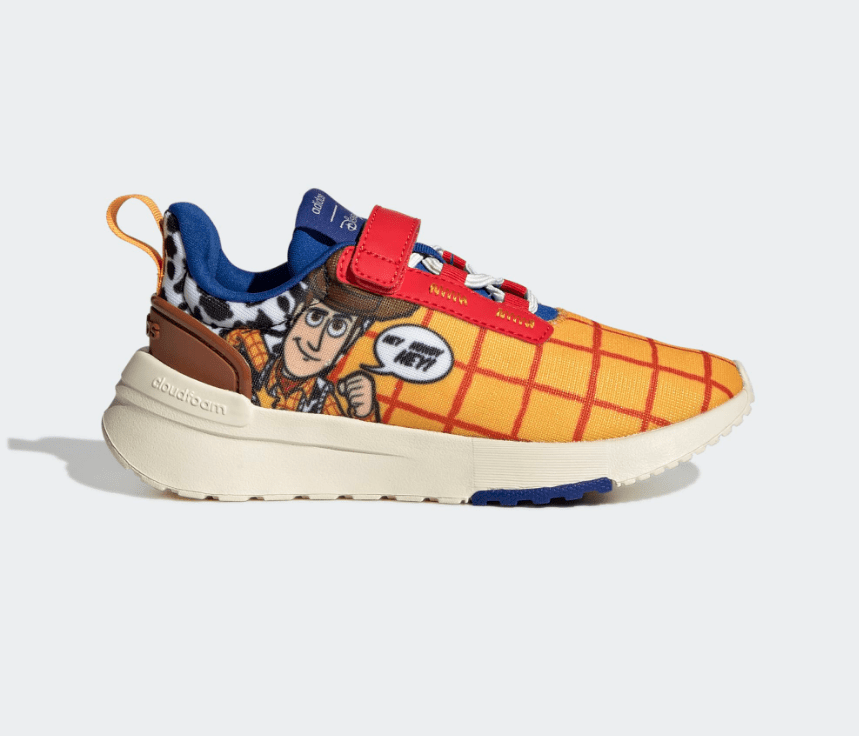 Woody is by your side for an easy-on, easy-off shoe. A hook and loop at the top allow maximum speed in getting the yellow and red checkered shoes on. Matching Woody, these have the Adidas heel plate in Woody's brown hat and boot color with accents of his vest.
The best part? Cloudfoam. I have shoes with Cloudfoam, and when I tell you Cloudfoa is a game-changer, I'm not lying. I doubt the little partner wearing these will have to be on their feet for eight to ten hours a day, but if they do, they've got the right shoes.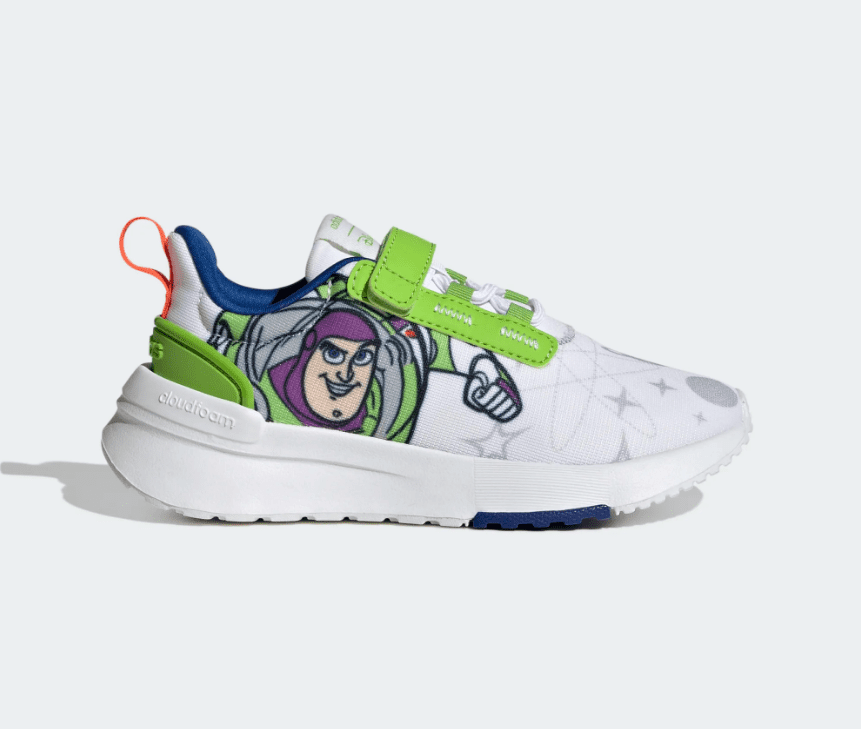 Buzz's color palette is alive and well with these hook and loop mesh shoes. Made with Cloudfoam for maximum comfort, the rubber outsole allows kids to run and jump around like their favorite Space Ranger without worrying about hurting their feet. White shoes with a Buzz graphic (they capture his chin) are marked with planets and stars to give the wearer an out-of-this-world feeling.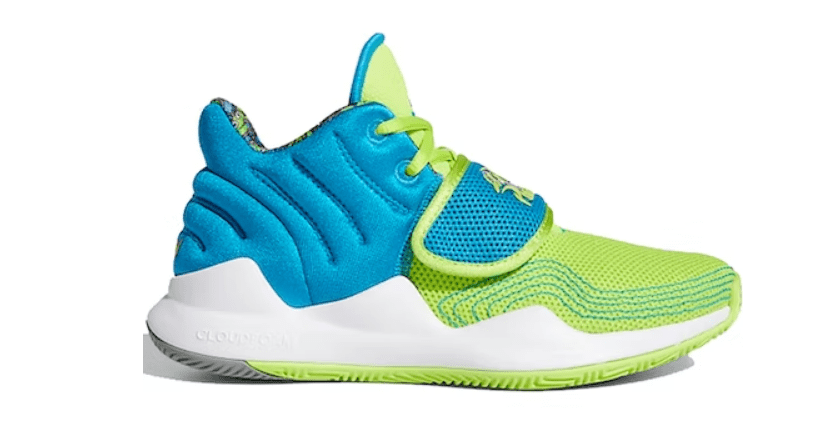 Show me someone that didn't want to have their birthday party at Pizza Planet, and I'll show you someone who has a loose grasp on the truth. Pizza Planet is the epitome of the place you want to be as a kid. The Deep Threat is modeled after the aliens in the claw machine (I know you just said "the claaaaw" in your head) and have bright colors to match.
Inside, the little green men that the shoes colored after are there to watch out for you and your feet as you navigate the planet of pizza. Velcro across the laces allows for a snug fit over the mesh, and Cloudfoam will keep your feet comfortable for the longest of space adventures.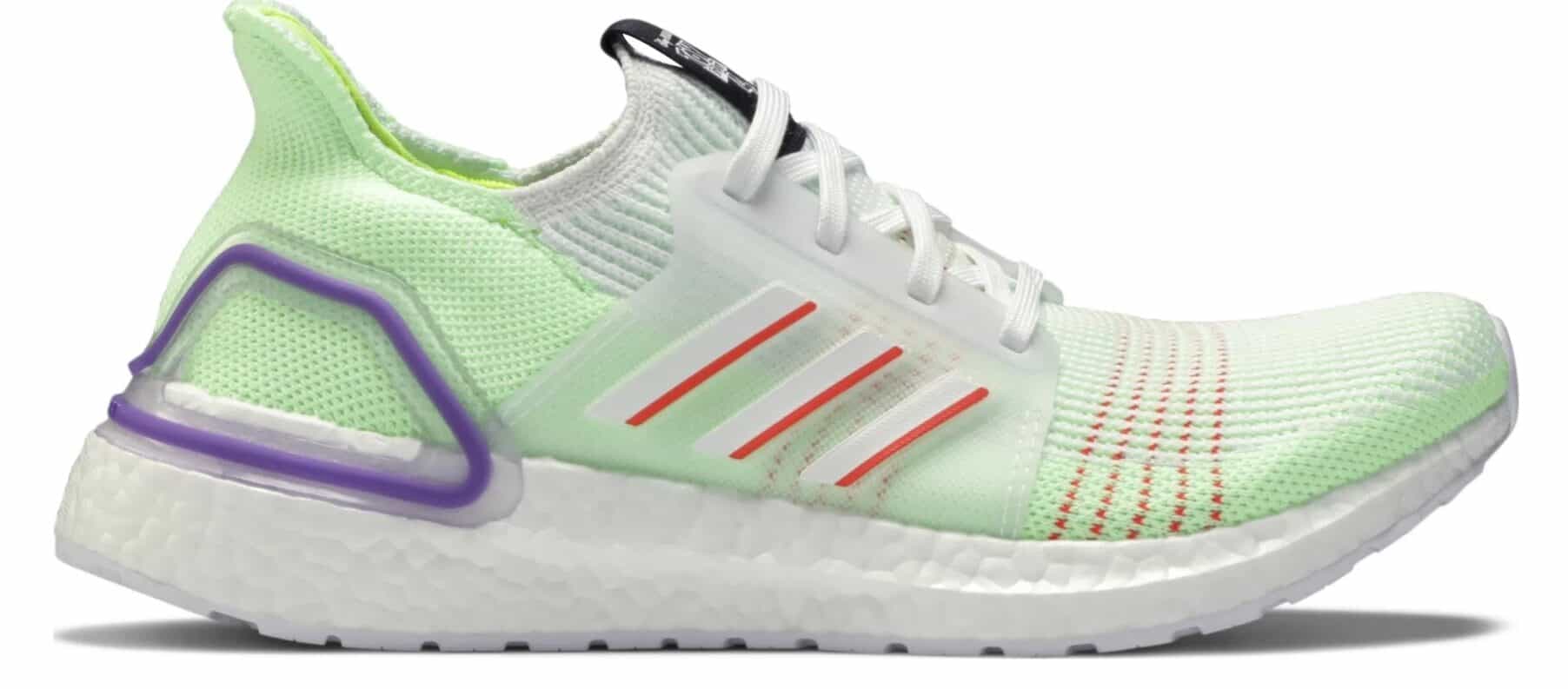 These shoes fall under the category of collectible. Hard to find? You bet. Did I find them anyway? Sure did. In 2019 the crossover with Adidas and Toy Story brought out these Buzz Lightyear-inspired Ultraboost shoes with a Toy Story 4 tongue tab. Remember I said I blew through shoes like there was no tomorrow when I was a kid? These were made for me!
Designed to grow with you, at least for a little while; the sneaker is lightweight and breathable with a Primeknit mesh that has some give for growth. The color palette is that of Buzz Lightyear's suit, and the heel plate screams Adidas.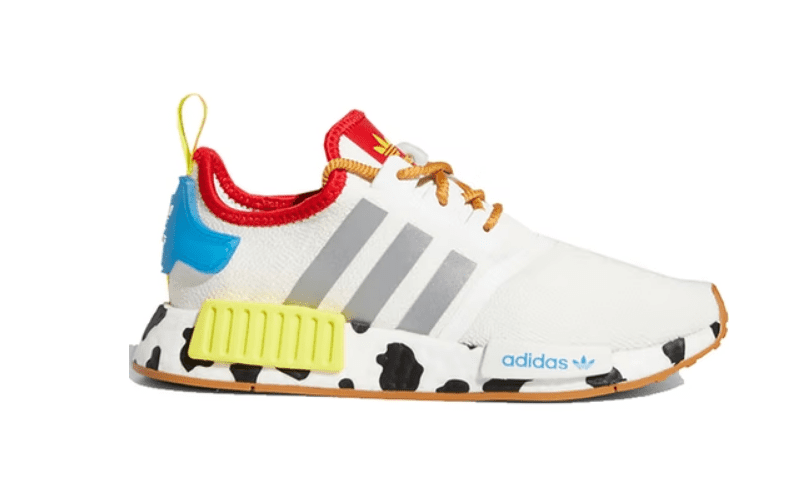 I love this shoe because it is the quintessential embodiment of Sheriff Woody in a shoe. Flagged with Adidas on the toe, there's no need for the tag itself because we can see the elusive three stripes. The sole is made around the same color and pattern as Woody's vest, and the colors coordinate with our favorite sheriff.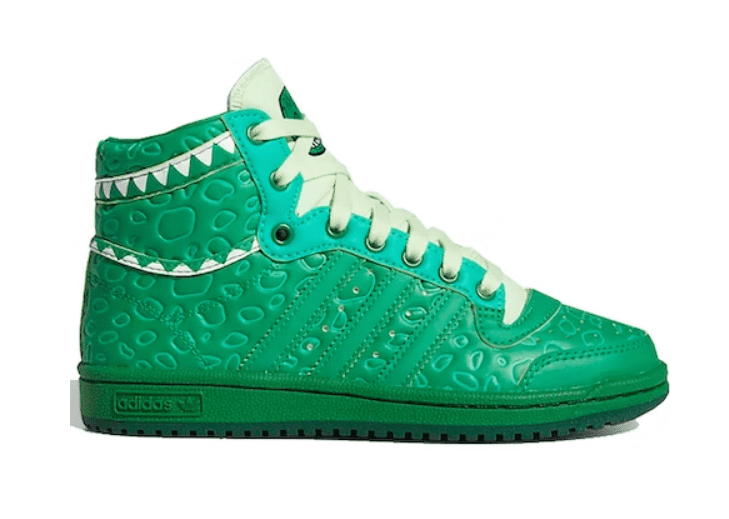 A high-top version of my favorite shoe, this one has more detail than my top pick, though I do enjoy this. The texturing, along with Rex on the tongue, leaves no questions as to which character we're working with here. This shoe doesn't have Cloudfoam, which isn't surprising given it being a Top Ten Hi. These are more of a stylish shoe that can be multifunctional, but constructed to be seen, not sink threes in.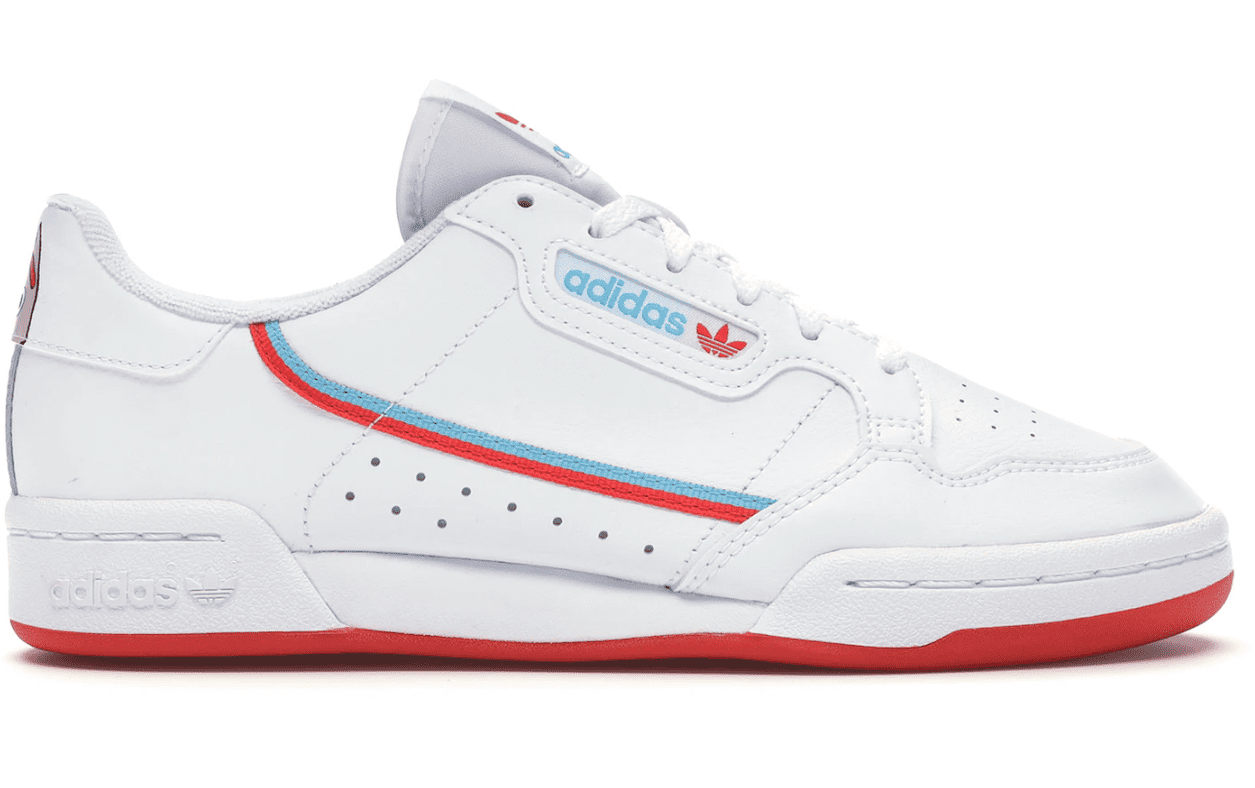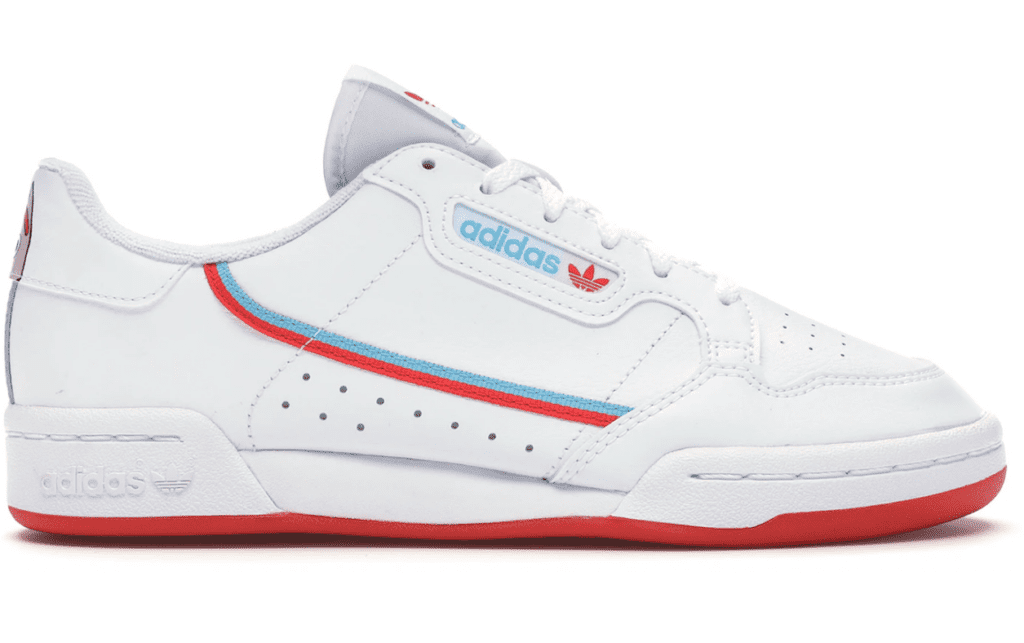 The subtleties of this shoe are not lost on me; Forky's color palette is here to stay. Bright white, red, and baby blue accents are accompanied by Forky popping his head up on the heel plate. The tongue is pure Adidas, giving retro vibes while staying in the present. Red soles are hard to come by: these are a must for a collector.
Clothing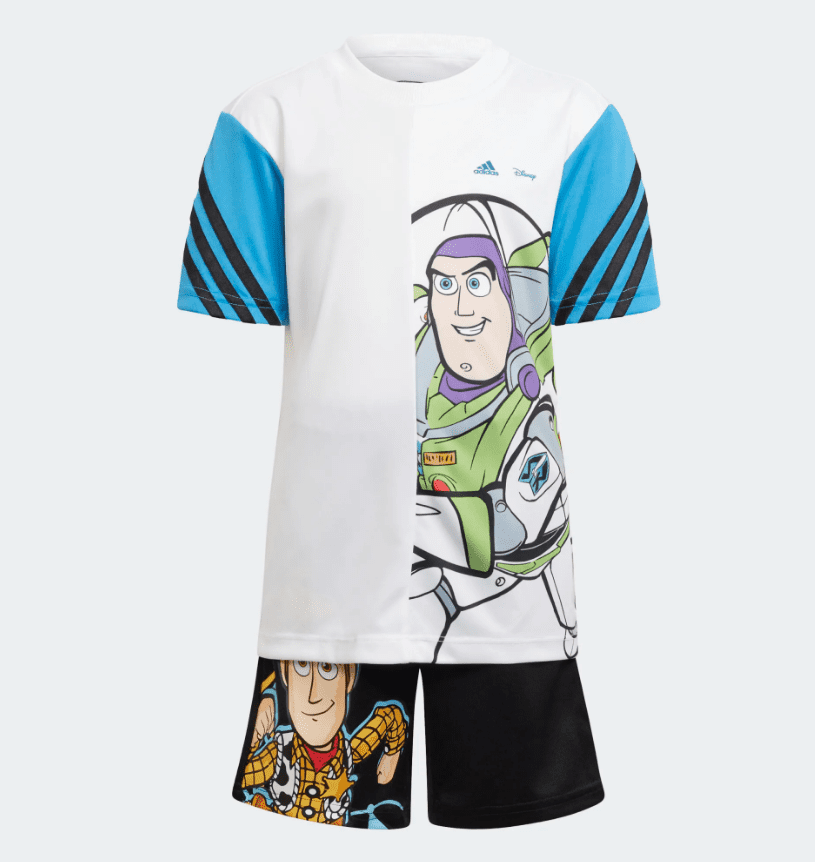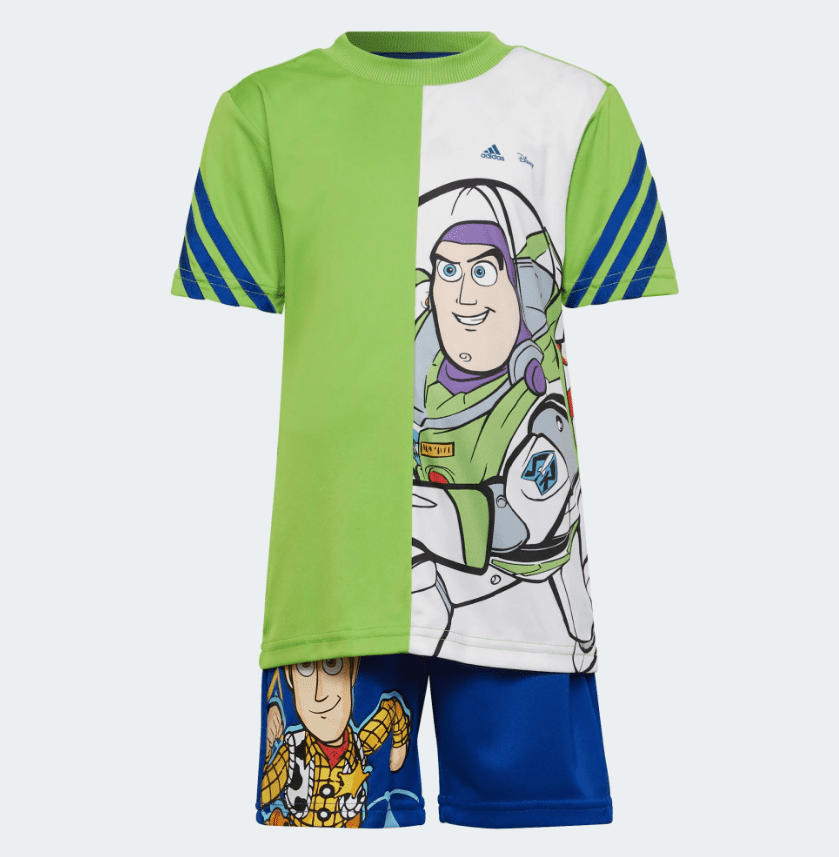 Side by side these are essentially the same, just a different color palette. AEROREADY material is moisture absorbent, and both are 100% recycled materials. Colors aside, Buzz is on the shirt, and Woody is on the shorts, the variations both being noticeable from the movies and easy to spot. Great for summer days and last-minute pajamas for the sleepover no one prepared for.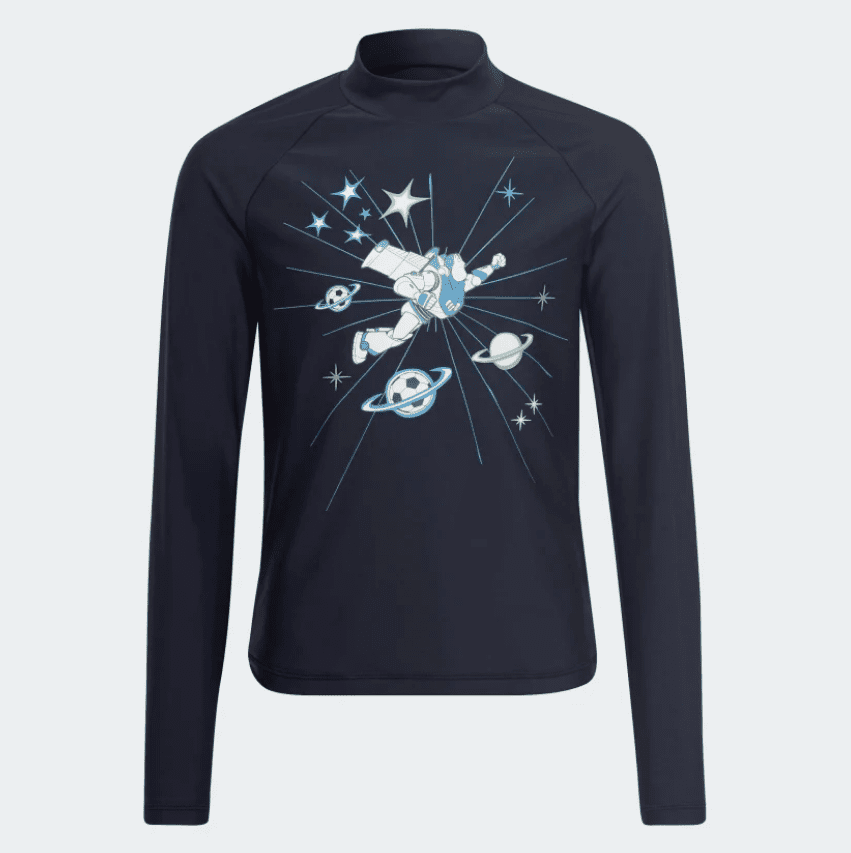 This summer has been hot. I'm being nice when I say it's just been hot. We've all been living it, and if you're anything like me, you enjoy swimming to cool off on any of the past zillion hot days. However, unless I'm going surfing, I typically don't wear a rash guard. Honestly, I usually wear a wetsuit when surfing, but my point stands.
Kids need one for the extended hours in the UV rays to keep youthful skin youthful. It's too late for me; years of sun-soaked days have left indelible marks and lines on my forehead. Learn from me everyone: wear the chlorine-resistant fabric with Buzz and planets ready to go. You'll thank me later.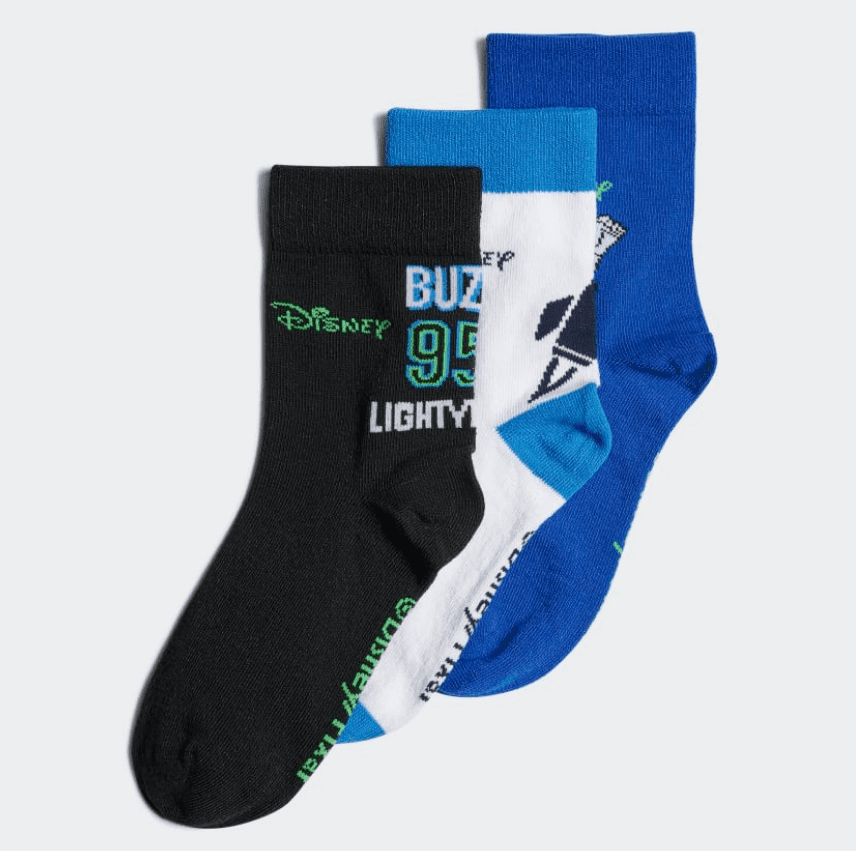 I have to hand it to the team here: a subtle nod to the release year, 1995, is a nice touch on the crew-length socks. Three pairs for three moods, color popping up out of any of the shoes I listed above. With iconic graphics and a ribbed cuff to prevent socks from falling this is a must-have for back to school.
Other Opportunities
The Vans x Toy Story Collection is no longer available, but let's take a moment to appreciate what it was and still could be. The Vans x Toy Story Collection  was for the grown-ups, and it's a shame I missed it. I would have loved to wear a shoe with ANDY written backwards on the sole. The nostalgia would hit just right.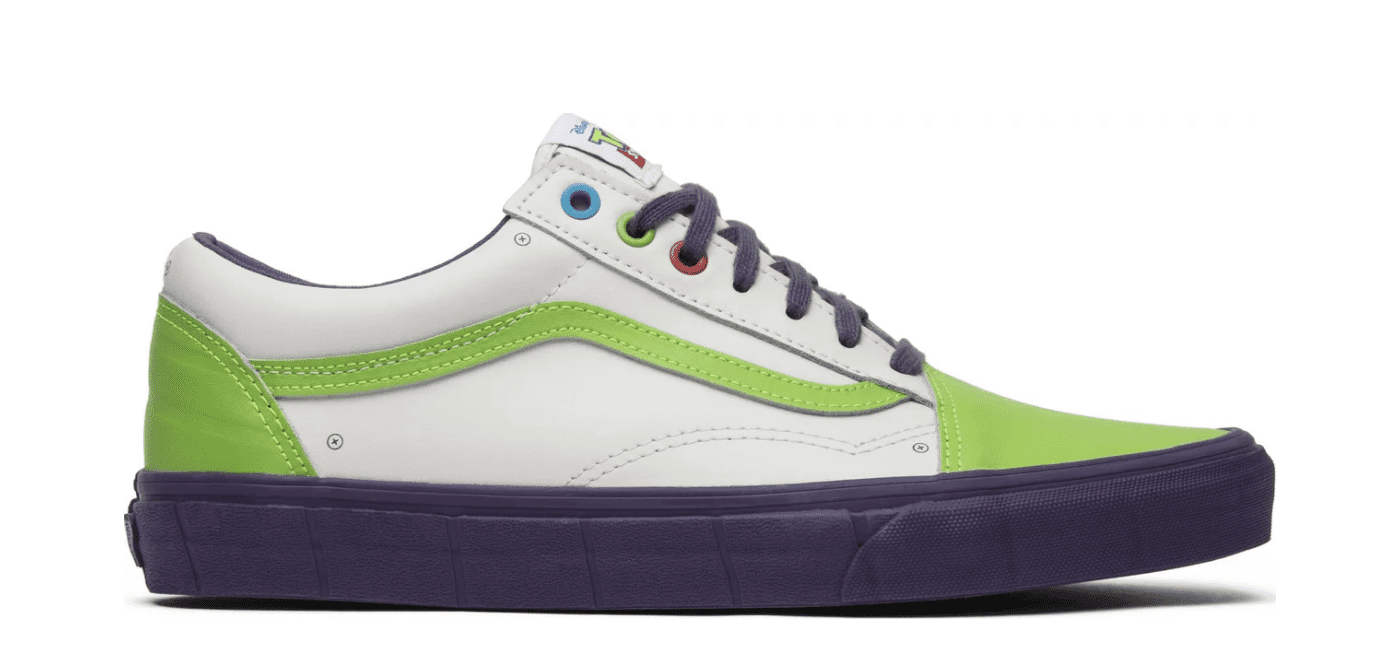 There are still chances to buy Toy Story Vans. I love thrift shopping as much as the next person, but secondhand shoes are where I draw the line. Vans Old Skool Toy Story Buzz Lightyear shoes are incredibly cool, but are also coming in at $702 USD before an almost $50 USD estimated tax. These are the most affordable shoe I found, and they're used. You see what I'm getting at here? It was a great collection that I unfortunately missed the boat on.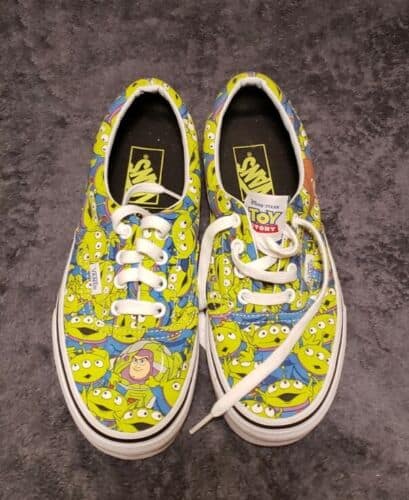 Final Thoughts
It's easy to look at a franchise as successful as Toy Story or a company as large as Adidas and see the potential in a crossover. Whether it's fiscally noticeable or just in passing between two successful brands, it's surprisingly easy to get lost in the shuffle. However, I think it's worth noting that a whole new generation of kids are coming up and discovering Toy Story and the many counterparts that grew along with my generation.
Seeing that there are new and exciting things from characters and stories I grew up loving for the next generation is the best nostalgia because I can share it. Anyone with a love for collecting or a penchant for a trip down memory lane can agree; the Adidas x Toy Story collection is the crossover we didn't know we needed but are enthralled to have.

Frequently Asked Questions
Question: Adidas is a Big Brand, and Toy Story is a Huge Franchise. How do I Know I'm not Getting Knock-off Merchandise?
Answer: There are a few ways to go about finding out. When I shop online, I usually start with Google Shopping, because you can see a bunch of buying options that are side by side. Clicking on something you like allows you to see where it's sold, and I look for the blue checkmark that says "Trusted Store" for peace of mind. That way, I know that what I'm getting is legitimate and it's the easiest way to know.
Question: Where Can I Find Licensed Adidas x Toy Story Merchandise?
Answer: The number one place to look is Adidas. They're going to be the best bet for 100% authentic, no questions asked, you're buying exactly what you're looking for. Other stores that carry the products are chain stores like Target, Walmart, Kohl's, and DSW. Like I said about Google Shopping, there are plenty of places to find merchandise, but I recommend going through stores.
Question: I See "Stan Smith" a Lot. What Does that Mean?
Answer: Stan Smith is the minimalistic version of the most popular Adidas shoe style. It was popularized by tennis players, one being Stan Smith for whom the shoe is named. The Stan Smith doesn't have the iconic three lines that typically distinguish something as Adidas branded. This makes for a good shoe to have a complex design on while keeping the noticeable heel plate intact.
Question: I See it on eBay. Can I get it There?
Answer: Sure. You can do whatever your heart desires, but know this: I love thrifting and I draw the line at used shoes. I also know that it's easy to throw a picture online and say it's legitimate merchandise when it isn't. As I said, it's your money and you can spend it however you like, but unless you're someone who thrives on throwing caution to the wind, go for a legitimate seller.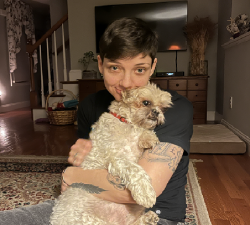 Latest posts by Sarah Weisberg
(see all)