Are you a fan of Spiderman and would love to get your hands on some merch? I've got everything Spiderman from apparel to stickers, but I don't have a good Spiderman backpack, so did some online window shopping to see what's out there.
Whether you're looking to buy one for yourself or have a child that would love to receive this as a gift, Spiderman backpacks are the hottest thing right now.
With Tom Holland winning everyone's hearts, it's time to check out our best Spiderman backpacks guide and see if there's anything in here you might like. I know I found one for me!
Bottom Line Upfront
Hands down, my fav from this awesome list is the Spider-Man No Way Home Black and Gold Spider Symbol Backpack because I mean…JUST LOOK AT IT! It's gorgeous and classic and can be worn pretty much everywhere.
Top Picks
Where Can You Get Spiderman Backpacks?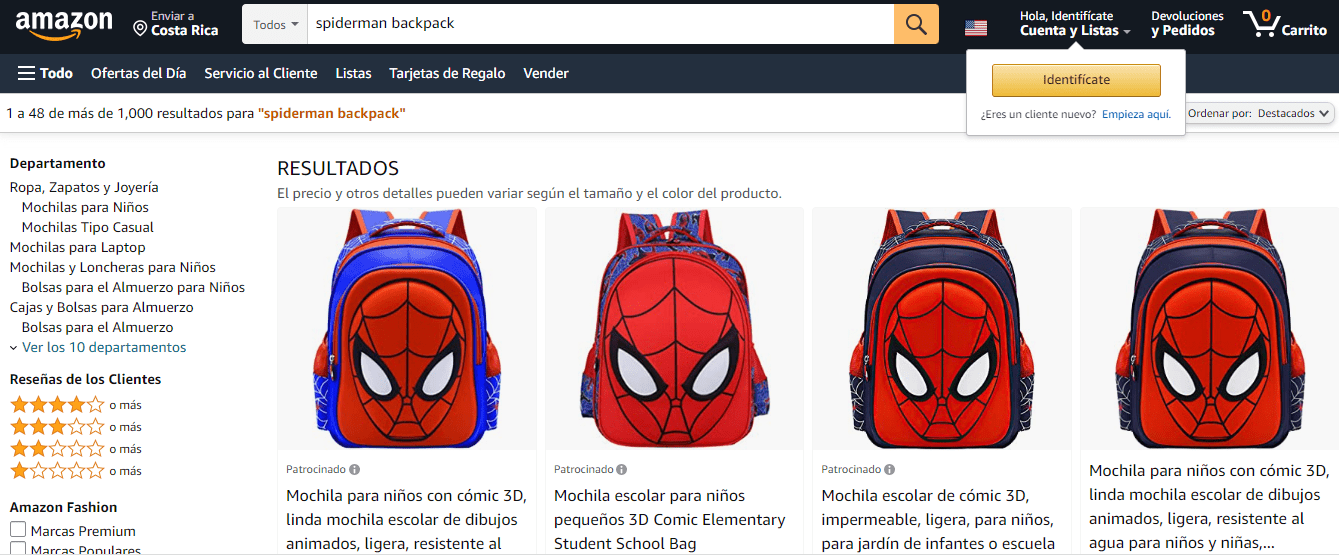 First, let me say that you're going to find a LOT of Spiderman backpacks on the market. Some of them will be high-quality, and others will be poorly-made and probably break some copyright infringement laws by using the logo without approval. That being said, here are some trusted sources for your Spiderman backpacks:
What to Look for in a Spiderman Backpack
Don't buy it just because it's got a Spidey theme. COnsider these things before making that final purchase.
Padding
You may experience sore spots on your shoulders or lower back if you use a lightweight pack with a hip belt and lumbar pad that are relatively simplistic. If this sound eerily familiar, you might benefit from wearing a hip belt with more padding.
Pockets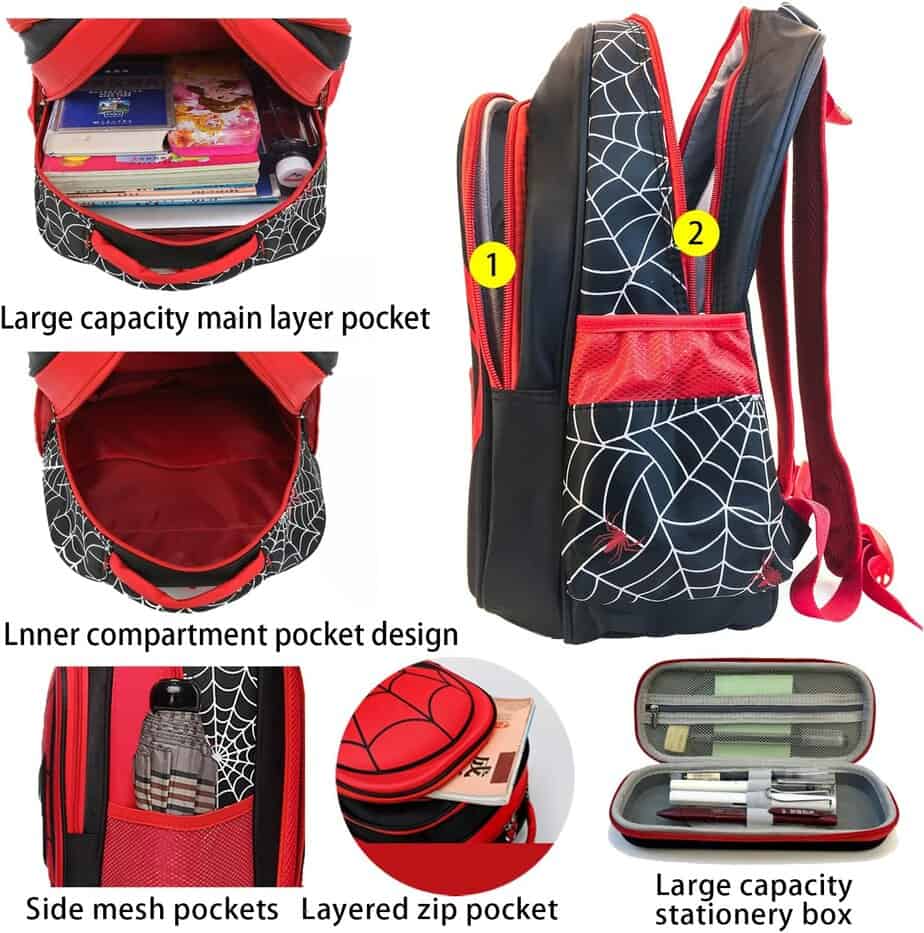 Some people enjoy having a lot, while others favor a simpler and more organized carry-on. When assessing pockets, you should consider both the size of each and where they are located.
Elasticized side pockets, for example, collapse into a flat position when not in use but expand to accommodate items such as a water bottle, tent poles, or other miscellaneous items. They are frequently within reach even while carrying the pack.
The shovel pockets on a backpack are essentially just flaps stitched onto the front of the backpack and secured with a buckle at the top. Originally designed to carry a snow shovel, these pockets are now commonplace on three-season backpacks. They can be used to store jackets, maps, or other loose and not particularly heavy items.
Design
Spiderman backpacks are available in all sorts of designs, so it should be easy to find a model that you actually like. You won't see many large hiking Spiderman backpacks, for you can find them in kid-friendly sizes or models that would fit laptops, books, gym wear, and other items that you might need to carry around.
Material
It is generally agreed that nylon is the most long-lasting material for backpacks. It is impervious to water and can maintain its integrity even when exposed to harsh environments.
Because of this, nylon is an excellent material for use in the great outdoors, particularly when it comes to activities like camping and hiking. Good Spiderman backpacks are also made from polyester and other synthetic materials.
What Materials Are Best for Backpacks?
Personally, I prefer leather for backpack materials because it's durable and water resistant, but there are a ton of other great materials to think about.
Nylon
One of the most widely utilized materials for making backpacks in this day and age is nylon. In reality, it refers to a wide variety of plastics known as polyamides that, when melted down, can be transformed into various things, including fibers. These strands are knitted together to make the material used for making backpacks.
In addition to its being woven, nylon is so often used for backpacks because it is exceptionally robust, long-lasting, and resistant to wear and tear at a wide range of temperatures.
It's resistant to a wide variety of insects and other concerns common to backpacks, such as mold. Just one more reason why you see it being used almost everywhere.
Polyester
It is a synthetic material known for its durability. Its popularity is comparable to nylon's, especially since the 1970s when it was used in far too many garments. It's a plastic-based fabric that can withstand considerable wear and tear. In addition to this, it does not easily wrinkle, and it is both sturdy and lightweight.
Depending on the manufacturer, it is likely one of the most sought-after materials for the construction of backpacks. There are lots of cheaply-made polyester backpacks out there.
Canvas
Canvas is an antiquated material that was once utilized in the production of backpacks for usage in the military and hiking backpacks for our grandparents' generation. Most high-end backpack manufacturers now offer canvas as an alternative material for their products, contributing to its recent resurgence.
Because a canvas pack is heavier than other materials we've discussed today, carrying one is not ideal for hiking or other outdoor activities. Having said all of that, it is an extremely long-lasting material that will keep its look and feel for the rest of its life.
Polypropylene
Although polypropylene is not as prevalent a material as the other 3 we've talked about so far; it is frequently utilized as a secondary component in the production of backpacks. It is actually a amazing product since it is resistant to water and chemicals, it is tough, it cannot be torn, and it takes a lot for this plastic to wear down.
Despite all of these advantages, polypropylene is only used in extremely narrow applications and as a secondary component in blended materials. Typically, it is utilized in the production of low-cost drawstring backpacks as well as budget lightweight packs. A backpack made of polypropylene isn't terrible, but it doesn't have any distinct advantages over polyester or nylon.
Denim
Backpacks made of denim are commonly regarded as a cheap option within a particular fashion niche. Denim is thought of as a sturdy fabric by the vast majority of people; however, this isn't the case when it comes to backpacks. Denim packs are pretty abrasive-resistant but they are not able to carry as much weight as other types of packs.
The fact that a denim pack can be easily cleaned by throwing it in the washing machine is the single most significant benefit of utilizing one. Be aware that denim packs are rarely prewashed, and as a result, the dye may bleed onto other items in the washing machine.
Leather
In an official environment, you should consider carrying your belongings in a leather backpack. Leather is a durable material on this list, and a good leather backpack should continue to serve its owner for many years.
Carrying a leather pack may be awkward at first, but the increased durability more than makes up for the inconvenience. When washing a leather pack, you will need to follow the specific guidelines provided, although doing so is not difficult.
Remove any debris from the interior of your pack with a vacuum cleaner, then clean the leather using a leather cleaner designed specifically for it or soapy water.
PVC
Although a PVC backpack isn't my first pick, there is one significant advantage to purchasing one. The vast majority of backpacks made from PVC are entirely waterproof and come in a wide range of colors to choose from. Therefore, you might want to purchase a waterproof PVC pack for activities such as fishing.
Using a PVC pack is not without its drawbacks. That much can't be denied. They don't quite have the same kind of durability as other materials, and it doesn't take nearly as long for them to become soiled. When compared to other types of backpack materials, a clear PVC pack appears to be of lower quality.
Cotton
Cotton by itself does not make the ideal material for a backpack; nonetheless, canvas is typically used with cotton in the majority of cotton-based backpacks.
Compared to utilizing cotton on its own, this combination is far more durable and more effective at fending off environmental moisture. Cotton is among the worst materials when it comes to the rate at which it absorbs water, but canvas has a natural resistance to moisture.
Even though a cotton backpack wouldn't be my first pick, purchasing one is still a wise financial move. Although they are a little bit more expensive than the other materials on our list, they are a fashionable alternative to those materials. Cotton backpacks should survive for several years provided that the bag is not overloaded with items.
The Best Spiderman Backpacks
Yay! Now we're at my fav part: the recs! I'm a massive Spidey fan; I have so much stuff, from shirts and jammies to stickers and even costumes. But I don't have a backpack…yet. I've got my pick from this list, but I tried to share a variety that would appeal to different ages, genders, and price ranges.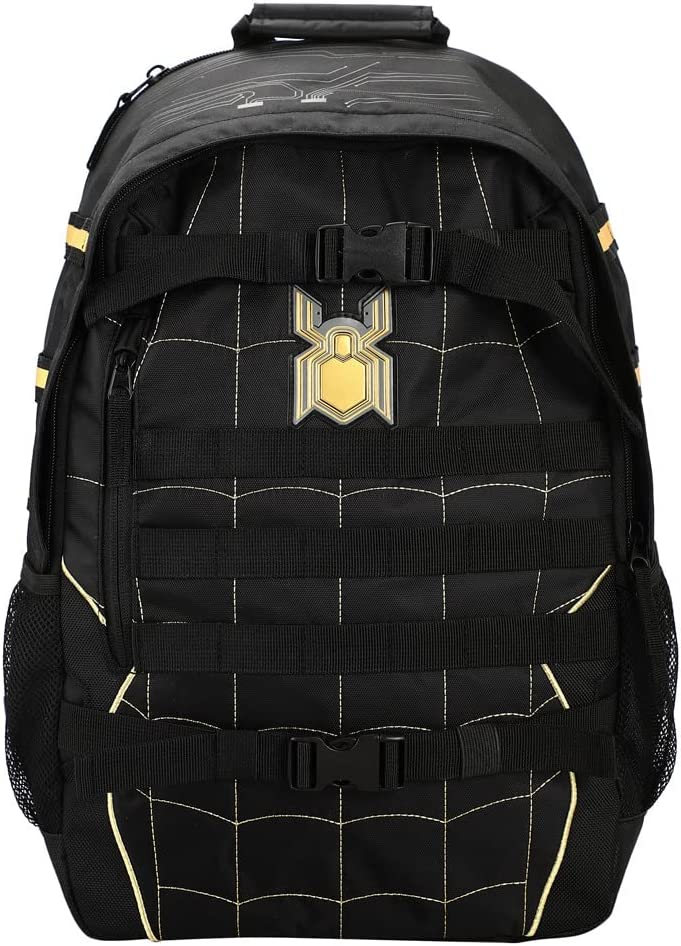 Best for Adults
This backpack has been designed to look like the new suit that Spider-Man wears in the movie No Way Home. The design is centered on a golden spider, and the white lines that surround it are meant to represent the webs that are on Spider-suit.
The backpack features a multitude of zippered pockets and compartments, providing you with ample space to transport your belongings. This backpack features a set of buckles on the front panel, allowing you to carry items that are too big to fit inside the main compartment or that require immediate access at all times.
Pros
Gorgeous details.
Front buckles.
Includes bottle pouch.
Cons
Specs
Price range: $40 – $50
Materials: polyester
Size: 16.0 x 11.25 x 4.5 inches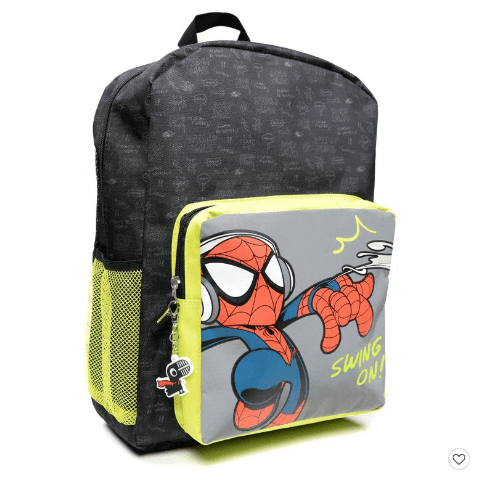 Label: Best for Kids
Spidey is slammed in the center of this tough black bag from Marvel, which features a contrast black zipper and top strap. It has cushioned mesh, ergonomic S-curved adjustable straps, two front zippered pockets, and two side pockets for water bottles. A padded laptop sleeve and a name label let you keep track of your belongings.
I love that this is made from durable 600D material which is pretty resistant to wear and tear. The comfy padded shoulder straps make it easier for children to carry around.
Pros
Includes two front zippered pockets.
Has padded mesh backing.
Adjustable shoulder straps.
Cons
Specs
Price range: $10 – $20
Materials: 600D
Size: 6.7" x 13" x 19.7"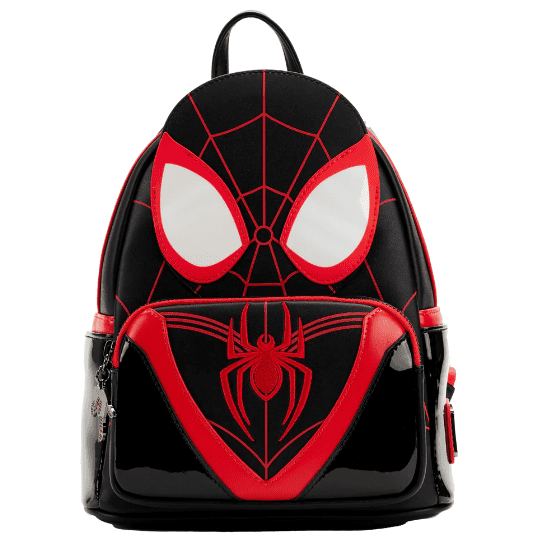 Best Signature Backpack
Become the hero of your community and even further afield! The Spider-Man with a Bad Attitude This Miles Morales Cosplay Mini Backpack is modeled after the costume worn by Miles Morales in Spider-Man: Across the Spider-Verse. The chest marks seen on Miles' black and red Spider-Man suit are featured on the front zipper pocket of this Spidey backpack.
Pearlescent eye markings are responsible for the distinctive appearance of his mask further up. Miles is depicted in enamel on the pull of a zipper as he is about to release a web from his hand. On the reverse, the notorious spider logo can be found once again making an appearance.
Pros
Officially licensed Marvel product.
Adjustable shoulder straps.
Made with vegan leather.
Cons
It's a mini backpack, with not much room inside.
Specs
Price range: $80 – $90
Materials: polyurethane
Size: 9" x 10.5" x 4.5"
Budget Pick
If you're strapped for cash or don't want to spend too much money on a Spidey backpack, here is a product that might be more suitable for your needs. This is a child's backpack that's suitable for both boys and girls, with different color variations and size options.
It's made from polyester and features a water-resistant nylon lining. It has pockets on both sides and two larger compartments to fit almost all school items that a child might need.
Pros
3 size options.
4 color options.
Loads of storage room.
Cons
Specs
Price range: $20 – $30
Materials: nylon and polyester
Size: 11.81" x 9.44" x 4.52"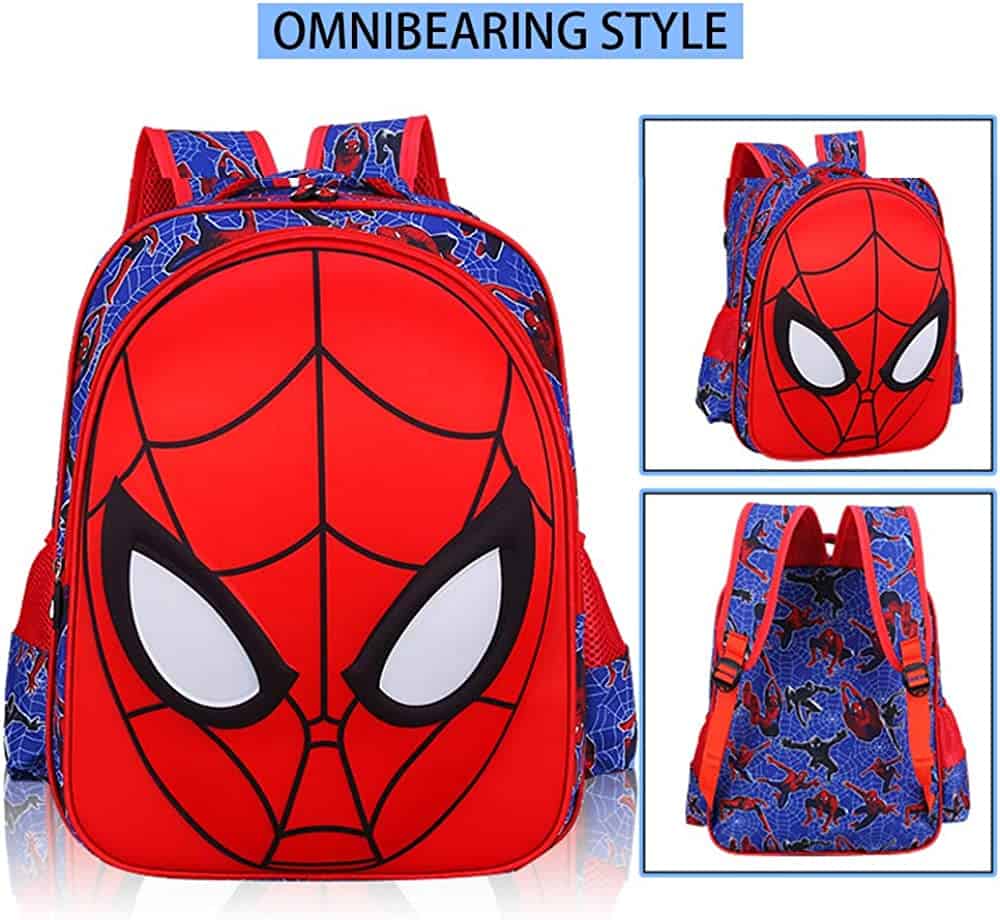 Best Waterproof Backpack
Made mostly from nylon and a little bit of polyester, this is another backpack I would recommend for children who could use a waterproof bag to carry their school items. It features mesh side pockets for carrying water and juice bottles.
You have three size options to pick from and three color options for more product versatility. I think that's such a cool feature you don't often see with things like backpacks. Now I can get two personalized packs for my kids.
The lining is also made from nylon and promises to protect the good inside from potential rainwater damage.
Pros:
2 large compartments.
Waterproof construction.
3 size and color options.
Cons:
Specs:
Price range: $30 – $40
Materials: nylon and polyester
Size: 4.33 x 10.63 x 12.6 inches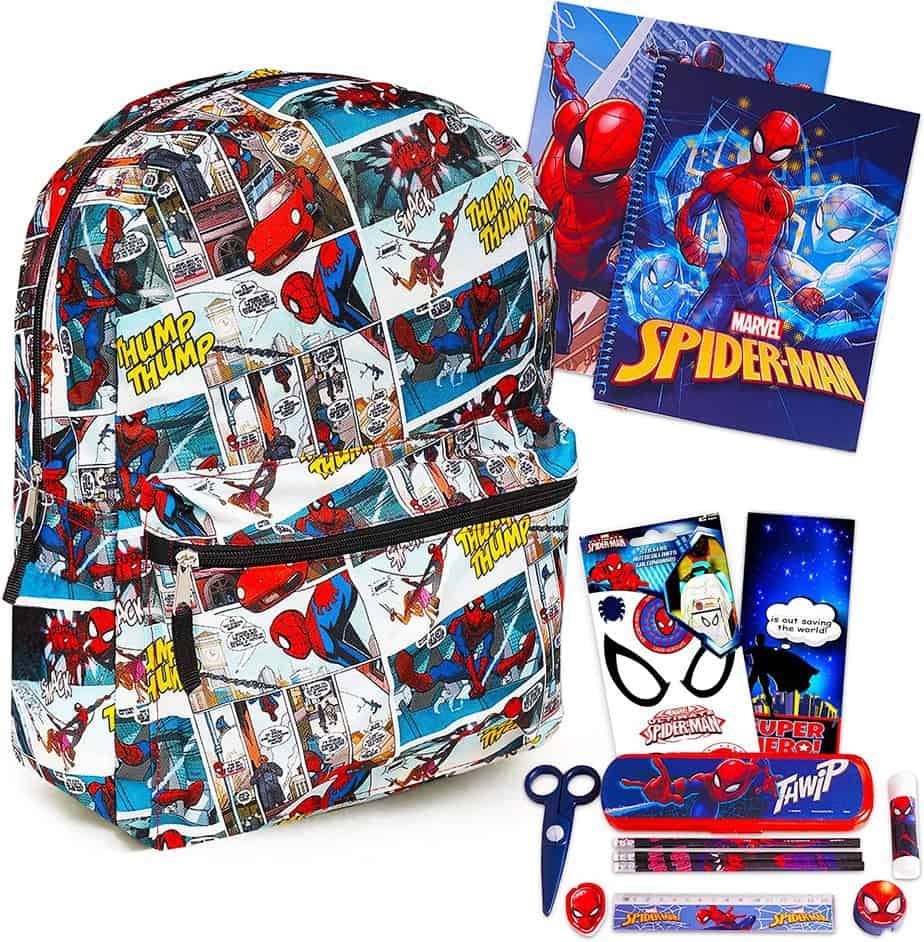 Best School Bundle
This is the type of purchase that makes parents happy because it's a bundle that comes with a lot of cool Spiderman school-related merch that children are going to love. Aside from the actual backpack, you also get a pair of scissors, one eraser, a pencil sharpener, and a ruler, plus some cool stickers.
The design of the backpack itself is awesome. The comic-book style print will surely be appreciated by any child who loves Spidey. The padded shoulder straps are adjustable and make wearing the backpack a comfortable experience.
Pros
Plenty of goodies included.
Officially licensed Marvel product.
Padded shoulder straps.
Cons
The material feels pretty thin.
Specs
Price range: $30 – $40
Materials: not mentioned
Size: 16″ x 12″ x 4.5″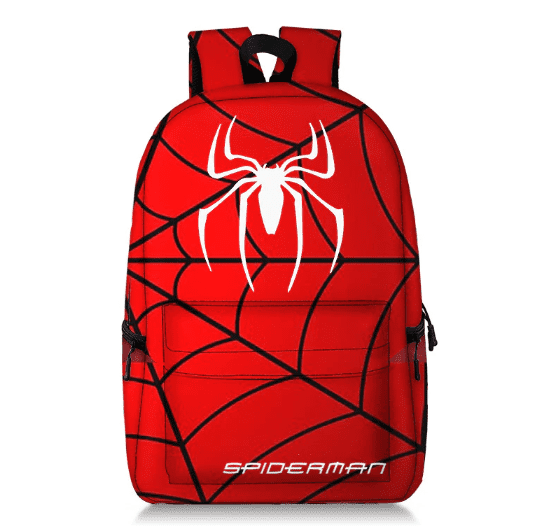 Most Design Options
With 7 different designs and color variations, this is a Spiderman backpack that could be perfect for kids and adults. It's made from a blend of cotton and polyester, offering plenty of space for carrying both small and large belongings. You have plenty of pockets for smaller objects, including two side pockets and a larger front one.
Pros
7 design options.
Large carrying capacity.
Padded shoulder straps.
Cons
Needs more info on specs.
Specs
Price range: $20 – $30
Materials: polyester and cotton
Size: 18.5″ x 11″ x 5.5″
FAQ
Question: Where is the Best Place to Buy a Spiderman Backpack?
Answer: There are lots of good places where you can buy Spiderman backpacks from. Amazon and Target are worth looking into for a wider product variety and more affordable prices. Loungefly sells signature Spiderman backpacks for those willing to spend more on something more authentic.
Question: What is the Best Spiderman Backpack?
Answer: The best Spiderman backpack is the one that meets your requirements and budget. Consider the Loungefly backpacks if you're looking for an officially licensed Marvel product. I adore Loungefly, so I highly recommend it!
Question: Are there Spiderman Backpacks for Adults?
Answer: Spiderman backpacks for adults might seem a little harder to come by, but there are certainly a lot of them out there. The Spider-Man No Way Home backpack in this article is a good example.
The Verdict
You might feel lost with so many cool Spiderman backpacks to choose from. Remember always to pay attention to the features of a product before you buy it. If you prioritize durability or original merch, you'll have to spend more money on a Spidey backpack. If you're low on moola, there are loads of budget-friendly options.
If you're looking for one that's not super kiddish and you can wear anywhere, I recommend the Spider-Man No Way Home Black and Gold Spider Symbol Backpack. And guess what? We've got even more epic Spidey merch recs on our site! Check them out!
Continue reading:
The Ultimate Spider-Man Hoodie Guide
Spiderman Merch Guide for 2022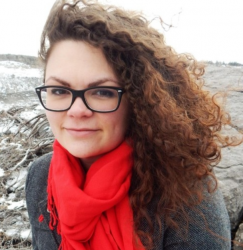 Latest posts by Candace Osmond
(see all)