It's hard to believe Naruto has been around since October 3, 2002. Naruto has been everything from a pop culture icon to a meme. In this day and age, it is safe to say that everyone knows who Naruto is, and many of us love the show so much that it has been given a spot on Netflix. I remember watching Naruto sometime in the early 2000s and falling in love with that determined little blond boy and his spiky hair. Like most animes, this cartoon has a lot of adult content that can really only be understood by mature adults. However, it isn't merely some cheesy kid show; it is an anime cartoon with a soul and a big heart.
Now that we've gotten that bit out of the way let's talk Naruto fan merchandise. If you are a Naruto fan, I'm sure you own at least some of the branded items that go along with the show. There has been something for everyone as far as merch goes for this twenty-year-old anime. So if you have items or toys in perfect condition, hang onto them! They might be worth a lot of money one day.
The 2022-2023 school year has already begun, but who's to say you must stick with the bookbag you picked out in your school preparation shopping? Instead, you could be sporting one of these ultra-cool Naruto backpacks before the holidays get here! They also make stellar holiday shopping suggestions (wink, wink). 
My Search Criteria
I choose only the best Naruto bookbags.

The more original a bookbag is, the more chance it has of showing up on my list.

I have included some quiet Naruto bookbags and some that are very loud in their color theme.

I include something for everyone of every genre and size.

I look for bookbags with the highest quality material for longevity.

I only list bookbags that are available for purchase currently. 

I like adding bookbags with extra features and bonuses.

I do not add cheaply made knock-offs or items found on reseller sites.
Bottom Line Up Front
It is never easy picking one favorite when you've just found a bunch of excellent contestants. However, the very best Naruto bookbag that I have found is the…
Naruto Pop! San Diego Comic Con 2022 Loungefly Mini Backpack Limited Edition
My Top Picks
Naruto Pop! San Diego Comic Con 2022 Loungefly Mini Backpack Limited Edition
This bookbag is the overall top pick because of its originality and collector's edition quality. This one really speaks to the Funko Pop collectors out there.
Naruto Anime Cartoon Kakashi Character Cosplay Bookbag
I love the simplicity and combat style this bookbag represents. It has ample space and so many cool pockets! Everyone loves pockets, right?
Naruto Shippuden Uzumaki Clan Logo Roll-Top Ripple Junction Bookbag 
This bag doesn't have any frills, doesn't have a bunch of cool pockets, and wasn't released at Comic-Con, so it isn't necessarily special; however, I absolutely love it and that roll-top style. I'm having a hard time not buying this right now. It would also make an awesome purse/child care/diaper/day travel bag. 
Best Naruto Bookbags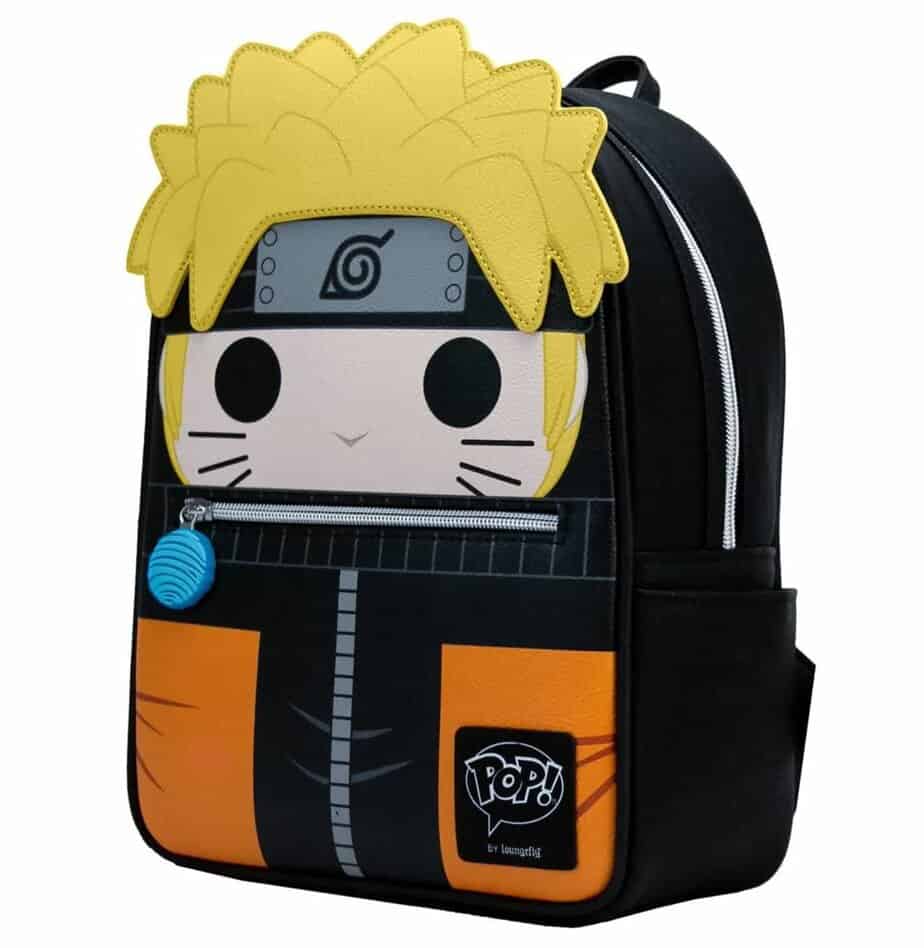 Loungefly has done it yet again. They have fabulous and original-looking bags that can get a bit pricey but are always exceptionally cool appearance-wise! This is a bit of a collector, given it was released at the SDCC 2022 in limited quantities. 
Size: 12.95 x 10.75 x 6.22 inches (This is smaller than a traditionally sized bookbag)
Includes: bookbag only 
Pros
Very eye-catching with its loud colors and Pop brand artistry. Even the internal material is Naruto-themed.

Made with vegan materials.

Attractive staps and buckle back.

Adorable POP! Naruto looks just like our little 

Funko Pop friend

The stitching and craftsmanship look to be superior to many other bookbags.
Cons
Again, not a full-sized bookbag, but it would do well with a tablet or smallish laptop.

Faux leather tends to have a weird smell, but who's going to sniff your bookbag?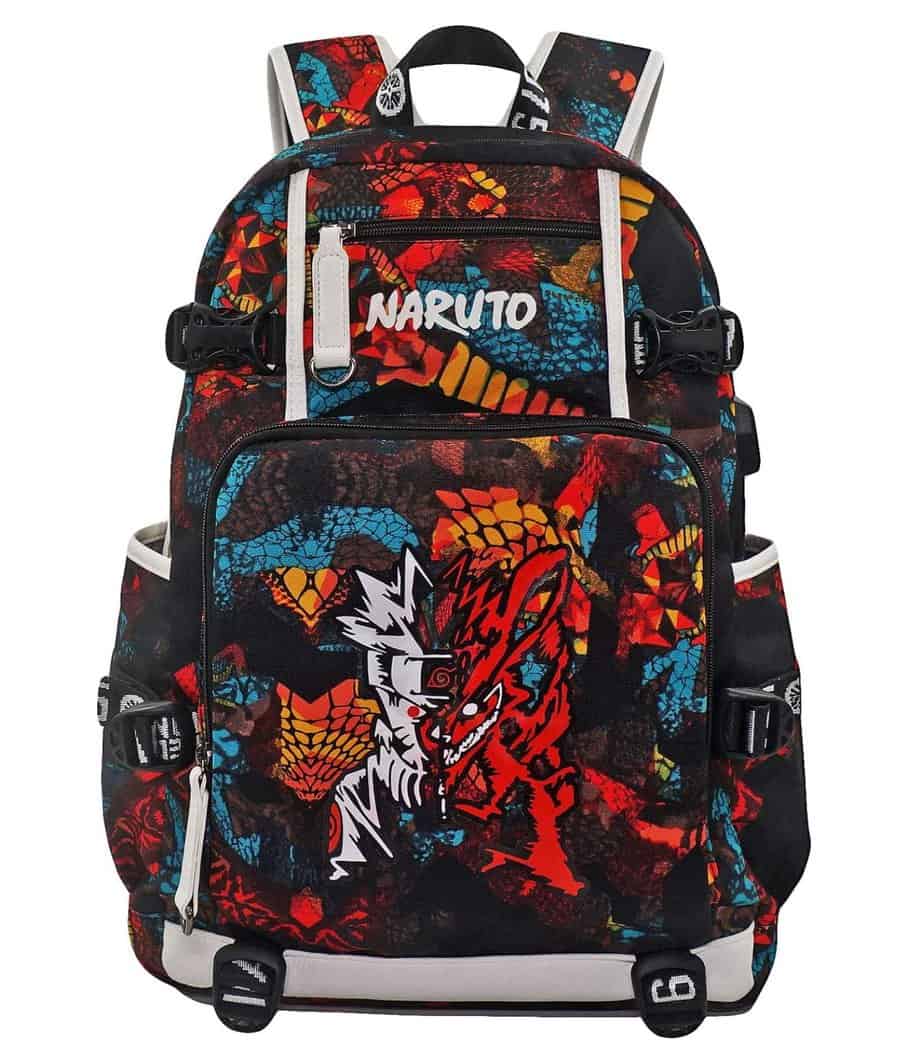 What in the future are we looking at here? This is one terrific book bag. Not only is it big enough for all your goodies and a full-sized laptop, but it freaking glows and charges your phone! After absorbing light, the Naruto logo at the top of the bag becomes luminescent. There is also an extension cord, port, and USB for charging your gadgets and hooking up a charging pack.
Size: 11.8 x 5.9 x 18.1 inches 
Includes: bookbag, USB port, and extension cord for charging
Pros
The ability to hook up a USB charging station in your bookbag is extraordinary and tech-friendly.

I love the Nine Tails Demon Fox artwork on the front of the book bag.

The bag itself is very well made with quality materials.

The shoulder straps are wide and appear more comfortable than standard bookbag straps.
Cons
The white piping on the edges of the bag will look gross after a while. It looks off since there is very little other white on the bag.

This is not an ultra-unique-looking bag beside the glow-in-the-dark patch and USB charging port.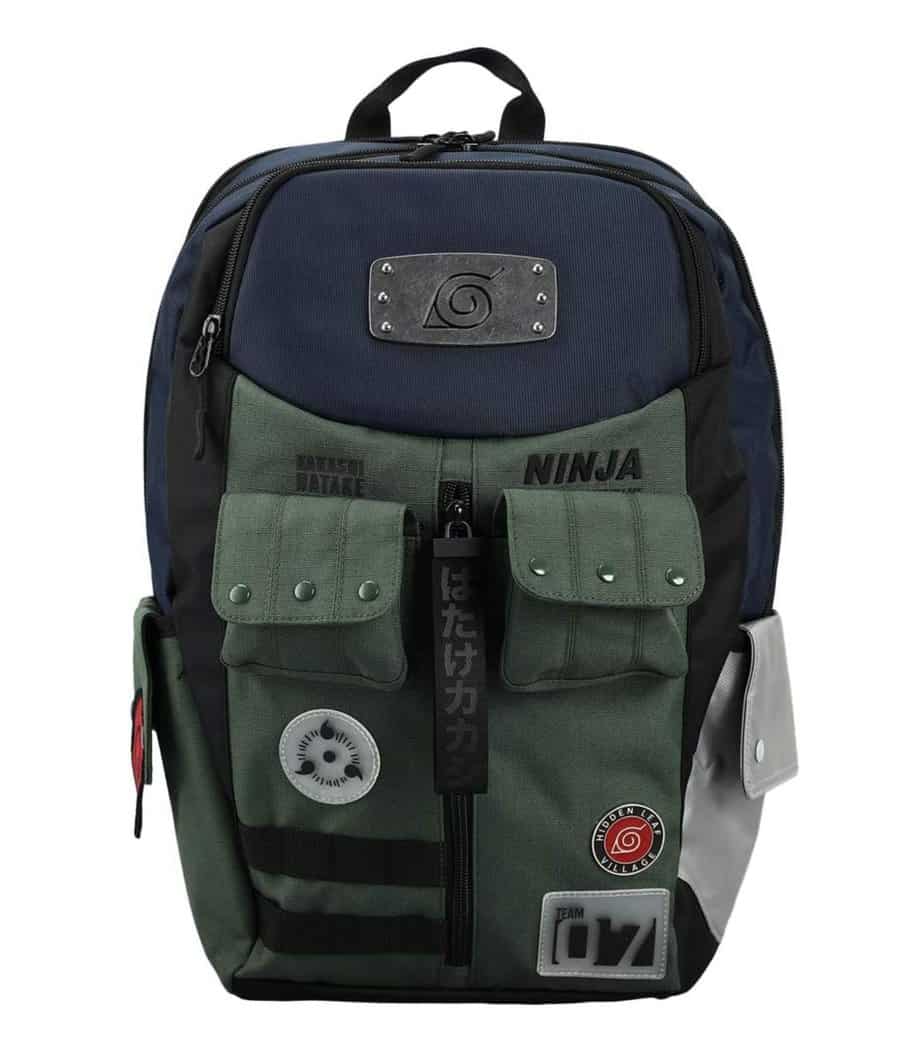 This is a nice throwback to Kakashi, the noble teacher's look. He seemed to wear a lot of army green, especially that cool multi-pocket vest of his. This bag reminds me a lot of the vest, and I loved the vest for its simple army green canvas and nifty pockets.
Size: 14.5 x 18 x 5 inches
Includes: bookbag only
Pros
I like the patches and symbols displayed on the front of this bookbag. The patches, for lack of a better turn, really look like they are authentic and high quality.

Because of the darker uniform coloring, this bag will hide most stains nicely!

Unlike some of the other bookbags listed, this one does have multiple fun pockets for all your high-tech gadgets.

I like the external zipped pocket for a laptop. The back looks extra cushiony, adding some protection for your laptop, whether sitting on the floor or riding on your back.

I like the different colored pockets on the side of the bookbag. I wonder if they are velcro, button, zippered, or just a fabric flap. Either way, they look great and are a good size.
Cons
As I've already mentioned with another plated bookbag, the metal tag may set off metal detectors.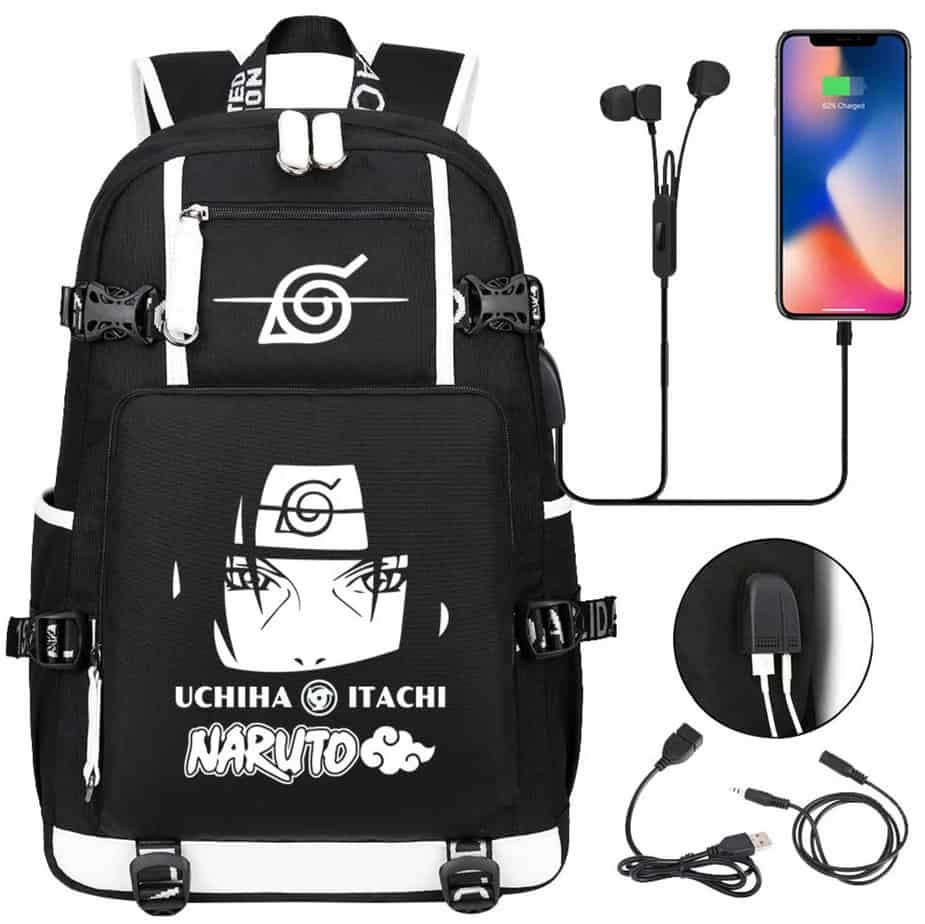 This is a tech-ready and very sturdy large bookbag ready to last years. It looks great and acts as a great charging station for your electronic devices. This full-sized bookbag will hold all those books, binders, and even your laptop and still have room for your jacket. 
Size: 46 x 30 x 14 cm (16.92 x 11.81 x 5.51 inches)
Includes: bookbag only 
Pros
It's a full-sized book bag!

The minimalist design is easy on the eyes and your brain.

The black background won't show scuffs or stains over time.

There is a loop to hook onto your keys or Student ID for easy access.

The extra robust latches make the contents extra secure.

The black, white, and red make this bag look sleek.
Cons
The white near the bottom will not look white once it's sat on the school floor a few times.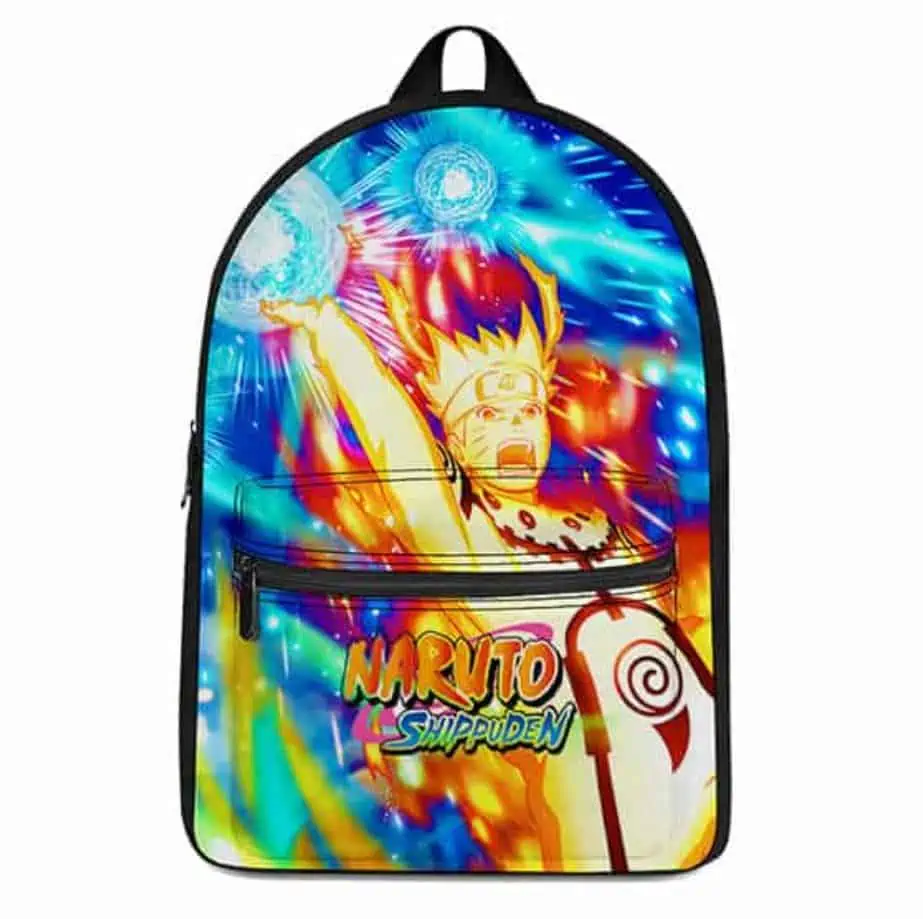 Look out! Naruto is about to toss a Rasengan ball at someone! Check out the fantastic and very magical-looking colors bursting from this bookbag. It's one of a kind and definitely belongs on this "best of" list. 
Size: (29cm x 17.5cm x 39cm) 11.4 x 6.9 x 15.35 inches
Includes: bookbag only
Pros
Beautiful coloring and graphics are very appealing to the eye

Multiple good-sized internal and external pockets

Padded laptop sleeve internally

The majestic Rasengan ball is enormous and powerful looking, throwing shards of blue light all over the bookbag

The black stitching on the front of the bag looks good black. Any other color would have looked tacky.
Cons 
Smaller than your standard bookbag

I wish the creators had left some original color on Naruto, such as his eyes and headband.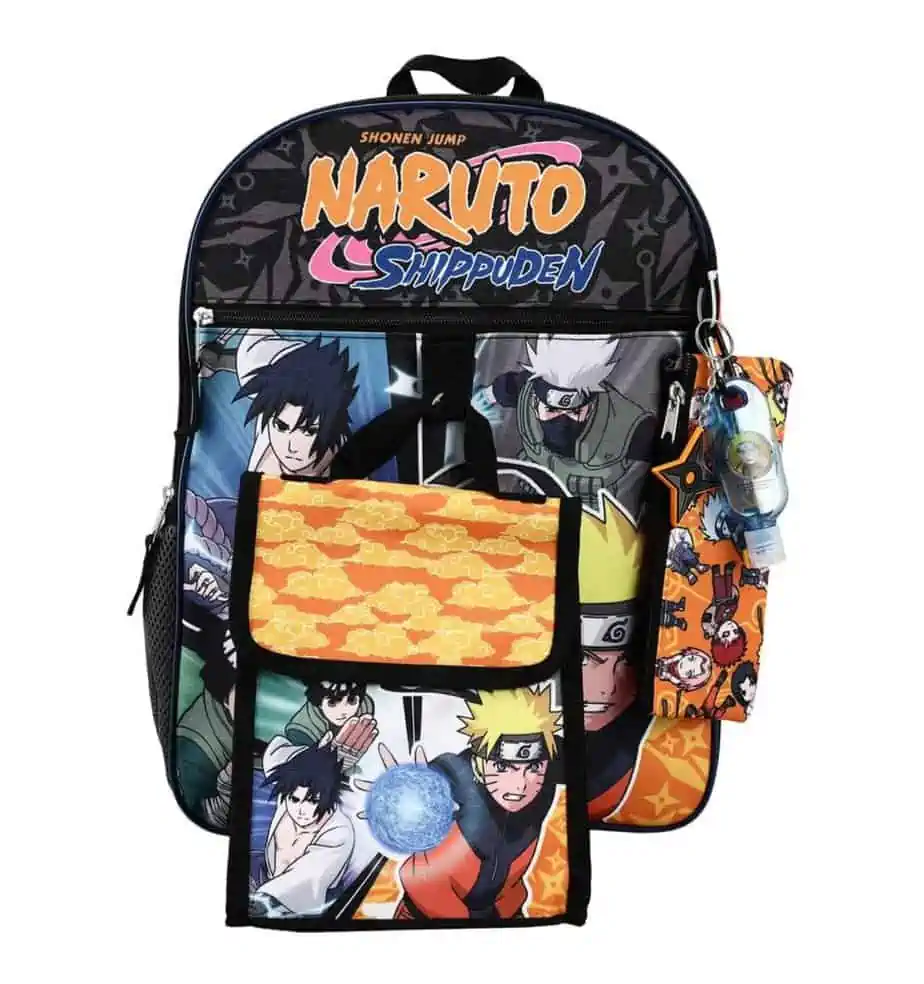 This one isn't as artistic as some other bags, but it is a great deal and has everything you will need if you plan to use it for travel or school. A nice bonus is that it also costs considerably less and is currently available on Amazon, so you know the shipping will be quick. In addition, this set comes with a 16-inch bookbag, an attachable insulated lunch bag, a mini bottle to keep in the mesh side pocket, a rubber keychain, and a utility box for your art supplies!
Size: 18.11 x 14.84 x 3.94 inches
Includes: small water bottle, rubber keychain, utility case, an attachable insulated lunch box, and an average-sized bookbag
Pros
All the extras are a bonus since you would be looking at quite a price difference if purchased separately.

The manga graphic full-color design is superb and vibrant.

The contrast of the lunch bag with the bookbag is nice.

The front pocket is high up on the bag and does not get in the way of the graphics.
Cons
A few reviews have stated that the zipper on the bag was faulty.

Not as nice or as high of quality as some other bags.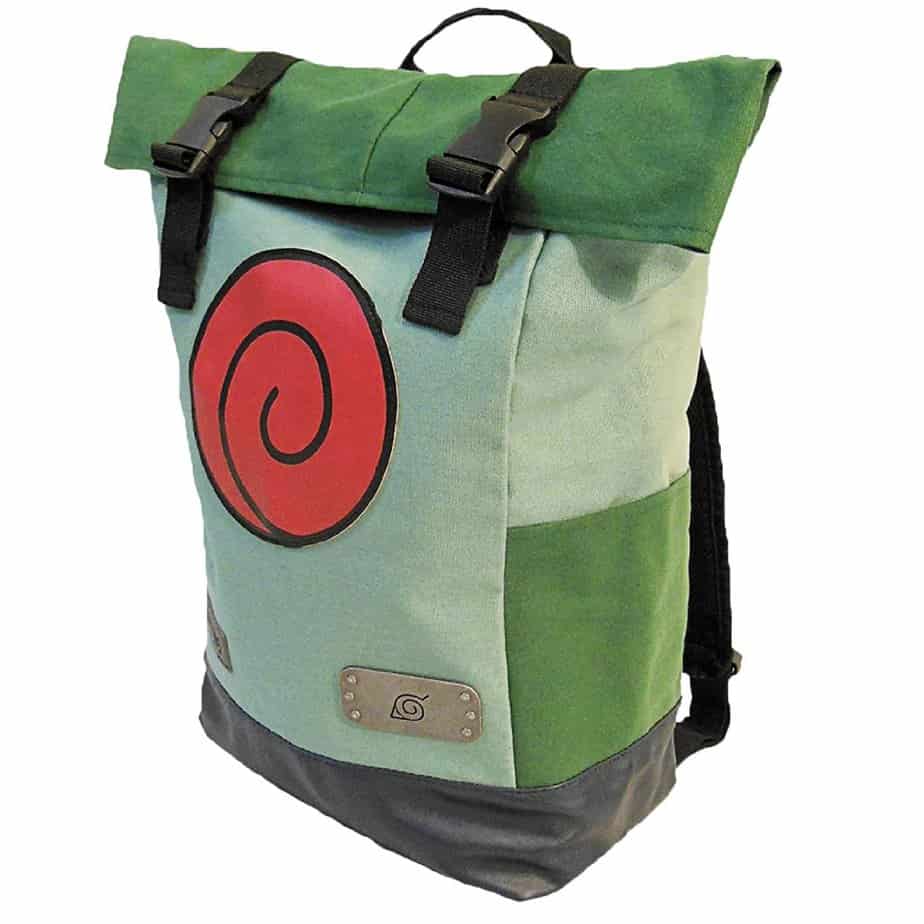 Check out this really unique and very cool-looking roll-top bag! It is fully functional as a bookbag and made from high-quality canvas. It comes with two side pockets and a padded laptop sleeve. The Leaf Village Konoha and the Kanji symbols are located out of the way at the bottom of the bookbag giving it a nice streamlined effect.
Size: 20.55 x 15.43 x 2.32 inches
Includes: bookbag only 
Pros
This bookbag wins the uniqueness award!

I love how it looks like a Japanese rucksack.

The colors are neutral and calming.

Sturdy canvas and cotton tend to last quite a bit longer than cheaper and thinner fabrics.
Cons
The metal plate on the front of the bookbag will set off metal detectors, but so will your binders.

A few reviews state that the buckle and closure are flawed and may fall apart after only a few uses. 

There isn't any inside pocket or zipper.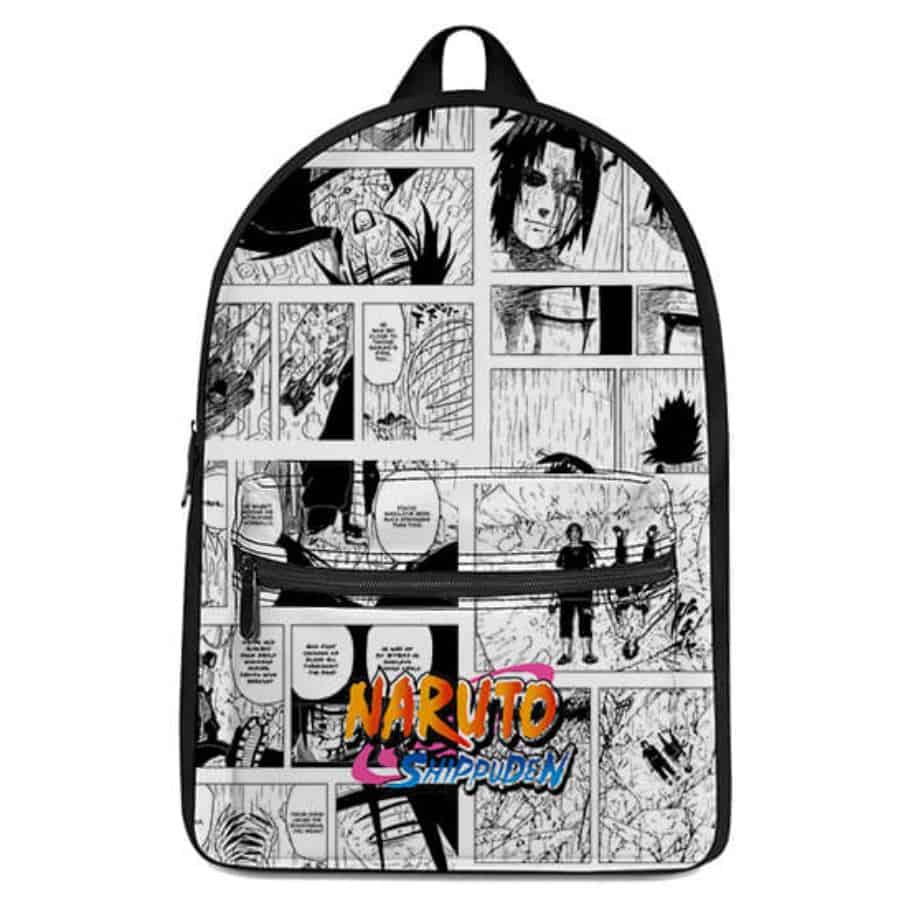 I love wearing black and white and really love the classic manga look of this black and white Naruto bookbag. You'll have people asking you to slow down so that they can take a look at the comic strip. 
Size: (29cm x 17.5cm x 39cm) 11.4 x 6.9 x 15.35 inches
Includes: bookbag only
Pros
Very well done job of looking like this bookbag is a page torn from a monochrome manga strip.

I like the bold and colorful name on the front of the book bag.

The front zipper does not cut off any of the scripts in the speech bubbles or anyone's face.

The sides, back, and inside of the bookbag are black, which keeps the look classy and neat.
Cons
The tiny graphics and speech bubbles might lure people to stand very close to you so they can read it. You won't be a fan of this if you're like me.

Unless you have super clean powers, this bag isn't going to stay white and stain-free no matter what you do.

Once again, this bookbag is a bit smaller than the typical school bookbag.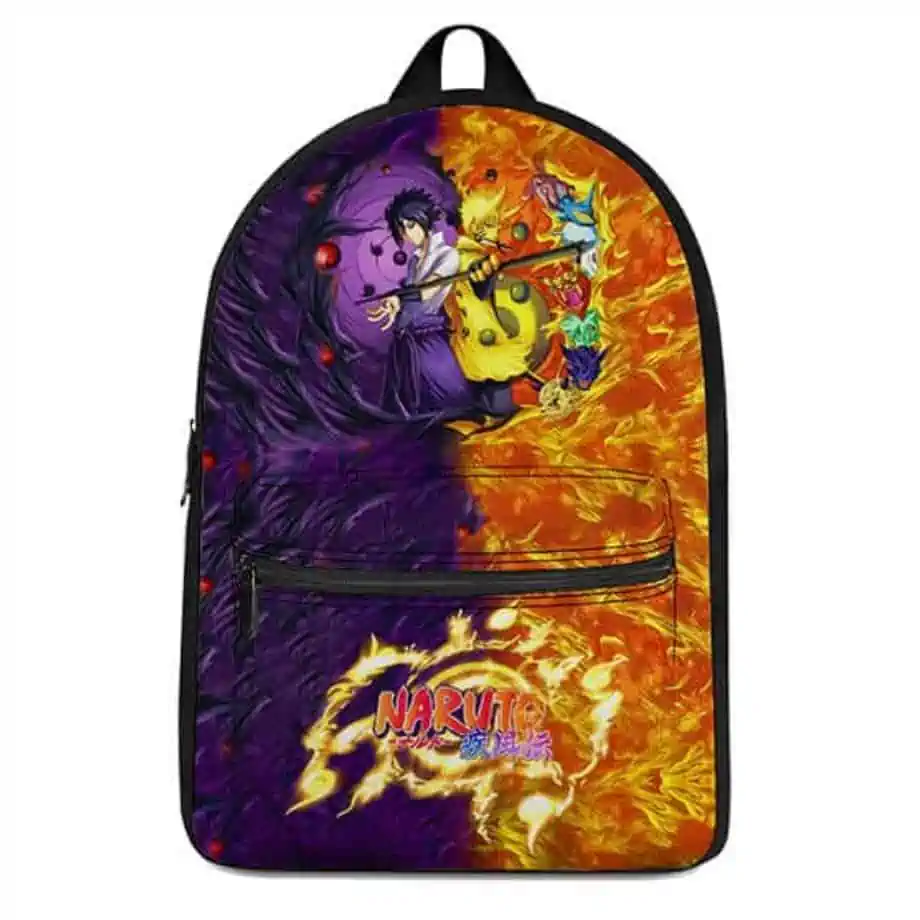 This is truly a fabulous work of art. It's so beautiful I would have trouble focusing on school because I would want to stare, completely mesmerized by the bright coloring and fantastic artwork. 
Size: (29cm x 17.5cm x 39cm) 11.4 x 6.9 x 15.35 inches
Includes: bookbag only
Pros
I love that the detail is so powerful on Naruto and Sasuke; good and evil, light and darkness. They have a powerful friendship.

Naruto looks to be in the nine tails chakra form, which is bright and powerful.

The leaf symbol burning at the bottom of the bookbag is a nice touch.

The coloring on this bookbag is really exquisite and contracts beautifully.
Cons
Although these bookbags are mainly built the same, I would have loved to see a few more pockets and a mesh water bottle pocket on the side.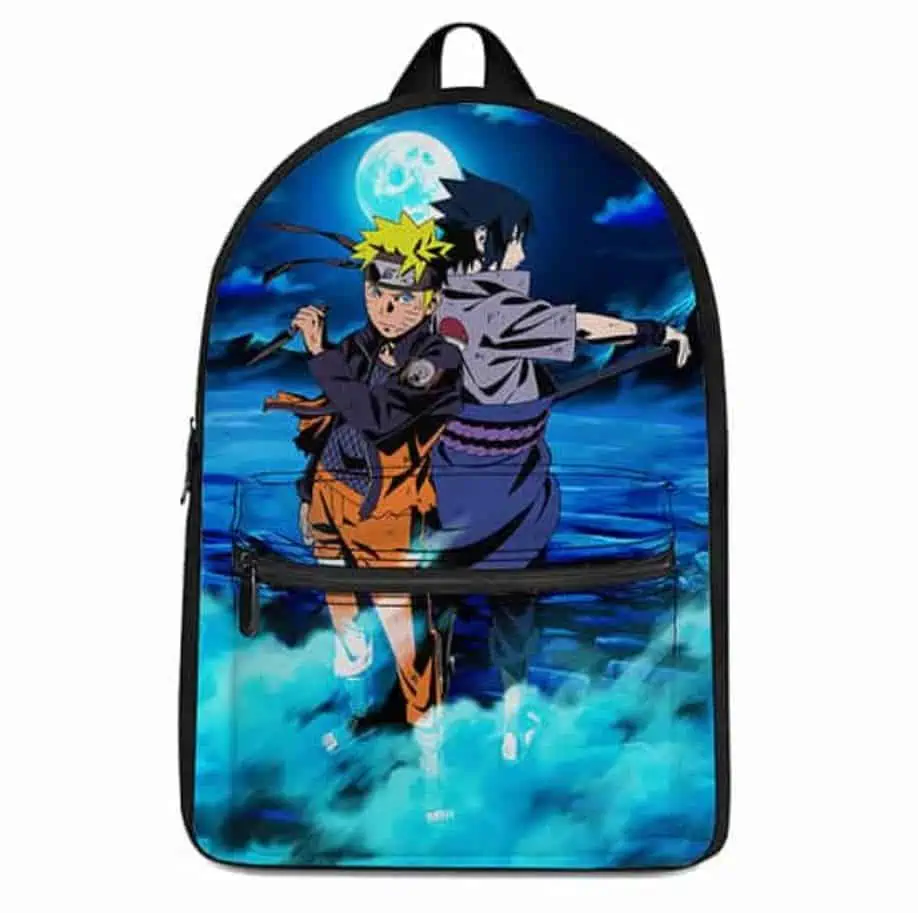 Here we see the fierce and brave warriors, Naruto and Sasuke, back to back, brother to brother, in their fighting stance. The beautiful moonlit sky filled with mysterious wispy clouds adds a magical touch to the bag. These crazy kids seem to always be competing but still have great respect and brotherly love for one another. 
Size: (29cm x 17.5cm x 39cm) 11.4 x 6.9 x 15.35 inches
Includes: bookbag only
Pros
I dig the brotherly love, "I got your back, and you have mine," symbolism of this bag.

The sky's coloring is beautiful and represents peace and waiting to me.

I like that the front pocket doesn't cut off anything important.

The detail of the craters on the moon is very realistic, as is the mountain range in the background.
Cons
I wish Sasuke had been turned a bit more so we could see more of his face.

The misty fog by Naruto's and Sasuke's feet looks a little odd and not so realistic.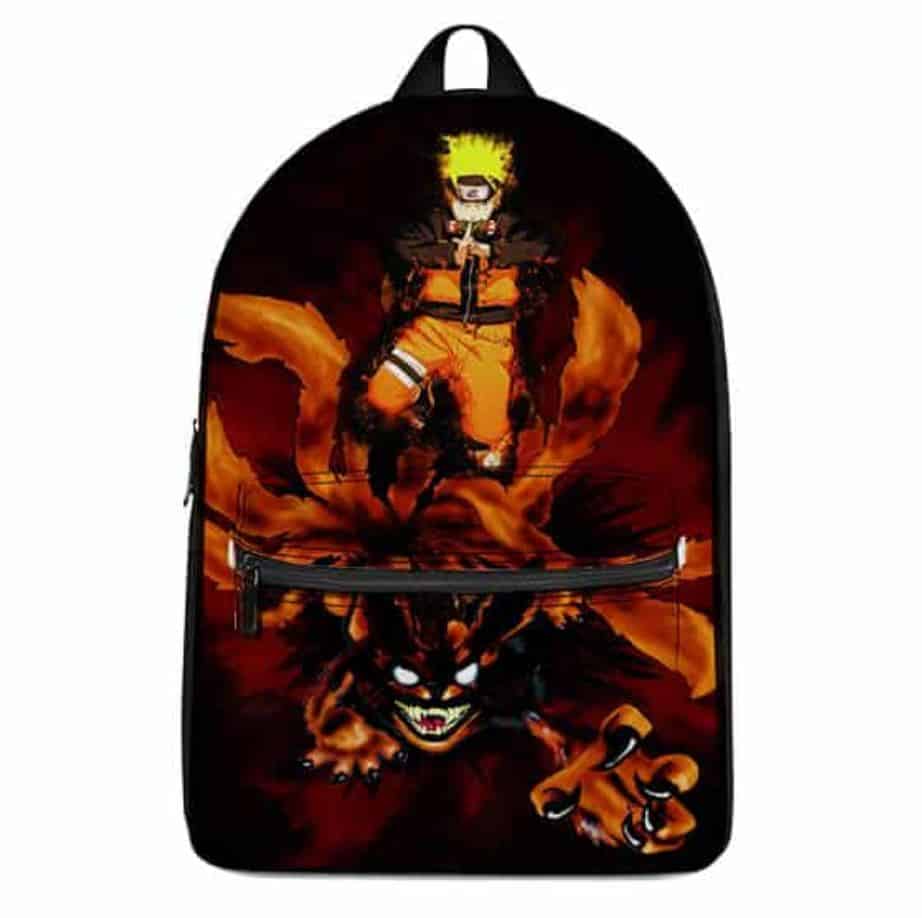 I really love this one. I am a big fan of the nine-tailed demon fox and was so happy to see it make its way to one of these artistically beautiful bookbags! Although, maybe I'm just partial to Kurami because he is a fox with multiple tails, just like my other favorite fox, Tails from Sonic the Hedgehog!
Size: (29cm x 17.5cm x 39cm) 11.4 x 6.9 x 15.35 inches
Includes: bookbag only
Pros
The eyes of Kurami are so intense with their fiery gaze.

The nine tails look like they are made out of the hottest fire.

The teeth on the nine-tailed fox are something from nightmares.

I very much enjoy the dark color scheme, and you won't be able to see dirt and stains nearly as much as the lighter-colored bags.
Cons
The paw and claws reaching forward look much less realistic than the rest of the demon fox.

I wish the fox had white tips on its nine tails as real foxes would have.

I'm not too fond of the pocket's zipper cutting Kurami in half right at the ears.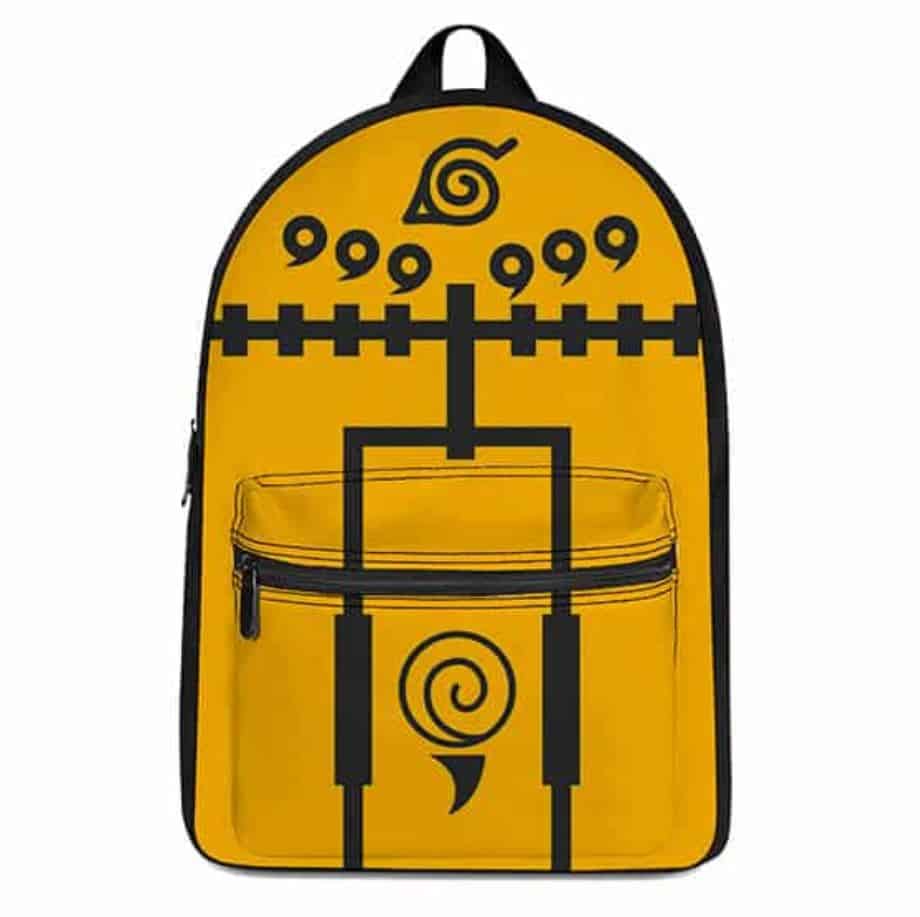 I like the simplicity of the yellow and black bag. The bold symbols stand out against the bag's golden flame, making it very reminiscent of the colored aura the fighters take on when in the nine-tails chakra mode. You can defeat any of the tailed beasts when wearing this bookbag.
Size: (29cm x 17.5cm x 39cm) 11.4 x 6.9 x 15.35 inches
Includes: bookbag only 
Pros
The streamlined symmetry of the bag is easy on the eyes.

I like the two-toned coloring scheme.

The symbols are big and bold and are not cut off or damaged by the placement of the zipper pocket.
Cons
Since most bookbags sit on the ground often, look for the brightness of the yellow to dim a bit over time.

This bag does not have a Naruto front logo, which could be a dealbreaker for some people.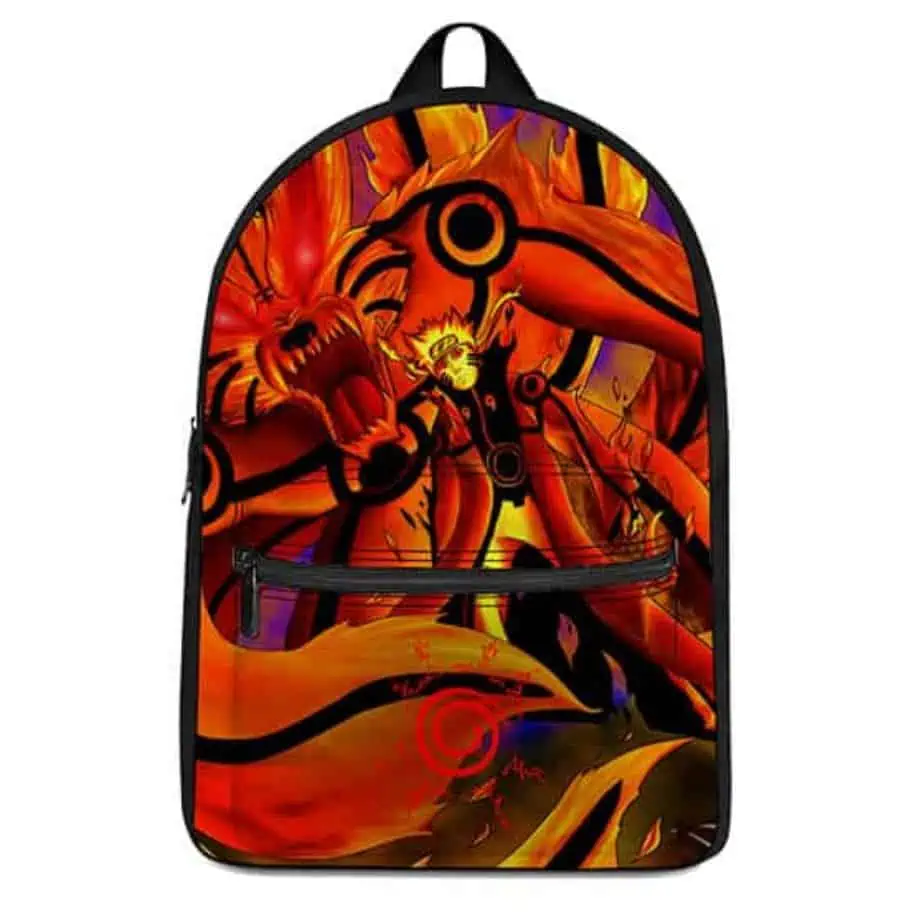 Another beautifully done piece of artwork starring Kurama, the nine-tailed fox, and his pal and ally, Naruto. These two have a special bond; once they become friends, they are connected for life. They are even capable of swapping bodies and fighting on behalf of each other whenever the need arises.
Size: (29cm x 17.5cm x 39cm) 11.4 x 6.9 x 15.35 inches
Includes: bookbag only 
Pros
Stunning and moving artwork of Naruto and Nine Tails

The severe expression on Naruto's face looks like they are about to battle the enemy.

The yellow-orange flame-like color represents their bond merging and ultimately becoming stronger than anything as one flame.

The pretty pinkish-purple sky in the background suggests night is almost there.
Cons
The Naruto symbol at the bottom of the bag is in red ink and is hard to see. They should have outlined it in either white or black to make it more apparent.
FAQ
Question: Is there a Naruto store in Japan?
Answer: Akihabara, the city of anime, boasts many stores offering tons of different anime merchandise. It is best known for showcasing the amazingly advanced Japanese technology. When visiting, you will see loads of cosplayers, mountains of anime, and all the gaming goodies your little heart could desire.
Question: Is the ramen shop in Naruto a real place?
Answer: YES! Ichiraku Ramen is indeed an actual genuine and authentic place with amazing ramen and multiple restaurants. The original author, Kishimoto Masashi's store of inspiration, was located near Fukuoka's Kyuusandai-Mae Station but closed in 2014. Today, you can visit Ichiraku Ramen at its other locations in Fukuoki!
Question: How old is Naruto currently?
Answer: Naruto was either seventeen or eighteen years old at the conclusion of The Ninja War and Naruto Shippuden. Since Boruto is supposed to be fifteen years after that story, that would put Naruto in the ballpark of thirty-two or thirty-three years old.
Question: What does Ichiraku mean in English?
Answer: Ichiraku translates roughly into meaning peace, music, and comfort.
Question: What are Naruto's shoes called?
Answer: Those sweet, fashionable ninja combat boots are called Tabi, though it is said that the shinobi wore many types of footwear.
Dattebayo!
That concludes our deep dive into the foggy but beautiful realm of Naruto-style bookbags. I hope you have all gained fantastic insight into the colorful and artistically majestic shopping experience that awaits you. I don't feel I even touched on all of the great bookbags out there. The more bookbags I found that I loved, the more I would discover connected to that site. If you order from Japan or are lucky enough to visit the anime capital, Akihabara, you will find some fantastic, one-of-a-kind bags that will never see the likes of an American store rack.
That said, I highly recommend picking your favorite from the list. I struggled with this because there are so many that I love for different reasons. However, as someone who also loves Funko Pop, my collector's style overall favorite is theNaruto Pop! San Diego Comic Con 2022 Loungefly Mini Backpack Limited Edition. It looks just like the adorable and fierce Naruto Funko Pop figure and is unique. Since it was born at the San Diego Comic-Con in 2022, it is a collector's edition and will be worth money down the road. 
It is just a cool bag all the way around. The stitching and craftsmanship are high quality. Even the custom interior of the bookbag is excellent. You can't go wrong with that selection. It is a smaller-sized bookbag, so if you are seeking a book bag that you can use for all your school or travel needs, I suggest a larger bag, likeNaruto Anime Cartoon Kakashi Character Cosplay Bookbag. This is also a tremendous low-profile bookbag that won't scream "Look at me!" to all your classmates or other people passing by. It comes with lots of space for your laptop and books. No matter which bag you choose, the bookbags listed in this article are all excellent choices.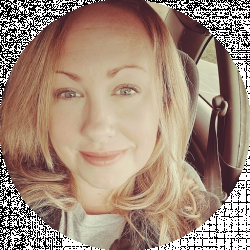 Latest posts by Katie Downey
(see all)