Hello Kitty is a national icon. She's recognized everywhere as a symbol of kindness and friendship. Many people find comfort in her simplicity and cuteness. Children especially gravitate toward her, so it makes sense for her to appear on shoes popular with children, like the ones you'll find in this Hello Kitty Crocs Guide.
The World of Hello Kitty Crocs
Hello Kitty Crocs give people, mostly children, a fun way to express a love for the Japanese character through comfortable footwear. They tend to follow the Hello Kitty brand through the use of bright pastel colors like purple, white, blue, and, most of all, pink.
Crocs themselves have made Hello Kitty shoes in the past, but right now are focusing on other characters. Luckily Crocs isn't the only company supplying us with breathable shoes made of rubbery material. You can easily find Hello Kitty on Crocs imitations instead of scouring for official Crocs in the right size on resale websites.
My Top Picks
I've found some good Hello Kitty Crocs that I think little ones would enjoy. They are cute and give a bit of flair to what can often be a bland article of clothing. Of the shoes that I found online, these are the ones I thought were the cutest.
Hello Kitty Tea Party Clogs
These shoes have the best color palette. Maybe it was just staring at so many pink shoes that made this blue stand out, but either way, I think it makes them look amazing. The blue shoe with Hello Kitty wearing pink and having a pink outline makes all the colors pop, and Hello Kitty stands out so well compared to some other shoes where she kind of blends in.
Hello Kitty's Teddy Bear Clogs
Many of the shoes come with charms. This one has my favorite charms. I like the idea of Hello Kitty being accompanied by a squad of expressive teddy bears. It feels less like they made random, cute shoes to go with the main charm and more like they wanted to stick to a certain idea. I think each charm is adorable and can work alone but they are incredible together.
Between Crocs and Clogs
Crocs have grown to such a height as a company that its name has become a proprietary eponym. That means that the brand name is used to describe the generic product. Think of Kleenex being used to describe any tissue. So now rubber slip-on shoes with a strap and holes have become crocs.
The official Crocs brand has rolled out Hello Kitty merchandise in the past, but they aren't selling any right now. To find official Hello Kitty Crocs, you'll have to find them on a third-party or resale site.
Selection Criteria
Availability
Since it has been a while since Crocs has prioritized Hello Kitty, it can be challenging to get your hands on official Hello Kitty Crocs. So I've only included Crocs that can be bought outside of resale. I don't want you to find your perfect pair, then follow my link to find they've already been sold. This means that most of the list isn't official crocs brand.
Creativity
I'm not a fan of merch that just takes the product, slaps on a logo, and calls it a day. I want my merchandise to be unique in some form or fashion to stand out. So shoes that are just regular clogs with Hello Kitty's face and no other decoration won't be included.
Cuteness
Hello Kitty is the pinnacle of cute characters. She's simple but recognizable, broadly appealing yet not bland. Anything representing her should follow suit.
Official Crocs
When looking at rubber clog shoes, you can identify an official croc through the logo. While many shoes can sport rubber material, holes, and straps, only official Crocs can display the smiling crocodile. In the typical default croc style, you can find this logo where the strap connects to the rest of the shoe.
If you had your heart set on official Hello Kitty Crocs, then I'm afraid you've missed your window of opportunity. This was the only official Crocs brand shoe I could find outside resale sites. Luckily, I think it's a great shoe, depicting a cute scene of Hello Kitty as a mermaid hanging out with some fish.
Available Sizes: Children 4-13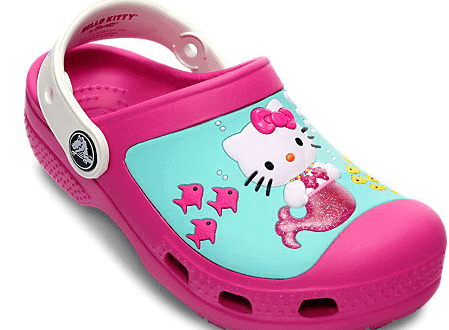 Pros
The unique design expresses a love of both Hello Kitty and mermaids.

The tail is fun and glittery.

The colors are vibrant but don't clash.
Cons
The seashell bra, necklace, and arms are crammed into a small space.

No holes on the top of the shoe for breathability, so you can't add charms or accessories.
Everyday Delights
Everyday Delights has come to the rescue despite our lack of official Hello Kitty Crocs. They make and sell croc-like shoes on Amazon and have several variations for Hello Kitty. They include all the features you expect from crocs, flexible material, breathing holes, and movable straps. The branding usually comes in the form of strap decoration and charms. The charms can be removed from the shoe to be rearranged or added to another croc.
However, there are issues with Everyday Delights. They make merchandise sizes for children and don't sell in standard sizes. Each shoe's size is described with a size descriptor like small, medium, or large for little kids. To find the size you need, you'll need to measure your child's foot and compare it with the sizing guide on all their Amazon pages.
These shoes are pretty simple. The shoe looks like a regular croc. Hello Kitty is written on the strap between a bow and a star. Where these shoes shine are the included charms. 
Available Sizes: 

S-3X L 

Color Variations:

 Pink and white

Charms:

Large Hello Kitty sitting with pink overalls,

Blue Teddy Bear,

Pink Teddy Bear,

Purple Teddy Bear,

Brown Teddy Bear,

Thought bubble with a heart,

Speech bubble with saying, "Being with you is always a treat!"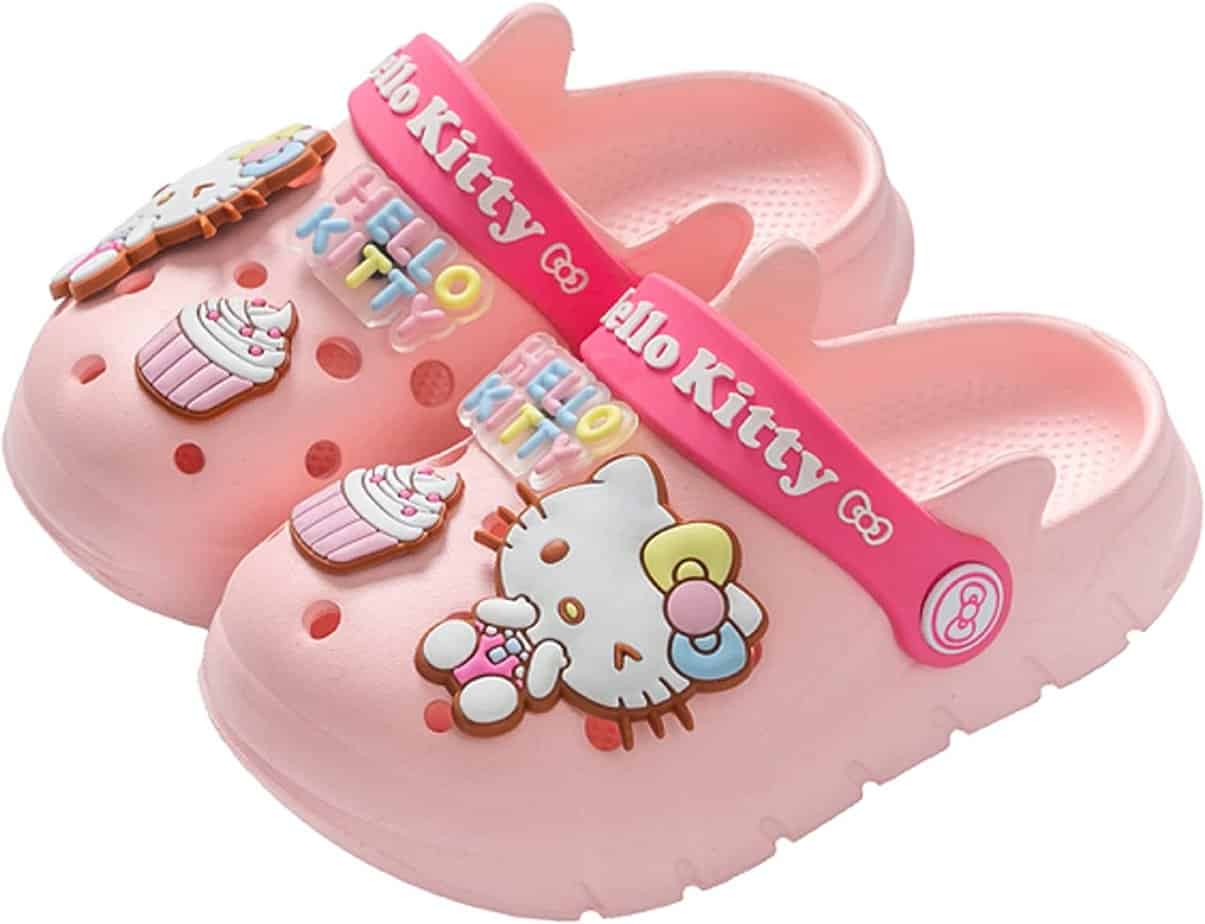 Pros
The teddy bear charms are very cute and expressive.

The shoes come in larger sizes.

The light but vibrant color of the pink shoe makes the pastel colors pop.
Cons
The writing on the strap in the white variation is hard to read.

The sizes tend to be too small.
This base shoe is the same as the previous one, with mostly the same colors and strap design. However, their charms give it flair, and I think it's worthy of its spot. Plus, these are the only shoes sized for big kids rather than little kids. 
Available Sizes: 

X S-2X L 

Color Variations: 

Pink and white

Charms:

Hello Kitty's face and paws,

Hello Kitty's tail and feet,

Strawberry,

Cupcake,

Milk Bottle,

Wrapped Candy,

Double Hearts,

Hello Kitty Title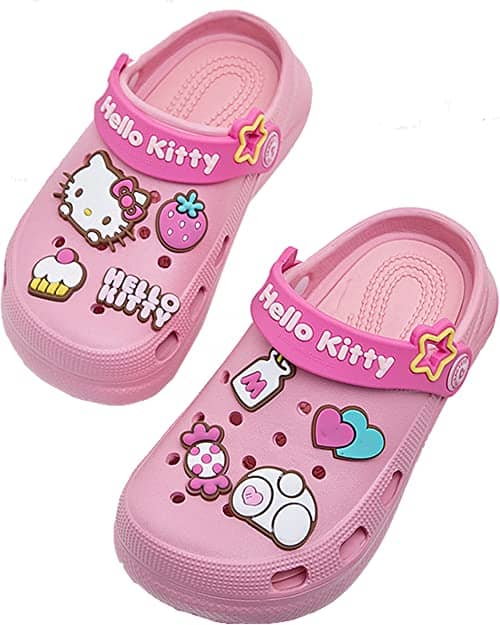 Pros
The double Hello Kitty charms making it look like she's lying down are adorable.

Available for older kids.

The charms have a unifying theme.

The white variation has easier-to-read writing than the teddy bear shoes.
Cons
The tail charm would look strange when not paired with the face charm.
These shoes have a bow adorning the strap next to the Hello Kitty name and a cutout of Hello Kitty holding a little teacup. No charms are included with these shoes, but without a doubt represent Hello Kitty well.
Available Sizes: Medium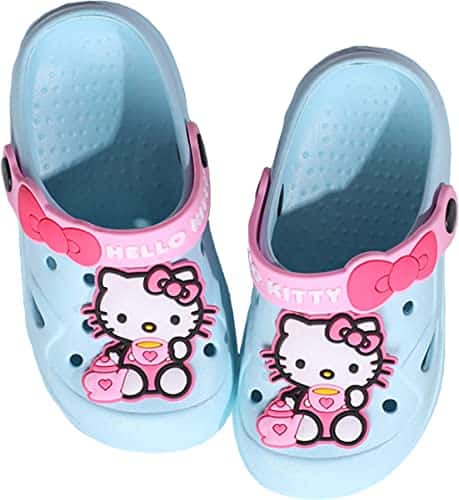 Pros
The pale blue of the shoe makes it stand out from the pink of most other Hello Kitty merchandise and looks phenomenal with the white and pink of Hello Kitty's design.

Since the cutout is attached to the shoe, it can't be lost as a charm can.

There are still plenty of breathing holes to add other charms if you have them.
Cons
Only available in medium.

There's not as much padding in the sole as in the other shoes.
The star of these clogs is the giant bow adorning the strap. It's big enough that the strap changes shape to encompass it. Alongside the bow, there are charms to decorate the rest of the shoe. They come in matching sets of three, so each shoe can have the same charms.
Sizes Available: 

XS-2XL

Color Variations: 

Pink and Blue

Charms:

Hello Kitty with Muli-colored bow,

Strawberry with flower,

Title with colorful lettering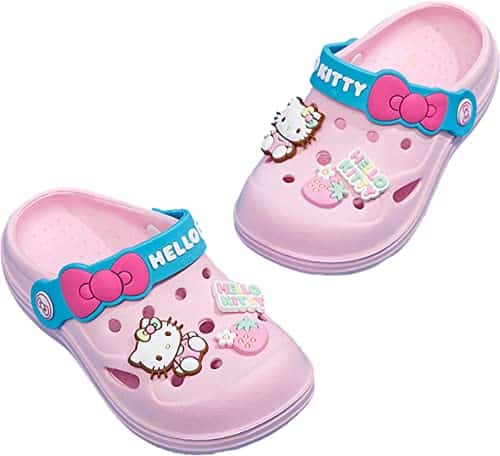 Pros
The exaggerated bow makes the shoe stand out simply yet effectively.

The charms include a lot of lovely pastel colors that go well together.

The duplicate charms mean you can match the shoes to each other exactly.
Cons
Some of the lighter charm colors are lost against the pale pink shoe.

The matching charms mean you don't have a lot of customization options.
This shoe sports a picture of Hello Kitty on the side of the shoe. She is dressed in a pink teddy bear costume with two bows, one pink and one blue. Around the sides is a stripe filled with doodle-style writing and drawings.
What I really enjoy about this shoe is how well Hello Kitty is incorporated into the shoe. It feels like much thought went into the design, and it doesn't rely on just charms or writing Hello Kitty on the strap.
Available Sizes: S-L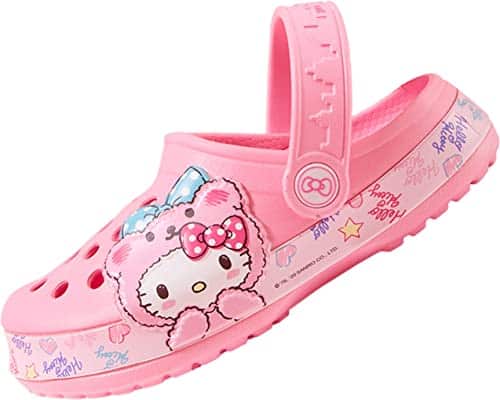 Pros
The most unique design of all Everyday Delight shoes.

I love the doodle aesthetic.

The line art makes Hello Kitty's costume look very soft and fuzzy.
Cons
The color scheme isn't very well thought out. The blue bow is the only large color difference against all the pink.

The breathing hole pattern is broken near the picture, which bothers me.
These sandals are probably the simplest of Everyday Delight's shoes. The strap has Hello Kitty in small writing and a couple of small bows on each side. The primary branding comes in three charms, each with a double so the shoes match perfectly.
Price: 

$34

Sizes Available: 

S-XL

Charms:

Winking Hello Kitty,

Pink Cupcake,

Title with colorful lettering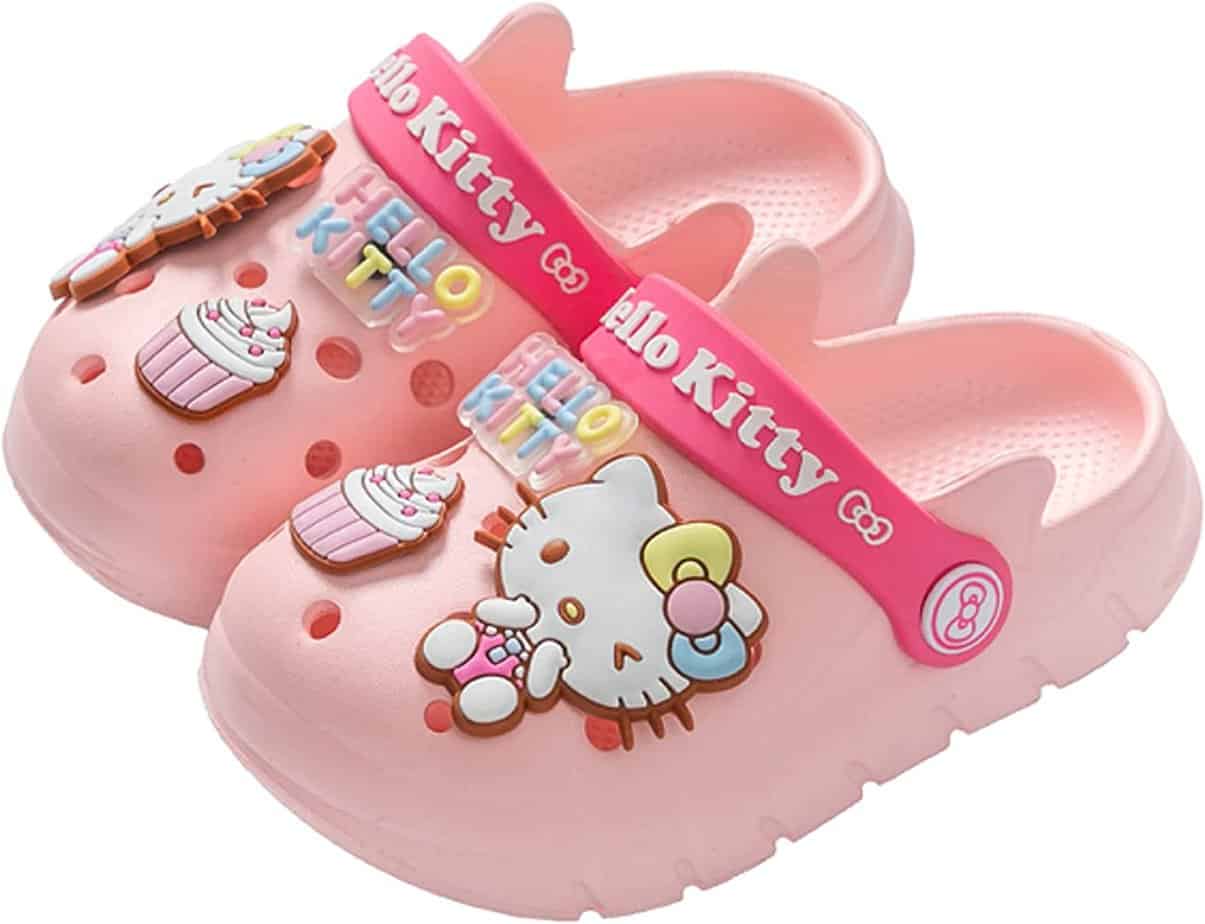 Pros
Having double charms means you can have your shoes match.

The Hello Kitty Charm is very expressive and colorfully dressed.

Two triangles are jutting out on either side of the shoe that I think resemble cat ears. Probably not intentional, but cute nonetheless.
Cons
The cupcake is too detailed and stands out against the other art styles.

Having double charms means you get less variety and customizability.
These shoes go against my criteria a tiny bit as they only represent Hello Kitty by writing the title on the strap and putting her face on the shoe. However, the shape of the shoes and the sculpting of Hello Kitty's face were enough for them to be included.
Everything about these shoes is so pleasantly round and satisfying. They are made for very small children, so there isn't much room for decoration. Instead of making a few small details, they made one giant Hello Kitty face to cover the entire top of the shoe. I like the 3-D effect and find that it compliments the shoe shape perfectly.
Sizes Available: 

XS-2XL

Color Variations: 

Pink and Purple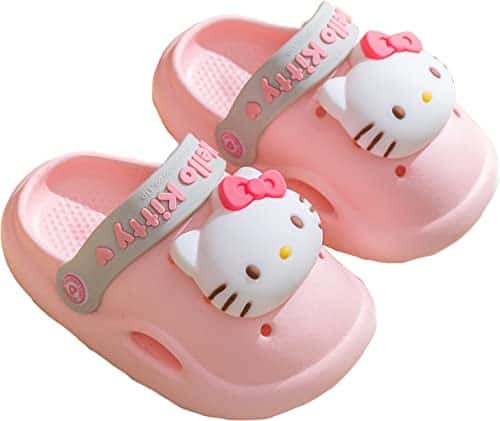 Pros
The shoe is so round and smooth that it looks like it's made out of marshmallows.

The strap has a subtle curve to it that is very pleasing.

Hello Kitty's huge face stands out very well.
Cons
The grey on the straps for the pink shoes doesn't mesh well with the other pastel colors.

There are breathing holes, but they are too close to the face to be used for charms.
These shoes ride the line between slides and clogs. Ultimately the strap at the back made me decide they would be included here, despite the open toes and lack of breathing holes.
On the side of the shoe is a picture of Hello Kitty, dressed in bright colors and riding a unicorn. This is the only Hello Kitty branding on the entire shoe, but it is large and unique enough to work.
Sizes Available:

 XS-2XL

Color Variations: 

Pink and Blue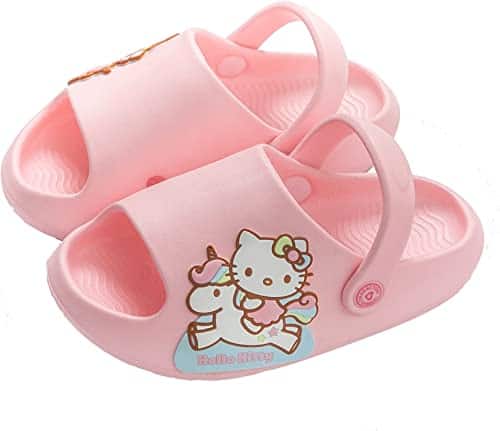 Pros
Hello Kitty's clothes and the unicorn's hair match, and it's adorable.

The shoe is simple yet unique.
Cons
The blue backdrop of the picture is nearly invisible on the blue shoe.

The writing on the picture is very small and hard to see.
Just the Charms
One of the fun things about crocs is the ability to personalize them with charms. While the above crocs all come with Hello Kitty charms, you can buy just charms to add to a collection and decorate any other crocs you may have. You can customize your shoes to your heart's content.
Many charm collections are available online, including Hello Kitty, most sold with around 50 charms. These collections I've found are mostly or entirely on Hello Kitty. No collection is completely unique. Most charms can be found in multiple collections. I tried to include the most variety here, but you can check out the other collections on Amazon to see if there's a size or assortment that is better for you.
This is an excellent collection for an older Hello Kitty fan since it includes some spooky and even gory designs. Many of these charms would make incredible shoe decorations for the Halloween season. However, they might upset young children who don't want to see Hello Kitty's flesh falling off her face.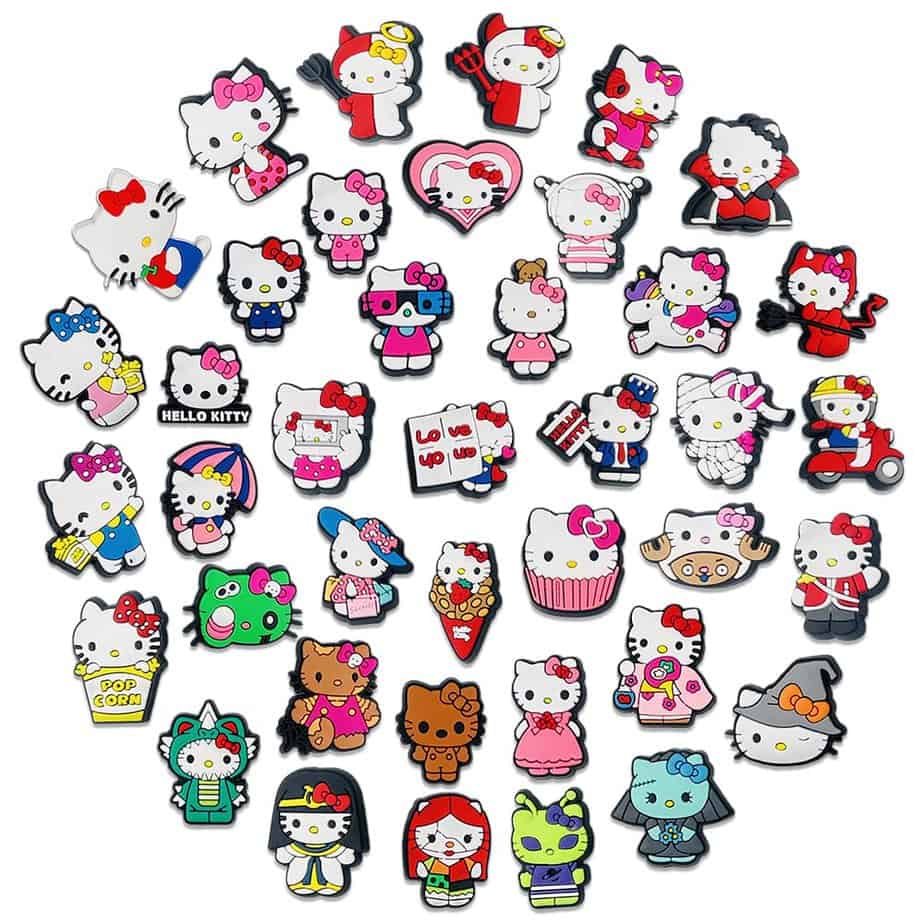 Collection Highlights
Vampire Hello Kitty holding a glass of blood

Corpse Bride Hello Kitty

Hello Kitty eating popcorn and winking

Hello Kitty holding an I Love You note

Hello Kitty's head in a cupcake wrapper
Again, quite a few of these charms have a spooky theme that young children may not enjoy, but there are quite a few quirky or cute charms for them to enjoy.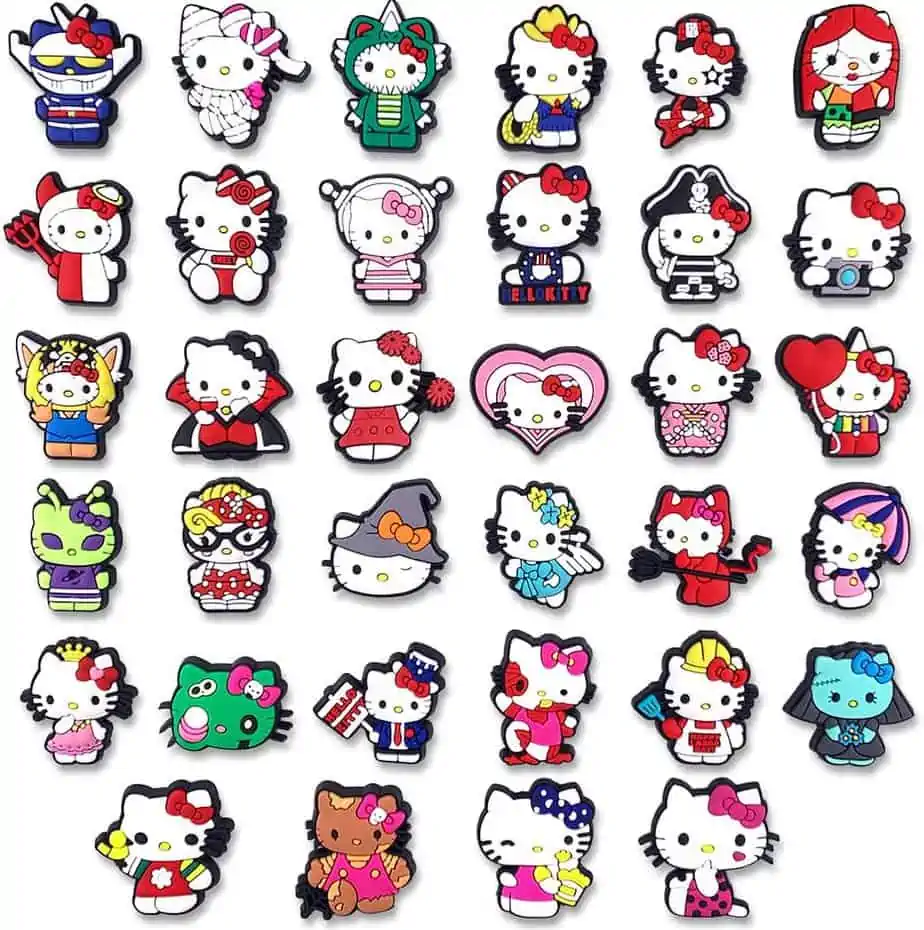 Collection Highlights
Gundam Hello Kitty

Hello Kitty with an umbrella

Angel Hello Kitty

Hello Kitty dressed as Aggretsko

Pirate Hello Kitty
This collection primarily features Hello Kitty, but some other Sanrio characters have their own charms. If you are looking for even more character variation, plenty of groups include tons of characters, but I choose to focus on the ones that featured Hello Kitty the most.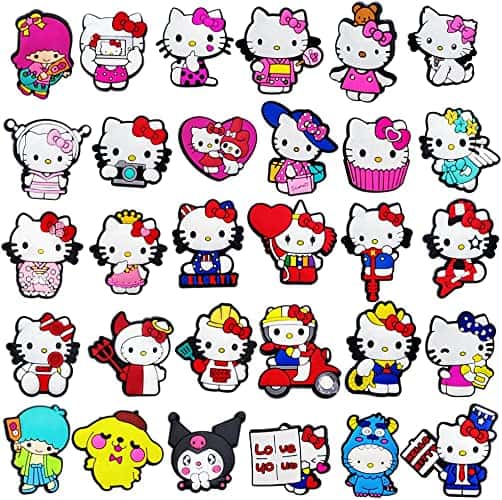 Collection Highlights
My Melody and Hello Kitty hugging

Hello Kitty on a scooter

Realistic cat Hello Kitty

Monster costume Hello Kitty

Smiling Pompompurin
Final Thoughts
I think it's a shame that Crocs isn't currently promoting Hello Kitty and seem to be focusing on more western brands like Disney and Warner Brothers. We aren't in a cultural movement that values simplicity in characters and prefers grand stories. Both have their place, and neither should be forgotten for the other.
In the future, Crocs may bring out more classic Hello Kitty merchandise for children and adults to enjoy. In the meantime, we can look to off-brand shoes and customization to suit our needs.
FAQs
Question: Where can I get Hello Kitty Crocs?
Answer: Currently, Crocs is not producing official Hello Kitty shoes. Older shoes can be found on some sites, primarily being resold. If you want to find reliable shoes in a specific size, some off-brand rubber sandal options exist.
Question: Are There Adult Hello Kitty Crocs?
Answer: Unfortunately, there are currently no Hello Kitty crocs, name brand or knock-off, available in adult sizes. However, you can still find plenty of Hello Kitty charms to decorate any pair of crocs. 
Question: Why are Crocs Good for your Feet?
Answer: Crocs are light and provide good airflow and arch support. This makes them comfy and breathable and helps to avoid foot odor. However, the lack of heel support means they aren't as good for prolonged use.
Question: What is Hello Kitty's Real Name?
Answer: According to the creator, Shimizu, Hello Kitty's real name is Kitty White.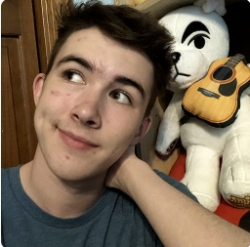 Latest posts by Mika Zans
(see all)