Way back in the early days of YouTube, when channels continually challenged one another for YouTube's top spot, a new channel was created in April 2010 by the Swedish-born creator Felix Kjellberg, a.k.a PewDiePie. This channel would grow to dominate the platform, rising to take the most subscribed title within four short years and holding onto that spot by some margin for many years. Even today, Felix still owns the single most subscribed YouTube channel operated by a single person. An incredible feat. 
Throughout his time on YouTube and the insane amount of videos and fans he has generated over the years, he has continually produced a steady stream of merchandise for his fans to get their hands on. As his channel and merch continued to sell well and earn him a great profit, he decided to branch out slightly.
Instead of sticking to the typical YouTuber merchandise archetype that he helped to create, Felix decided to create a brand of his own in two ways. First, he would collaborate with many creators and companies to produce PewDiePie-themed items that served as special edition collaborations.
Next, Felix and his wife, fellow content creator Marzia Kjellberg, decided to take their love for Japanese fashion and create a brand of their own, one that purposely stands apart from typical YouTuber merch, appearing much more like a proper clothing brand that one would actually wear on a night out or for coffee.
I fell in love with Felix and his content when I was much younger when he was playing games such as Happy Wheels and some diverse horror content. I then faded away from his content for some time; however, when he changed things up and started more satirical content, such as meme reviews, I came back, rediscovering my love for his comedic style.
So, with all this in mind, it is quite easy to see why fans of PewDiePie and his channel would be spoiled for choice when it comes to getting their hands on some of his merchandise. Therefore, this guide will serve as a helpful tool, directing you to the best of the best and, hopefully, saving you some shopping time in the long run. What are we waiting for? Lets' go!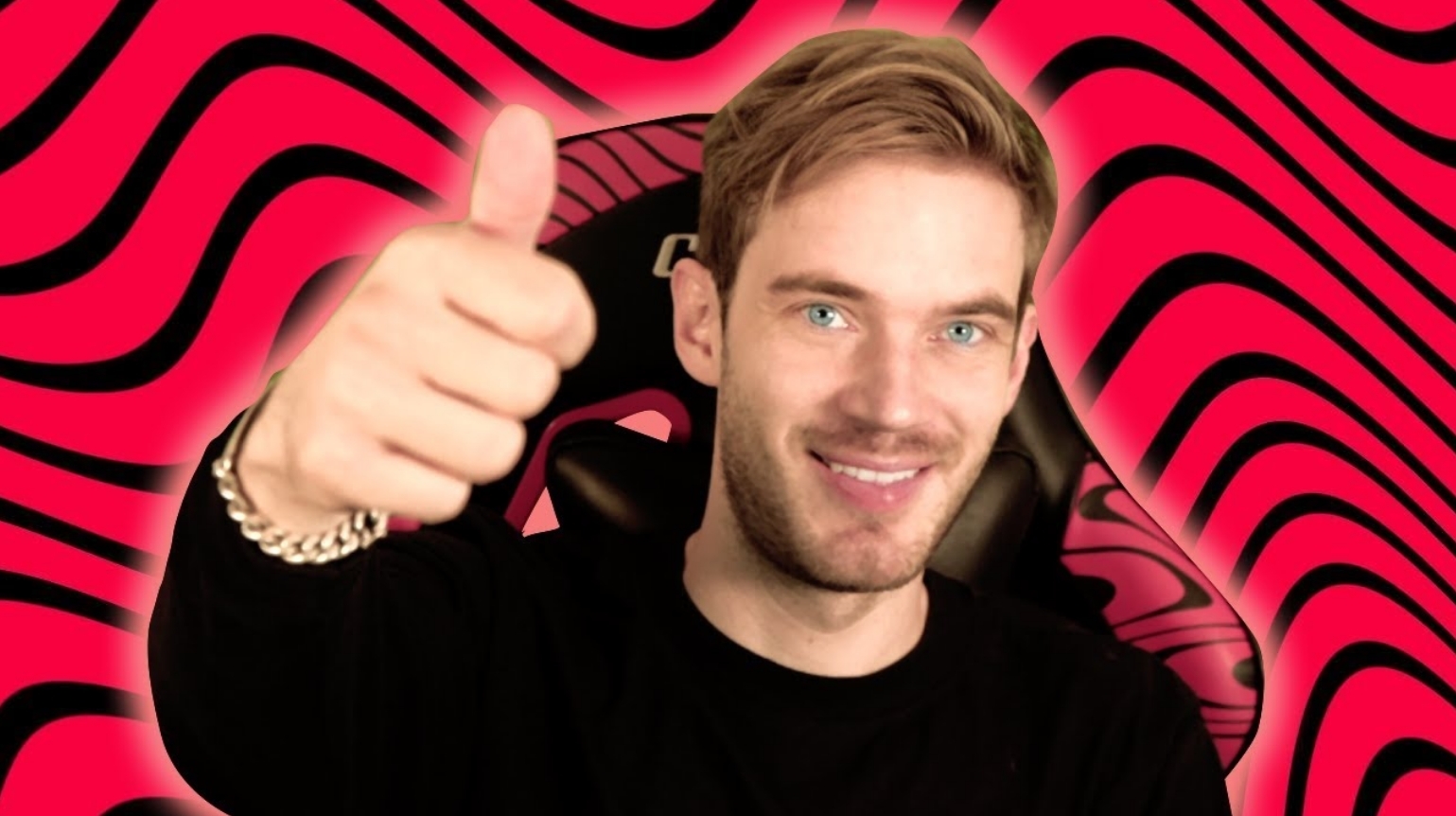 Bottom Line Up Front
PewDiePie, also known as Felix Kjellberg, is a Sweedish born YouTuber who is currently one of the most subscribed creators on the platform, holding over 100 million subscribers. Felix has jumped head-first into the merchandising market, creating many great pieces. I have gathered a collection of the best here below.
My Top Picks
Embroidered Logo Turtleneck

– Most fashionable.

 

Meme Review Crew Neck

– Best value for money.

Sub 2 PewDiePie Sticker Collection

– Best present.
The Tsuki Brand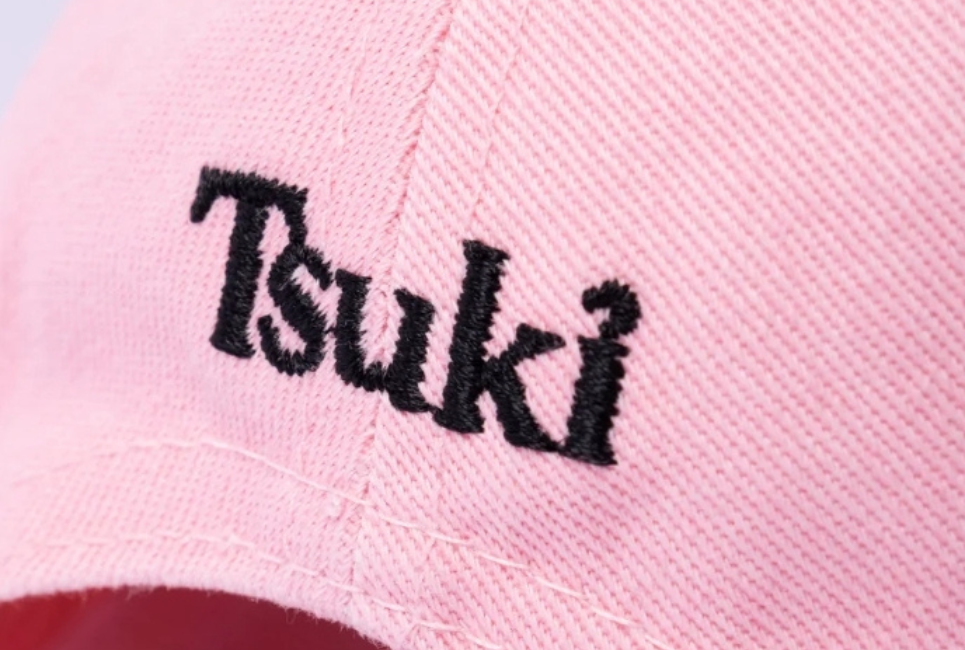 If you have watched PewDiePie for some time now, you will be aware that the creator has a sizable fascination and love for almost everything Japanese, even living in the country for almost half the year these days.
Due to this love for everything Japanese and a particular interest in the country's fashion, Felix and his wife Marzia decided to fill a hole in the market, providing Japanese-inspired clothing to his millions of western viewers who may find it difficult to get their hands on relatively affordable Japanese fashion from a site that they could also trust their credit card details with. 
This brand was formed in 2021 by the YouTube super couple and is growing from strength to strength, providing some cool pieces for relatively decent prices, especially when one considers the normal price for such pieces of clothing. 
The "Tsuki" brand name translates into "moon" in English. This brand is known for clean and simple lines with muted colors, featuring mostly black, white, and pink. This brand also prides itself on its unisex identity, creating clothing that anyone can wear and be comfortable in.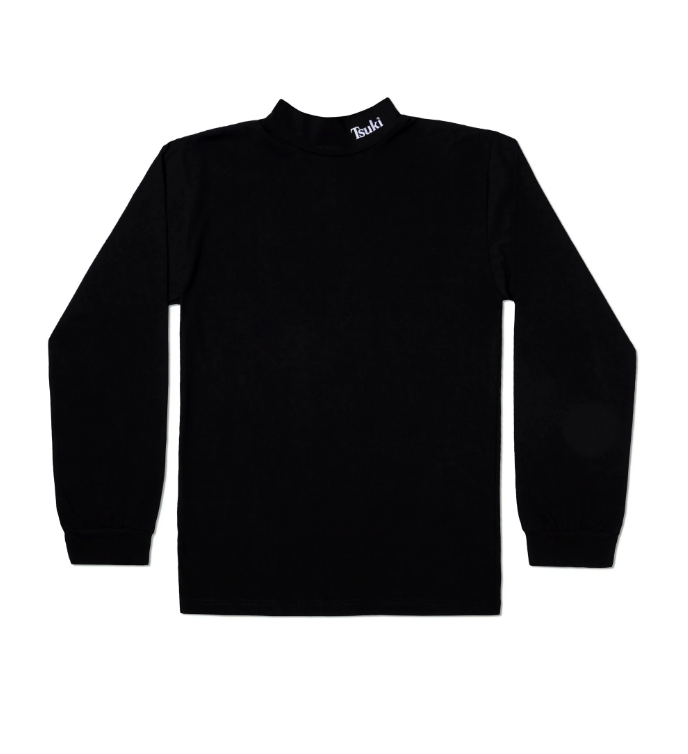 If you have been a fan of the PewDiePie channel for some time now, you will be familiar with the creator's love of a good turtle neck. This piece is classic Felix fashion, featuring a looser collar than normal for increased comfort and finished in 100% cotton. 
The overall design of the turtleneck is simple, featuring the Tsuki brand name on the collar itself and no other complicating design features. This garment is available in three different colors; white, black, and pink, as well as sizes ranging from XS to XL. 
This item is currently on sale on the Tsuki site. However, the black version of the turtleneck is currently sold out, with a restock coming in January of 2023 at the time of writing. 
In my opinion, I just love how simple yet stylish this piece is. I have loved the turtleneck aesthetic for some time now, having seen this loose collar design in many pieces of Asiatic fashion. 
Pros
This turtleneck has a loose collar design, meaning that it will sit comfortably around your neck, not giving you that compressive and restricted feeling that most turtlenecks do.

The simple design of this piece gives it a curtain understated quality, allowing you to wear it anywhere.

As you can purchase this item in three different colors, the overall feel of the item is changed along with the color, making each color option perfect for the individual.
Cons
The black version of this item is mostly sold out, meaning that most people will have to wait a long time to order one in their own size.

This item is currently on sale at $60; however, when not on sale, it is quite costly, requiring you to part with $80 to get your hands on one.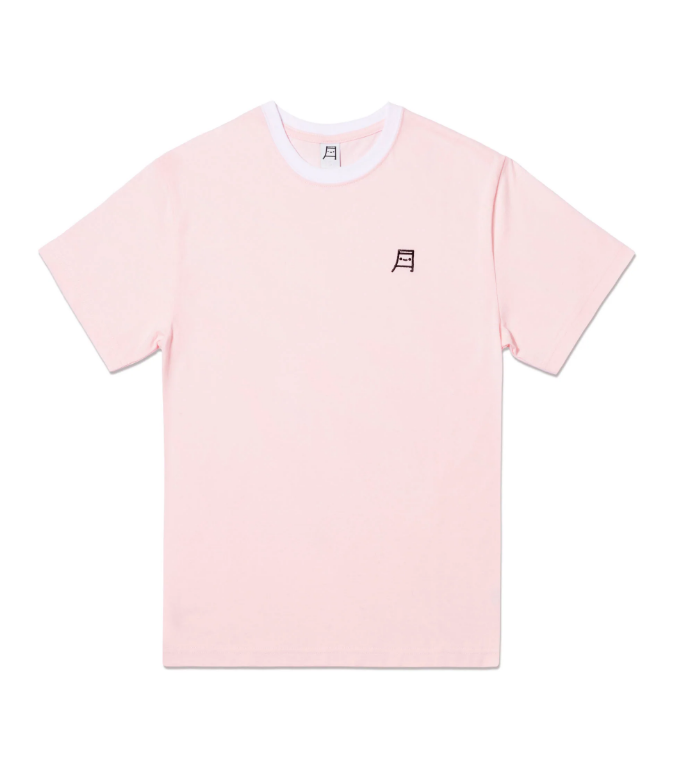 Again, this item is beautifully understated in terms of design touches but still manages to ooze quality and high fashion. This t-shirt features only two simple touches; a simple Tsuki logo embroidered over the left breast in black or white thread and an alternate-tone collar. 
Once again, this item is made out of 100% cotton and is therefore very comfortable and kind to your skin, allowing you to wear and use the t-shirt for practically anything you like to get up to. Sadly, however, this is another item that is pretty much completely out of stock regardless of color and size, leaving the customer waiting until January 2023 for a decent restock and a chance of getting one. 
While you wait, you can decide which of the three typical Tsuki colors you will choose: black, white, and pink, as well as your choice of size/fit, ranging from XS to XL. 
I just love how simple this design is, oozing a lot of quality and comfort while looking incredibly stylish; this t-shirt is perfect for anyone as an everyday t-shirt that can keep up with any task.
Pros
The embroidered logo is finished in the highest quality and designed in a thread to contrast the color of the base item.

This t-shirt is 100% cotton, ensuring a comfortable fit that can be worn for any activity. 

This item can be tumble dried without fear of shrinkage.
Cons
As with most of Tsuki's clothing, these t-shirts were released as part of a limited edition collection; therefore, they sell out quickly.

Costing $42 on sale and $56 at full price, these t-shirts are definitely on the more expensive side.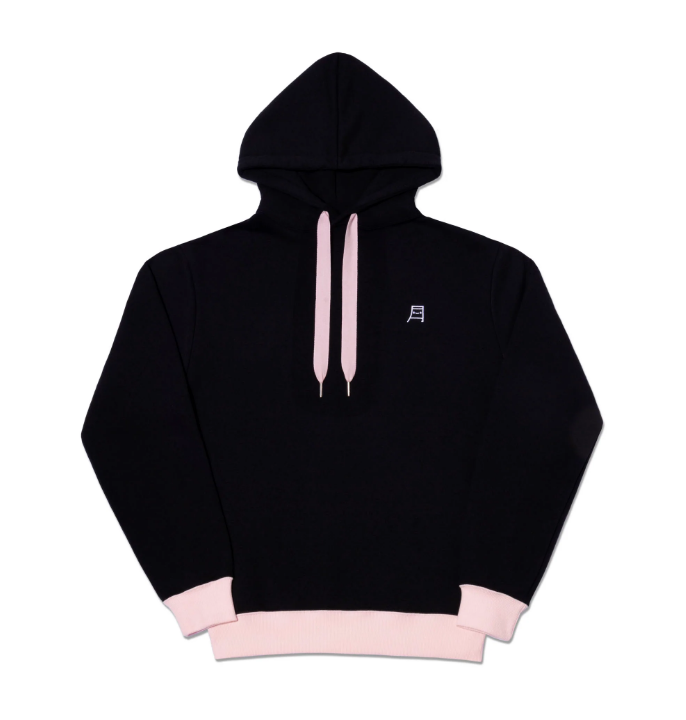 This may be my favorite item currently for sale on Tsuki. It is ultra-oversized, something I love, and it is also minimally designed with only small touches throughout. Another thing I love about this hoodie is the ultra-long and fat drawstrings that dangle down the hoodie. These drawstrings add an extra element of design and quality to the overall item, differentiating this item from most others on the market.
This hoodie comes in two of the classic Tsuki colors, white and black, along with pink on the cuffs and the drawstrings. Lastly, the Tsuki logo is embroidered in the opposite colored thread.
Another thing I like about this hoodie is that it's not only made of 100% cotton, but the cotton is fleece material, adding to the overall comfort of the piece. Also, the oversized design is perfect for any season or daily activity, with general fashion trending towards oversized clothing.
Pros
The oversized design of this hoodie is unique amongst most YouTuber merchandise, standing out easily from the crowd.

One of the best things about this brand is its minimal amount of design throughout, keeping everything simple and clean.

The two-tone color of this hoodie really suits the overall design.
Cons
The black color in this hoodie is currently out of stock and will not come back until January 2023. 

This hoodie is available in fewer colors than normal for the clothing brand.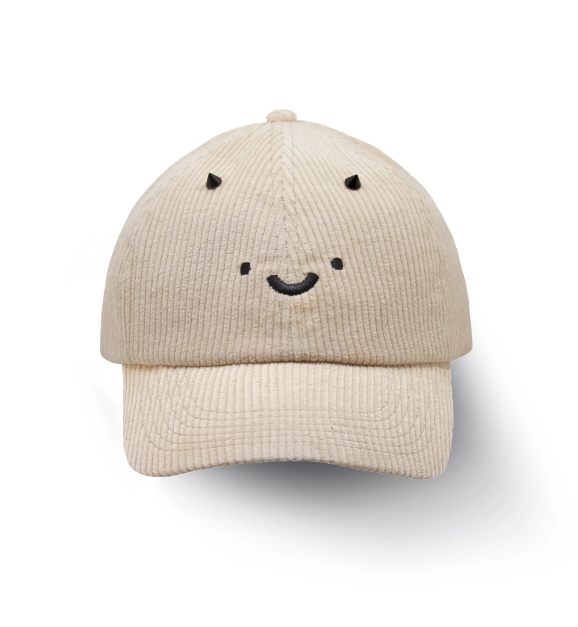 I really love this hat. While the brand currently sells several different hats, this one stands out from the pack. The cute smiley face emoji is teamed with metal horn studs slightly above it on the hat's crown.
This cap is fully adjustable thanks to the metal clasp on the back, which sits just below the Tsuki logo. 
Apart from the general silliness that the horns and the smiley face give off, the corduroy finish of the cap is very stylish and current, with the material coming back into fashion strongly in recent months.
To look after this hat, make sure you wash it by hand with simple soap and water. Outside of this, the hat is very simple to maintain and comes in a one-size-fits-all design, making it the perfect gift for anyone. You can also get this gat in cream or black.
Pros
This hat is fully adjustable to fit anyone's head, making it the perfect gift for anyone.

The cap is made of 100% cotton in a cool corduroy finish.

You can buy this hat in both cream and black.
Cons
This hat will cost you $34, quite expensive for a hat.

The horn detail on the top is slightly more out there than some people are willing to wear. 
Represent Featuring PewDiePie
As PewDiePie moved further and further away from his competition in terms of YouTube subscribers, his merchandise sales continued to skyrocket, bringing in countless dollars over the years. However, the massive amounts of orders and desire for Felix's merchandise resulted in printing companies not being able to keep up with the demands set on them by the phenoms subscribers; this brought a lot of stress on the creator. 
Due to all this, Felix decided that instead of producing his own official merchandise like other YouTubers, you know, the items with references to his channel and things said during streams, he would prefer to collaborate with a company that could handle all the logistics for him. Through this deal, they would be able to produce and sell officially licensed PewDiePie gear while also taking a share of the profits, working with Felix on new designs over the years. 
The company in question that Felix is currently working with is named Represent. This company works with some of the biggest names in the world, including top actors like Leonardo Di Caprio. 
The clothing based on Felix that you find here is still very stylish, like his Tsuki brand; however, it is slightly more mainstream and linked to his YouTube life.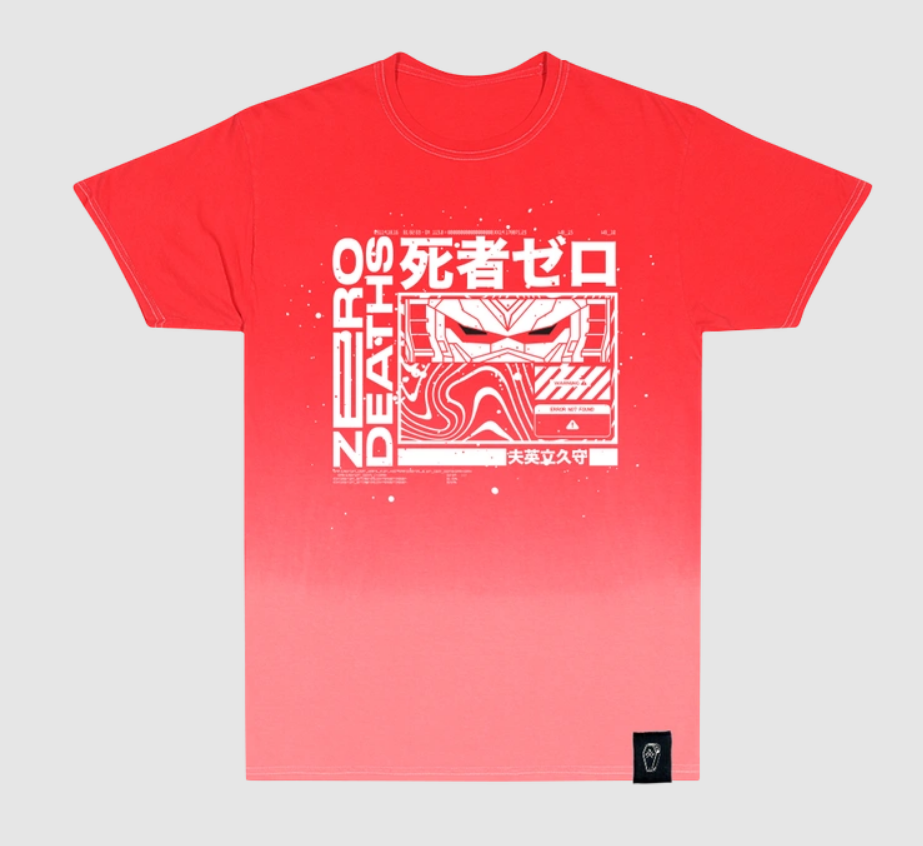 If there is one thing that this guide should have clued you in on by now, it is that Felix has a rather sizable obsession with Japan and Japanese culture. Therefore, this t-shirt, featuring the iconic "Zero Deaths" slogan from his YouTube channel, also features some Japanese writing and something akin to a Samurai mask.
This tee also features a branded logo on the bottom left-hand side that simply displays a coffin logo, signifying that the piece is part of the zero deaths collection that Felix launched with Represent.
I really do love the artwork on this t-shirt, it truly stands out amongst some other boring YouTuber merchandise, and you can see how much effort has gone into it.
Pros
This t-shirt references Felix's YouTube channel very sneakily; therefore, you can wear this t-shirt anywhere without explaining your love of the YouTuber if you don't want to.

These tees are all custom dyed, meaning that no two are identical.
Cons
This item is currently out of stock on the Represent website.

The garment is only available in red, a color many people do not wear.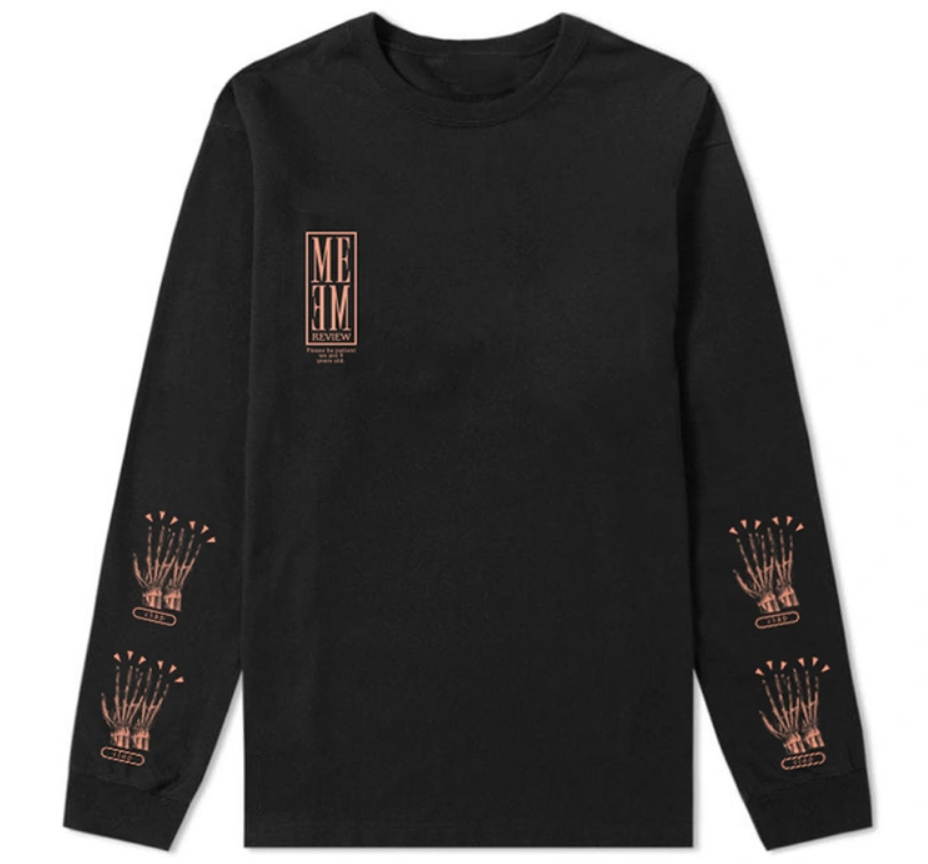 One of the most successful series' that Felix has done over the recent years has been his meme review content. This was actually the series that got me back into watching him after a couple of years off. 
When one tuned into these videos, he often wore this crew neck jumper, and I must say, I always wanted one. 
This jumpers design is definitely a bit more out there than most of the other items in this list, featuring an acid-washed color scheme and an anatomical drawing of a typical PewDiePie subscriber's physique with 'Meme Review' written underneath.
What I really love most about this jumper is just how different it is from typical YouTuber merchandise. It looks like a very trendy and fashionable jumper one would expect from high-end retail stores, but at a fraction of the cost, coming it at under $40.
Pros
This jumper looks like a designer piece, yet it will only cost you $40 to order. 

The acid-washed color is different and unique. 
Cons
This jumper is only available in one color at present.
So, there you have it, a comprehensive list of some of the best merchandise currently being produced by the YouTube and streaming phenom, PewDiePie. The creator has, undoubtedly, the most stylish collection of clothing currently sold by any creator; however, you will have to part with some serious money to get your hands on some of his merch.
I hope this guide has helped you choose a piece of Felix's merch for yourself or the PewDiePie fan in your life and that you had a bit of fun along the way. Either way, I hope to see you again soon and wish you luck in your shopping.

Frequently Asked Questions
Question: Where is PewDiePie From?
Answer: While the YouTuber currently splits his time between his residence in Brighton and Japan, the creator originally hails from Sweeden.
Question: What is PewDiePie's Net Worth?
Answer: This question is always hard to answer as we really do not know how much he can make from a particular YouTube video or streaming. We are also unaware of how much he makes from external sources of income, such as merchandise sales and advertising partnerships. However, we can roughly estimate his net worth to be something near $40 million as of 2022.
Question: What is PewDiePie's Real Name?
Answer: PrewDiePie hails from Sweeden; therefore, he has a rather Swedish-sounding name, Felix Arvid Ulf Kjellberg.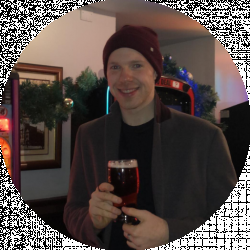 Latest posts by James Gibson
(see all)