When I began watching YouTube for the first time, as an eleven-year-old from the UK, I was immediately directed to and obsessed with the video content being produced by JJ/KSI and the other members of the Sidemen. 
The content they were making at the time was unprecedented, and the group dynamic was something that I envied and wished to see amongst my friend group. Over time, I and many others began seeing the group as my own friends. 
Since my early teenage years, I have continued following the group, watching through their myriad fallouts and various other adventures, including their massively successful charity football matches that take place every year.
Currently, the group has over 130 million combined subscribers across each of its channels, and they show no sign of slowing down anytime soon.
Bottom LineUp  Front
The Sidemen are a group of YouTubers and friends from the UK. Together they have built a media empire centered around their hilarious personalities. Over time they have built an incredible brand with recognizable designs and logos. Some of the best items can be found below!
The Brand
While this group makes a substantial income from its YouTube videos, it is fair to say that most of its profit comes from selling its branded merchandise. The group has decided to throw everything, including the kitchen sink, at their clothing/merchandise brand, building a brand identity that is much more than simple YouTuber merch you see everywhere else. The Sidemen brand features cool and affordable streetwear that anyone could be spotted in, not just your typical nerdy YouTube gaming fans.
So, with all this said, why don't we look at some of the best items the Sidemen currently have for sale? Hopefully, you will spot something you love!
My Top Picks
My Favorite SDMN Merch
The Sidemen clothing brand stands behind a theme of XIX-branded clothing. This stands for the official date the Sidemen were formed, 19/20/2013. 
This Nitro shell jacket keeps the XIX logo and carries it forward, holding the branding high with an embroidered patch on the front right breast. The rest of the jacket is made from 100% polyester on the outside and a Pongee silk inner lining. 
This jacket, featuring a two-tone, black, and orange design, is perfect for when the colder weather hits, especially considering that it comes in sizes ranging from XS to XXL. 
This jacket is being released during the build-up to the colder winter months, so you can rest assured that the guys over at SIdemen HQ have you covered with a very warm and cozy inner lining.
My favorite thing about this jacket is the cuffed sleeves and folder collar design; this gives a nice balance of functionality and style throughout the jacket, perfect for streetwear fashion.
Pros
This jacket has only been released, meaning that not many people have yet managed to get their hands on it.

YouTube merch is often expensive; however, at $60, this jacket is really good value for money.

The simple yet cool design is completely different and a cut above most YouTuber clothing.
Cons
While this jacket has only recently been released, it is likely that it will sell out very quickly.

The cuffed sleeves may cause the jacket to bunch up on people with shorter limbs.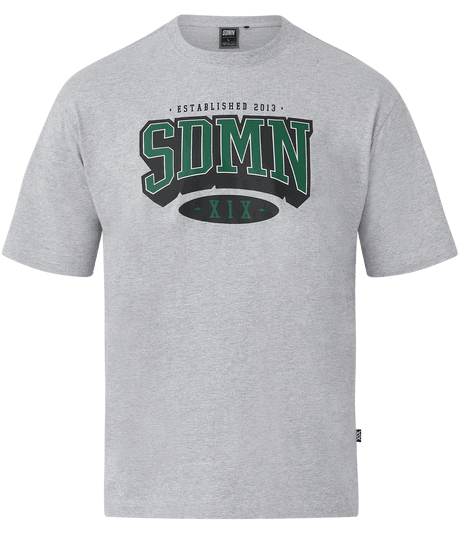 Inspired by their friends from across the pond, the UK-based Sidemen have recently launched a new range of t-shirts featuring their SDMN and XIX logos in an American varsity style. 
These t-shirts come in various color combinations and sizes, ranging from XS to XXL. My favorite thing about this item, particularly, is the attention to detail regarding sizing.
While many YouTubers simply slap their logos on top of cheap t-shirts, the Sidemen have designed this top to be oversized in a drop shoulder style fit, making it perfect for a relaxed look or the gym.
As it is made out of 100% all-natural cotton fibers, this t-shirt is sure to feel both comfortable and luxurious, and if the t-shirt varsity design isn't for you, you can also get this design on a sweatshirt.
Pros
This t-shirt is different from the vast majority of previous SDMN clothing drops, meaning that if you have bought their clothing in the past, this will be a great change for your wardrobe. 

If you like the design but fancy something in a different color, this item covers you.

Made out of 100% natural cotton fibers.
Cons
This item will cost you at least $28 at the moment, a pretty penny for a simple t-shirt.

While the item is probably of very high quality, it is not pre-shrunk, meaning you must be careful when washing.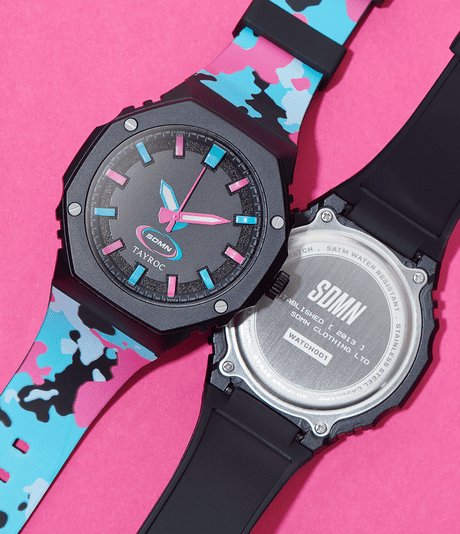 It's not every day that a bunch of YouTubers come together and release a watch that you would actually trust to tell the time. However, since this piece is manufactured by well-known watchmaker Tayroc, we know that it is of the highest quality. 
The watch is made of stainless steel to ensure a robust finish, combined with a silicone wrist strap. This strap features a blend of the typical SDMN branded colors in a splash design, which helps pull attention toward the watch, creating a stand-out piece to add to any outfit.
My favorite thing about this watch is that the silicone wrist strap combined with the device's 5ATM water resistance rating ensures that you can wear it pretty much anywhere without worrying about breaking it.
Pros
The watch is rated to 5ATM water Resistance.

At just over $40, this piece is very affordable.

If you like the typical SDMN color scheme, this watch is for you, featuring a range of their favorite colors dispersed across the face.
Cons
If you take the watch passed the % meter rating, it may break in the water.

The colorful design of the watch face and strap may not be for everyone, especially those who value an understated look.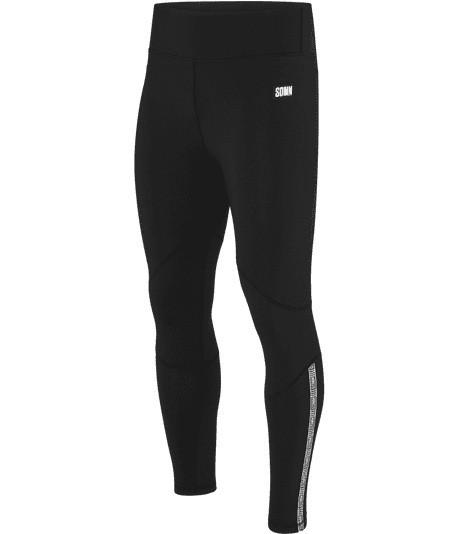 One of the hardest things to find amongst YouTube merchandise, especially from creators who mostly focus on gaming, is clothing designed for female viewers. Thankfully, the Sidemen recognize that not all of their fans are young men, so they have released these leggings, perfect for the gym or lazing around the house on a slow Sunday morning.
Featuring the classic SDMN logo in a rubberized finish and the SDMN tape design on the lower leg, these leggings are made of 85%nylon and 15% spandex, making them the perfect blend of shape and comfort, capable of going anywhere you need them to.
The best thing about these leggings, for me anyway, is their understated design, and this ensures that the sparse touches of quality that permeate through the design stand out even more.
Pros
The materials used in these leggings are as you would expect from activewear apparel, perfect for going to the gym or for casual walks.

Available in various sizes to ensure the perfect fit for all their viewers.

These leggings have been designed for movement and comfort.
Cons
A decent percentage of the sizes are already sold out. Therefore, you better act quickly to get yourself a fitting pair.

Sadly, these leggings are only available in one color, black.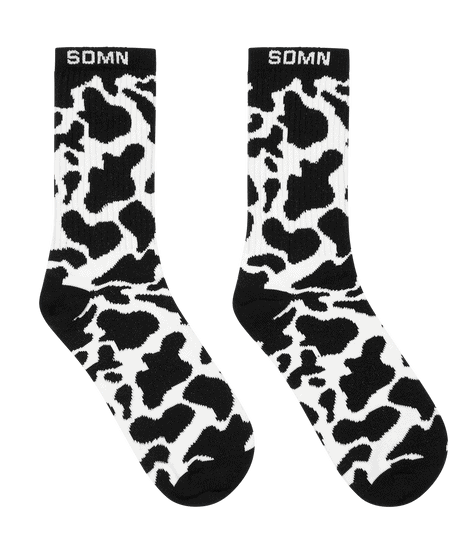 One of the most popular video formats that the Sidemen put out is their 'Sudemen Sunday' YouTube videos. In these videos, the group of creators gets together to compete in a series of off-the-wall and varied challenges, usually with some form of punishment involved for the losers. 
The most iconic video from recent months was their 'Moo Off' video; in this video, the group all dressed up as cows and ventured into the center of London to literally moo at each other until one laughed. This was a crazy video; therefore, it inspired some crazy merch, such as these cow-patterned black and white socks, complete with the SDMN logo at the top.
These socks are made out of 80% cotton, 16% polyester, and 4% elastane, ensuring that they fit and sit perfectly.
My favorite thing about these socks is how different they are from almost every other pair on the market at the moment. They are simultaneously funny and fashionable, perfect for the streetwear aficionado who likes to push the envelope a little.
Pros
These socks will ensure you stand out from the crowd.

As they are a direct reference to one of their funniest videos, these socks are a great talking point between fellow Sidemen fans. 

Because they are made of good materials, you don't have to worry about these socks losing shape or sliding down your leg repeatedly.
Cons
The cow print design may be a little too out there for some Sidemen fans.

People who do not get the reference will be a little confused by your style choice. 
Best Etsy Sidemen Merch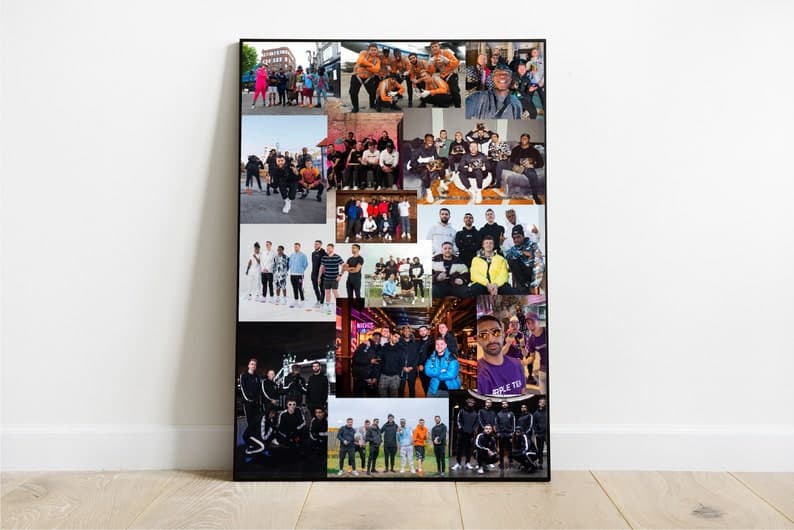 This Etsy item is designed and shipped by Niamh Nicholls Designs, and it is clearly popular, receiving five-star reviews from over 6000 customers. 
If you are a big Sidemen fan, it is reasonable to want a collage of the group's best moments. This collage shows off some of the group's happy and smiling faces, and it also serves as a reminder of some of their best videos and moments. In years to come, I would bet that this collage will be a great piece of nostalgia for Sidemen fans.
To get your hands on this print, you will have to part with a surprisingly low amount of money, below $10, to be exact. Considering the piece's quality, this is a real steal, in my opinion. 
What I like most about this piece is its originality. A lot of Sidemen merch simply features pictures already uploaded or used by the group; however, this piece shows hand-selected moments of the group that is particularly fitting and haven't been shared all over the internet already. 
Pros
The piece features photos that are not part of the typical Sidemen merchandise collection, including screenshots from some great videos.

You won't find a better piece of Sidemen merchandise for this price.

Perfect for fans who have outgrown posters.
Cons
The piece is only A4 in size. For a wall hanging, many people would prefer something a bit bigger.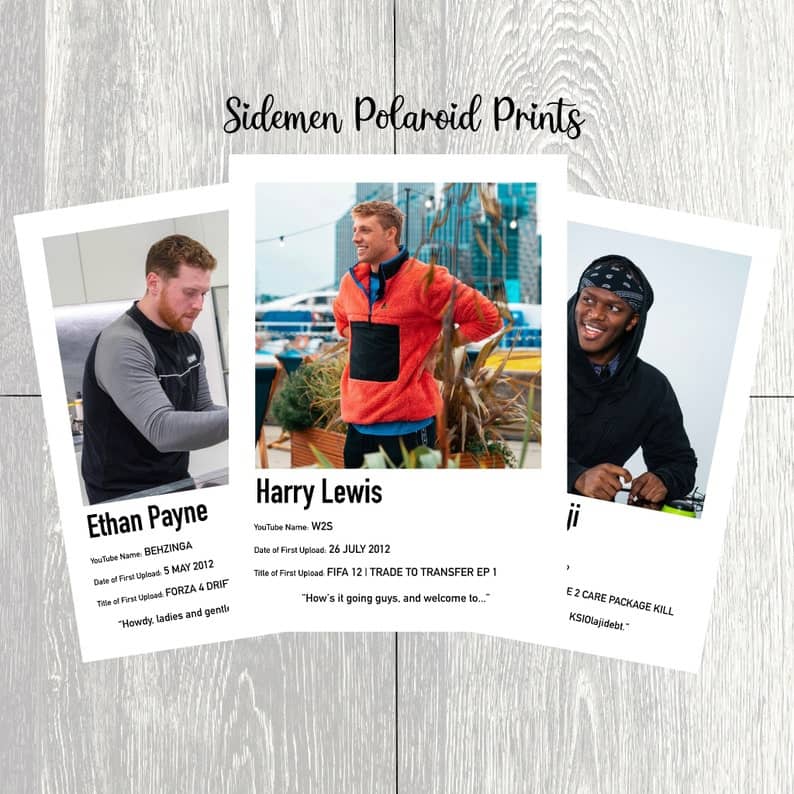 This piece of merchandise from Etsy is another great find for any fan of the Sidemen. Featuring some great individual shots of the members smiling and having a great time, each of these seven polaroids (one per member) also comes with some quick facts. 
Completed to look like polaroids, these prints are completely unique and cool, allowing the buyer to purchase their favorite Sidemen member or the entire group. 
What is also amazing about these polaroids is that you can change the default image selected by the seller to another one of your choosing, allowing you to see the best/funniest version of your favorite Sidemen member. 
Pros
You can pick any picture you want of the member you are ordering.

These polaroids are unique and a cool take on typical YouTube merchandise. 

Costing less than $10 for a complete set, this item is another real steal.
Cons
You can only buy one member or the entire group at a time. 

The video intro slogans included at the bottom of the cards may need updating over time, as YouTube commentators occasionally shake things up.
Frequently Asked Questions
Question: When did the Sidemen Form?
Answer: The world-famous group was formed in October 2013. However, the group was not completed until Harry joined in early 2014. 
Question: How Many Subscribers do the Sidemen Have?
Answer: Each group member can boast millions of subscribers on multiple channels. However, due to the highest subscribed members of the group pulling the average up, the combined subscriber count of the group is over 131 million. 
Question: Why are the Sidemen Famous?
Answer: The Sidemen grew to fame slowly over time in the UK before breaking into America more recently. Their initial fame came from their association with KSI, the group's breakout star who managed to bring his friends with him to worldwide fame. However, each group member is now incredibly successful and famous in their own right. 
Conclusion
So, there you have it, a collection of some of the best Sidemen merchandise currently for sale on their website. Hopefully, through this list, you have spotted something perfect for you or a friend/loved one. After all, I would honestly say that their merch is some of the best available from any YouTube group or individual creator. 
While I hope you have gotten everything you could possibly want from this list, please check out some of our other YouTube guides to see if their items could be for you. Either way, I hope to see you again shortly. Happy shopping!
Continue reading:
Best Rebecca Zamolo Merch Guide
Charli D'Amelio Merch Review: Your Buying Guide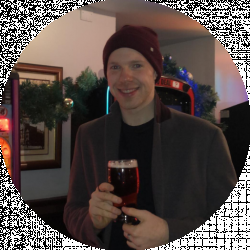 Latest posts by James Gibson
(see all)