Three-eyed, unintelligent, yet surprisingly adorable. That's just one way to describe the adorable Toy Story aliens. Saved from the imprisonment of the Claw, the Planet Pizza residents have won our hearts. Why don't we honor them back with these Toy Story alien costume ideas?
I wish I had pictures of the DIY Toy Story alien costume I made a few years back. It involved a lot of green body paint that took a dozen showers to remove, but it was so much fun! Nevertheless, I have some really cool ideas for you here!
Bottom Line Upfront
I had so much fun searching for these ideas, but I have to say the Blue Dress idea is probably one of my favs because it looks so much like the one I did for myself years ago.
Top Picks
What Are the Toy Story Aliens?
The Toy Story aliens are a group of extraterrestrial toys that appear in the Toy Story franchise. They are small, green creatures with three eyes and crab-like pincers. The aliens are some of the main characters in the films, and they are often seen together.
Best Toy Story Alien Costume Ideas
I broke all the ideas up into sections based on age and, well, even pets.
Best Toy Story Alien Costume for Adults
Aliens from Toy Story are short, plump, lime-skinned extraterrestrials with three eyes, three fingers on each hand, short arms and legs, huge feet, rectangular heads with pointy ears, and the most adorable pointy antenna on the top of their heads.
All look and sound the same and wear identical blue space uniforms with the Pizza Planet emblem on the right chest and a purple collar. On their waists, they sport a dark blue belt, and on their feet, they sport dark blue boots. We want to see these details in your future Toy Story alien costume!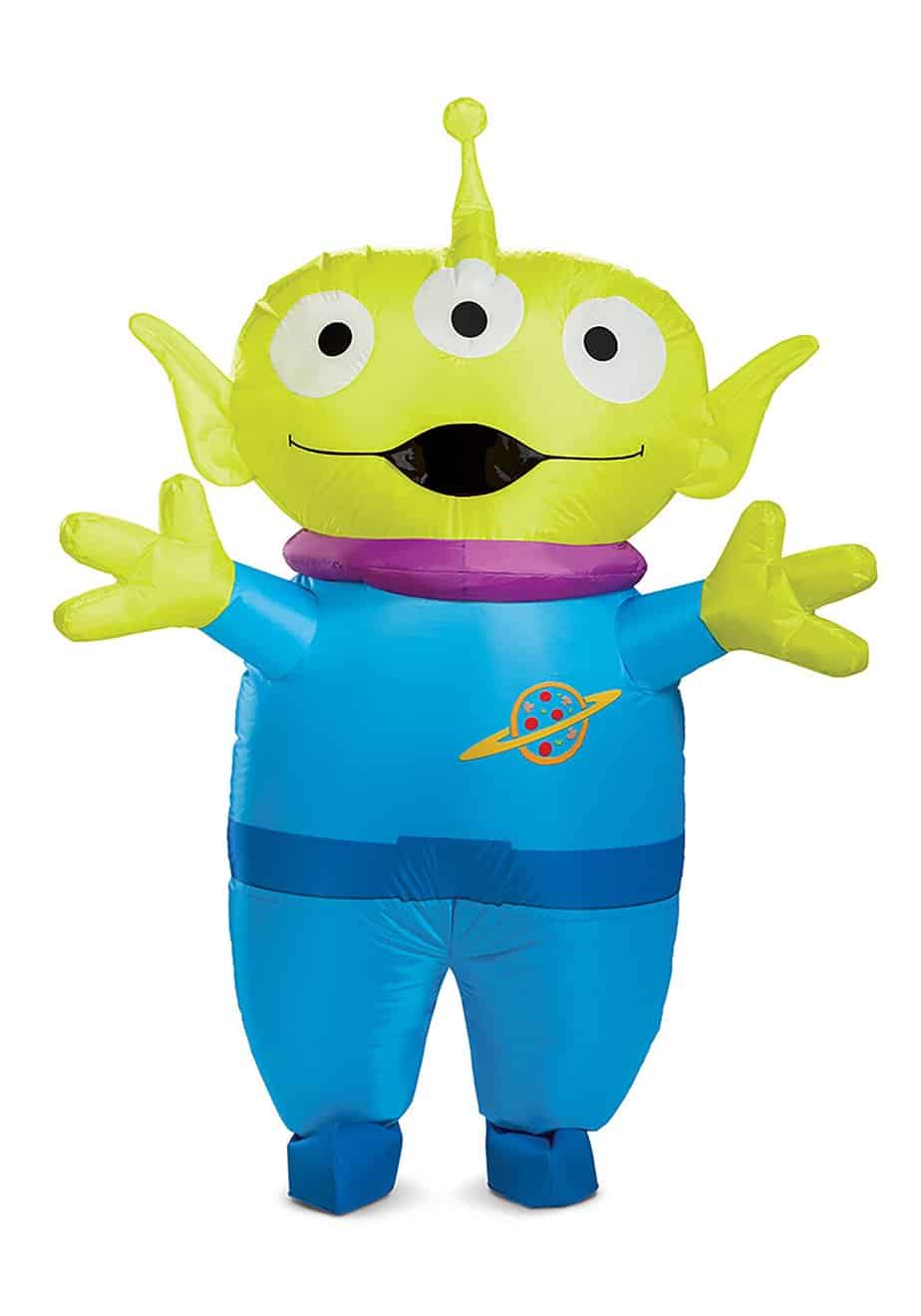 While I'm not a fan of inflatable costumes, I must admit this one is pretty cute. It's designed to be extremely easy to put on and take off, and I also like that cleaning is a breeze. If you tend to get sweaty, it's probably not the best option.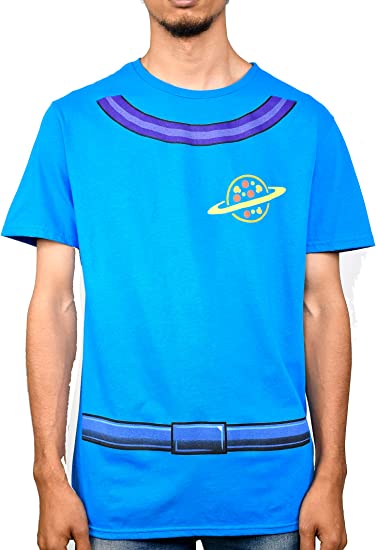 Every Toy Story fan knows that the little green men come from a claw vending machine at Pizza Palace. Because of that, they have these costumes with the locale's logo. I love this T-shirt because it stays true to the design, and you can wear it as part of a costume and not be overwhelmed with other details. You can combine this with a blue pair of jeans and easily pull off a Toy Story alien costume.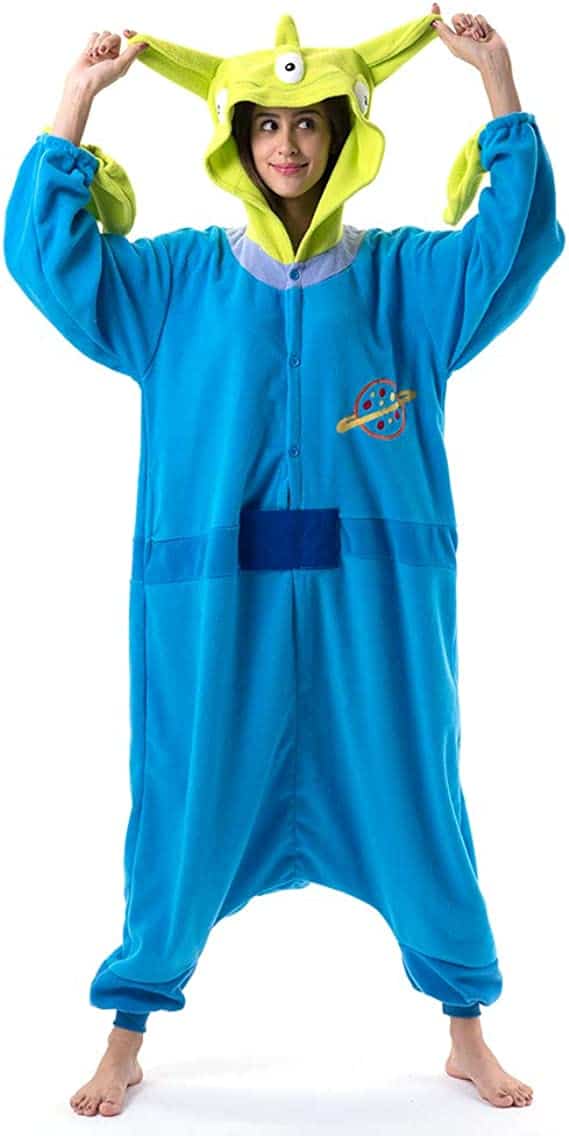 Onesies are my favorite thing in the whole world. They are very comfortable and loose and could make for some great costumes. Suppose you want to dress as a Toy Story alien this Halloween. This onesie is a great alternative because of its details, warmth, and excellent price tag. The best thing is that you can always wear these as comfortable pajamas around the house. It's really cozy.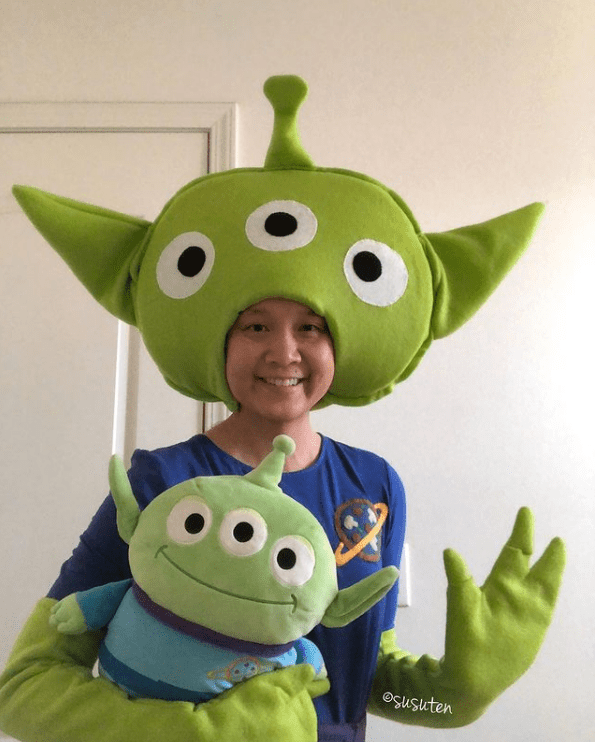 This has to be the most adorable Toy Story alien costumes I've seen to this day. Not only are the details very on-point, but they also look handmade. I always admire people's craftiness, so this naturally caught my attention. I also love the alien plushy, which makes it look like a big alien is carrying its little sibling. It's just cuteness overload.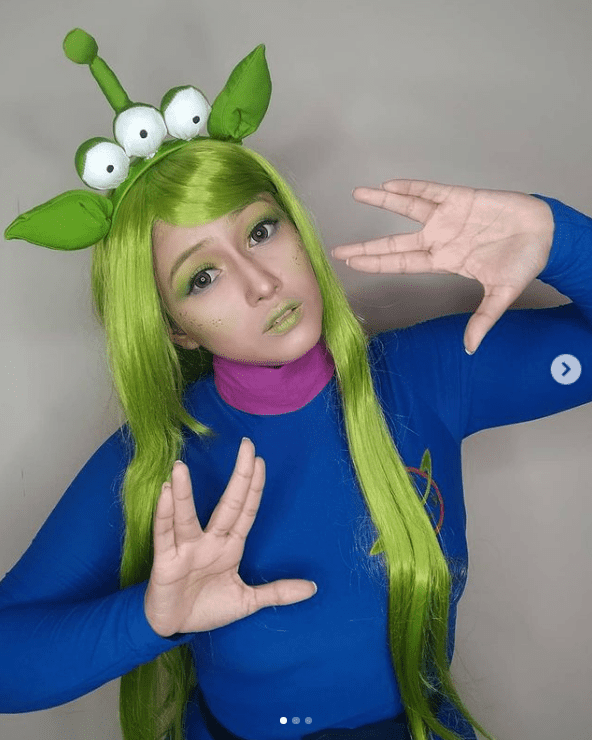 One of the coolest things about these Toy Story alien costumes is that they are easy to make, and you can improvise whatever you can't buy. Notice how this costume is made out of a blue suit and a long green wig, but it's the alien headband I'm most excited about. You can always pull off different costumes using a headband instead of a mask and whatnot. It will surely cost you less, and it's easier to make.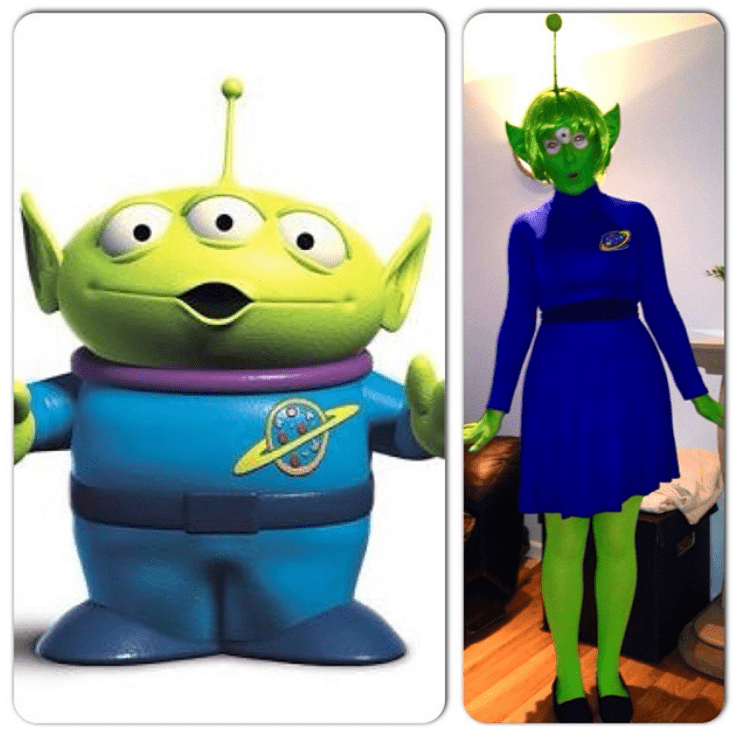 This costume is the perfect definition of being committed to the details. You don't see a lot of Toy Story alien costumes with the pointy antenna on top, and a lot of people don't really want to paint their entire face green. This cosplay did everything and much more, as every detail is strikingly similar to what we see in the original characters. I just love the green stocking and the pose that looks to mimic the original character on the left of the screen. It looks almost exactly like one I made for myself back in the day.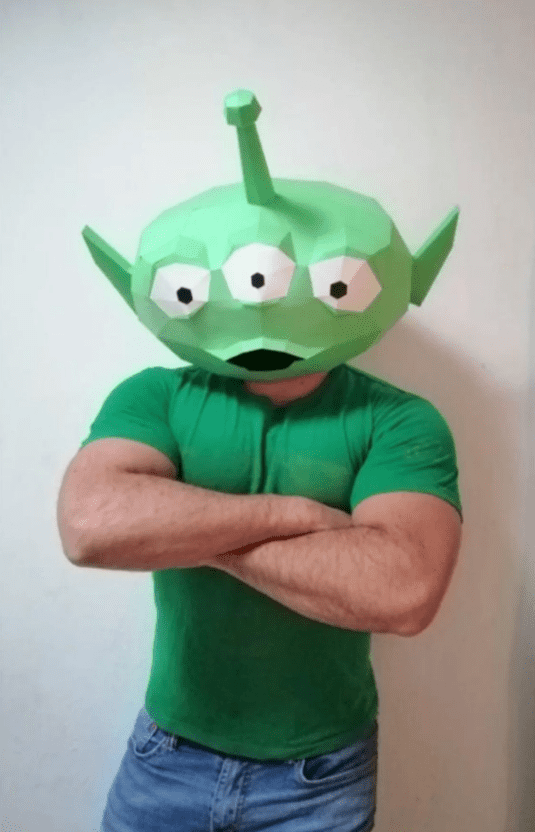 With the Toy Story aliens, the secret is in the cute faces. Always curious and content, these little critters have made their way into our hearts with those beady little eyes. If you want a cheap alternative to all these fancy and expensive costumes, consider downloading a mask template and making the headpiece yourself. You get to keep the template forever and use it time and time again. The instructions are easy to follow, and it's a fun project for you to try.
Say Yesss to the Dress
This adorable alien costume is really easy to make and uses a minimalistic approach to avoid overwhelming details. Notice how green face paint isn't mandatory to pull off this costume, as the emphasis falls on wearing blue clothing. The headband is more than enough for anyone to understand what the costume represents, so maybe it's time you tried making it by yourself!
The Whole Works
This YouTuber has decided to take the costume matter into her own hands and make the costume from scratch. She even has her own makeup version that matches the theme incredibly well. You learn everything from what colors and makeup products to use to how to make your own Planet Pizza logo. Seeing her so excited about this costume almost makes me want to make one of my own.
Best Toy Story Alien Costume for Kids
Even with its deep and sometimes mature plot lines, Toy Story is still an animation for children. However, the most childish characters in the story are arguably these little aliens. They are all identical, all talk in the same voice, and have pretty basic personality traits. Their adorable nature and small size provide the perfect inspiration for some alien costumes for kids.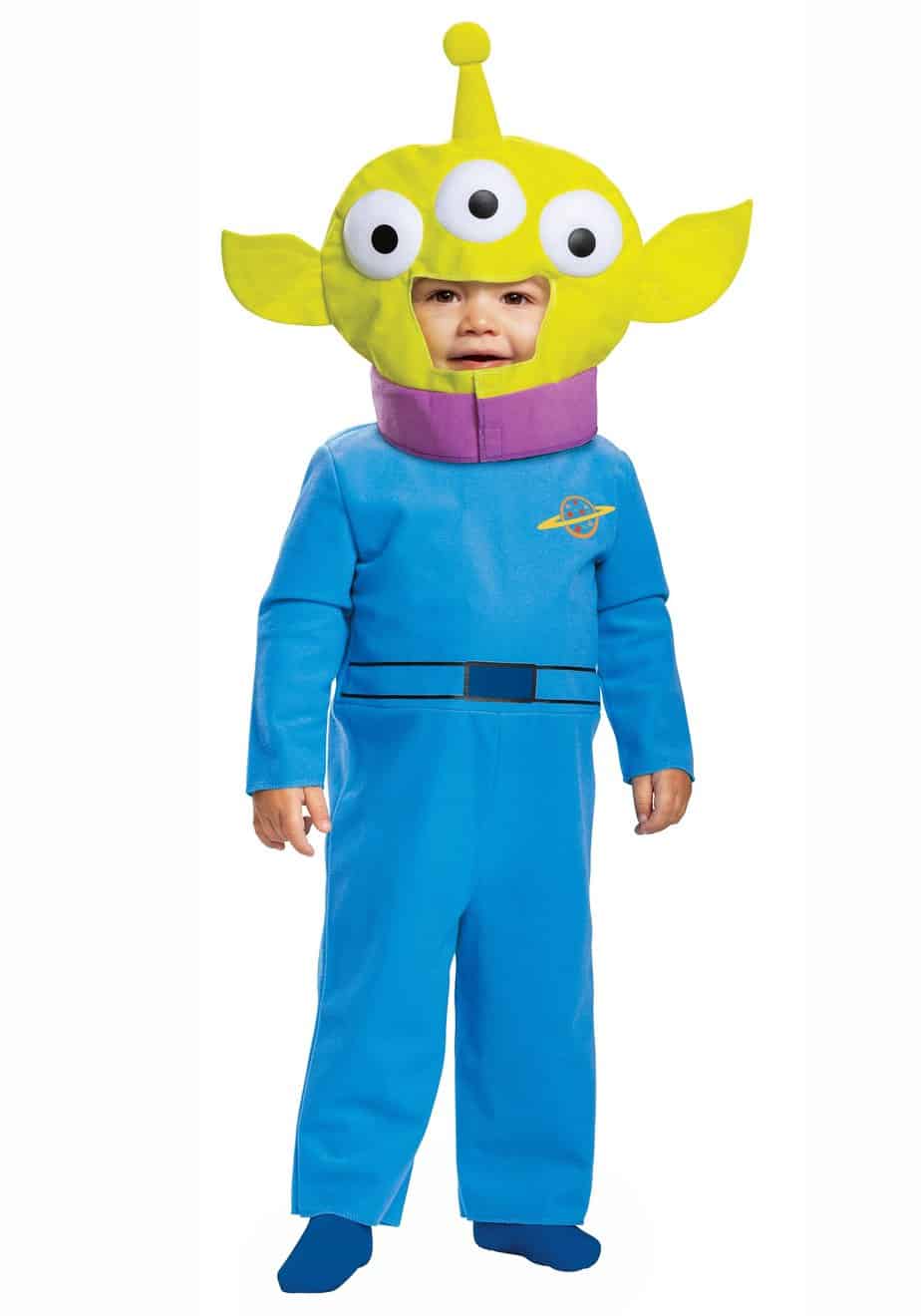 Uh, hello, adorable Toy Story costumes for kids. Aside from the giant head, this outfit seems like something you'd let your kids wear around the house or during a wonky and enjoyable photo shoot. Made from polyester, this jumpsuit is easy to put on, using hook and loop fasteners and plastic snaps for easy diaper access.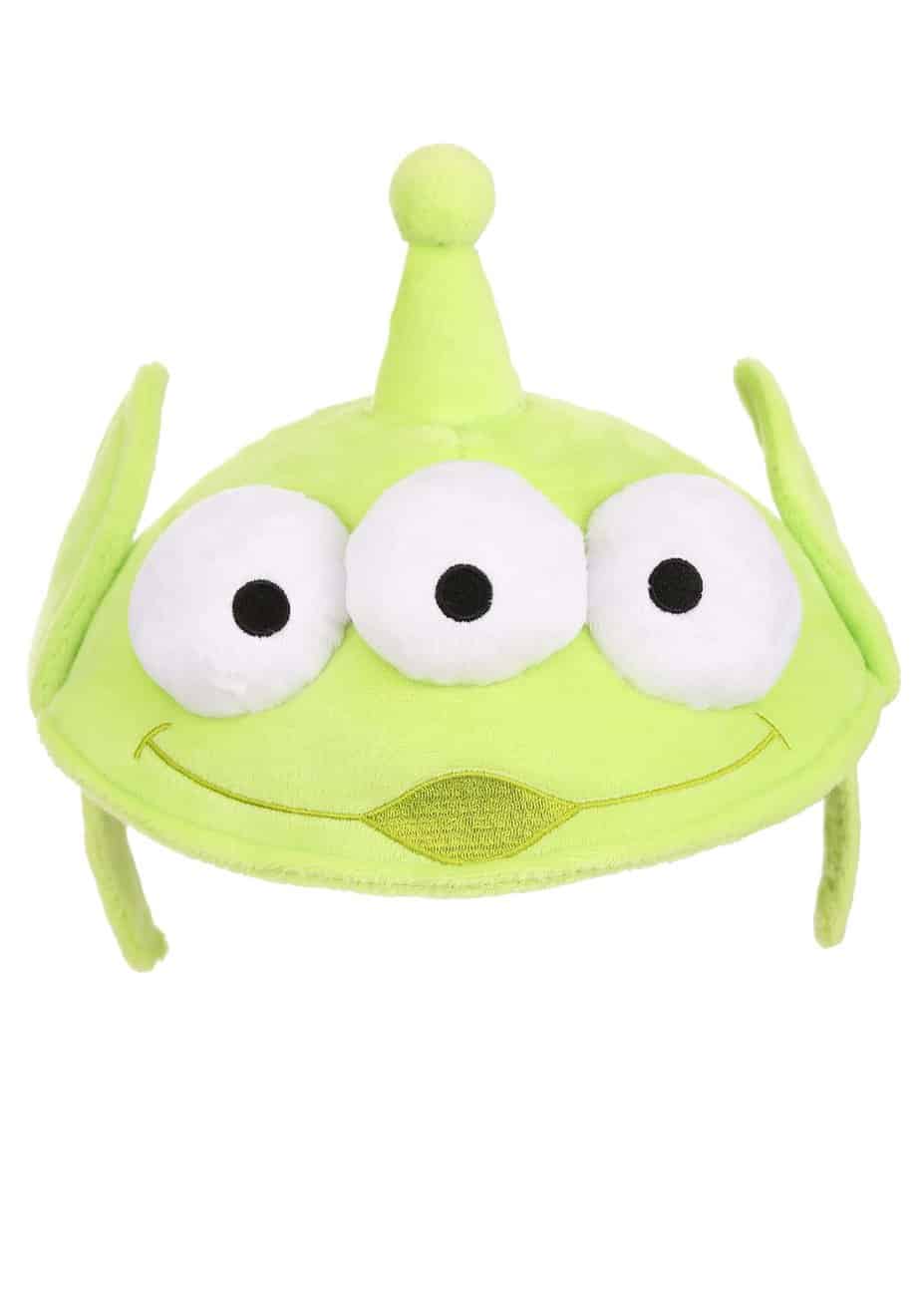 As I've mentioned before, you don't need much to pull off an amazing alien costume. You just need to identify key elements that anyone would recognize and integrate those into the costume. For me, it's the three adorable beady eyes that are part of this cute headband. Comfortable and easy to put on, this headband is a great product for children who want to dress as chubby Toy Story aliens.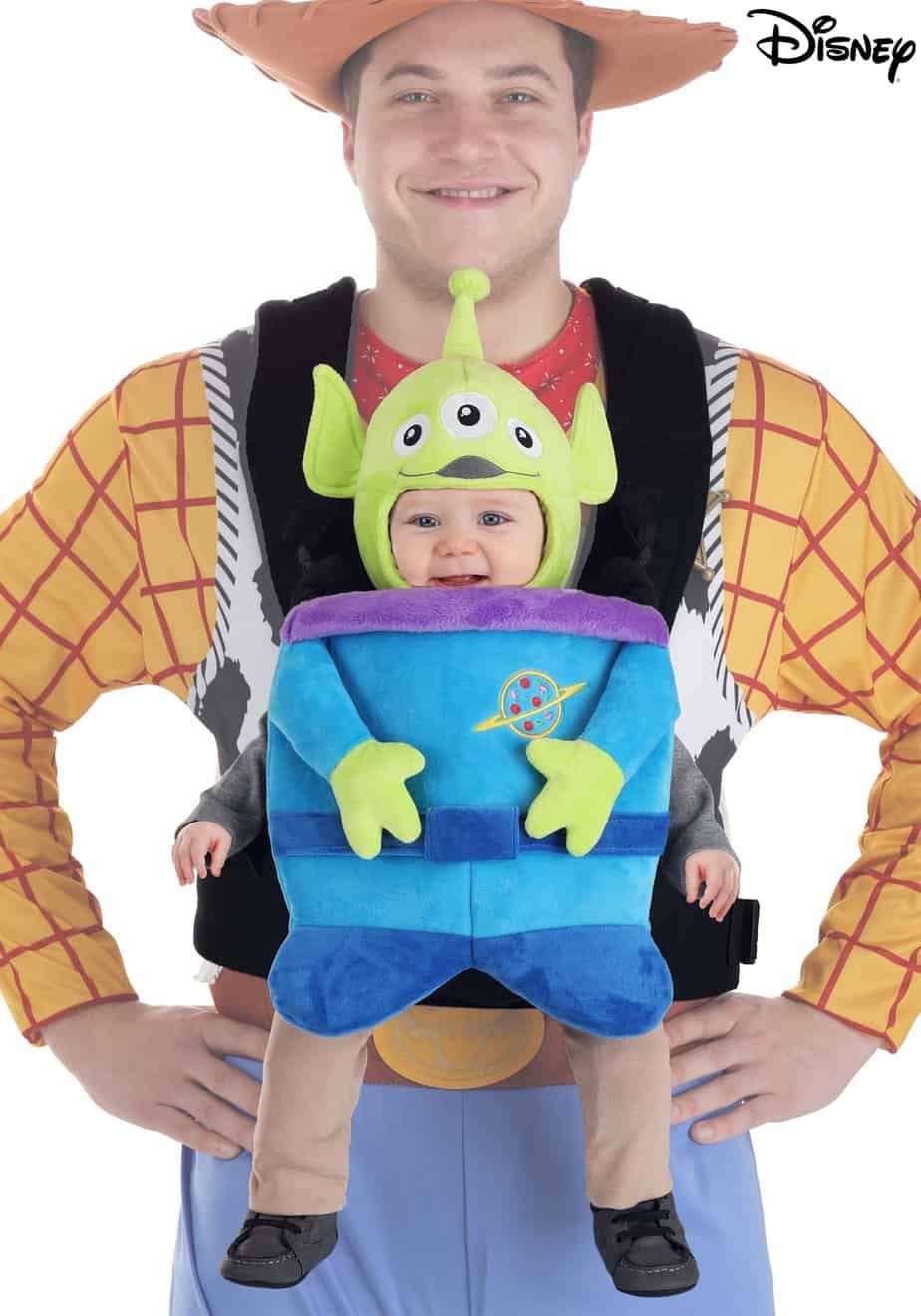 This carrier is all kinds of cute, and I couldn't resist sharing it with you. Whether you're dressing as Woody and want to have your alien companion on you, or you're just a regular dad with a passion for carrying their outer space youngster, this is the piece to buy! I am in love with the little green hands. Every detail of this carrier makes me feel like you can turn your baby into a plushie.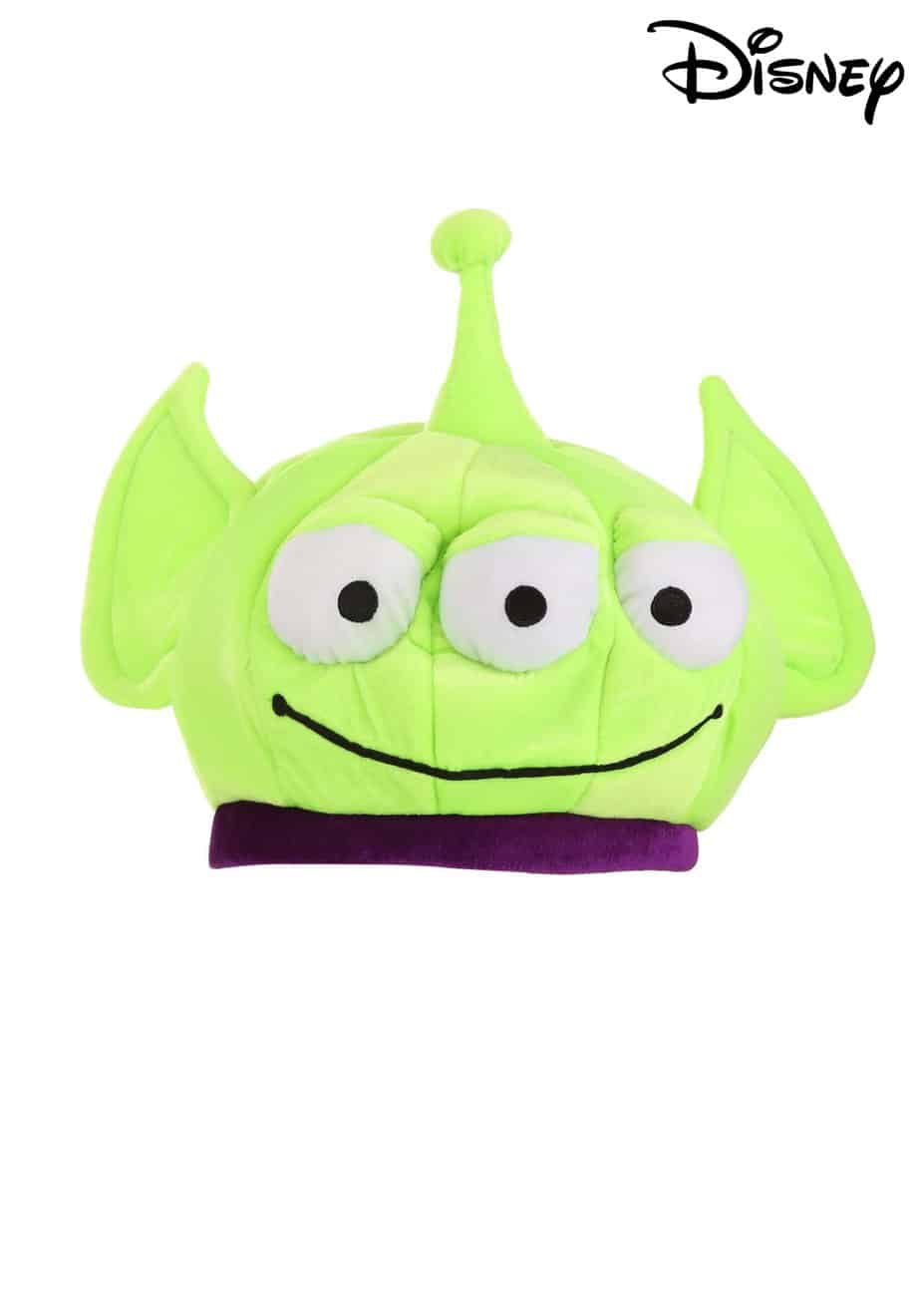 I love this polyester hat that uses foam and a velour shell to depict that adorable look we kept seeing on the little green men's faces. Whether you're a child or an adult with a small head, this feels like the perfect piece for alien fans. There is a size adjuster inside the rim, so you don't have to worry too much about fit. The fiber-filled eyes are a lovely detail too!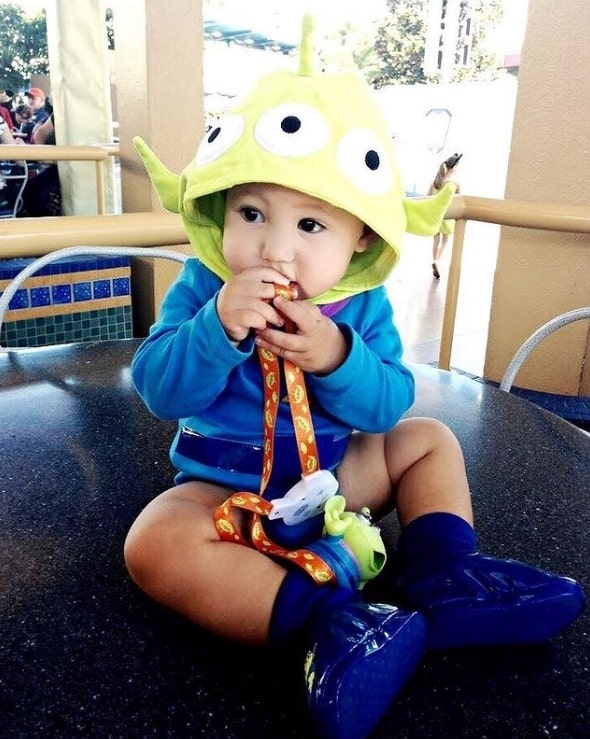 One of the best parts about researching all kinds of costumes is that I find a lot of pieces that are both on-theme and very practical. This costume is a great example because all the individual pieces can be worn even after Halloween. I mean, who wouldn't want to see this precious baby with their alien hoodie even in December? It's just a sight for sore eyes!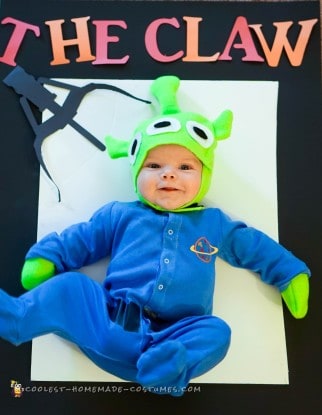 As you likely figured out by this point, this picture is a part of a baby photoshoot session, and I love all the details in the picture. That alien onesie looks very comfortable and fitting for multiple occasions. The green mittens match the headpiece perfectly. The background shows the Claw, which is where the aliens were first discovered in the Toy Story movies.
Crafty Cool Parents
I have to say, watching these parents make their own costumes for their tiny humans makes it all look ridiculously simple. Watch as this crafty parent turns a simple green cap into an alien-themed headpiece. Just by fiddling with a simple blue shirt, they create the Toy Story alien uniform we are all acquainted with. And look how simple all of these are to make, considering that most of the materials you need are likely lying around the house already.
Best Toy Story Alien Costume for Pets
If you've got a pet, then you already know the guilty pleasure of buying them nice costumes. *raises hand* GUILTY! Pets today are even part of our wedding parties because they are basically family. So it makes sense to dress them up during Halloween!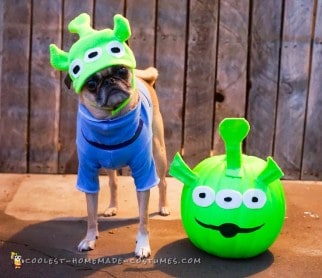 Dressing up your doggo for Halloween is one of the best things ever. If you need some inspo for this year, might I suggest this adorable Toy Story alien costume? I'm pretty sure the pieces are handmade, but you can also buy some of them and tailor them to match the theme.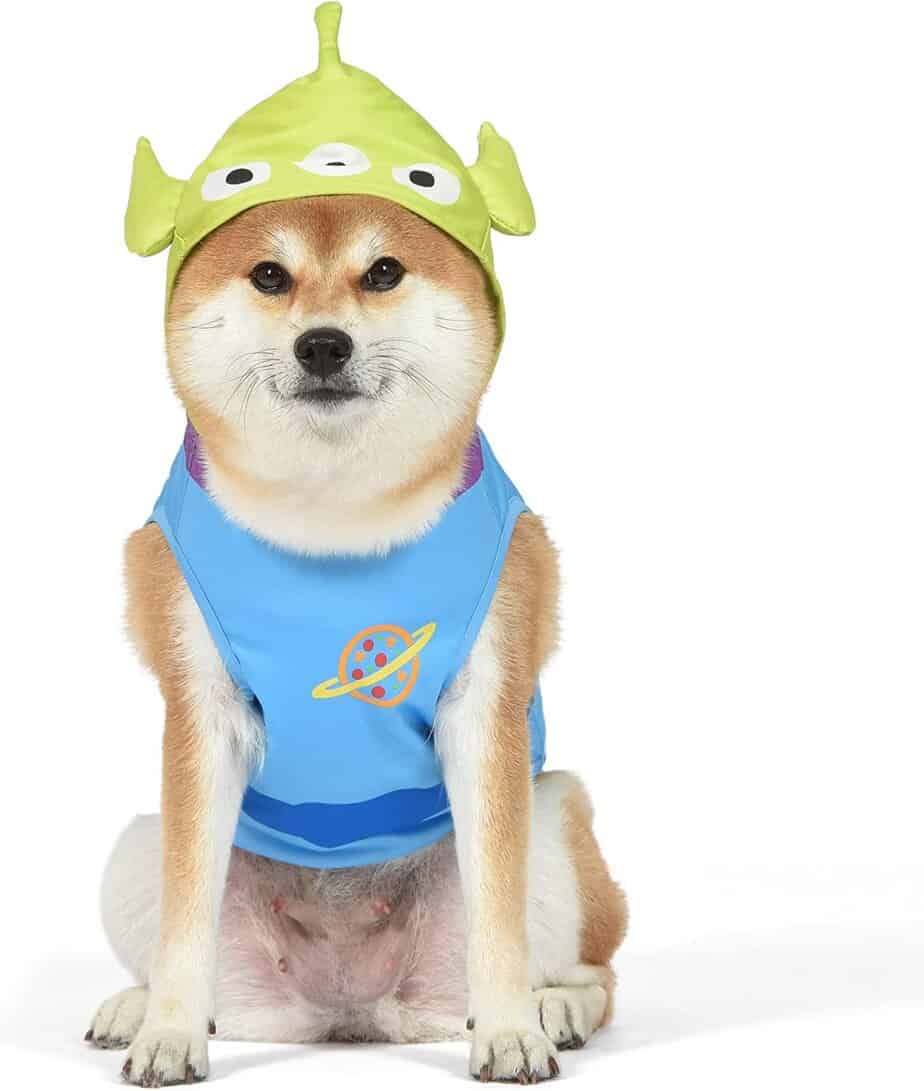 Don't have too much time to make your own Toy Story alien costume for your dog? Completely understandable. You can always buy one if that's the case. This one comes in different sizes to accommodate different dog breeds. Whether you have a Chihuahua or a Shiba Inu, the Disney for Pets Store should have you covered.
Best Toy Story Alien Costume for Couples and Groups
Ready to celebrate Halloween in style and be a part of a group with matching outfits? Or perhaps you want to dress similarly to your significant other and have everyone go, "oh my gosh, they look so adorable together!"
Whatever the case, here are some Toy Story alien costume ideas to inspire you… and someone else in your life!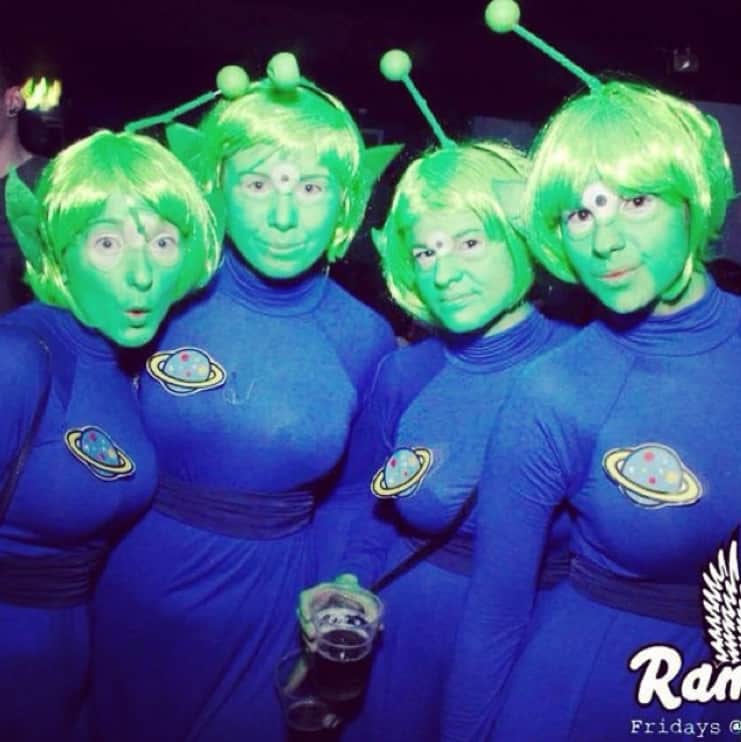 Need ideas for Halloween costumes? Wanna look stylish together with your group without spending a fortune? Here is an idea: get some green body paint and slap it on your face, find all-blue apparel, make a Planet Pizza logo out of cardboard and get some green wigs. It won't cost hundreds of dollars, and your squad can all dress the same in homage to the coolest animated aliens.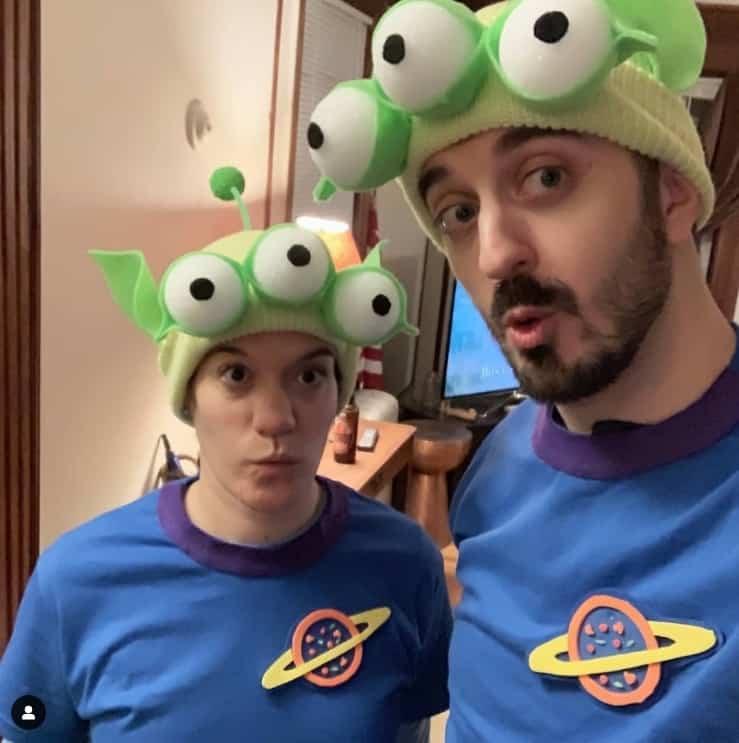 If you, your significant other, or your sibling/partner in crime want to turn some looks, here is another great Toy Story alien costume idea. I love how all these pieces are improvised or handmade, so you don't have to spend a fortune on that costume you really wanted to wear. I do believe the eyes are made with some sort of foam, and the handmade Planet Pizza logos are just awesome.
Tips for Making a DIY Toy Story Alien Costume
Want a costume on a budget? Here are some tips that might come in handy.
Where to Get Supplies
The supplies needed to make a DIY Toy Story alien costume are all available on Amazon. Just like pretty much everything in the world. However, you can buy parts for really cheap at the Dollar Store or Hobby Lobby. I consider myself a Dollarama queen when it comes to this stuff.
Think about using ping pong balls to make a headband with the alien's eyes. These balls are cheap if you buy them at your local Dollar Tree. Felt is quite easy to come across and, since the aliens wear blue suits, all you really need is a pair of blue jeans and a plain blue shirt.
Use What You Have Around the House
The Toy Story alien costume details are very basic, so it's quite easy to make a costume using some materials that you have around the house. For example:
Take a regular headband, paint it green, and stick some green felt ears to it.
Use a simple blue shirt for the upper part of the costume.
Make a Planet Pizza logo out of cardboard and stick it to the shirt using a pin.
Use green gloves.
Take a simple pair of blue pants or blue jeans for the bottom side of the costume.
Strap on a simple black belt.
Have Fun with Body Paint
The best part about this Toy Story alien costume is that you can play with green paint. If you don't like the idea of painting your face green or you don't have body paint that's gentle on the skin, you can always go the minimalistic route with some green makeup.
FAQ
Question: Where can I get a Toy Story Alien Costume?
Answer: If you're looking for a Toy Story alien costume, your best bet is to head to your local Halloween store or costume shop. You may also be able to find one online. Check the sizing chart before you make your purchase to ensure that you get a costume that will fit you well.
Question: Can I Make a Toy Story Alien Costume?
Answer: Yes, you can make a Toy Story alien costume! You will need some green fabric, scissors, and a hot glue gun.
First, cut a long rectangle out of the green fabric. This will be the body of your costume.
Then, cut two smaller rectangles out of the green fabric. These will be the arms of your costume.
Hot glue the arms to the body of the costume.
Then, cut a small circle out of the green fabric. This will be the head of your costume. Hot glue the head to the body of the costume. You can also add some details to your costume, like googly eyes or a mouth.
Question: Where did the Toy Story Aliens Come From?
Answer: The Toy Story aliens come from a Claw vending machine found in a location called Pizza Planet.
The Bottom Line
The Toy Story aliens aren't intriguing creatures. They are not smart, they don't have well-rounded personalities, and they don't challenge the story too much. Yet they are so unique and adorable; they make great costume ideas. Hopefully, you found yours today! If you don't mind scrubbing green body paint until your skin is raw, try the Blue Dress idea I did! Want more costume ideas? I have a ton on our site; go check them out!
Continue reading:
Jessie from Toy Story Costume Ideas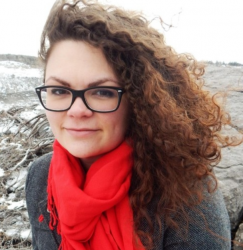 Latest posts by Candace Osmond
(see all)