Bottom Line Up Front
MrBeast is one of the most popular figures on YouTube, and this popularity has come from his savvy business mind and loveable personality. Along with his great content, he also produces some amazing pieces of merch, which you can check out below.
As a content creator and business mogul, Jimmy Donaldson, also known as MrBeast, is one of the most dynamic and complex professionals in the field, bringing a unique and unusual business model into the YouTube world. 
This business model inspired the current generation of YouTubers and the content they produce. It also led Jimmy to diversify his revenue streams by investing money into ventures previously thought out of reach to content producers and web personalities. 
One of his most popular business ventures has to be his merchandise line, wherein he routinely drops pieces of clothing associated with him or his content at that time. These pieces are often produced in limited runs, ensuring that each customer is aware of their new purchases rarity, which is just another shrewd business decision Jimmy has made to boost the popularity and desirability of his merchandise. 
With all this being said, however, why don't we take a quick look at Jimmy Donaldson/MrBeast and how he rose to internet celebrity seemingly overnight before we take a deeper look at the items currently for sale on his website?
My Top Pick
Here are some of my favorites if you want a quick look at Jimmy's best pieces.
Lightning Green Hoodie – Most comfortable.
Varsity Tee – Classic.
Motorsport Hoodie – Most fashionable.
This t-shirt which comes in both youth and adult sizes is made from 100% cotton and features the MrBeast logo emblazoned across the chest in a chenille texture. 
This t-shirt is designed in a regular fit to look the best on possible body types; however, the sleeves are slightly shorter than standard. 
I really love how this t-shirt has been part of the MrBeast line of products for years now. It's a staple piece you can repeatedly buy without having to worry about quality issues getting in your way. On top of that, the design is relatively understated for a YouTuber's merchandise.
Pros
This t-shirt is simple yet effective in displaying your love for Jimmy's work and YouTube channel.

An updated version of a classic MrBeast design ensures that this model is even more comfortable and stylish than the last.

The logo design ensures that it won't fade or flake off even after multiple washes.
Cons
This t-shirt is very similar to previous iterations, meaning that many people have it already, reducing any rarity the item may have.

The item is sold in several sizes, meaning you may have to wait for a restock.

You cannot wash this top in a cold machine, thus costing more in washing bills.
Jimmy routinely launched merch that references some of his more outlandish video ideas. This hoodie perfectly represents how his content feeds into his merch and thus promotes more sales. 
This hoodie, which is inspired by the fake MrBeast racing team from his video, comes in sizes ranging from Y10 to 3XL, ensuring that all his viewers can find a size to fit them perfectly.
This light blue jumper has screen printing on the left breast and a woven front tag. This hoodie is Made out of 420 GSM cotton and is amazingly comfortable.
The color of this hoodie is something that I really like. It's something unique and different from the rest of his merch, adding a splash of color into the overall merch line. The understated nature of the styling is also very in fashion at the moment.
Pros
The thickness of the cotton makes this hoodie very comfortable and perfect for those cold days on the race track.

Available in a limited number, this hoodie is perfect for those of you who value unique items.

Designed to look very modern and in touch with current styles.
Cons
As it costs $60, this hoodie is by no means cheap.

This fabric is not pre-shrunk and may not stay the same size through multiple washes.
Unlike most of the other hoodies in the MrBeast range, this item is intentionally designed to be heavier and thicker than other pieces of his merch. This ensures that the wearer will be warm through the winter months as well as cozy when the time comes. 
Designed with the famous MrBeast big cat logo on one side of the chest and printing of MrBeast with a lightning bolt through the center, this hoodie is perfect for any fans of the creator who also like to appear stylish. The dark green color is also very different when compared to most of his other merch currently for sale.  
The drawstrings of the hoodie feature tabbed, metal-encased endings that add a bit of quality to the overall design; this, combined with the 420 GSM, 100% cotton materials, make the garment feel very premium.
This hoodie is probably my favorite of Jimmy's current line up, the heavy and comfortable material will ensure a great winter edition to your closet, and the unique green will match up with pretty much any trouser choice. Not to mention the cool and understated design.
Pros
Due to the materials used and some finishing touches, this hoodie feels very premium and is definitely worth $60.

The heavyweight design of the hoodie ensures that it will last the wearer a long time.

The color is unique amongst the rest of the MrBeast merch range.
Cons
As it only features two logos, this hoodie could be described as plain or uncreative in some aspects. 

Designed in a regular fit, so some people may need to order a size smaller or bigger depending on body type. 
While no longer available on his official store, this hoodie, which was only available for 48hrs after launch, can still be found in some second-hand clothes apps and places like eBay. 
This hoodie was inspired by the MrBeast Games series from Jimmy's YouTube channel, which was, in turn, inspired by the Squid Game TV series on Netflix. Designed with a MrBeast style Squid Game logo on the front and the MrBeast big cat logo on the back with the slogan 'Let the games begin,' this item is definitely unique and will get you a lot of attention.
As a big fan of MrBeast and the Squid Game TV series, I think this hoodie was designed for me. This cool take on the hoodie is different from everything on the market today and is, therefore, perfect for anybody wanting to look a bit different from the norm.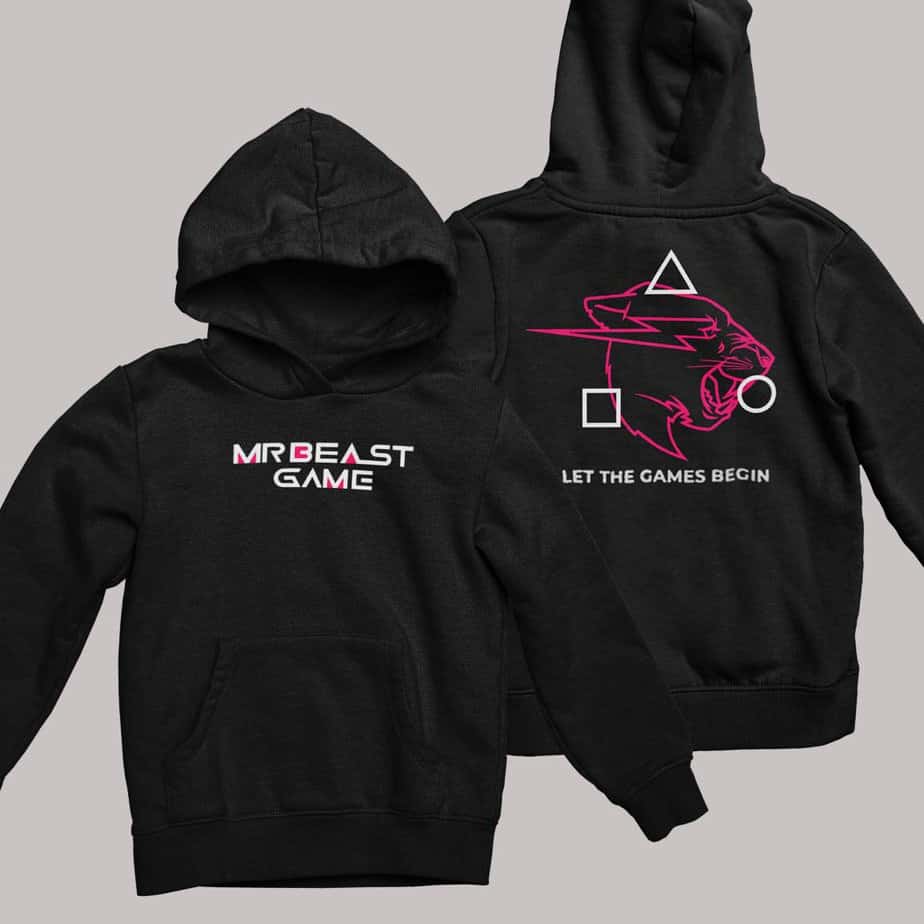 Pros
A rare item that was only for sale for 48hrs, this means that not many other people will have it.

Perfect for the MrBeast fan who also loved the Netflix series Squid Game.

Featuring tabbed drawstrings and other nice touches, this hoodie oozes quality.
Cons
As this item was only available for 48hrs, many people did not get the chance to purchase it at the time.

The item is only available in black, which doesn't suit everyone's taste.
This unique piece of merch gives the buyer a set of three different MrBeast keychains. Not only will each pack contain a unique combination of items, but it will also ensure that you have a cool new keychain for whatever set of keys you'd like. 
On Jimmy's merch site, he states that this set will "unlock the secrets of achieving 100 million subscribers." Therefore, you can rest assured that this item is a special release in honor of Jimmy hitting 100 million subscribers on YouTube.
I really love how these keychains were specially released for Jimmy reaching 100 million subscribers, letting fans get a piece of the momentous occasion.
Pros
The exact items you get in this pack are a mystery, adding an element of surprise to the whole thing.

A perfect gift for anyone who loves MrBeast and is constantly losing their keys, giving them three different keychains will certainly help.
Cons
The photos on the official merchandise store do not explain or show exactly what you can expect in your pack of three keychains.

As it costs $12, this item is quite expensive for three keychains.
Best Etsy MrBeast Merch
In December 2020, Jimmy decided to dabble in the fast food business, setting up a delivery-only food chain wherein people could order from nearby franchise stores and have a series of their favorite fast food items dropped at their door in minutes. 
This business was and is still a success, hitting at the perfect time when Covid-19 was at its height, keeping people indoors. The business has over 1,000 kitchens worldwide, mostly in the United States.
These stickers, created by Etsy retailer WholeSouleMore, feature the MrBeast Burger logo and can be made in a size that suits you, ranging from 3×3 to 5.5×5.5, perfect for everything from a small notebook to your laptop.
What I like about this piece of MrBeast merch is how you can put it on anything, allowing you to show your support for Jimmy and his unique business idea on any surface you choose.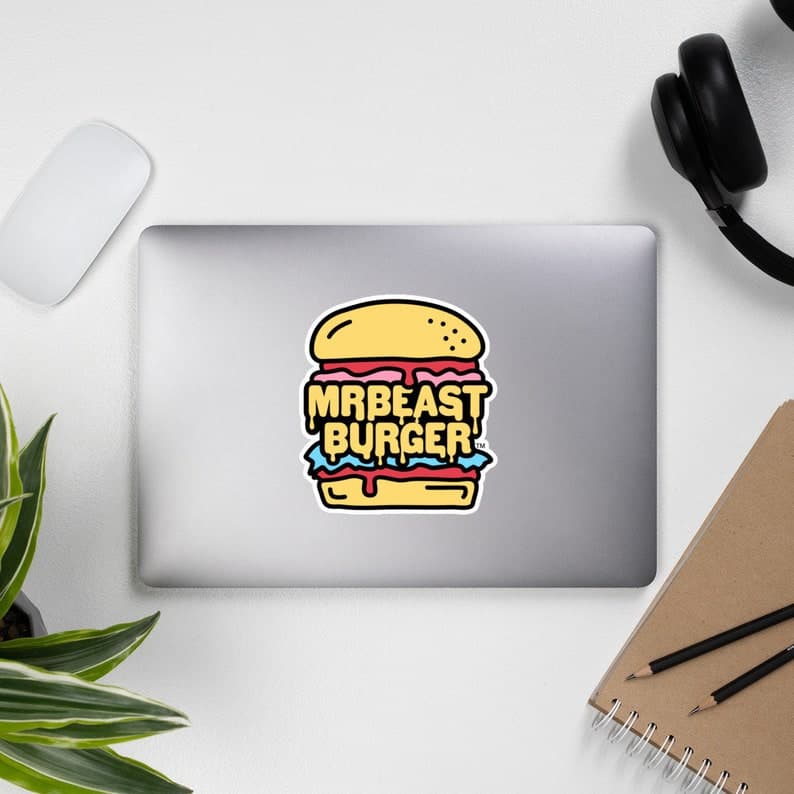 Pros
These simple stickers are a great present for people who may live somewhere where MrBeast Burger is not available.

As the stickers come in various sizes, they can be custom fitted for specific objects/places. 
Cons
As they are not official pieces of merch, there is no guarantee that these stickers will be the exact same as the official MrBeast Birger logo.
This wallet is designed for the younger MrBeast fans out there who may be only getting their first wallet and would, therefore, benefit from the velcro style. 
Featuring MrBeast's Minecraft skin on the front with the Unspeakable logo underneath, this wallet references one of the biggest in-jokes that is currently circulating in the MrBeast community.
These wallets, sold by Etsy seller Debsdesignboutique, have a five-star rating with over 5,000 sales, so I guess you're getting a really good product here.
I love how these wallets are perfectly designed for younger MrBeast fans. Allowing them to show support for their favorite YouTuber while learning how to handle money properly at the same time.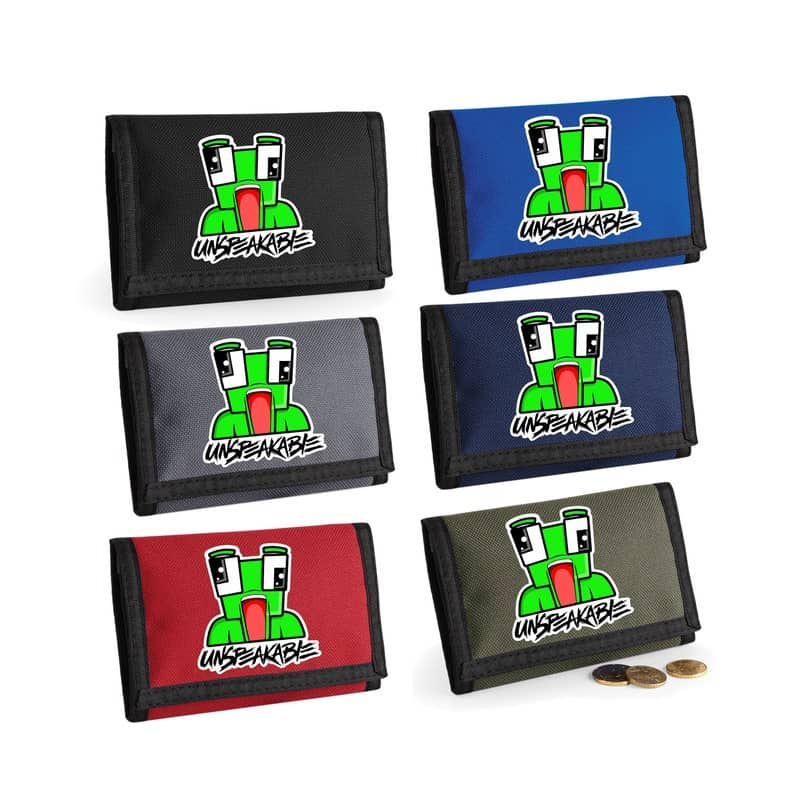 Pros
These walters only cost $7 and are, therefore, very affordable and good value for money.

Perfect for kids who also love MrBeast and are looking for their first wallet.
Cons
As with all Etsy MrBeast merch, none of your money goes to Jimmy; therefore, if you want to support the creator, this is not the avenue for you.
So, there you have it, a comprehensive guide to the world of MrBeast merchandise and all the items you, as mega fans, could ever hope to get your hands on. The items available from his official store are definitely of the highest quality. One can tell simply by looking at the amount of effort that has gone into the design of his merch website alone. 
Hopefully, you have found something in this guide that will help you pick which item of MrBeast merch you want to get your hands on, whether that be from the creator himself or from online creator stores such as Etsy. Either way, I wish you good luck and happy shopping!
Frequently Asked Question
Question: Who is MrBeast, and How Does he Have so Much Money?
Answer: Many people are confused about who MrBeast really is and whether or not he was rich before YouTube in order to finance his massively expensive videos. To put it simply, MrBeast is also known as Jimmy Donaldson, and he is a YouTuber who uses a combination of YouTube ad revenue and video sponsorships to fund his videos. For example, should a video cost the YouTuber $100,000 to make, he will attain these funds from a sponsor in return for a mention in that episode. 
Question: How Much is MrBeast Worth?
Answer: His net worth is very hard to calculate due to his multiple known revenue streams and ones we will never know; however, we can roughly estimate his net worth to be around $25 million.
Question: How Many Subscribers Does MrBeast Have?
Answer: At the time of writing this article, MrBeast just passed the massive 100 million subscriber milestone on YouTube, a feat only achieved by two other channels, T-Series and Pewdiepie.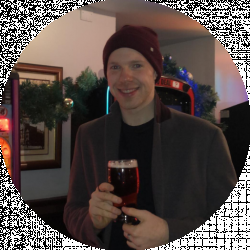 Latest posts by James Gibson
(see all)