How much did you love this show? I think I loved it even more than Breaking Bad! We were all along for the ride after the pilot episode introduced us to a different side of Saul Goodman, attorney at law. This prequel for Breaking Bad shows a man struggling through life, as seen through ex-conman Jimmy McGill's eyes. As the show progressed, I found holding onto any negative feelings toward Jimmy difficult. He is just such a loveable guy. I also love Mike. I mean, he's a pretty scary grandpa, but he dearly loves his granddaughter with everything he has.
That poor man, Jimmy, sure went through a lot to become the shady defense lawyer he is for six seasons. But unfortunately, breaking Bad doesn't elaborate very deeply into McGill's life and business as a crooked but charming lawyer, so that's where Better Call Saul comes in. Jimmy McGill becomes Saul Goodman after he is told not to use his name for his law firm since the well-known Hamlin, Hamlin & McGill Law Firm that refused to employ Jimmy has already claimed it; hence the infamous Better Call Saul Law Firm commercial takes off.
I truly enjoyed Breaking Bad and Better Call Saul and have watched both multiple times. I am here to help you navigate the best Better Call Saul merchandise out there. Superfans like us need to stick together on this sort of thing.
Criteria I Use to Make My Selection
I pick the most unique Better Call Saul merchandise I can find.

I include a wide variety of apparel and collectibles for every fan.

I only list items that are currently available for purchase.

I pick the highest-reviewed items out of the Better Call Saul merch.

I try to include only merchandise that truly represents Better Call Saul.

I have included the standard affordable merchandise and merchandise that may be a little less affordable and a bit more obscure.

I like to include something for every demographic.
Bottom Line Up Front
My favorites weren't hard to choose, but it was close since this list contains some awesome merch. I'm sure there's plenty more out there that I haven't yet uncovered!
That being said, my Top Pick is the Better Call Saul Mike Ehrmantraut Bobblehead Figure. Mike is a unique and excellent character. In addition, this bobblehead is so very well detailed it is hard to imagine someone meticulously hand-painting the details.
My Top Picks
Better Call Saul Mike Ehrmantraut Bobblehead Figure
Why?
This Royal Bobble bobblehead is so very well detailed and captures the unique features and expression of one of my favorite good-hearted characters.
Runner Up
Better Call Saul Canvas Poster – Jimmy Leaning Against Pay Phone 
Why?
This canvas poster is what quality looks like and will make any wall look great with its subtle tones and classiness. The ink quality is also above average and said to stay looking like new for 30 years!
Best Better Call Saul Merch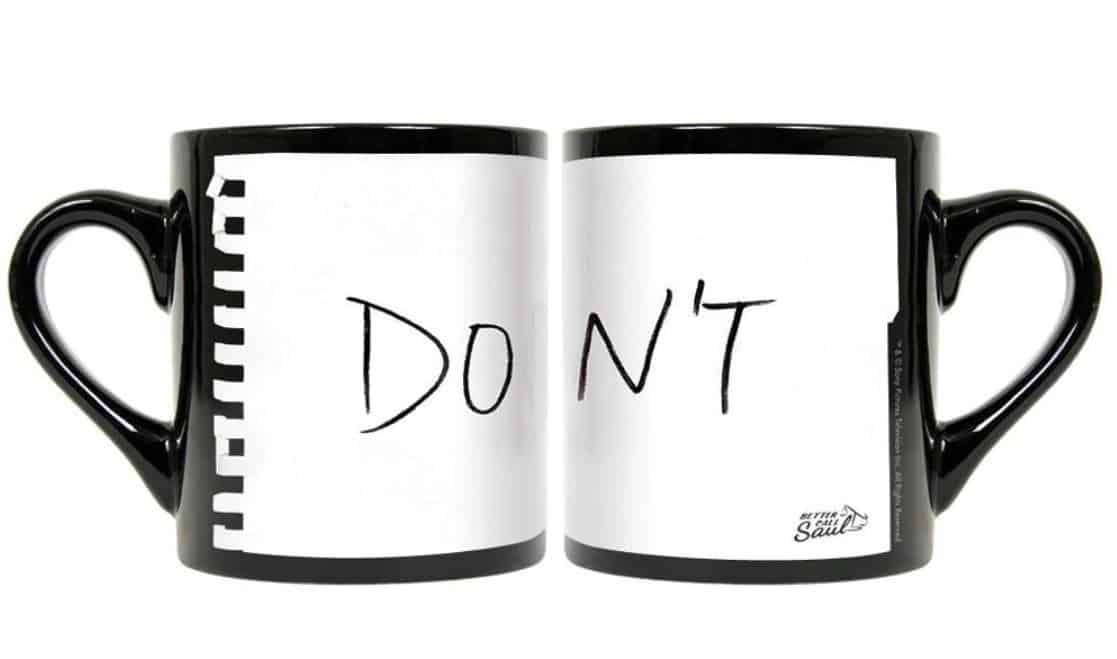 Who left the note reading "Don't" on Mike's car? Unfortunately, we never did find out, though it may have been Gus when he realized that Mike was going to kill Hector.
Pros
A quality print of a notebook page

It could help people understand not to bother you until you've had your coffee.

Thick, well-made diner mug of a decent weight

Black hides the staining your mug will show after time
Cons
Everyone I know has too many coffee mugs

Most mugs are 8 – 12 ounces, yet this one is 11 ounces

The original note was crumpled up; this is a clean piece of paper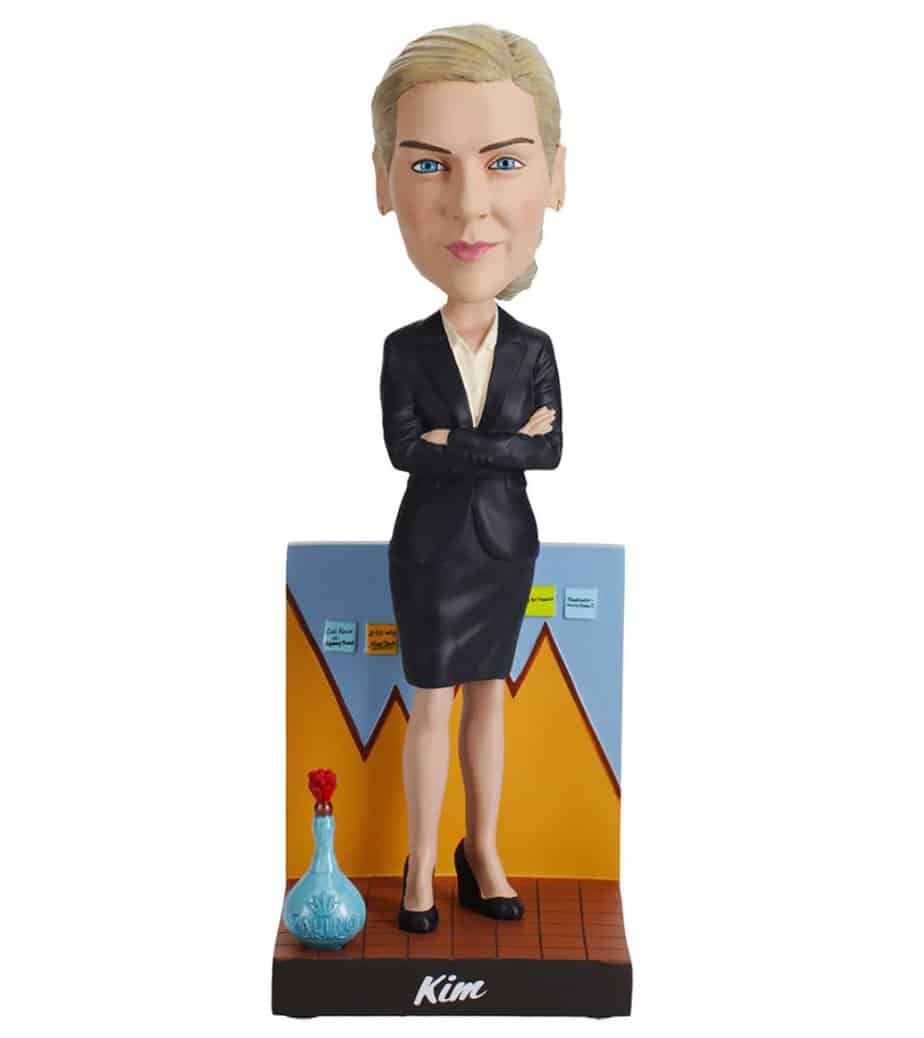 How can you not hold a spot in your heart for Kim? She stands by Slippin' Jimmy until the end. She always came through as a good friend and, eventually, wife, even though they worked for opposing offices.
Pros
The chart covered with post-its as the backdrop is on point.

The detail on Kim's ponytail is so very well done.

Her form and authentic lawyer suit is also very well done.

The infamous Zafiro Anejo tequila bottle is a nice touch since it is a regular on the show and is very symbolic.
Cons
Kim's skin tone looks like a corpse's.

The back and side of the bobblehead is strangely cut.

Eyebrows look weird and are way too dark.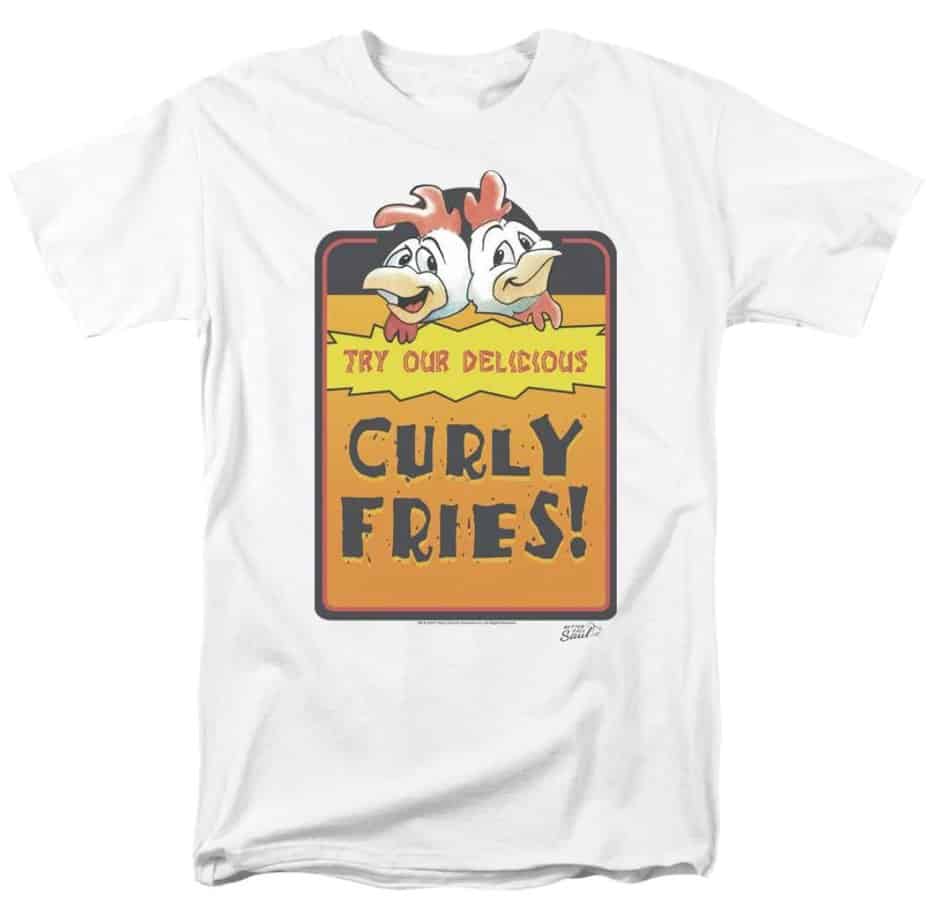 The Los Pollos Hermanos or The Chicken Brothers restaurant and money laundering operation Gustavo Fring built an empire around is said to have amazing curly fries. But I've got to say I would have to pass on the curly fries and skip the chicken and meth place drama.
Pros
Simple, one-sided design with what looks to be quality screenprinting.

Of all the colors this shirt could have been, white works best.

The sizing has almost everyone covered and ranges from S to XXXXXL.
Cons
I realize these are unisex sizes, but it would have been nice to have a women's and kid's option.

The shirt material isn't going to feel great until it's well broken in.

A couple of color selections, like beige, light yellow, and heather grey, could help this look more like a winner.

As the sizing goes up on this chicken shirt, so does the price! There is a $4 difference between the small and xxxxx large shirt's price.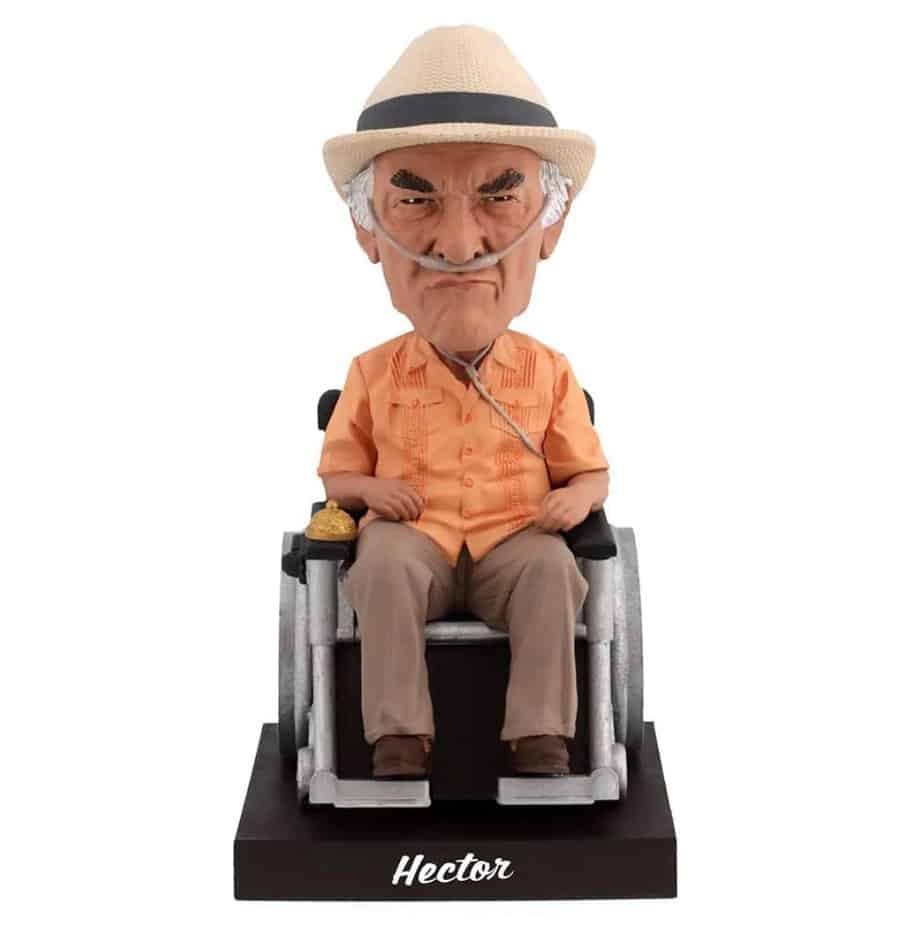 It's hard to understand the depths of Hector Salamanca's corruption and manipulation since we meet him while he is trapped in the crippled body of an elderly man. However, this bobblehead is excellently detailed and closely resembles Hector down to the fancy orange shirt.
Pros
The authentic

Hector

scowl on his wrinkled face is perfectly done!

Check out the detail on his wheelchair; they went all out. Even the oxygen tank and hoses look realistic.

Remember the scene when Hector rings the bell a million times? The bell is sitting on this well-made wheelchair works. Enjoy.

These bobbleheads are handpainted, which is why they are all so incredible with realistic detail.

Made from

polyresin

and filled with foam, the

Royal Bobbles

figures are a top-notch collectible for any Better Call Saul or Breaking Bad mega fan.
Cons
This bobblehead only stands 8 inches tall, which is a little weird since he is in a wheelchair and the other bobbleheads are not but are also 8 inches tall.

The figure appears to be sold out in the

Breaking Bad/Better Call Saul online store

, so you will be paying a bit of a hefty price if you find one elsewhere. However, I was able to find it on eBay.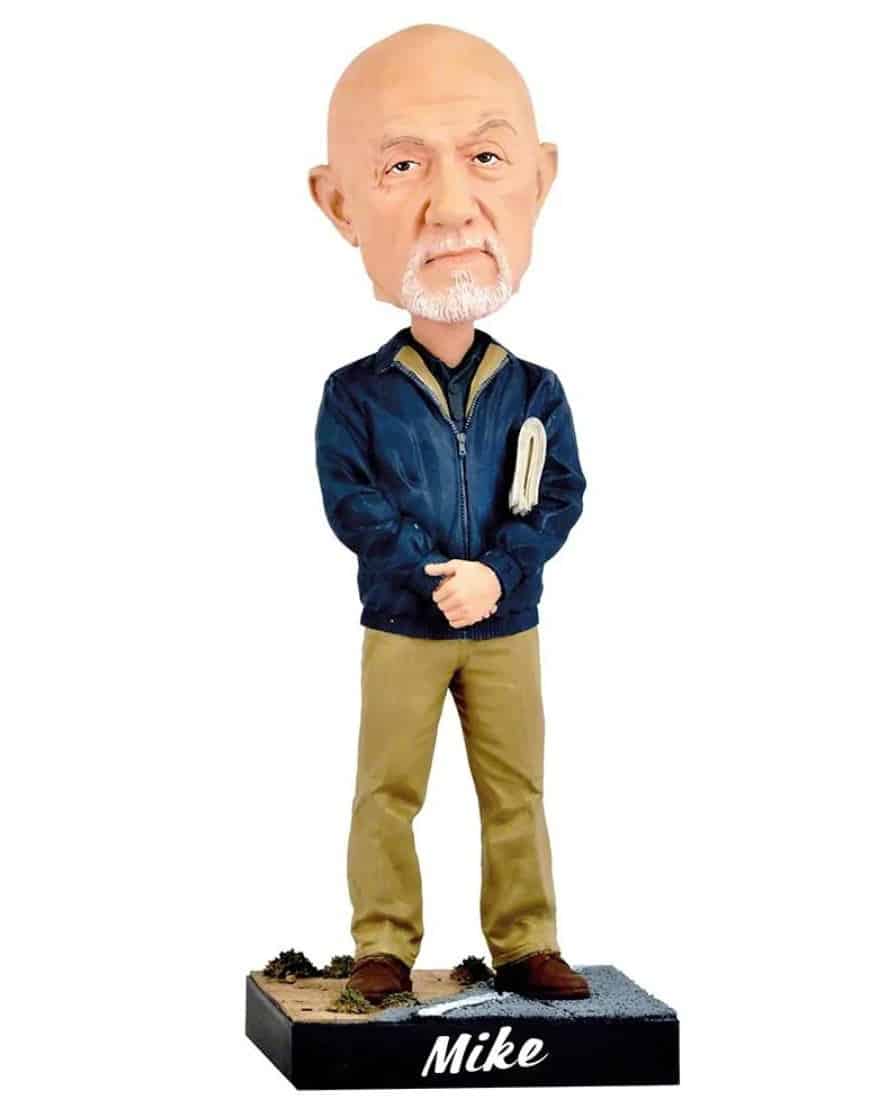 Mike, the ex-cop with a nasty past and even worse future, cares about one thing: providing for his granddaughter and his son's widow.
Pros
The hand painting is exceptionally well done and captures Mike's stoic, pondering expression and stance perfectly.

Mike is standing with one foot on the pavement of a road and one foot in the desert. Symbolic.

The detail on Mike's trusty ol' blue jacket is pristine.

The newspaper rolled up under Mike's arm is a nice touch. But, of course, we all know Mike loves his crossword puzzles.
Cons
This figure is also sold out on the store's website, so be ready to dig for extra cash if you find one elsewhere. I did find it on Walmart's website, though.

This was the first of the Better Call Saul collection of Royal Bobbles, which may be why Mike is so hard to find.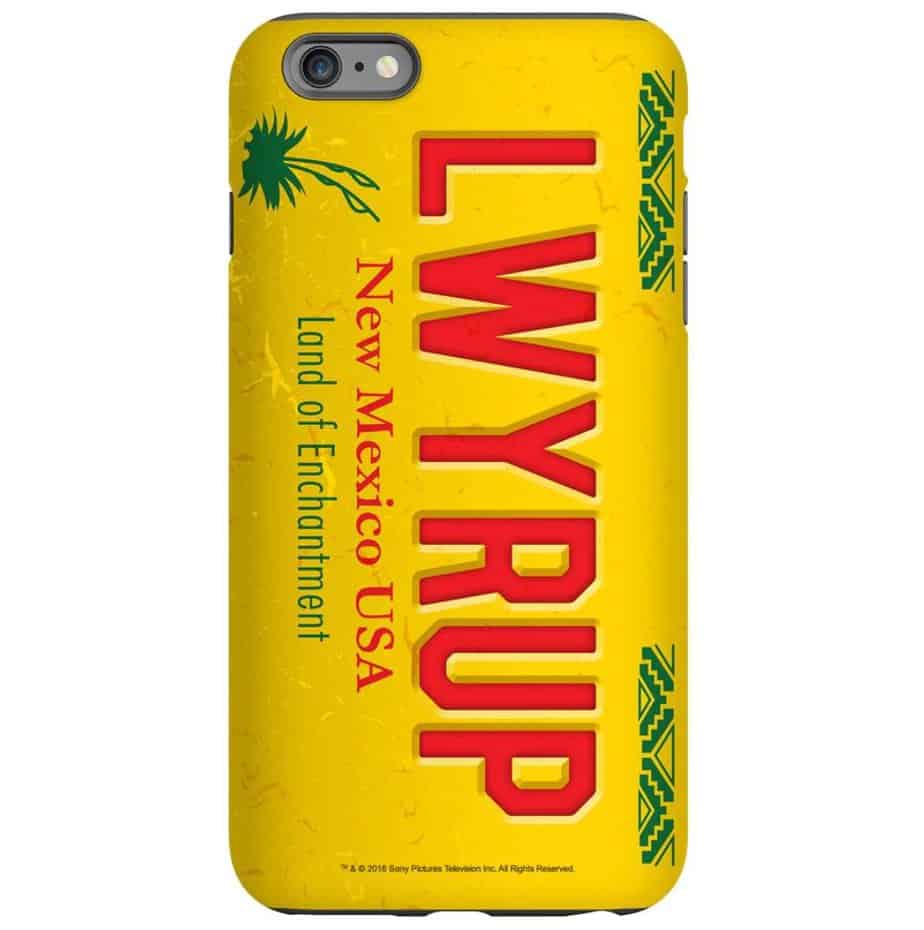 Jimmy, aka Saul Goodman's fancy white 1997 Cadillac DeVille, sports that obnoxious but hilarious "LWRUP" license plate in the vibrant yellow we see on this slick-looking smartphone case.
Pros
Good quality phone case with a silicone layer between your iPhone and the ultra-thin hard case to add extra protection.

It can be ordered to fit an iPhone on a Galaxy phone, though the silicone layer only comes on the iPhone model.

The reflective quality of the case looks like a genuine New Mexico license plate.
Cons
The cost of the phone case is a bit high.

It does not come with screen protection.

The case does not fit iPhones that came later than the iPhone Xs Max or the Galaxy S10+.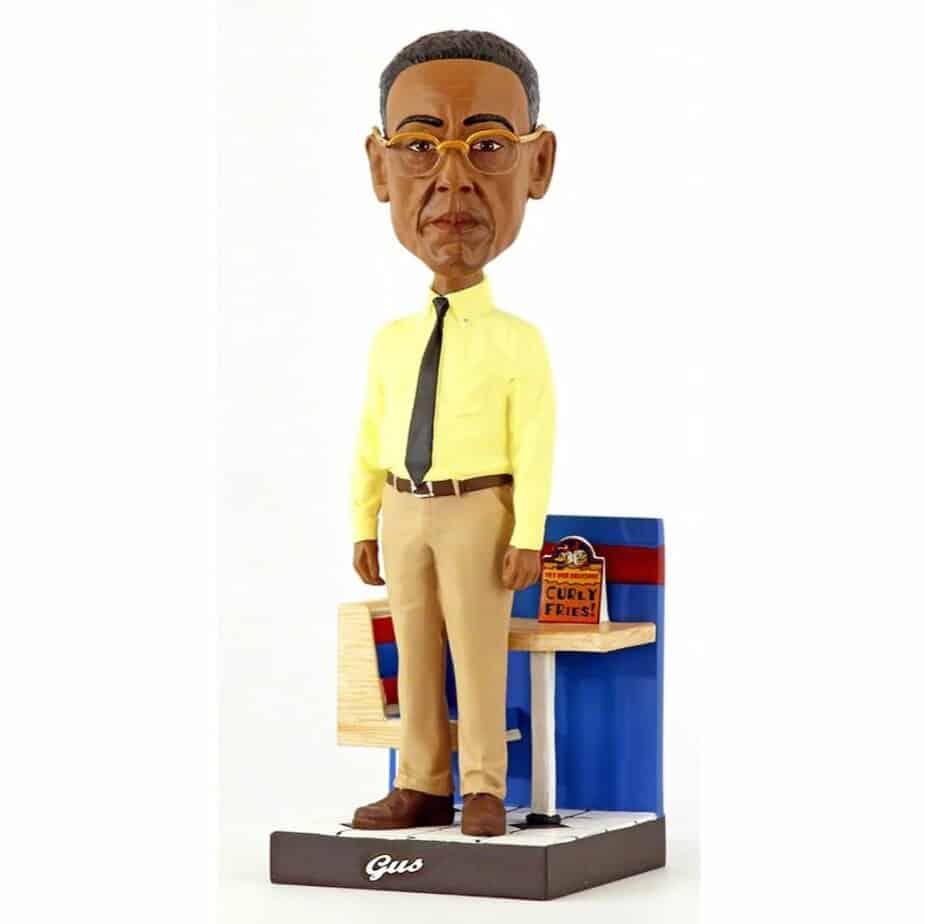 Gustavo "Gus" Fring, also known to many as the "Chicken Man" and the "Chilean," is a Chilean-American restaurant owner and major narcotics distributor in Albuquerque, New Mexico. He does not look like your average bad guy, but he is.
Pros
The expression and line work on Gus the bobblehead's face are exquisite.

I like that he's standing in his chain restaurant, looking like he owns the place.

Gus is wearing the outfit from the day he helped Jimmy find his watch in the trash, which was a turning point in the show.
Cons
The glasses are a bit too thick on the top and more yellow than gold on the figure.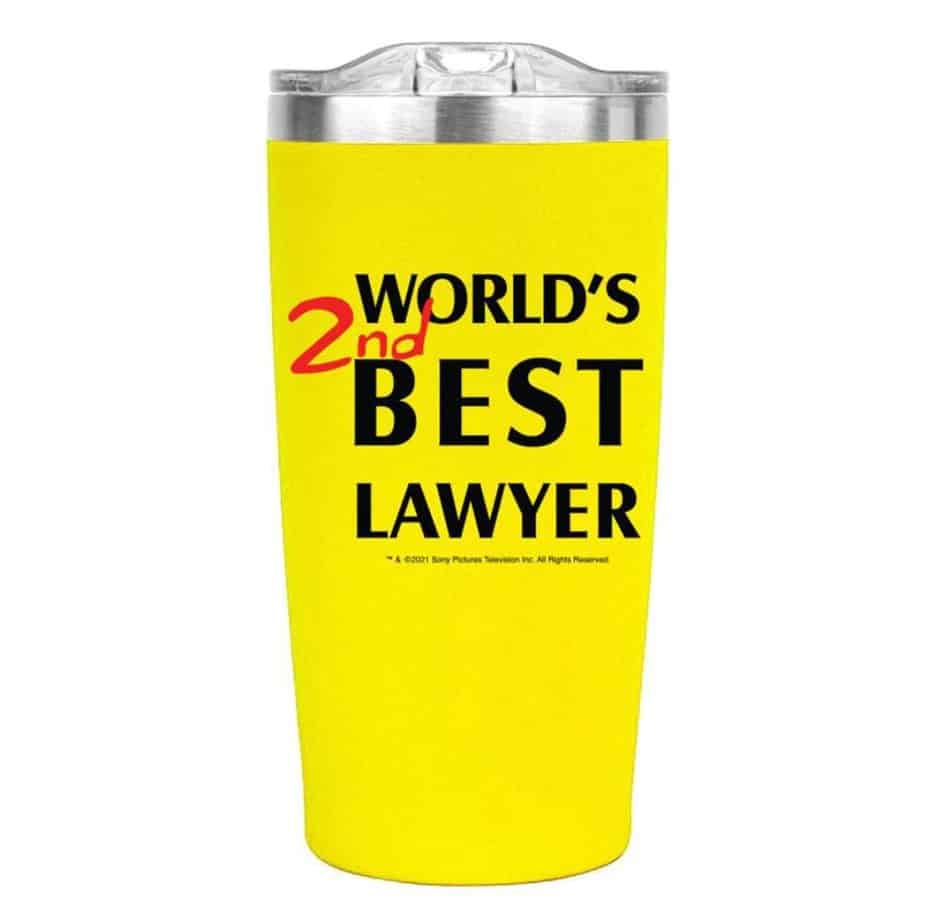 Jimmy uses this mug in the show, and we see it pop up symbolically from time to time. Kim even replaces it with an identical mug that reads, "World's 2nd Best Lawyer- again."
Pros
You have a matching mug to Jimmy's in the show!

The mug has a screw-on lid to help you avoid accidental spills in the car.
Cons
The mug you receive looks different than the mug pictured. This appears to be a cheap double-layer mug with a yellow piece of paper between the walls. However, the mug pictured is yellow and solid looking.

The walls of some of the travel mugs are not appropriately sealed and let water into the area with the yellow paper, which ruins it.

The travel mug is 16 ounces, which I find to be a small size.

This is not an insulated mug and is made of cheap plastic.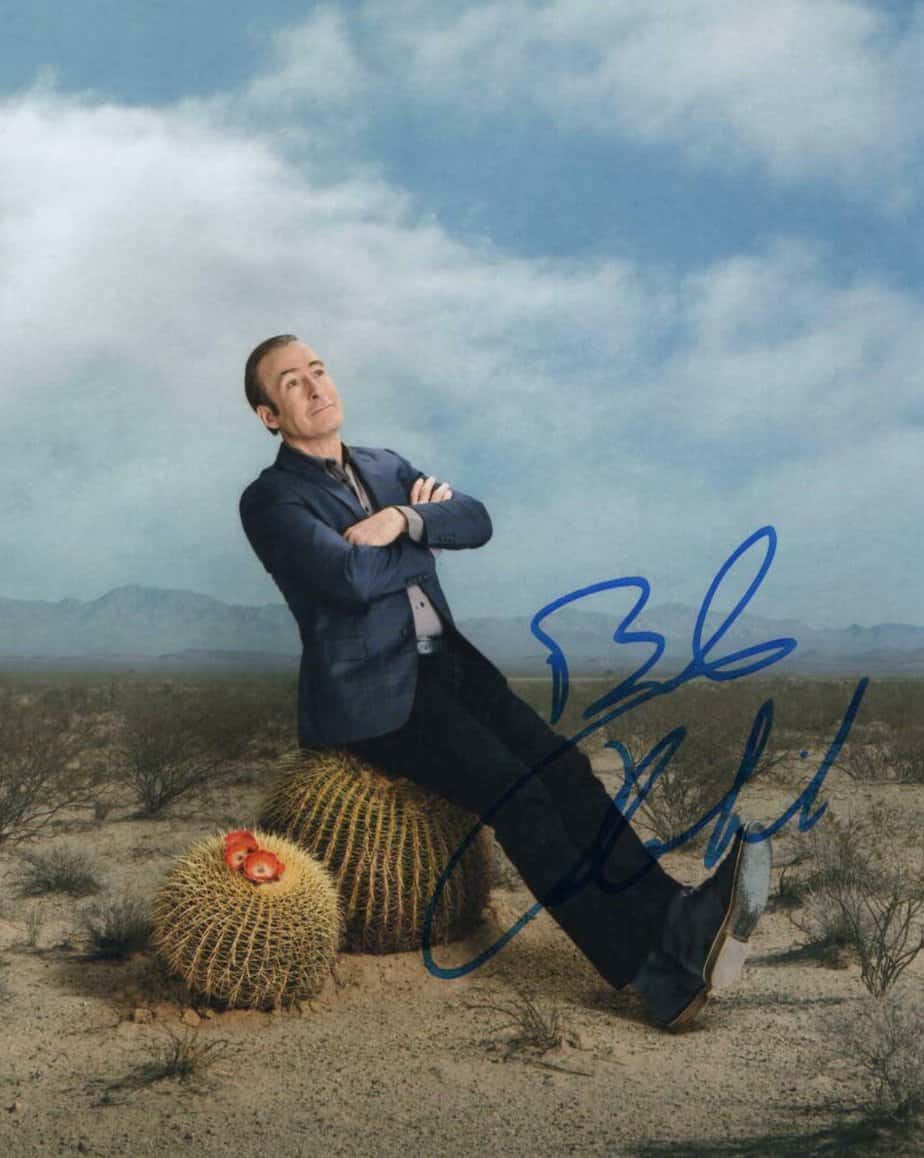 This 8×10 autographed framed photo is whimsical and fun, which displays Jimmy's personality appropriately.
Pros
The coloring and lighting in the photo is bright and very well done.

Jimmy's expression as he sits without a care in the world on a cactus in the New Mexico desert is hilarious.

When framed and matted, this photo looks professional and like it belongs on the wall of a fancy estate. It would make an excellent addition to a law office.

This is autographed by Bob Odenkirk, aka Jimmy McGill, and pricy but will increase in value since it is a limited edition.
Cons
I like this photo, but it would be even better if the camper could be seen faintly in the background with some smoke coming out of it.

The framed and matted version is over $300.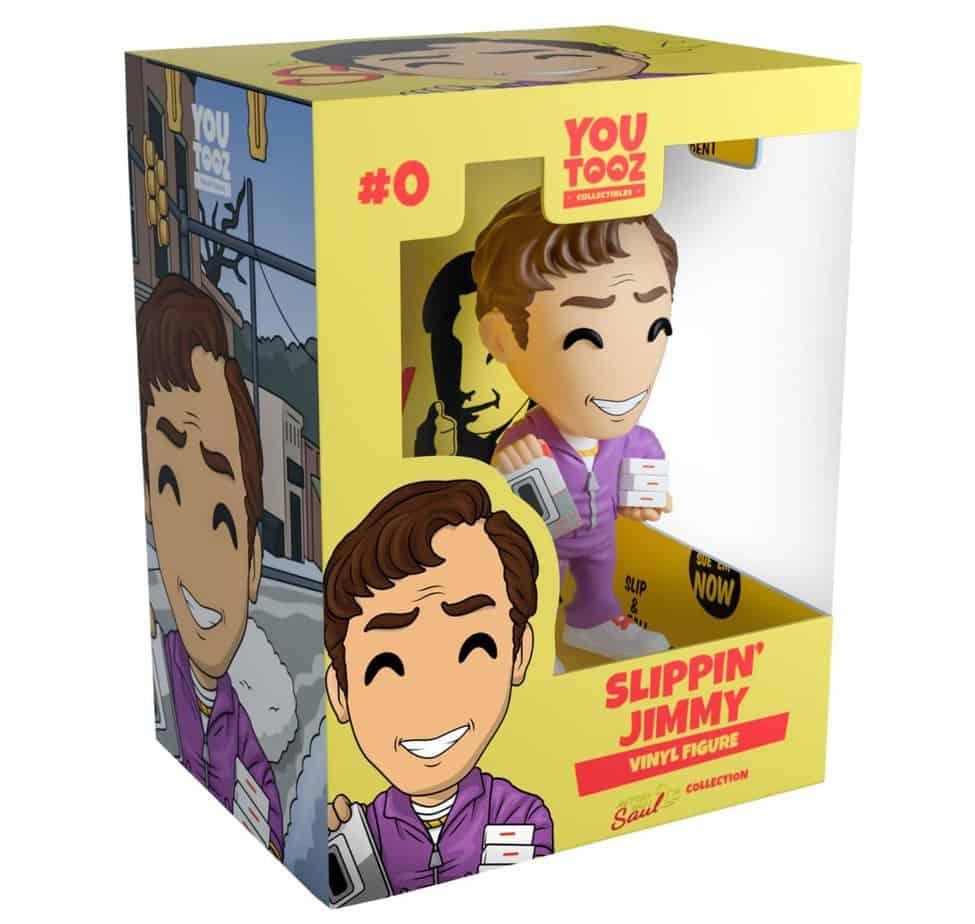 Here we see good ol' Slippin' Jimmy peddling what appears to be pay-as-you-go cell phones in a likely scam. He has his purple tracksuit on and his hair slicked down to look like the professional he is.
Pros
From his white tennis shoes with red laces to his gold chain, Slippin' Jimmy looks authentic to the character in the show.

The bootleg cell phones in his arm and cheesy smile capture his "Slippin' Jimmy" personality.

The sly smile on this figure's face is perfect.

The external scene on the collector's box is excellent and shows a snowy city with money falling from the sky.
Cons
This is not yet available but is available for pre-order. Shipping begins in October 2022.

The eyes have a weird anime look to them.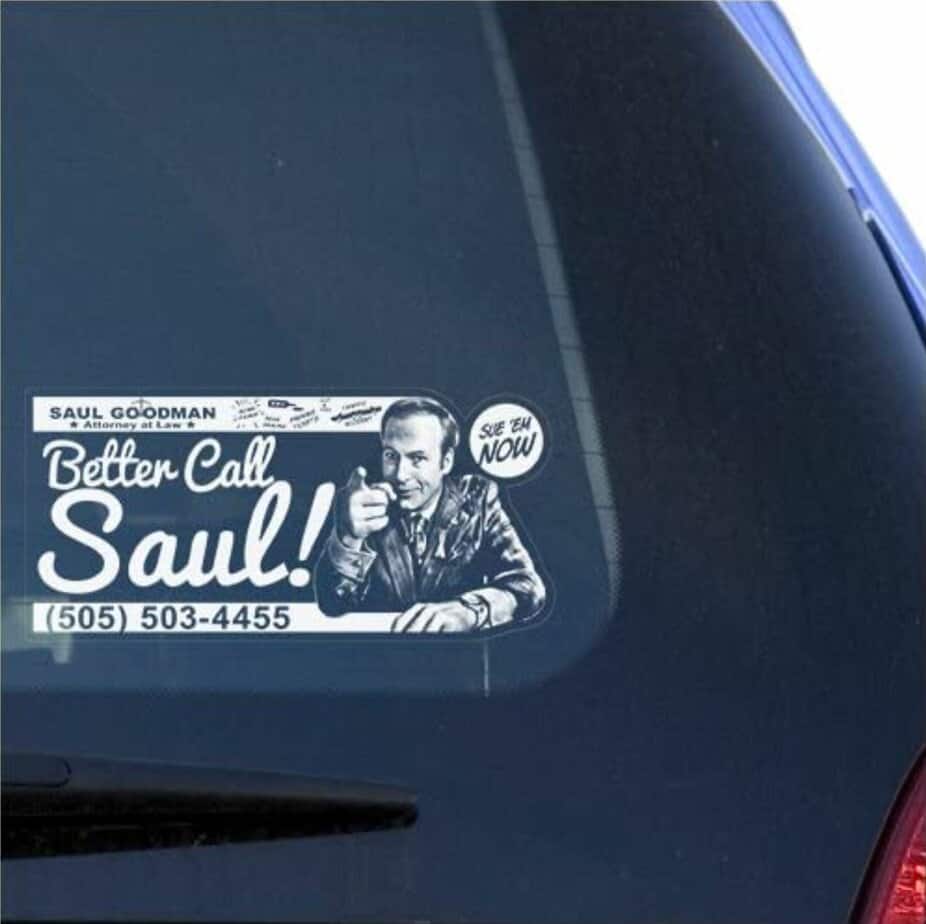 What better place to advertise Better Call Saul than your vehicle's rear window? At 8 inches long and 3.6 inches wide, this high-quality vinyl sticker is perfect for any Better Call Saul fan.
Pros
The sticker features a bright white detailed monochrome style advertisement photo and text. It stands out well on most windows, especially slightly darker ones.

This sticker is durable and scratch-proof, so it will not become damaged from you washing your car.

A protective outer layer is applied to this sticker to make it resistant to damage from weather, UV rays, grease, or oil.

They are guaranteed to last years.

The sticker has exceptionally great detail, especially with Jimmy's facial features.
Cons
Though it is inevitable, the sticker does have a transparent background that I find annoying.

You get one chance to get this on your vehicle sans bubbles. Better buy two.
This is a generic poster, but I love it. We see Jimmy McGill leaning against a pay phone in the New Mexico desert. He looks forlorn and worried, which is how he stayed the entire show.
Pros
Comes framed or unframed.

You can choose four sizes, the largest being 24-36 inches.

Good coloring and quality of the poster.

The materials and ink used in the poster are waterproof and UV resistant and promises to keep the ink used on the poster looking like new for 30 years! This is a good deal.

The poster is canvas, which always looks better than a paper poster.
Cons
The frame is cheap-wrapped canvas, so consider finding your better-quality frame.

Again, I would love it even more if I could faintly make out the cooking camper in the background.

If you choose to frame it yourself, be careful of the writing near the left side. You will need matting to ensure your frame doesn't cut off part of "Better."
FAQ
Question: What the Heck is BAS in Terms of Autographed Merch?
Answer: This means a Beckett Authentication Service representative was present when the merchandise in question was autographed by the actor, which brands it as authentic.
Question: What Mall did they Use in Better Call Saul?
Answer: The scenes shot in a supposed Albuquerque mall were filmed in Omaha, Nebraska, at the Cottonwood Mall.
Question: Is the University of American Samoa Real in Better Call Saul?
Answer: You were considering transferring your credit to this college, weren't you? But, unfortunately, it is a make-believe place on Better Call Saul and in reality. Jimmy has a graduation certificate hanging on the wall of his office that states he graduated as Saul Goodman. He even jokes throughout the show that it is no more than a piece of paper on his wall.
Question: What do the Ants on the Ice Cream Mean in Better Call Saul?
Answer: As we watch the ants devour Saul's ice cream, it is clear that it is a metaphor for Saul's impending doom lying just around the corner as he winds his way deeper into the cartel's drama. 
Conclusion
I am rewatching Better Call Saul again as we speak. I thought it was a clever and entertaining show. It boasted so much originality that we no longer see it in new shows. I enjoyed Breaking Bad, too, and I highly recommend you rewatch both now that the final season of Better Call Saul has been released. Make sure to watch Better Call Saul first until you reach season 6, then switch and watch all of Breaking Bad and resume Better Call Saul for season 6.
I do wish there were more Mike memorabilia. I enjoyed his character, which is why I chose his Royal Bobble bobblehead figure for my favorite piece of Better Call Saul fan merch. It's just so very well detailed and created with such care. The size is perfect, and I can't say enough about the quality of this polyresin figure.
The runner-up to the Mike bobblehead is the Better Call Saul Poster of Jimmy leaning on the pay phone looking anxious. It truly captures the heart of the show for me. This is a bit of an oddball pick for me because I don't generally steer you super fans towards non-official merchandise, but in this case, I just had to. The quality of this sizable canvas poster is excellent, and it is formal enough to go on any wall. I love how it captures everything that Better Call Saul is made of. Until next time, happy shopping, my fellow nerds!
Continue reading: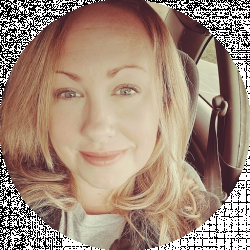 Latest posts by Katie Downey
(see all)