Ever since Toy Story 4 came out in 2019, a new generation of kids has gotten to enjoy the magic we all grew up with. An even more recent film, Lightyear, has kids buzzing about everyone's favorite toy astronaut.
If Toy Story is one of your child's favorite movie franchises, then I'm sure they'd be thrilled to receive a Toy Story toy box to keep their best toy friends organized! Whether you want to buy an official Toy Story toy box or DIY one at home, I'm going to show you the best options to do that. Let's get started!
Bottom Line Upfront
As a mom of two, I value as much space as possible to hide all their stuff. That's why I think this is the best option to go with; the Disney/Pixar Toy Story 4 6-Bin Design and Toy Organizer because it offers tons of storage, lets them grab and organize things themselves, and it's super adorable.
Top Picks
Before we do a deeper dive into some of these Toy Story toy boxes, I want to show you my favorites. I think the bright designs and organization these toy boxes offer put them above the rest, so even if you aren't into DIY, you can still give your kid a really cool (and functional) gift.
The Best Toy Story Toy Box Ideas
You'll find that some of these Toy Story toy box ideas are officially branded, and some are handmade. While most of these toy boxes can be bought, I threw in a few ideas for DIY inspiration. Let's get into it!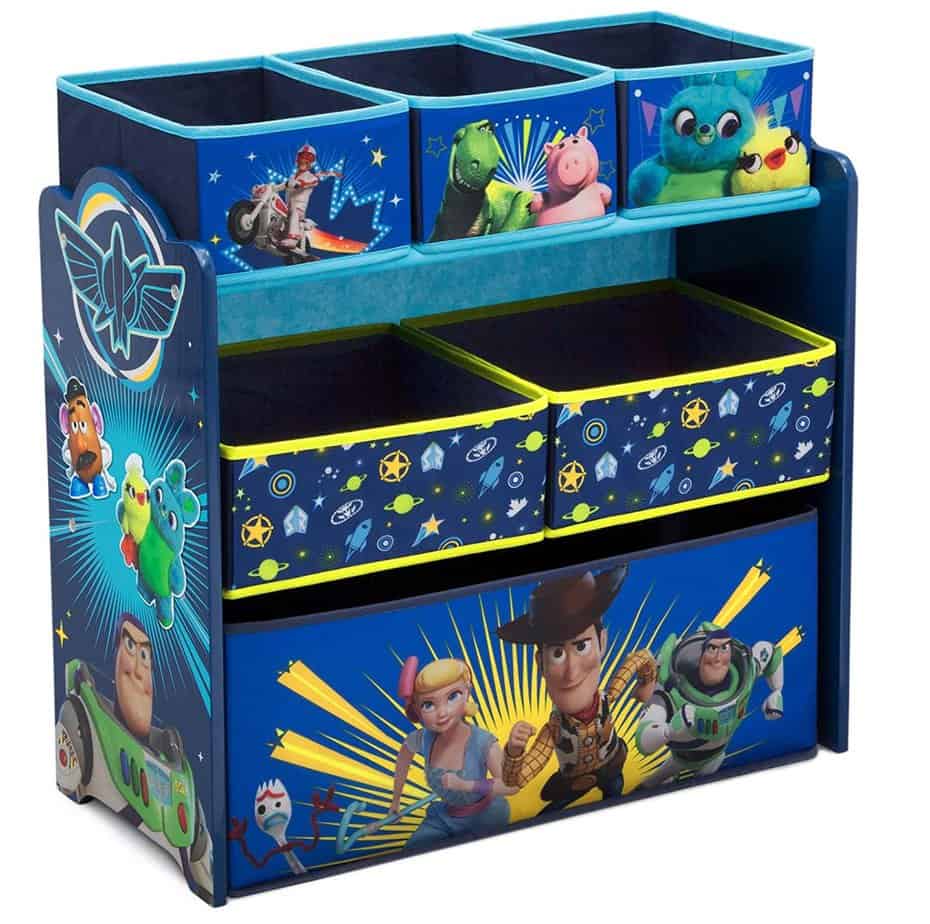 Toy Story 4 is chock full of new characters while keeping all of our old favorites from the original Toy Story in the limelight. That's what I like about this toy box. Not only do new faces like Forky, Ducky, and Bunny take center stage-so do Woody, Buzz, Mr. Potato Head, Rex, and more.
I'm actually a huge fan of the shelving system this toy box has. Instead of throwing every toy into one big pile in a box, this toy box lets you split up toys into different cubbies. I give this one an A+ on organization and design!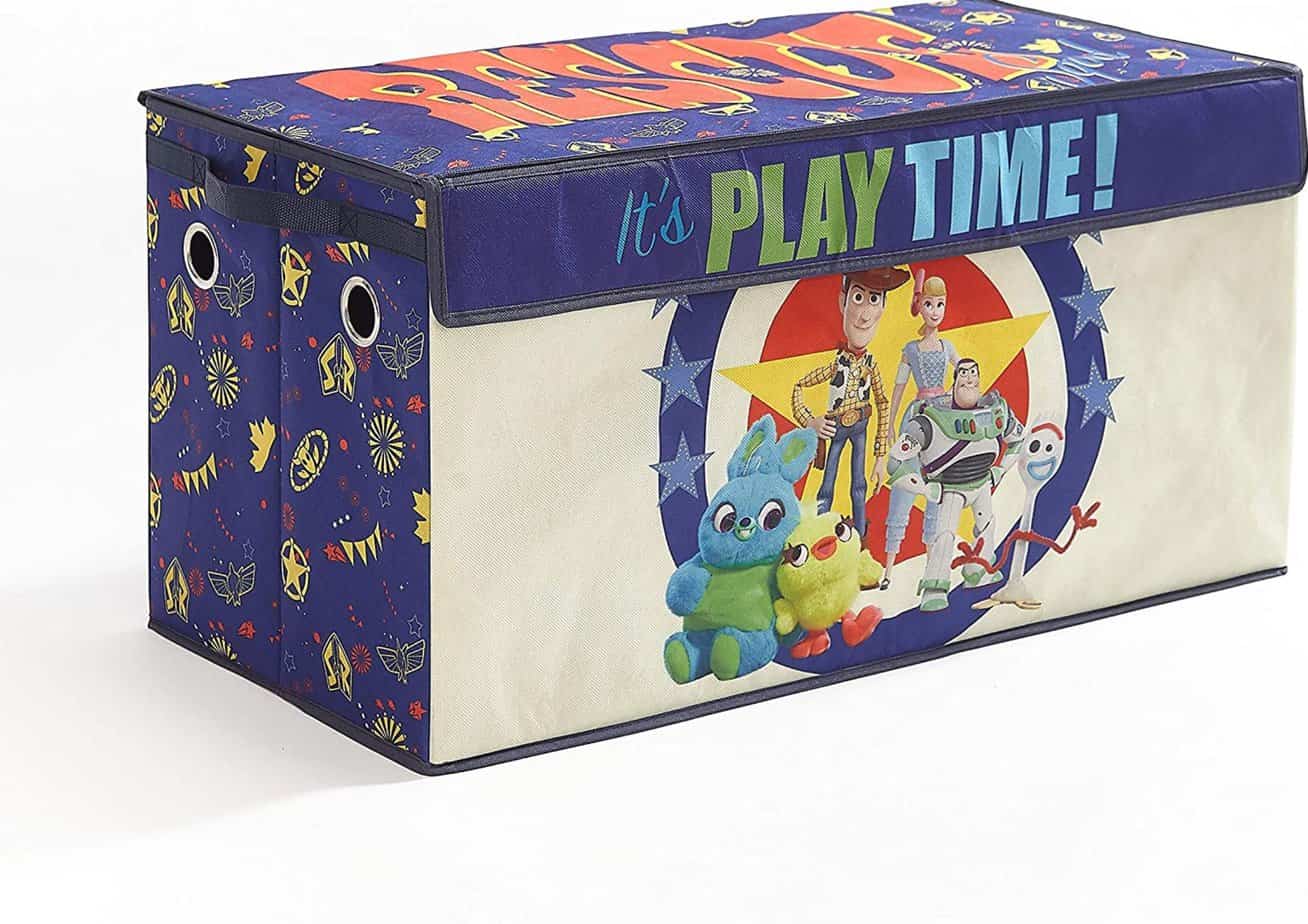 Got a road trip coming up? A family vacation, or maybe you're visiting relatives? That's what I like to use collapsible toy boxes like this one for. Unfold the box, pile in all the toys on the trip, unpack the box at grandma's, and then load it back up again when you go home. Trust me, keeping all your kid's toys together in one place ensures you won't have to drive an hour back to where you started because a favorite teddy got left behind.
This one has Woody, Buzz, Bo Peep, Forky, Ducky, and Bunny on the front, so it's geared towards fans of Toy Story 4. It's made from sturdy canvas material so that it can take a beating from travel.
How cute! This Toy Story toy box is handmade by an Etsy seller! I wanted to include this one for all of us who are suckers for handmade wooden toys and furniture. Since it's made out of wood, you're assured the toy box can last a long time, which is definitely something to look for. The seller uses wooden letters to spell out your kid's name on the front of the box, and I thought that was pretty darn nifty.
Expect to pay a heftier-than-average price for handmade toy boxes like this one (particularly ones that are personalized.) If the steeper price doesn't bother you, then I would say go for something like this that's sturdy, beautiful, and personalized for your child.
Full disclosure: You can't buy this one. Instead, I wanted to show you how you could make your own Toy Story toy box by upcycling what you already have. This post from Amy Groves-Garfield on Instagram gives me the inspiration to paint my own toy box with a color scheme my kid would like best.
If I were to create this DIY project, I would find a bulky end table with a lid and paint that. You can always buy wooden letters from Joann Fabrics or Michaels to customize your child's name on the front.
You've got a friend in me~ I think the bright primary colors used all over this toy box give it a classic Toy Story feel. Do you know what else I totally love about this one? It's padded. We all know how clumsy kids are, and since this toy box is cushioned all over the outside, it won't hurt them if they accidentally run and bop into it.
The only negative I can tell is that it doesn't have any separate compartments inside to organize toys. Make sure no electronics are thrown into the bottom of the box.
I'm gonna let you in on a little secret: this toy box is way easier to make than it looks. You can also make this at home with a plain white wooden toy box, some Toy Story wall stickers, wooden stars, and wooden letters.
If I weren't feeling up for a huge project but still wanted to make my little one something personalized, I'd think this was a great idea. Fun customization might be to use wooden letters painted in your child's favorite color.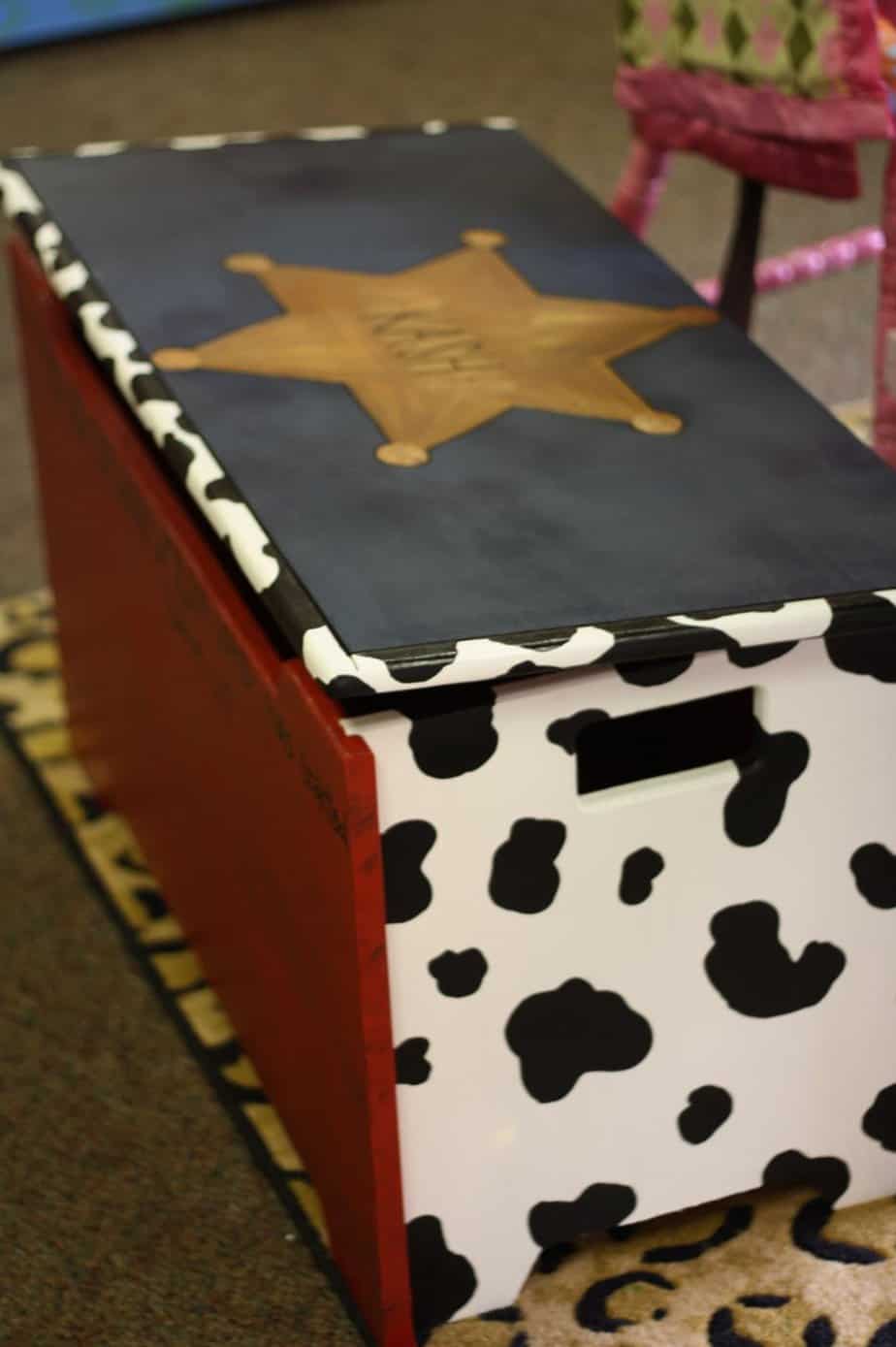 This DIY is a bit more complex. Stay with me! You certainly don't need to be any kind of expert to make this one, but you will need a little more patience. To make the sides look like Woody's cow print, you'll need to paint each black spot individually.
When making the gold sheriff star on top of the toy box, make sure to use a ruler and painter's tape, so the design turns out neat. What I like about DIY projects like this is that I get to choose the size and shape of the toy box, since I'm the one painting it.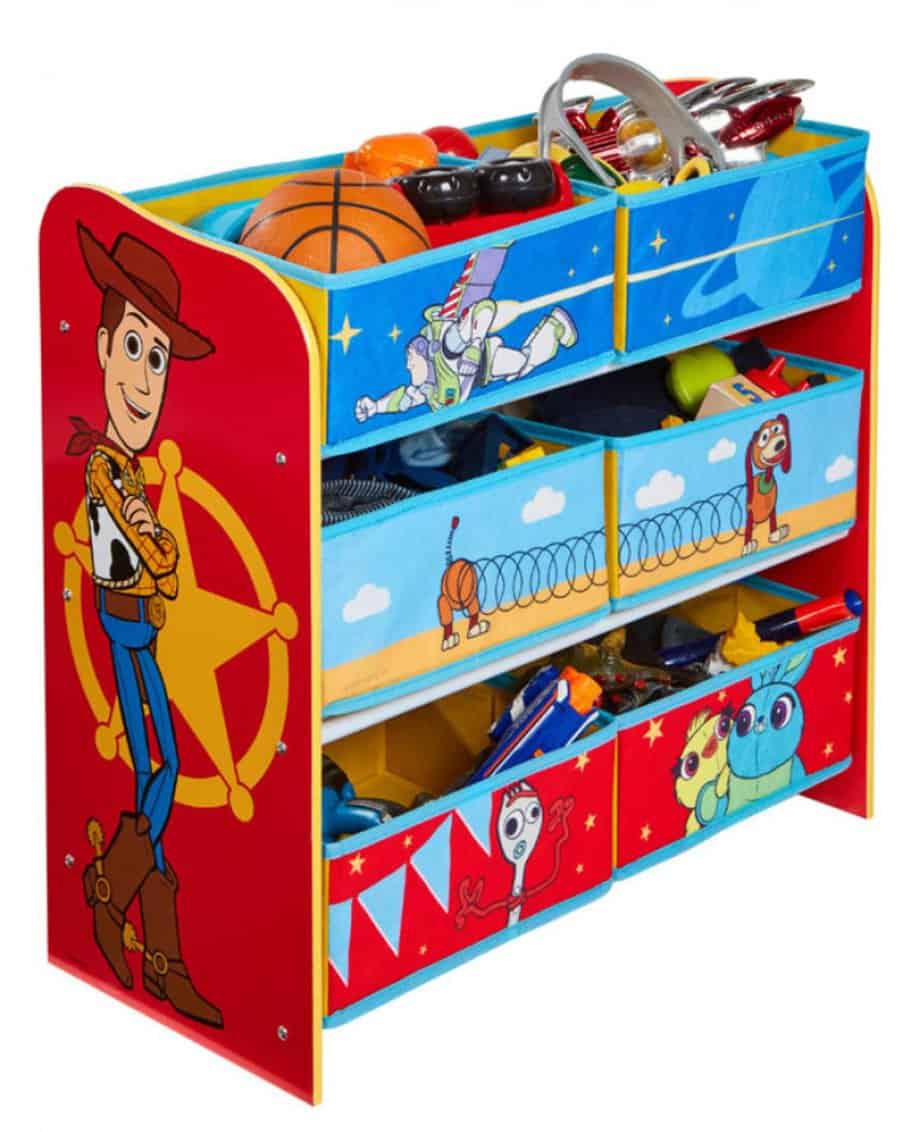 I'm absolutely in love with this design! Kids love bright colors (and some of us adults do, too,) so they're sure to love this bold 6-bin toy storage if they loved Toy Story 4. Red, blue, and yellow are used for the primary color scheme, and all your kiddo's favorite pals are featured on each bin. This is another one that I think is great for keeping toys organized.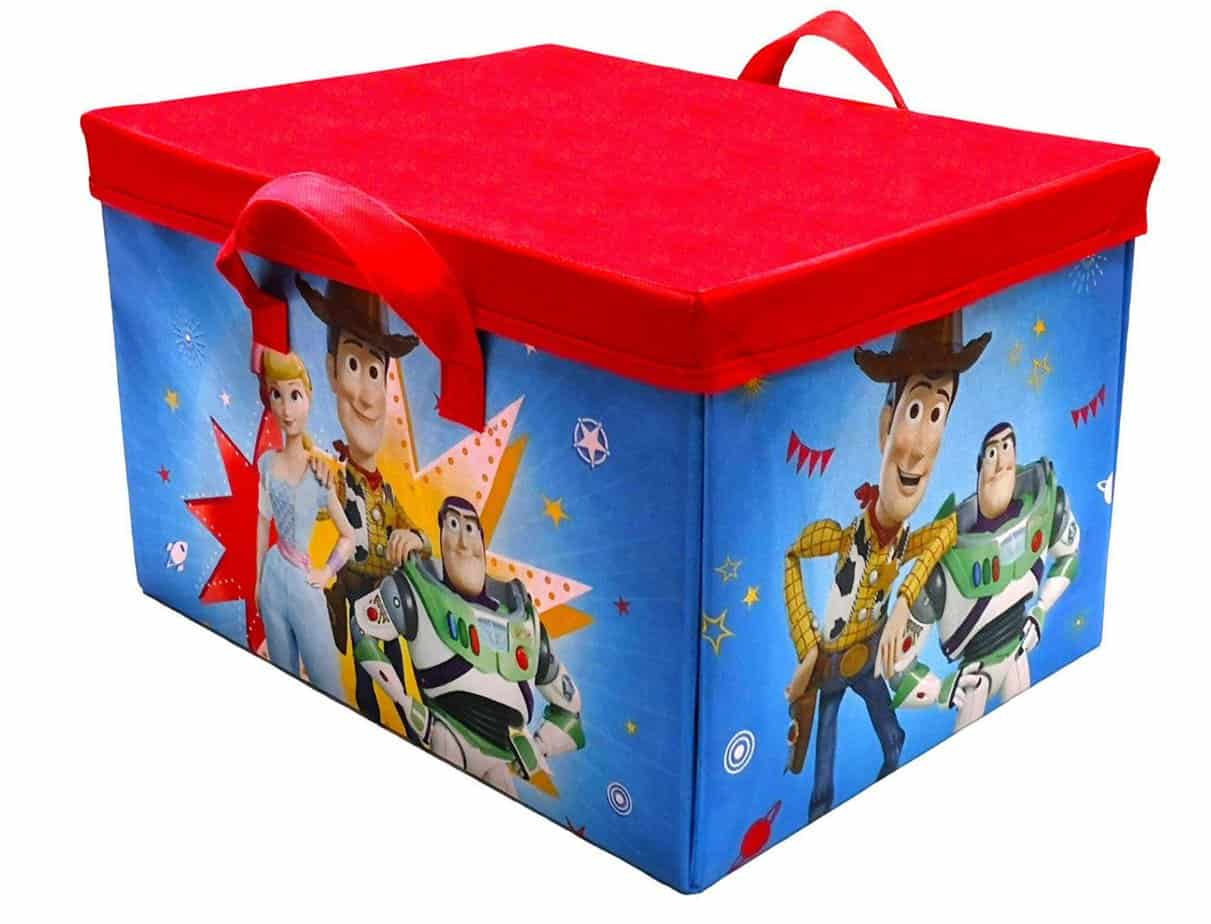 It's Woody, Buzz, and Bo Peep! If you were looking for a smaller toy box that you don't have to make yourself, I'd recommend this one. I like that it comes with a bonus play mat, and the kiddos would love that it features Forky. Honestly, if you wanted a toy box that could hold all your kid's toys, this isn't the best option. Instead, I think it's best when travelling.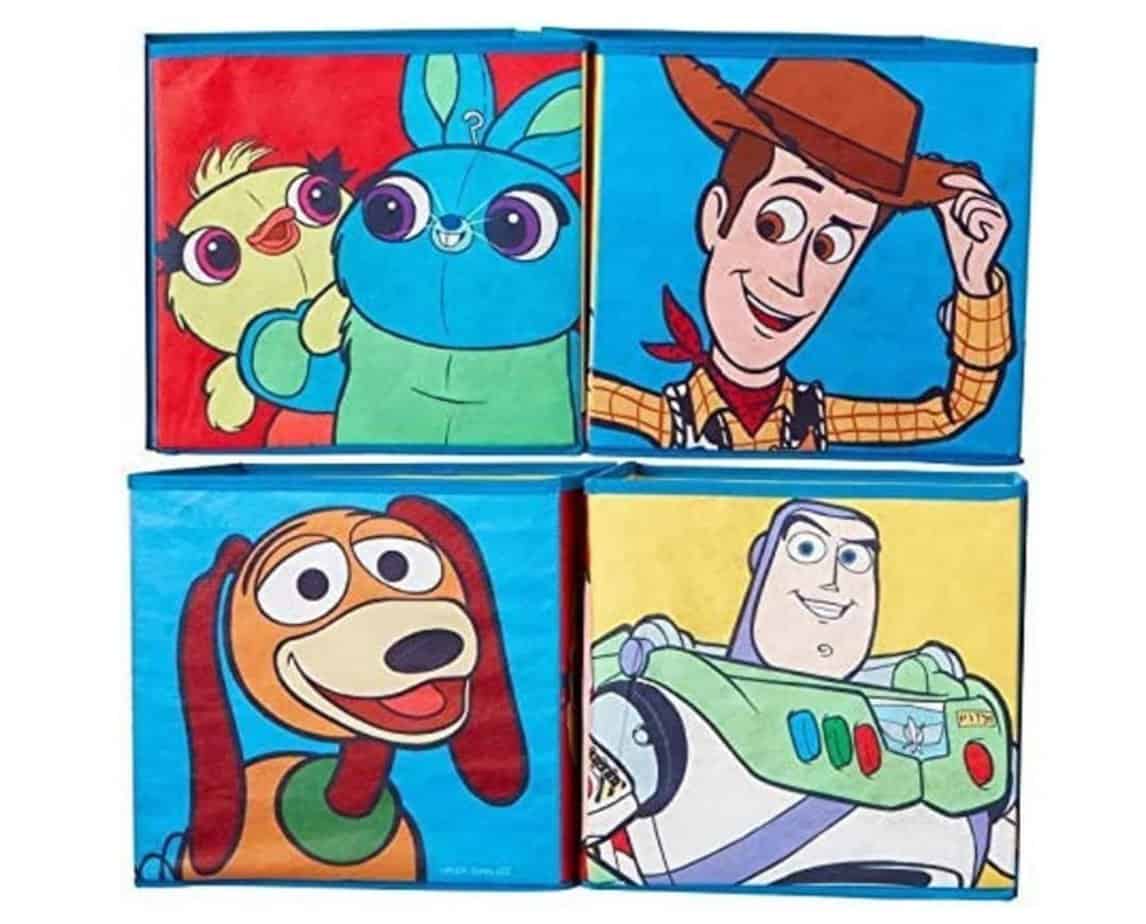 You already know what I'm going to say, right? If you guessed that I'm loving these boxes for how easy they make it to keep toys organized in separate compartments, you're correct! My only complaint is that this one is a little expensive for what you get. To be fair, the character pictures on the sides of each bin are super cute, which helps make up for the steeper price.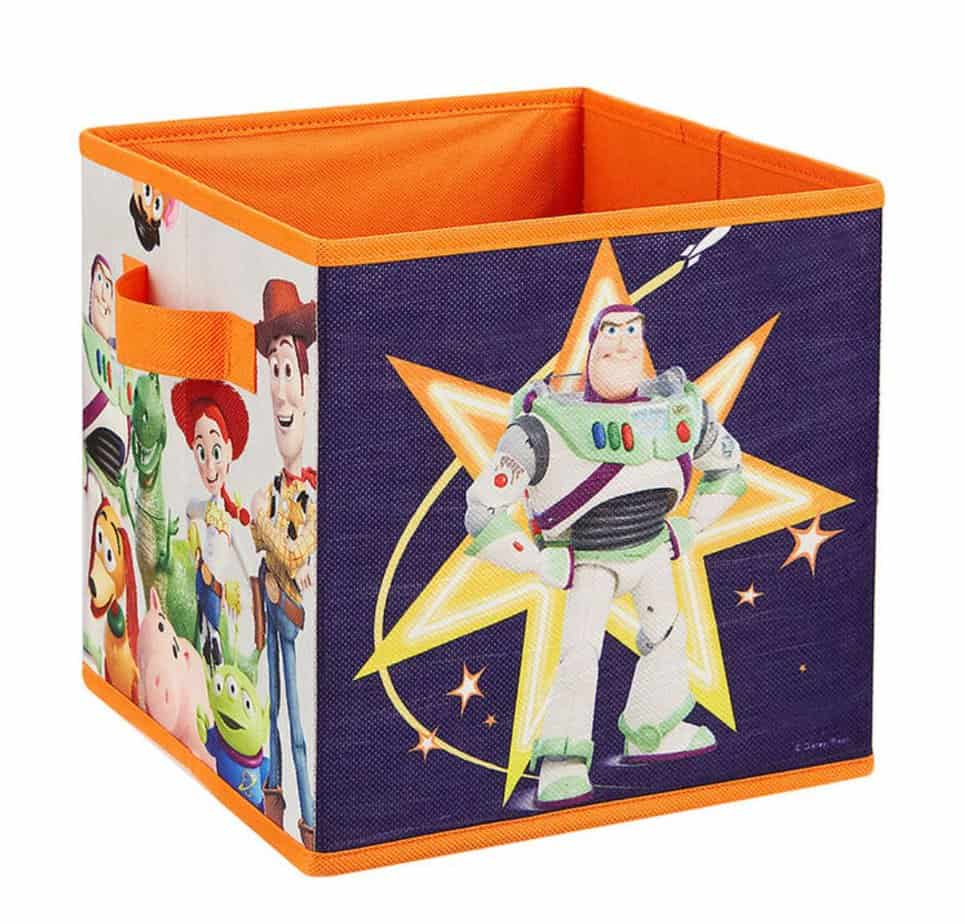 The last one I have to show you is the smallest and least expensive option. If you just want some of your little one's spare toys up off the ground and a compact place to put them-voila! Now you have a cute Toy Story storage bin for them. I'd buy this storage bin for a Buzz fan since some of the sides of the box feature the adventurous astronaut exclusively.
Toy Boxes You Can Customize
If you do want to add your own personalized touch to the toy box you're giving your kid, then DIY is the way to go. What I've done here is compiled plain solid color toy boxes you can customize with wall decals, paint, and wooden letters. Ready to take a look?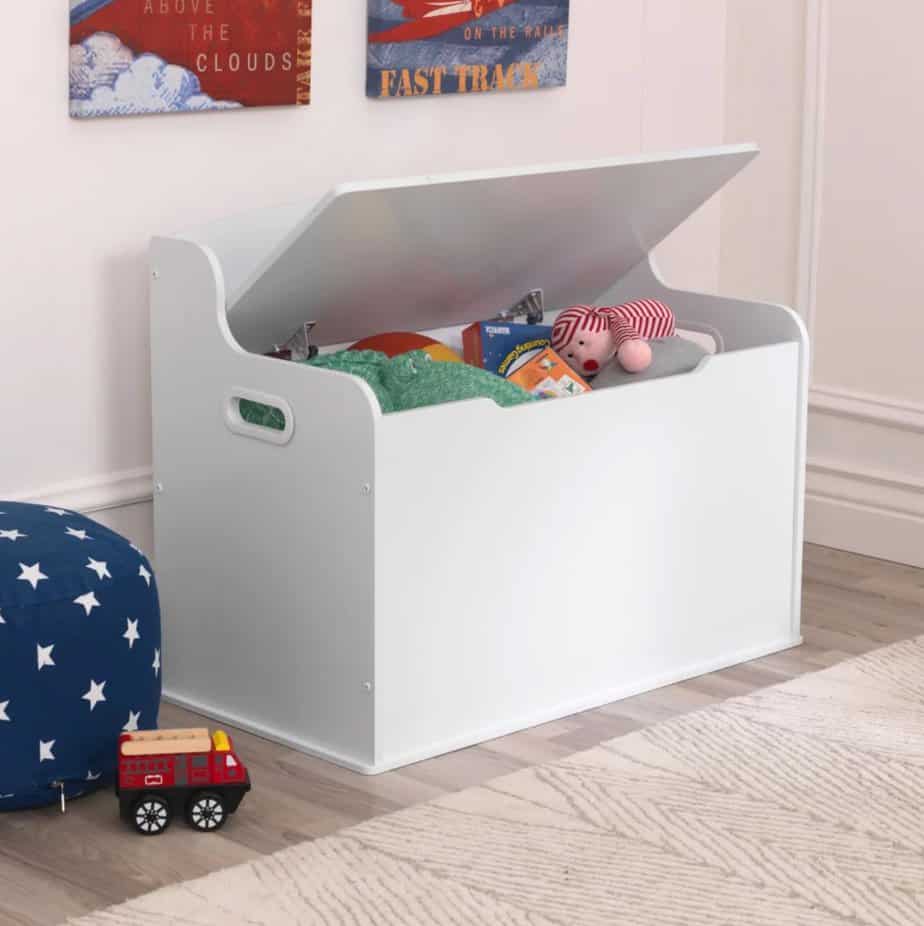 It would be super easy to spruce this white toy box up a little and make it Toy-Story-centric. Here's what I would do: First, buy wooden letters in your child's favorite color (or paint your own) to spell out their name. Then, you can buy Toy Story furniture stickers or even Toy Story wooden cut-outs to stick all over every surface. Voila! A Toy Story toy box is yours.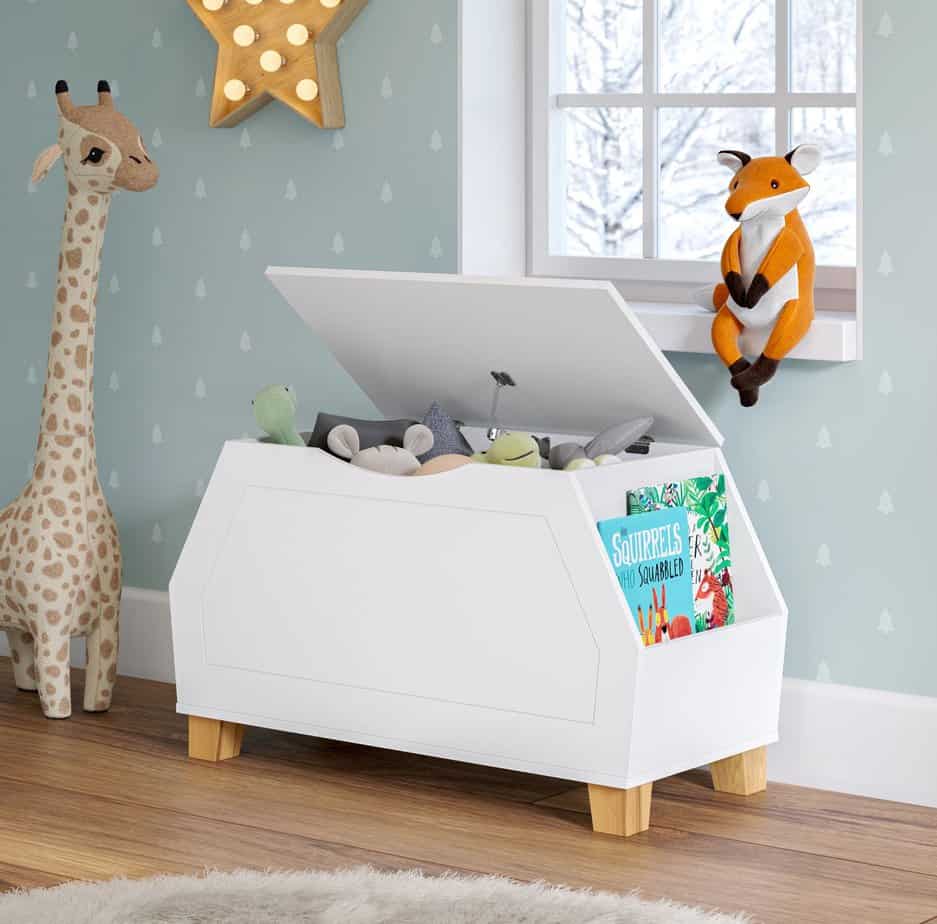 I think this one has such a unique shape, don't you? It's the perfect height for small children, and I like the shelf on the side for books and magazines. A fun idea would be to use wooden letters to spell out a phrase from the movie on this toy box. You could do, "You've got a friend in me," or, "To infinity and beyond!"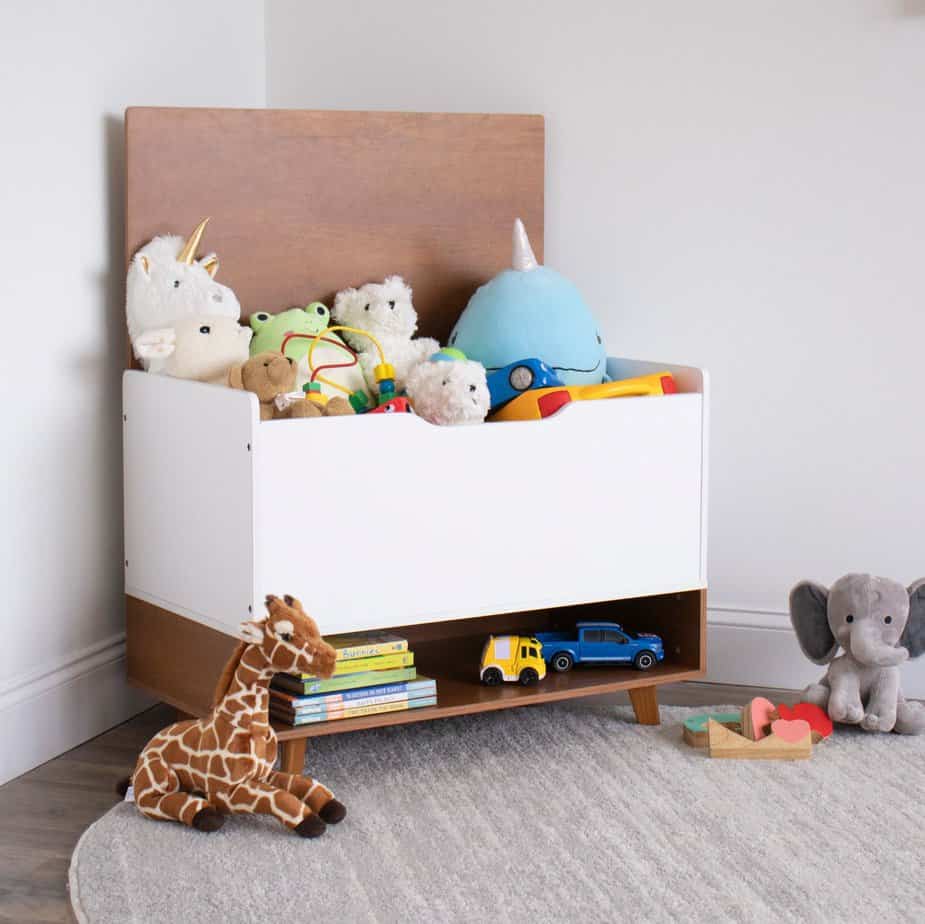 Soft close lids are so nice. Let's be honest, kids don't always remember not to slam lids and doors shut. That's my favorite part about this toy box-it closes softly every time. The bottom shelf gives some extra storage space, which is nice for storing toys that shouldn't be thrown into the bottom of a toy box.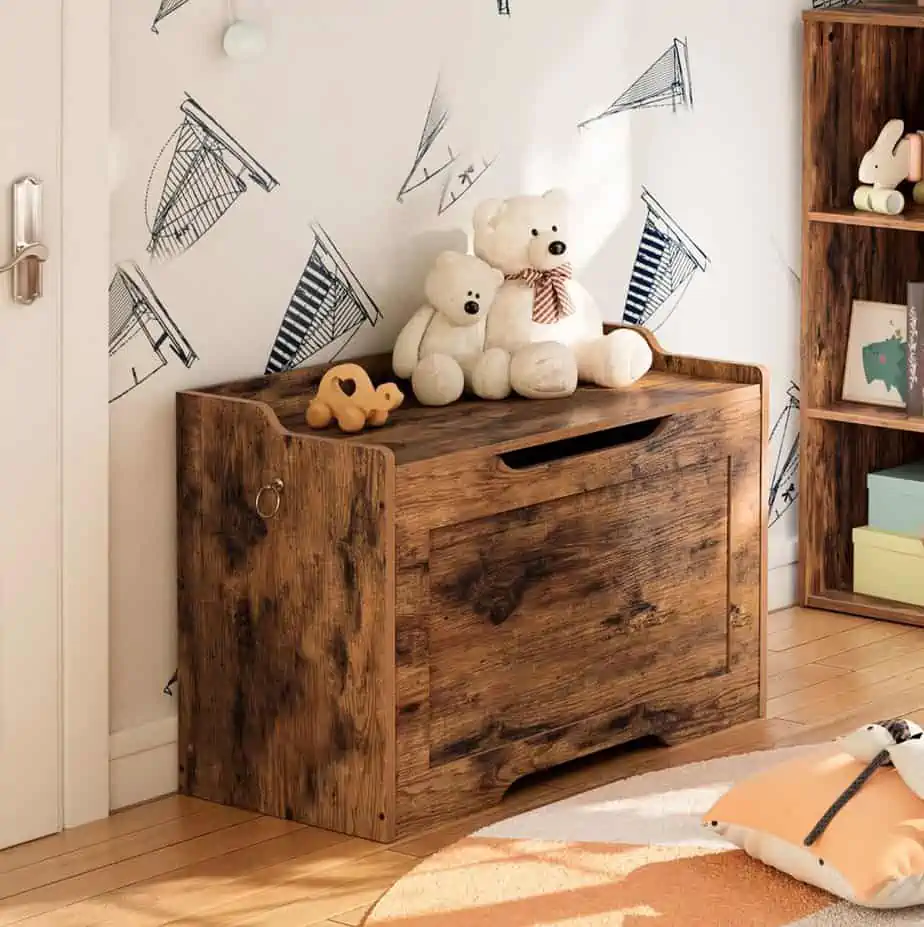 How rustic! This wooden toy box is the perfect height, even for tots, and has the cutest design. If you don't like the natural color of wood, you can always paint this one white or maybe a brighter color like yellow or blue. Honestly, if you wanted to make the toy box Woody-themed, you could leave it brown and decorate it as is.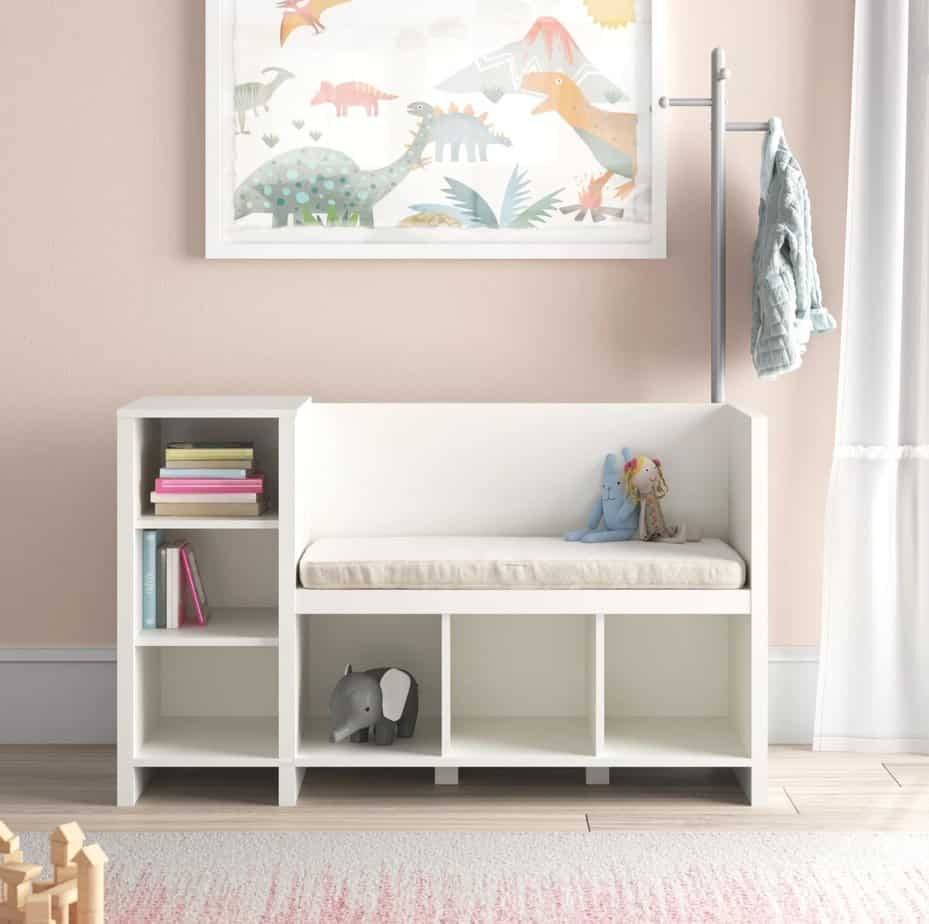 I know this toy box will be the most complicated to paint if you want to change the color. I would leave this one white and decorate it with wooden letters and Toy Story stickers. I just can't decide if my favorite part is how organized this toy box is with so many separate cubbies or if the adorable little bench takes the cake.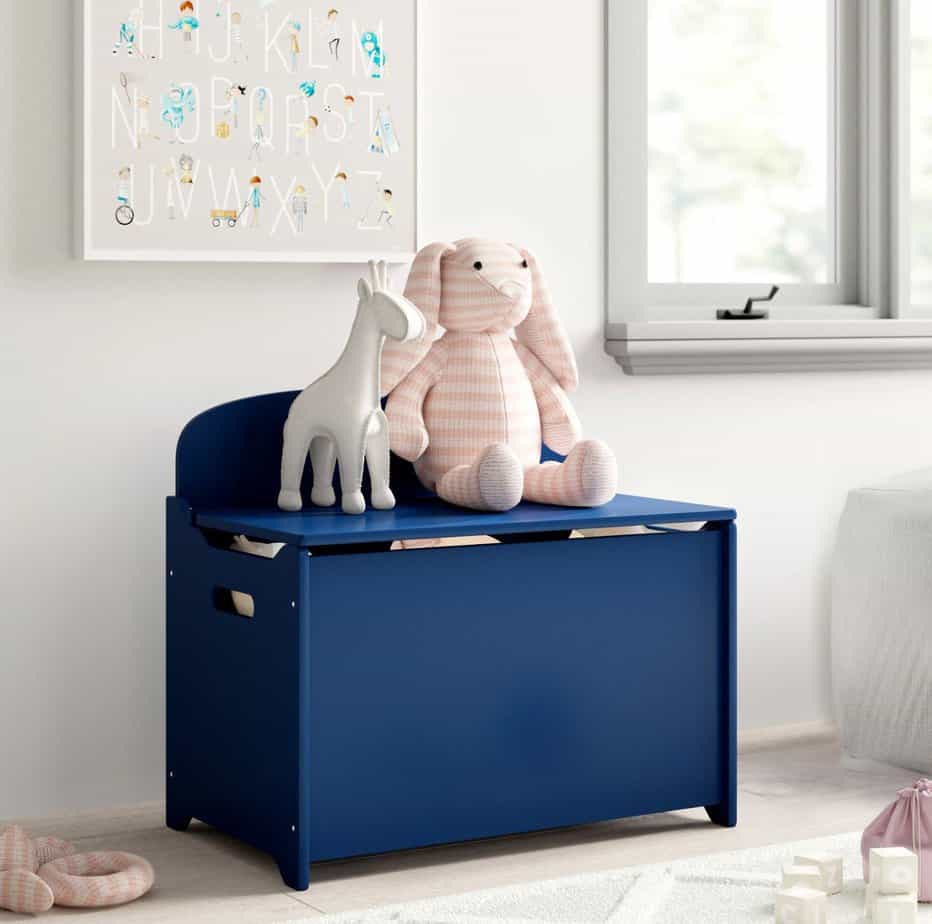 If you wanted a toy box that wasn't plain white or brown, but you don't want to paint it yourself, you might like this blue one. This one is fairly small, so it fits nicely into compact spaces. Since it is blue, I think it works well with a Toy Story theme. A cute idea would be to buy wooden stars and rocket ships to make this toy box all about Buzz Lightyear.
Not Crafty? Get These Premade Toy Story Decals to DIY Your Toy Chest
Let's be totally honest here: Not all of us are crafty. We all aren't inclined to paint or carve or draw, which is why wall decals are so great. You won't have to paint your own rendition of Woody or Rex, or Bo Peep; you can just use heavy-duty stickers to make up the bulk of your design! Let me show you what I mean.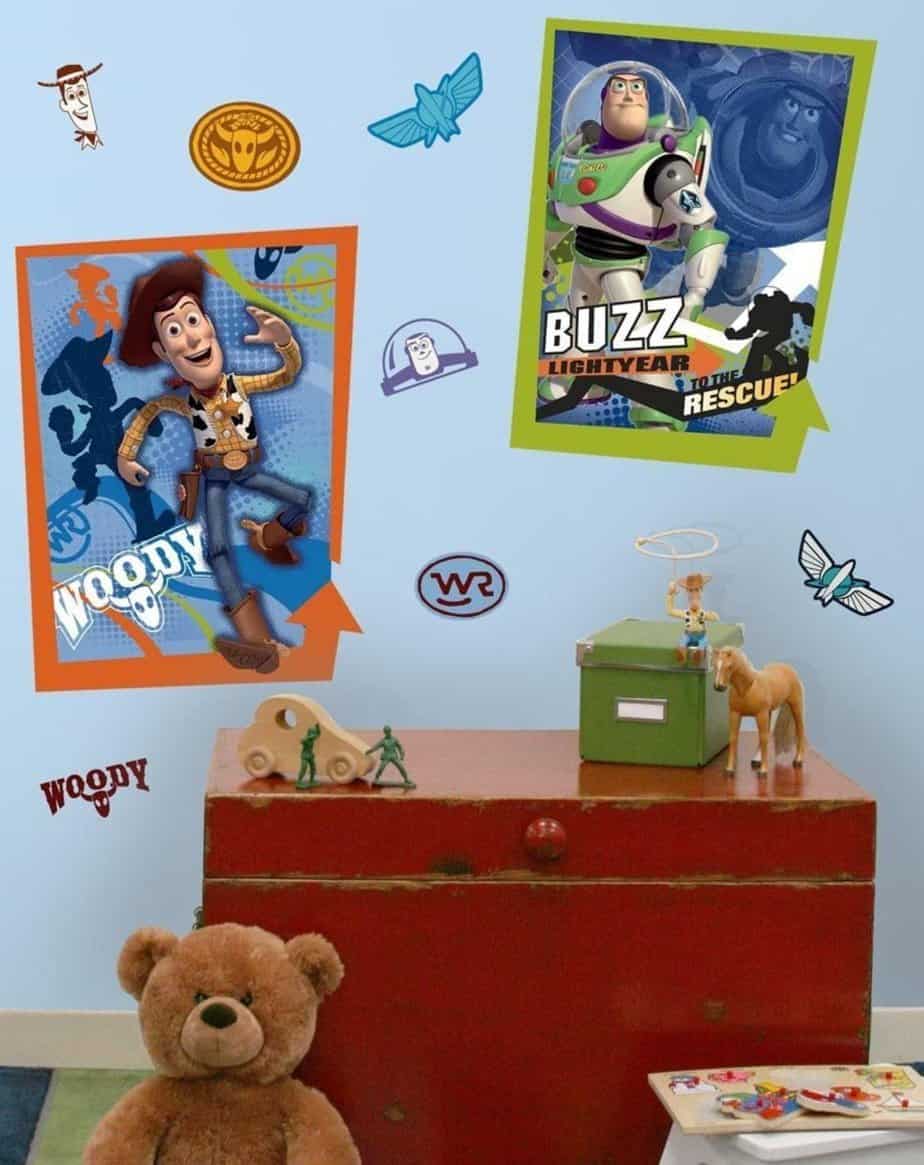 Toy Story 3 may not be the latest installment in the Toy Story franchise, but these wall decals still include most of the popular characters in Toy Story 4. I'm loving how big and bright these stickers are because my rule of thumb is: The more colorful, the better. With just how large these stickers are, you could easily cover a whole toy box with just this pack.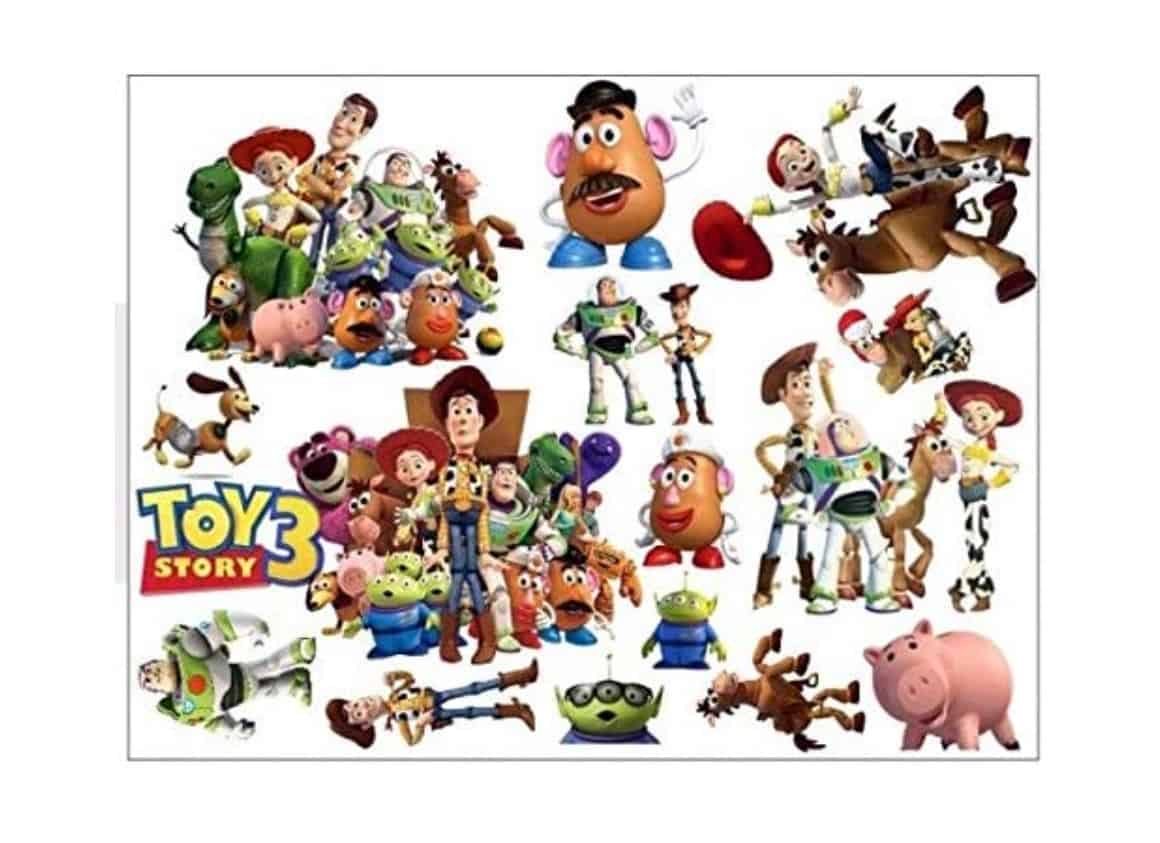 The whole gang's together on these ones! This is another sticker pack from Toy Story 3, which if you didn't know, was the highest-grossing animated film ever created until it was dethroned by Frozen. Every major character from Toy Story 3 can be found on these stickers, so if your kiddo is a big fan of the third movie, these stickers are a must.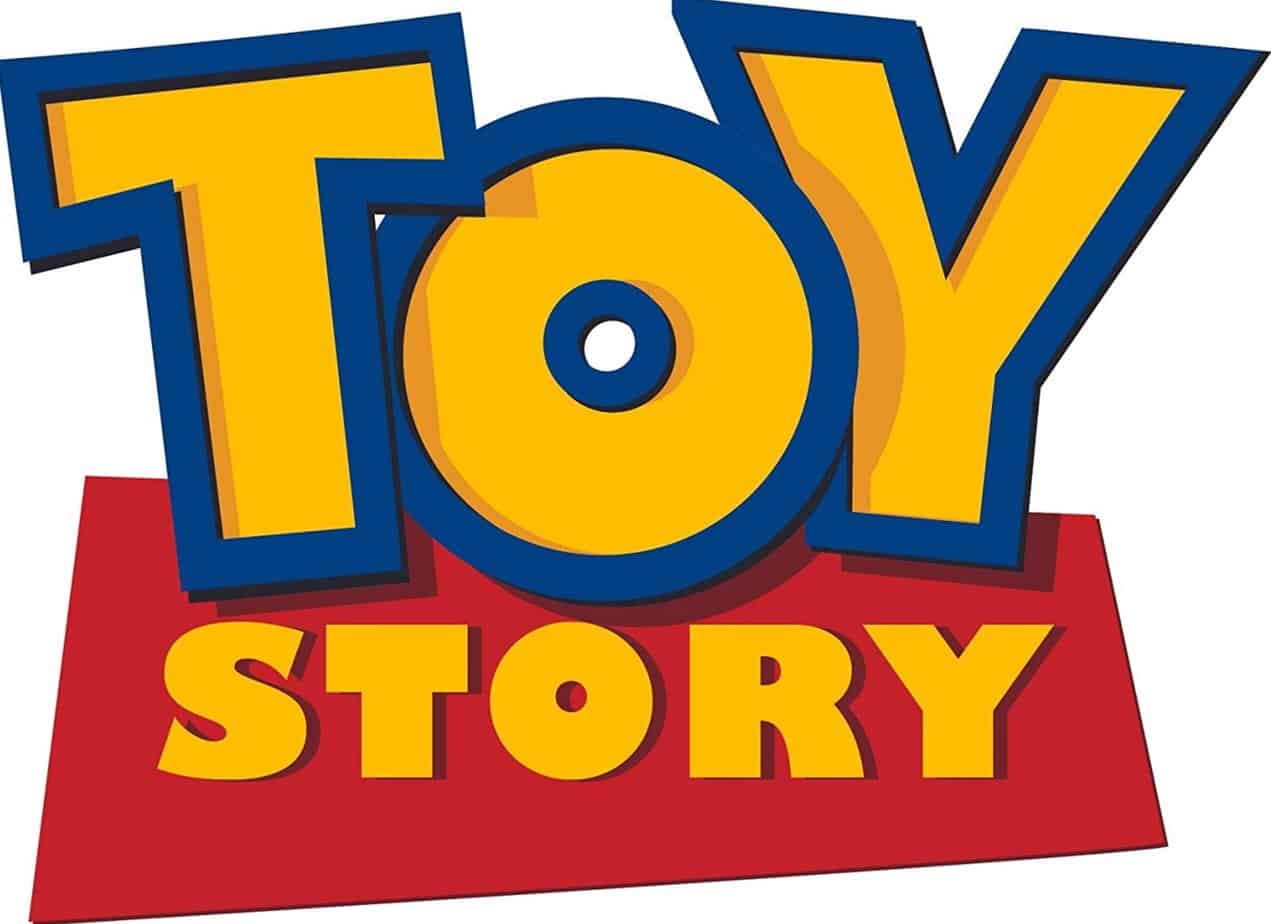 These are by far the most essential wall decals for your homemade Toy Story toy box. No matter what style you're going for, you've got to have the Toy Story logo in big letters somewhere. Also, I think it adds a unique personal touch to include your kid's name on their new toy box. With this decal, you'll get to have your kid's name stylized in Disney font letters.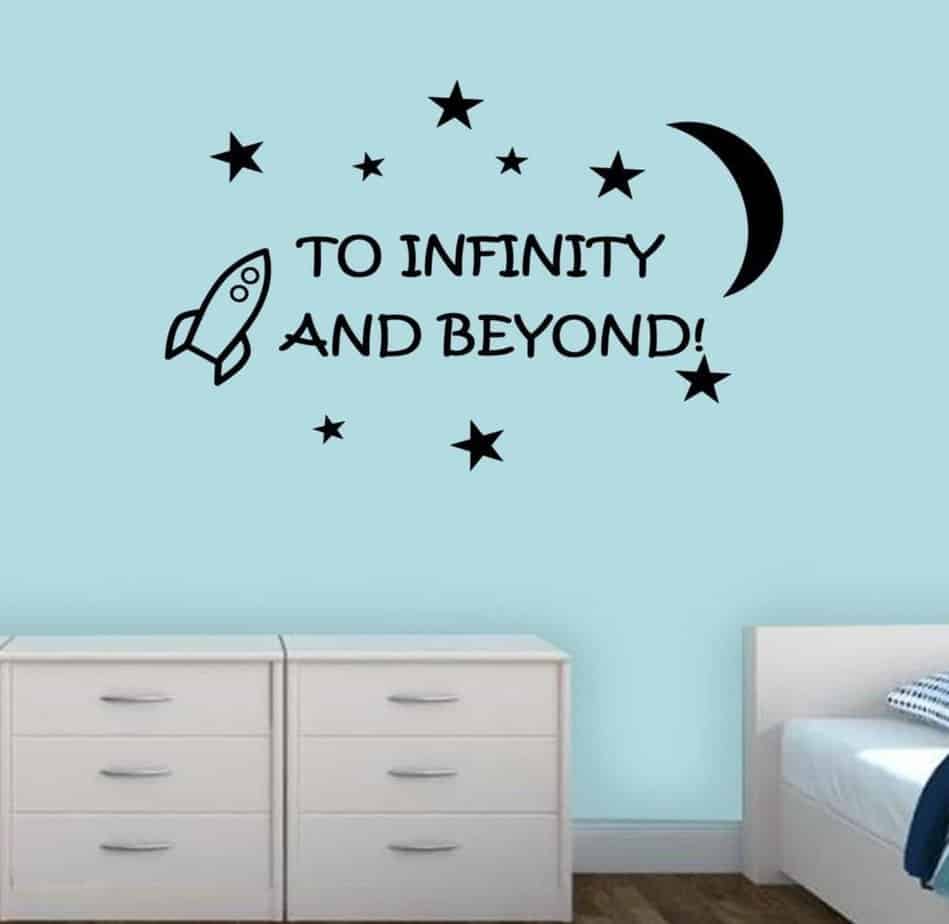 This is a must-have for Buzz Lightyear fans! Maybe you want to make the toy box just about Buzz and not about every Toy Story character. If that's the case, I'd buy these wall decals that say, "To Infinity and Beyond!" along with some others that feature Buzz, rocket ships, and stars. A neat idea would be to use the dark blue toy box in the section above as the base for your homemade astronaut-centric gift.
FAQ
Before you dash off to buy your own Toy Story toy box or customize one from home, I want to answer your most frequently asked toy-box-related questions.
Question: How Big Should a Toy Box Be?
Answer: That depends on how many toys your kid has. Is the toy box only for stuffed animals? A medium-sized toy box should be fine. Only for toy cars and related accessories? You probably only need a small one. Or do you want the toy box to hold all of your kid's non-electronic toys? That's going to require a bigger box. Decide what toys you want the toy box to hold, and then choose a size that best fits your and your child's needs.
Question: What's the Best Material for a Toy Box?
Answer: I would argue that wood is the best material for a toy box. Not only can wood last for decades (and sometimes centuries,) but it has a classic style to it. Wood is naturally homey, durable, and easy to paint.
Question: When Should I Get Rid of My Kid's Toy Box?
Answer: Honestly, that depends on the kid. Some kids are very attached to their toy box and the toys inside through middle school, while others will get bored of it long before then. When in doubt, I say it's best to ask your kid how they feel. They're going to feel hurt if you throw away something of theirs without warning.
To Infinity and Beyond!
It's time to set out on your own adventure, either choosing or creating the perfect Toy Story toy box for your little one. Take into account who their favorite characters are, their favorite colors, and what color scheme fits best with their room.
Let me know if you want to customize a toy box I've shown you or if you're going to buy one of the Toy Story toy boxes I reviewed above. But, honestly, I think one of the best options is the Disney/Pixar Toy Story 4 6-Bin Design and Toy Organizer for storage and design. For even more helpful toy guides, please come check out our website!
Continue reading:
Jessie from Toy Story Costume Ideas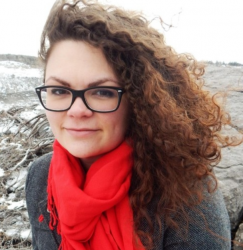 Latest posts by Candace Osmond
(see all)