Introduction
Captain America is a fan favorite within the Marvel universe. With hard work, bravery, and a little Super Soldier Serum, he rises from an underdog to the leader of the Avengers. He represents true goodness that is rarely found in the world. He is a favorite not only as the first Avenger but as one of the most morally uncompromising superheroes in the Marvel universe. He represents the ultimate leader with incredible endurance and a side of home-grown American charm. Captain America's shield shines like a beacon to the fandom, becoming one of Marvel's most iconic symbols. I have been a fan of Captain America since childhood. I often represent my love for the fandom through my clothing. I find it the best way to incorporate it into my everyday life. This allows some of the magic from the Marvel universe to seep into the mundane of the everyday!
Bottom Line Up Front
Overall, the best Captain America shirt is one that puts a smile on your face. For me, it's this one, Classic Cap Sweatshirt in Heather Gray! I love this sweatshirt because it's classic Captain America. It harkens back to the comic while also appealing to the Marvel film franchise fans! 
My Top Picks Up Front
These are my favorite picks for everyone in the family!
Top Tips to Help You Shop
Shop Small
Trying burgeoning small shops is always a great idea when looking for merch! I have found that they often have a fresh take on the fandom. That way, your awesome shirt won't be the same as everyone else's! To find these fun new shops, try checking out social media platforms like Instagram or TikTok. New shops often don't have huge marketing budgets to compete with companies like Disney. These new shops primarily rely upon social media and word of mouth to reach their customers. I've found that these small shops consistently have the best merch across all fandoms. They typically have a new take on the sometimes cheesy and typical merch found in big-box retailers.
Pick Great Fabrics
Be sure you choose fabrics that are both soft and durable. Some of the best options include cotton, cotton blends, linens, or synthetic fibers. For the summer heat, I always try to stick with 100% cotton or linen as they allow the most airflow to keep you cool! If you're looking for something to keep you warm, try synthetic fibers like Polyester.
Pick the Correct Type of Shirt for You
Short-Sleeve Cotton blends are great for casual summers. They come in various cotton blends that offer varying degrees of airflow.
Linen button-up shirts offer an elevated option for representing Captain America. Linen is a predominant fabric choice for warm, humid climates.
Sweatshirts are perfect if you're trying to stay warm and cozy! Whether that's all winter long or in a cold office setting! A classic hoodie is always a great option to rep your favorite fandoms. It never goes out of style and is a comfy wardrobe staple!
Long-sleeved shirts are an excellent option for transition months between the hot and cold. Wear them with a flannel to warm up during cool temperatures, or wear them with shorts to beat the heat!
If you want to opt for a more feminine shirt style, try a V-neck t-shirt. Most stores carrying licensed Captain America merchandise have a few options specifically for women. These items often have a V-shaped or scoop neckline. They also typically feature a cut-in at the waist for shaping.
A tank top is a great option to wear in the summer heat. There are many available for Captain America fans in both men's and women's cuts! Check out some great options in the links below!
Selection Criteria
Cost
Officially licensed merchandise can be costly. For merchandise to be licensed, the retailer typically must pay a large amount of money to whichever company holds the licensing rights to the character or universe. In Captain America's case, this company is Disney.
Try thinking outside the box to find good deals on licensed Captain America merchandise. Check out your local thrift store or watch for sales online. I've found that the best deals on licensed Marvel merch are often at Target or Kohls. These retailers typically clearance out their merchandise seasonally. You can generally score a great price on Disney-licensed merch after kids return to school in early September.
I've gathered some cost-effective options below, but sometimes the perfect shirt is worth the splurge!
Uniqueness
I love when I am wearing an understated fandom shirt, and I come across another fan out in public. It's like making an instant friend! If the shirt is understated, you know they're a true fan when their eyes light up seeing your shirt! If you know, you know- and if you don't you don't! Plus, minimalistic fan merch is a current trend taking many fandoms by storm. It allows you to rep your favorites in your everyday style.
It gets a bit stale seeing the same Captain America shield shirt repeatedly. While it is a classic, it is a little overdone. I love finding merch to wear with more of an artist's touch. You can often find gems like this at small shops! 
Product Recommendations
I personally adore the vintage look of this t-shirt. It is officially licensed merchandise and provides a fun take on the classic Captain America star look. It reminds me of Steve's time in the army as a private before his encounter with Super Soldier Serum and promotion to Captain.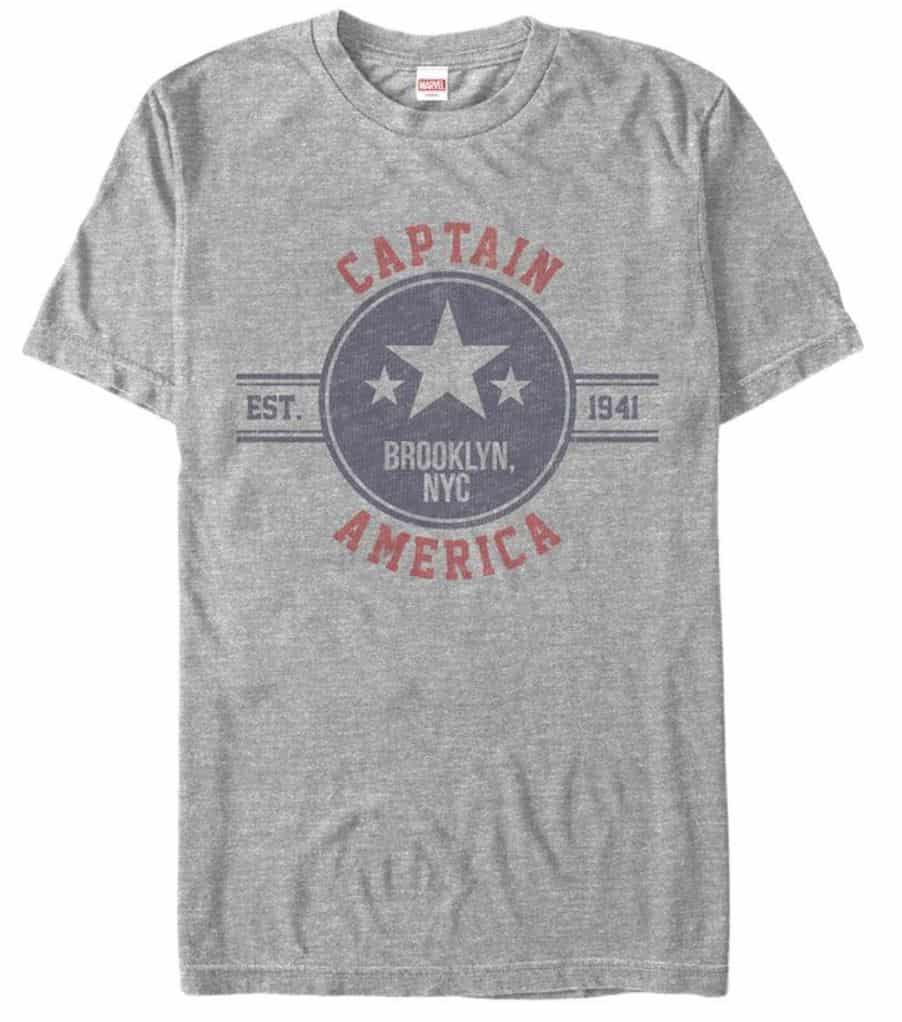 This t-shirt delivers classic Cap vibes. It features a varsity font and Captain America's shield. The minimalistic approach to fan merch is on full display with this t-shirt!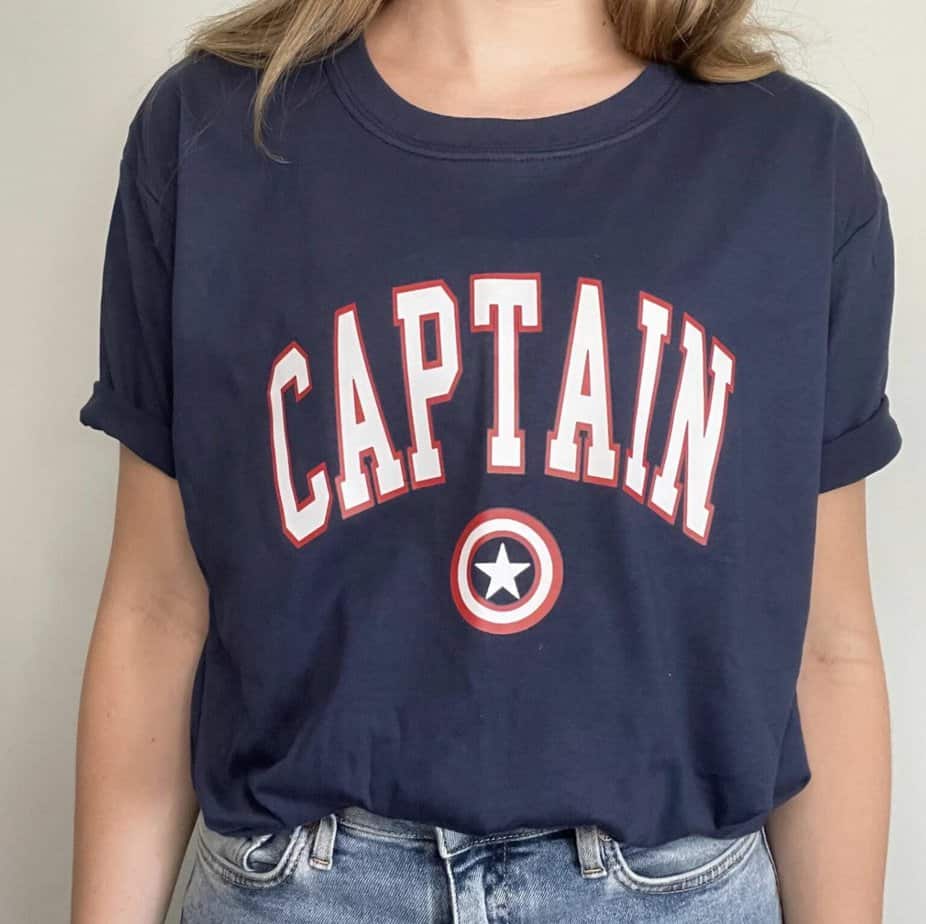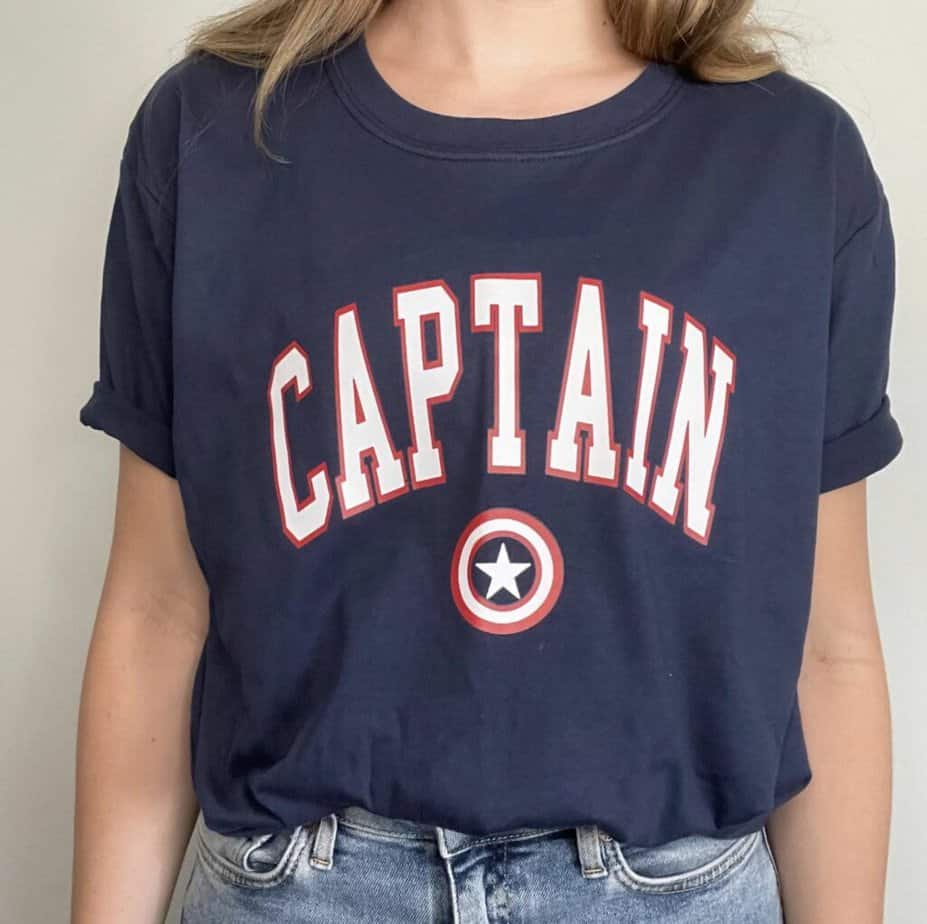 This epic understated t-shirt will show your love and understanding of the fandom. Featuring both Captain America and Bucky Barnes, this t-shirt delivers not only fan affiliation but also style. In my opinion, it highlights the best friendship in the entire Marvel Universe – Bucky and Steve! The quote "Until the end of the line" is sure to warm the heart of many Captain America fans and remind them of the value of loyalty and friendship.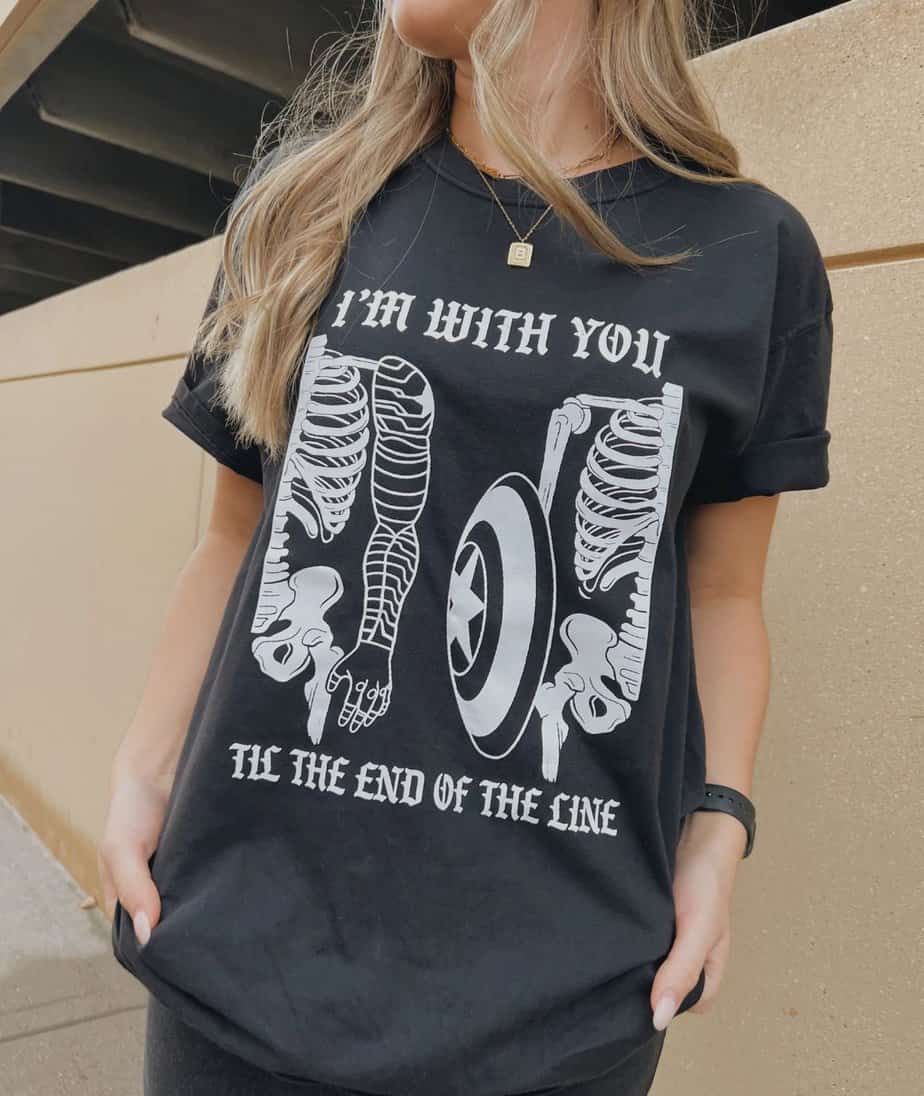 This shirt offers a different take on the typical Captain America shield t-shirt. Instead of just printing an image of Cap's shield in the center of the shirt, this t-shirt illustrates the progression of shields through the years. This is one of my favorites because it includes nuances of the fandom that aren't in the Marvel films.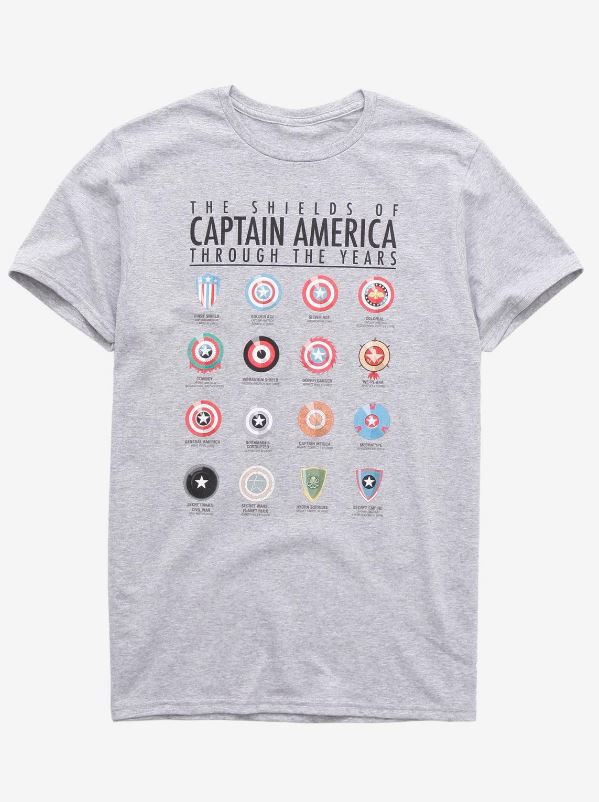 Dress up your fandom love with this unique Captain America button-up shirt. Sometimes you want to rep your favorites but wearing a t-shirt is a little too casual. This button-up Marvel-licensed shirt is the answer to that problem! It is patriotic in its red, white, and blue flag display alongside Captain America. I always buy shirts like this for my husband to look nice while also wearing merch for his favorites!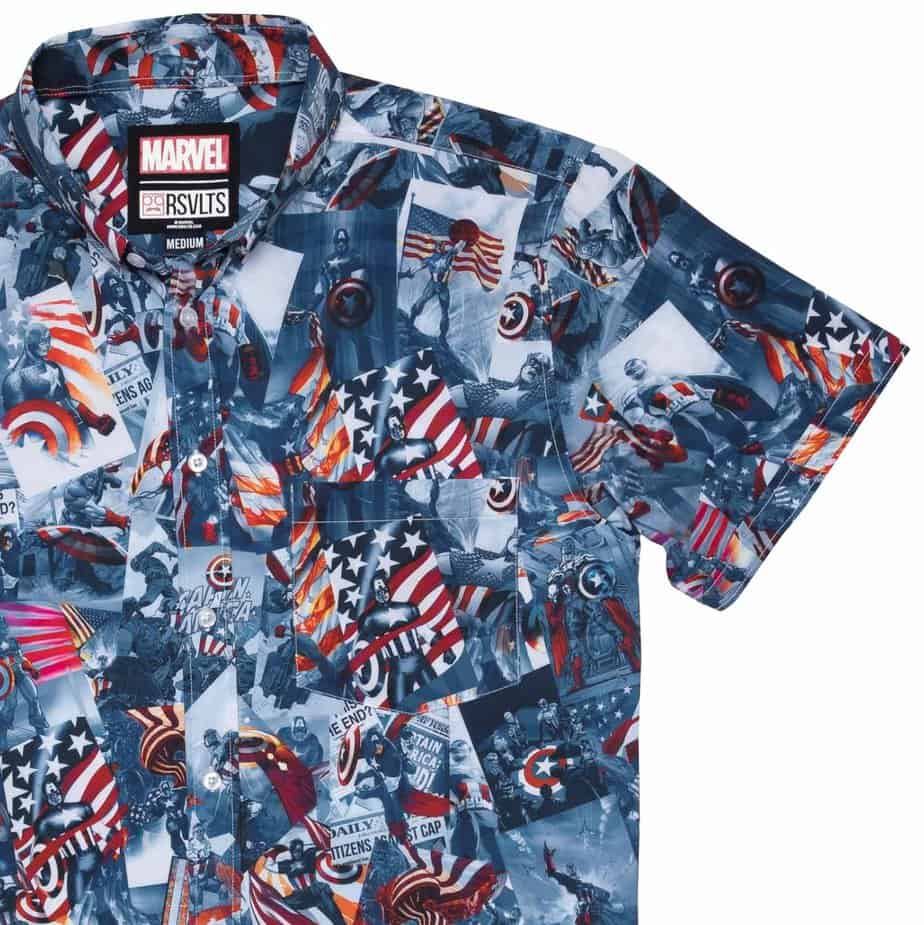 Want a more understated button-up? This one from RSVLTS is perfect! It features a subtle nod to Captain America's shield design. The firework pattern would be perfect for the Fourth of July!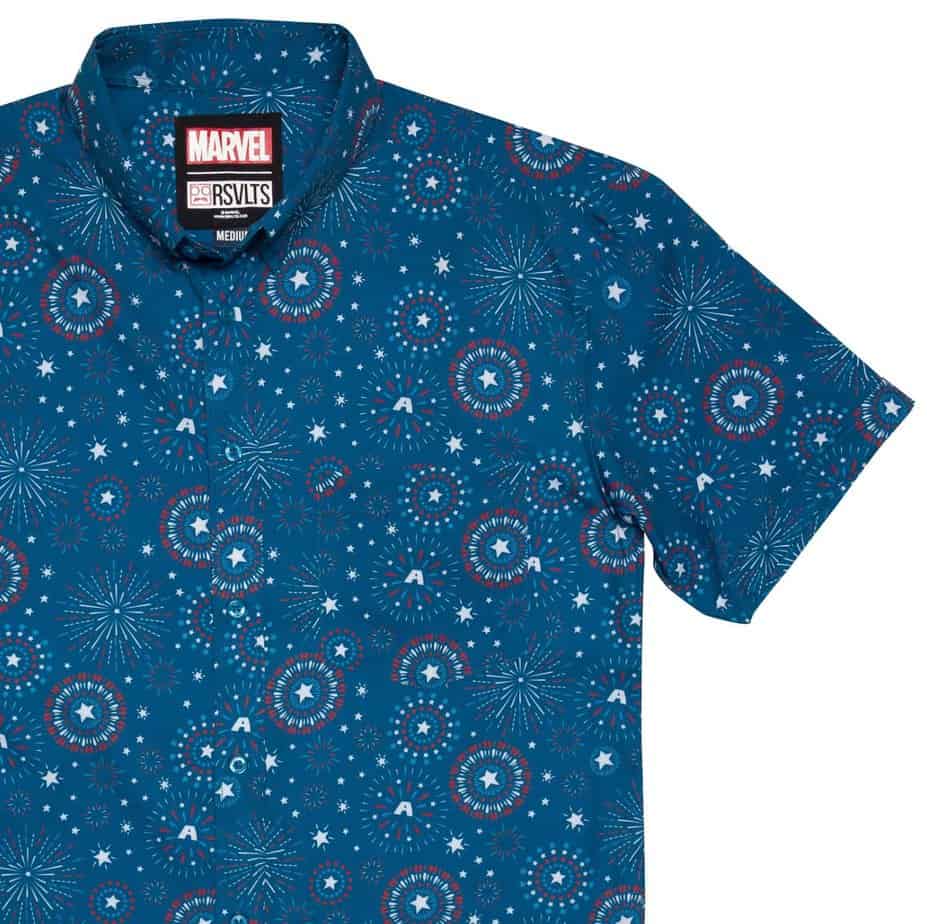 This shirt is perfect for those who love Bucky Barnes teamed up with Captain America. This shirt features not only our favorite Captain America on the front but also highlights a comic strip scene on the back between our favorite BFFs, Bucky and Steve!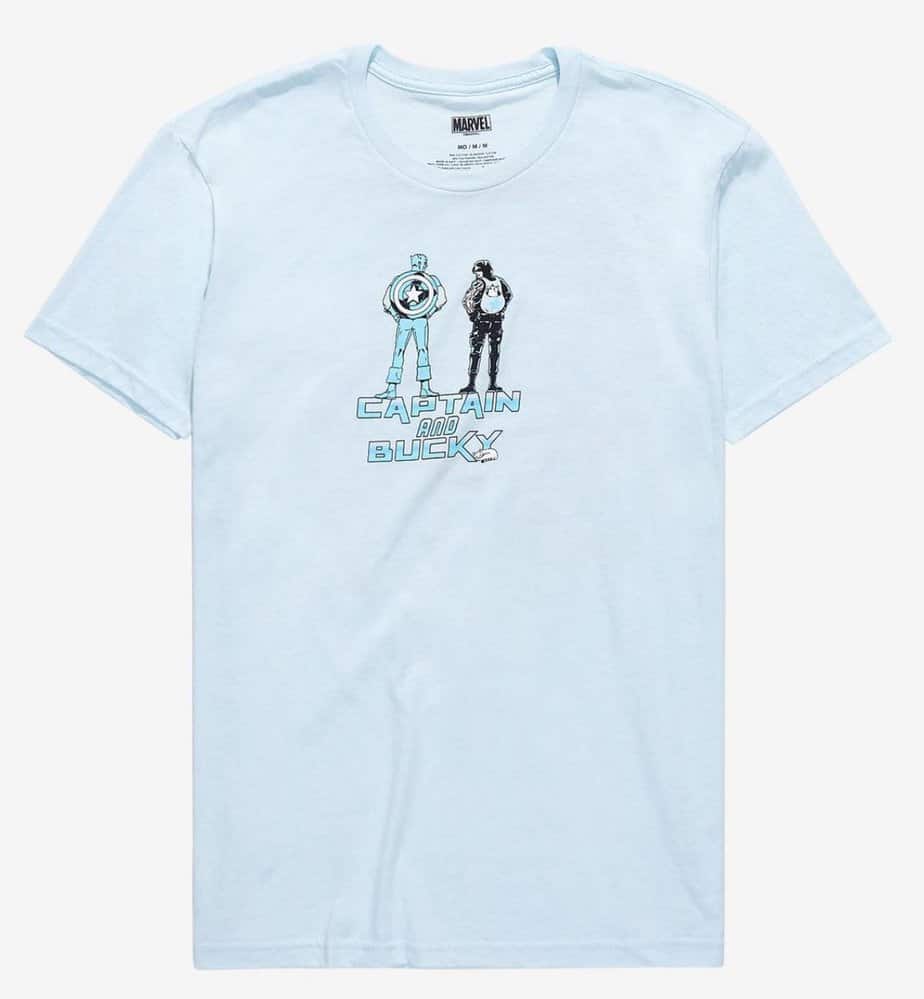 For a classic take on Captain America from the beloved Comics, try this T-shirt from Box Lunch! It features the Captain America we all love from the comics.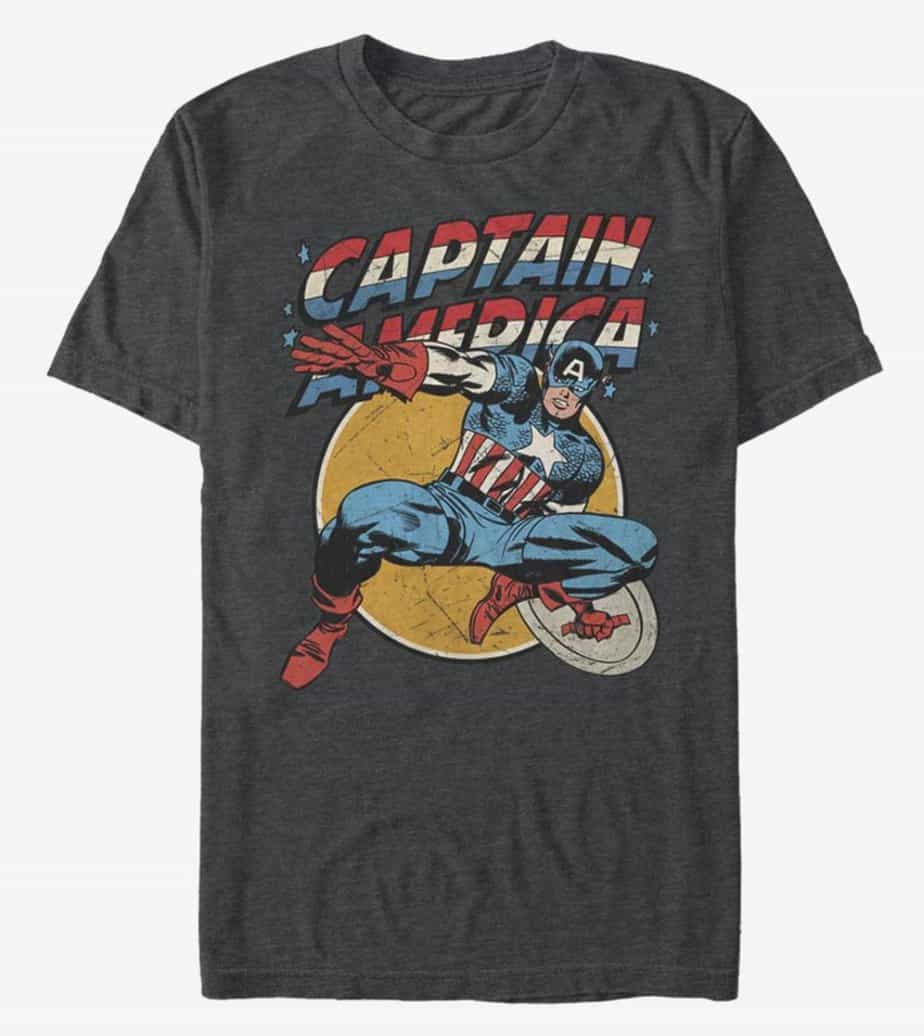 This floral Captain America shield sweatshirt is a great way to add some femininity to your Marvel merch! When shopping for girls, I always try to look for designs that are outside the box and add a little girly flair!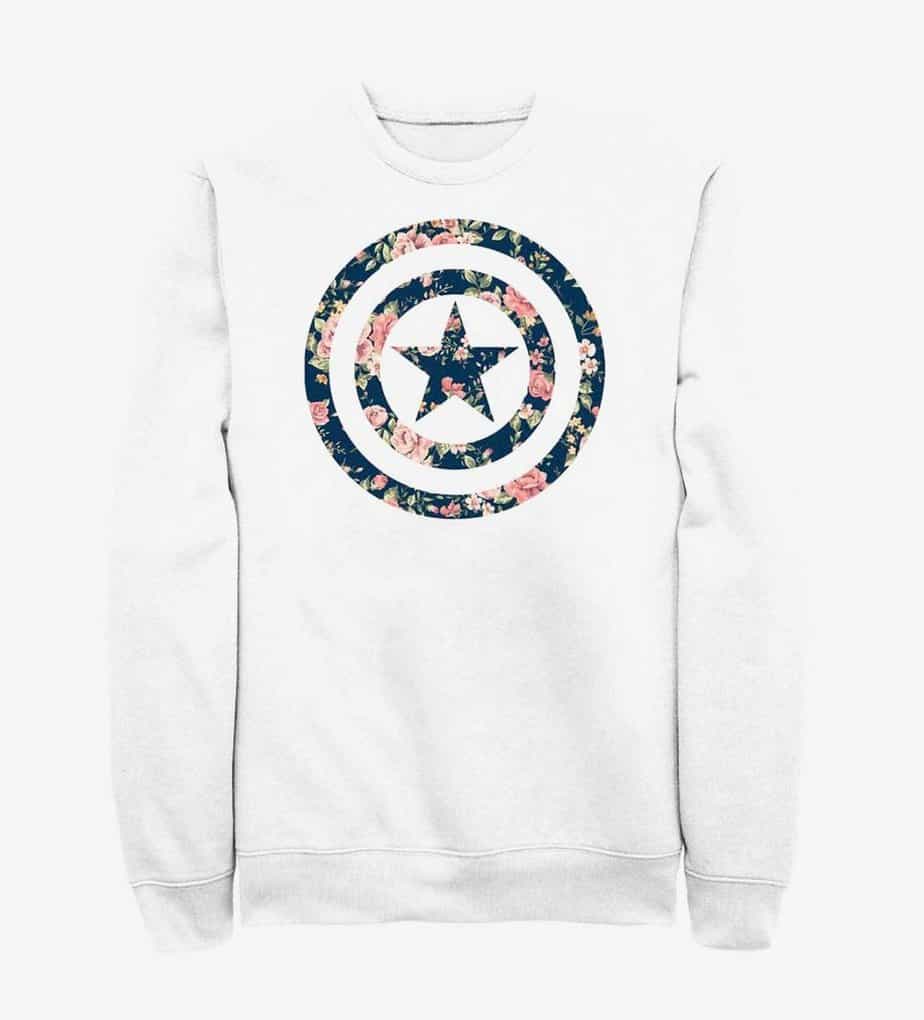 This kid's classic Captain America shirt is unique in its outline-drawn look. I would recommend this t-shirt for boys or girls! It is composed of neutral colors that would match most outfits.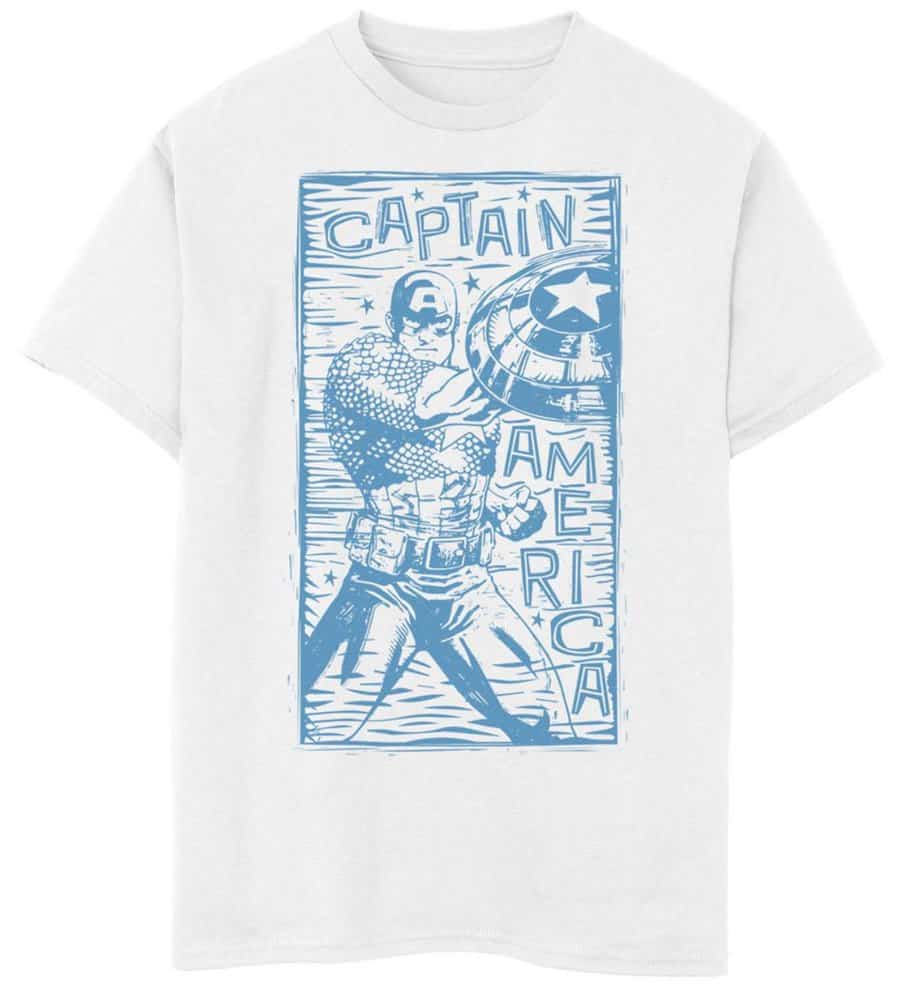 This hoodie would be great for boys or girls to show their love for Captain America in the cooler months! It has a classic Captain America design with a star background. It is officially licensed merchandise and sold through the Shop Disney website. This makes it perfect for gifting as it is from Disney directly.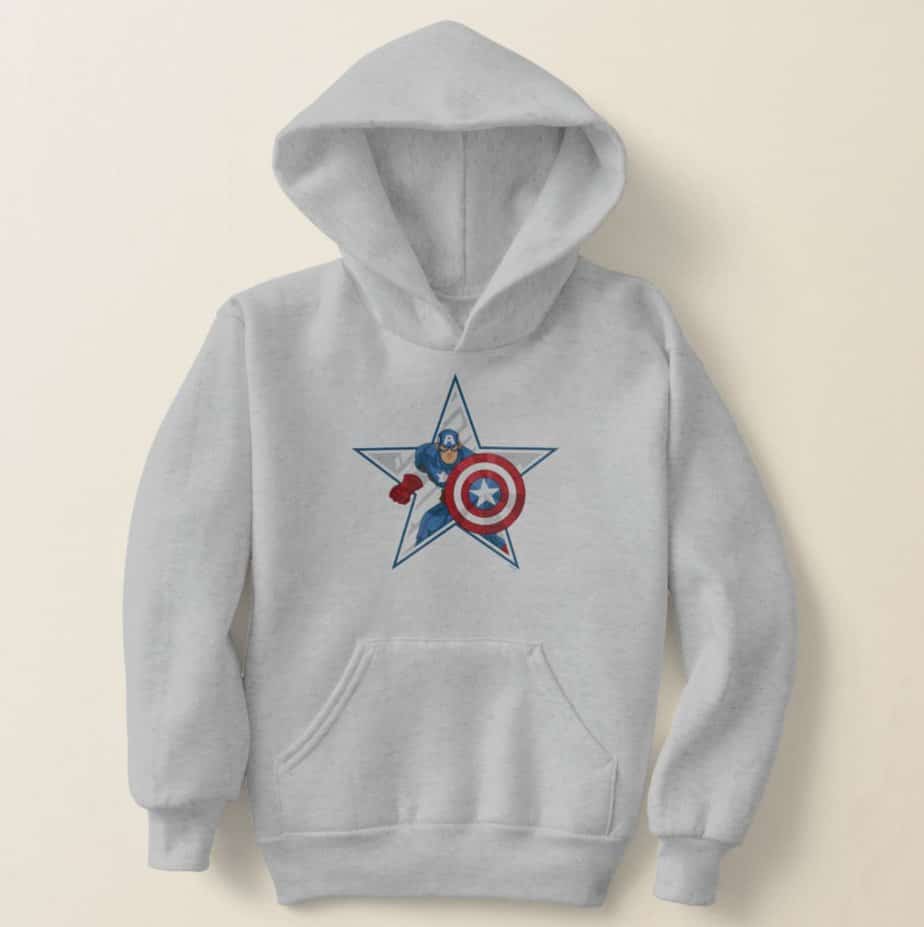 This adult t-shirt from PacSun features Captain America on his Harley Davidson with a vintage flair. I would pick this t-shirt for its top quality and design.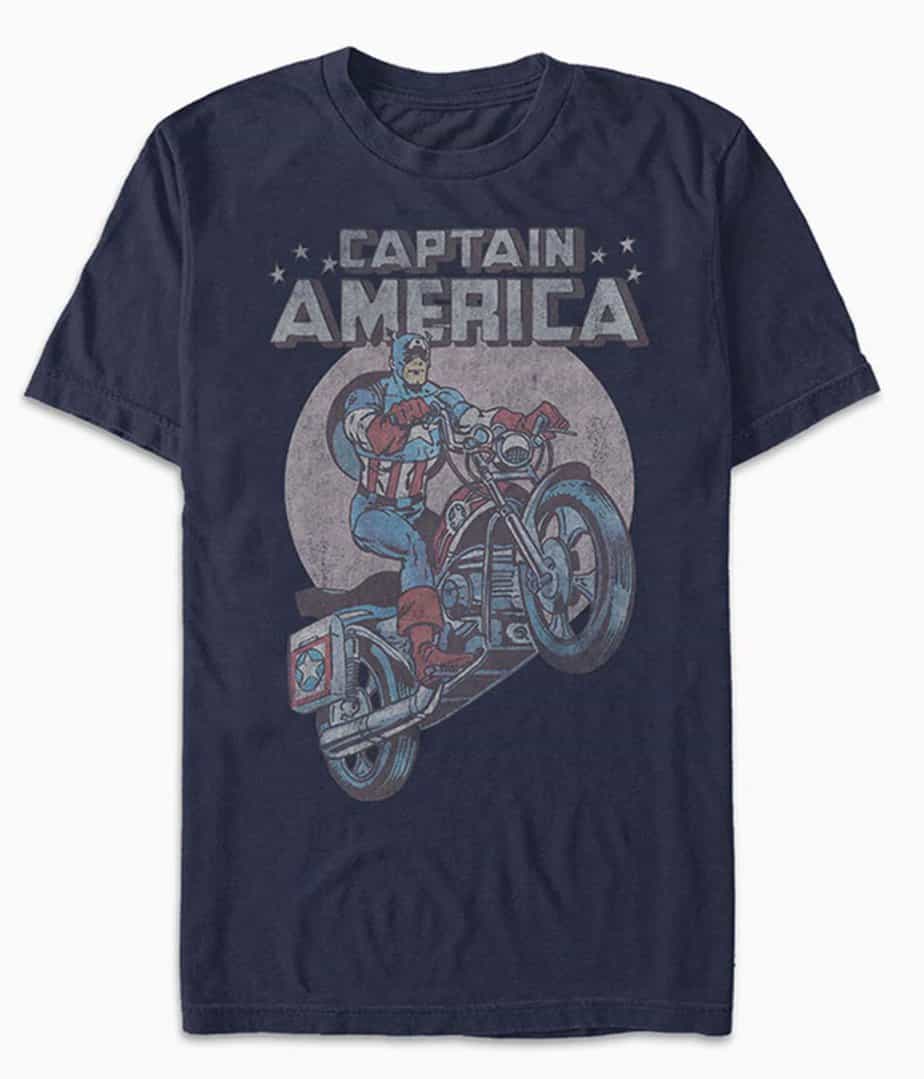 For the kids who feel the need to share their fandom with the family at Christmas time, this sweater is perfect! I love that it gives off that ugly Christmas Sweater feels while being adorable!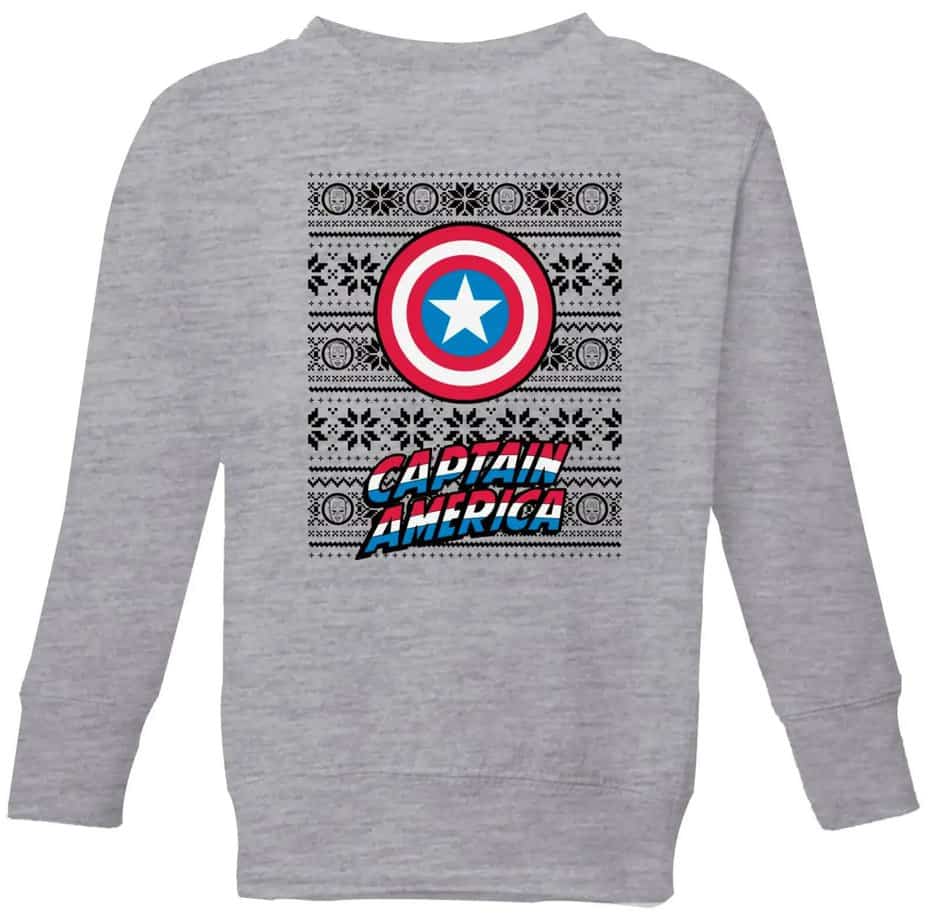 I adore the soft vintage look of this t-shirt from Target. My favorite thing about it is its size range! I love finding shirts that come in a wide range of sizes. This shirt would be perfect for the whole family to match!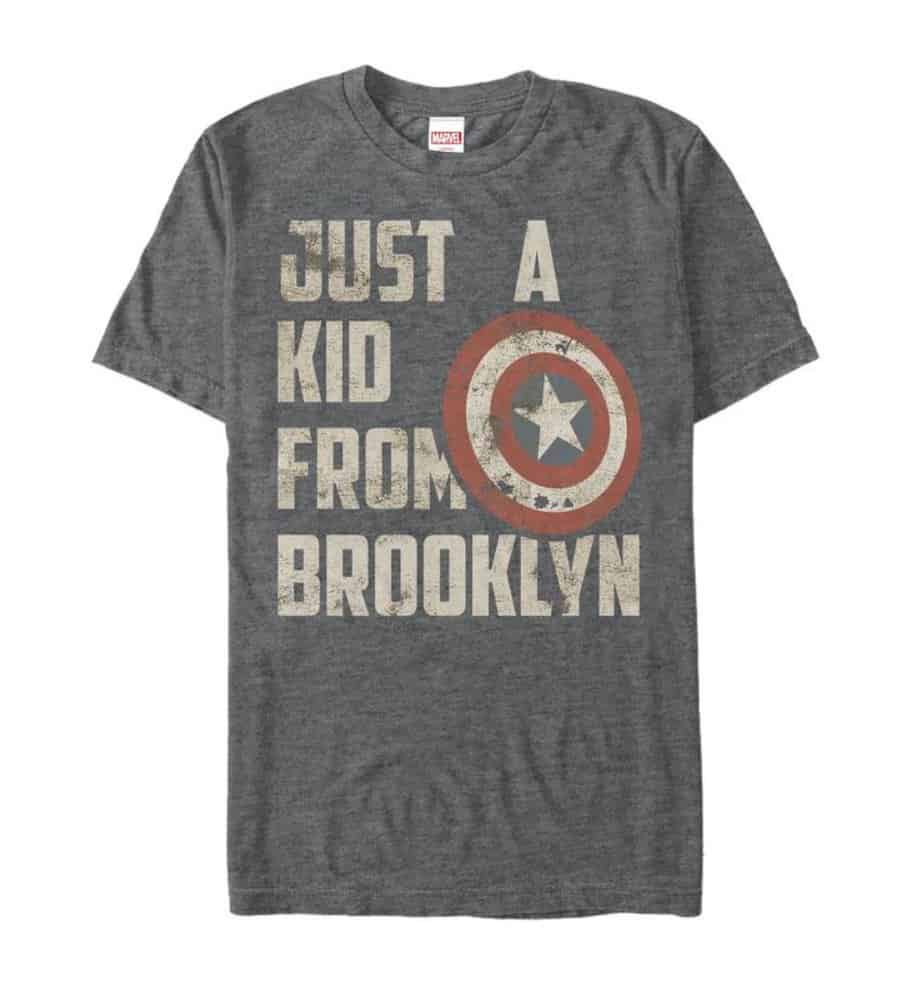 I love that this t-shirt pays homage to Captain America's real name- Steven Rogers. It is subtle and stylish in its varsity vintage look. Its minimalistic design makes it perfect for everyday wear.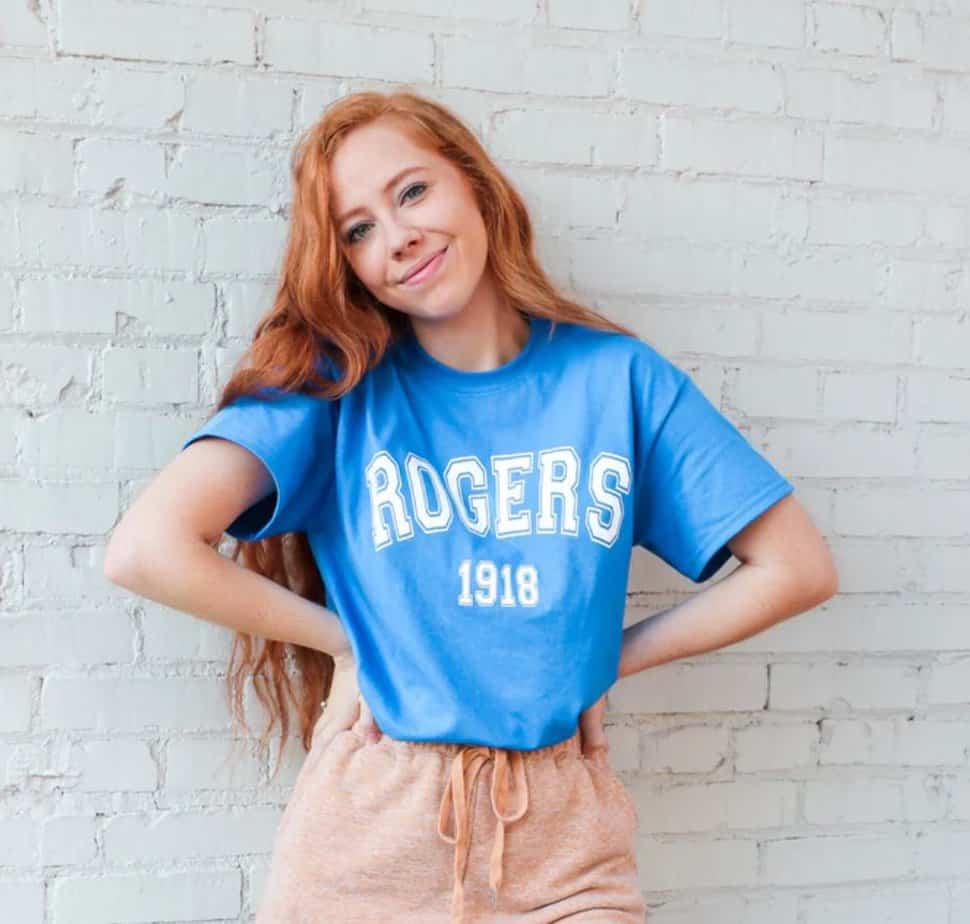 This t-shirt is my favorite that is a traditional women's cut! It has cute cap sleeves and cuts in at the waist for a feminine silhouette.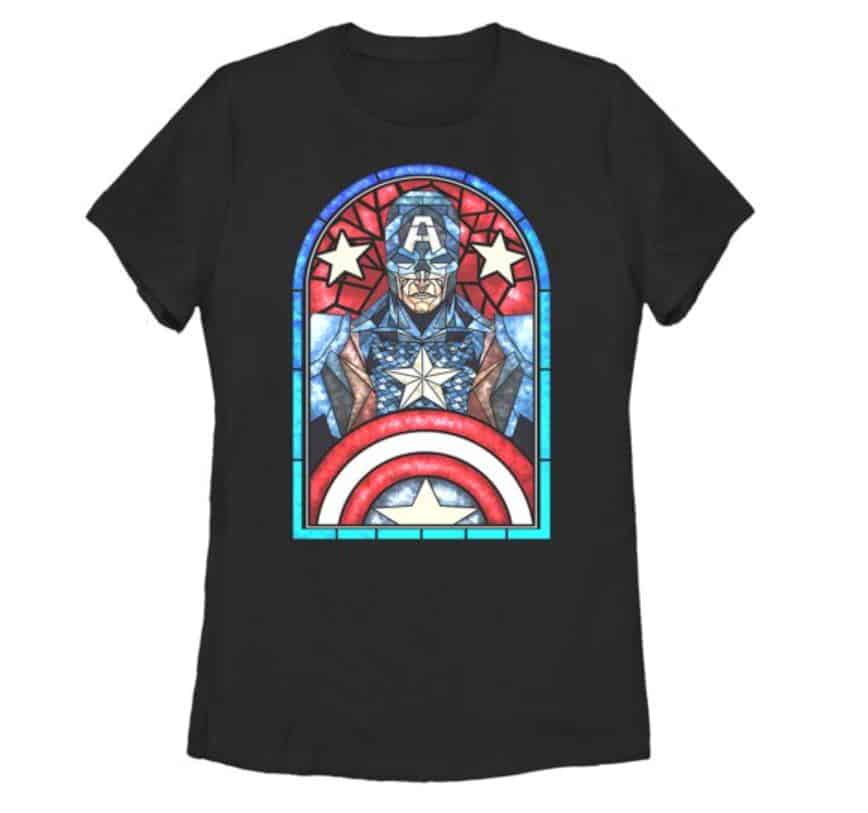 In my opinion, this shirt is perfect for Summer. Its tie-dye shield design in red, white, and blue represents Captain America and screams summer fun!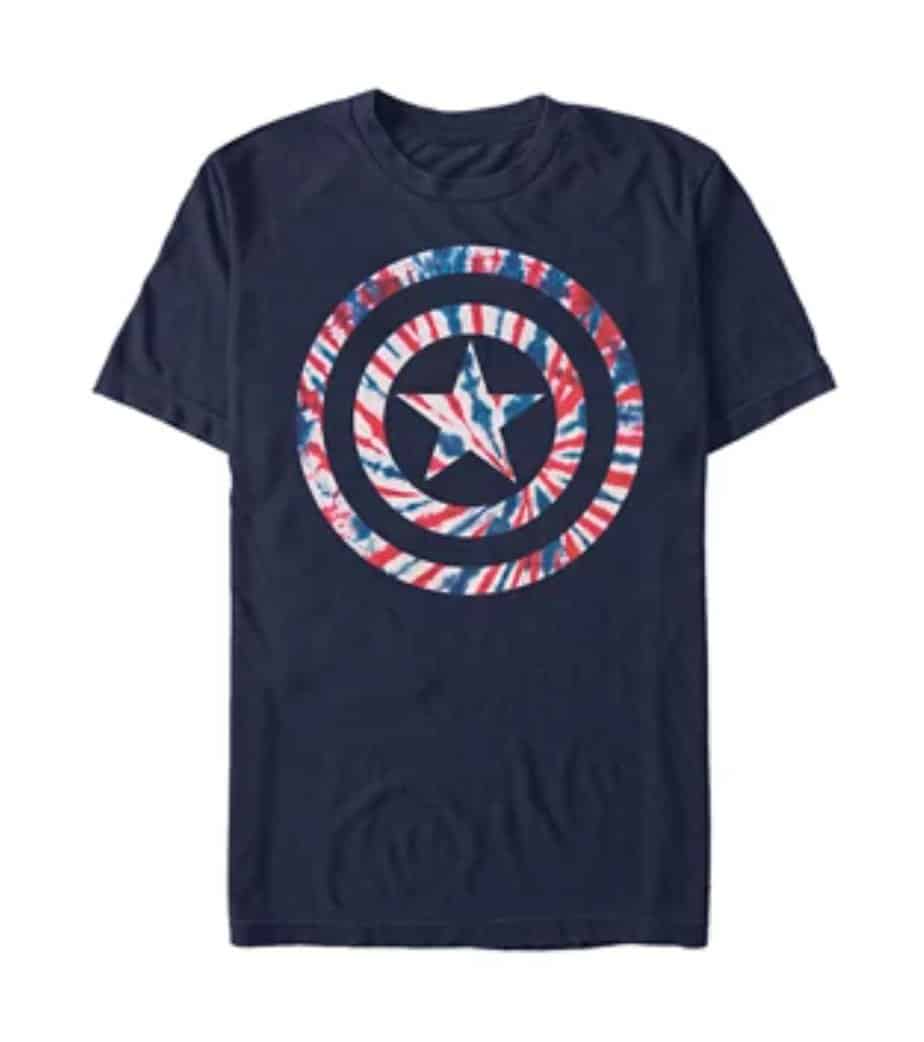 Perfect for men or women, this is my favorite tank top for Captain America's fans. It features the classic symbol for Cap, his shield!
 When I first saw this shirt, I literally laughed out loud. It is perfect for any Captain America fan with a great sense of humor. I am ordering this one for myself!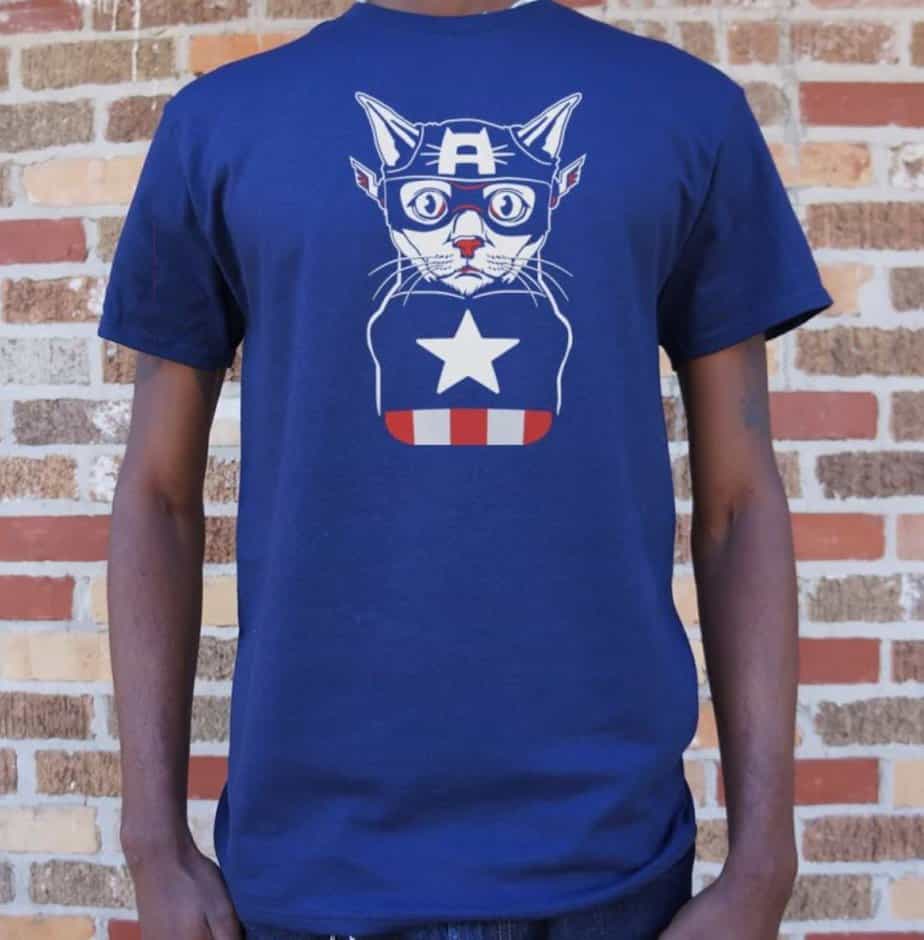 This T-shirt features the clash between the ultimate archenemy, The Red Skull, and our favorites, Captain America and Bucky Barnes. It features their costume and design from the comics instead of the Marvel films.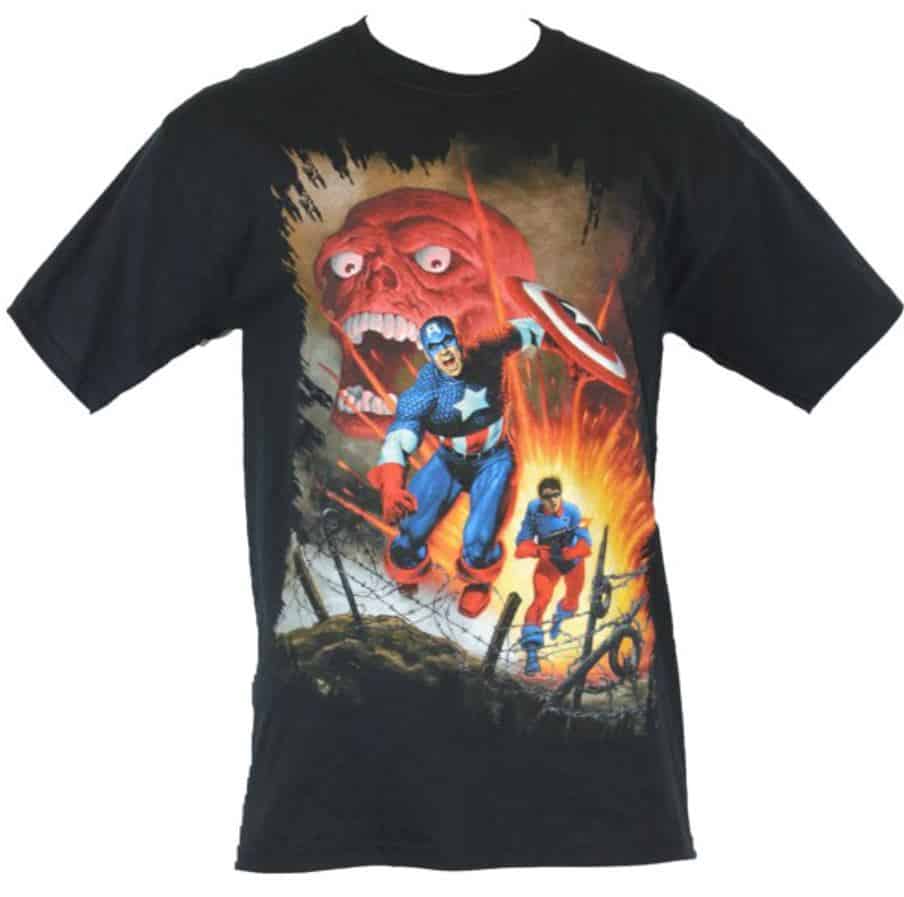 As a new era of Captain America shifts from Steve Rogers to Sam Wilson, this shirt is perfect for showing your love for The Falcon.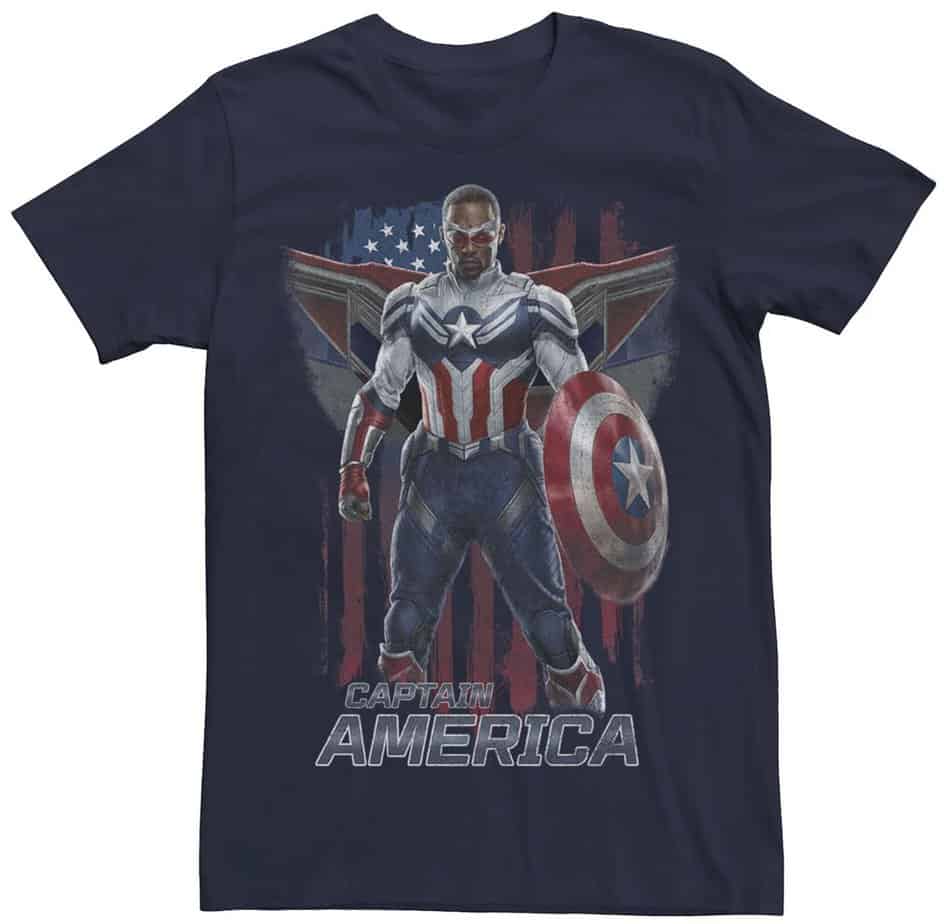 This T-shirt harkens to Sam Wilson as the successor to Steve Roger's Captain America. I can think of no better man to carry the Vibranium shield of Captain America.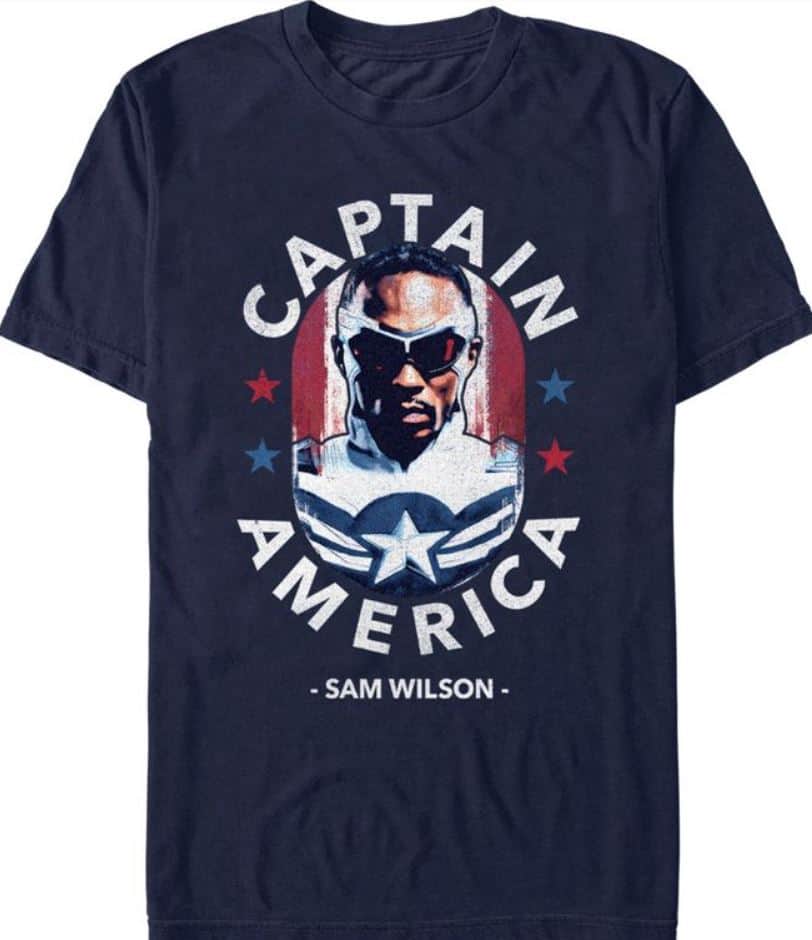 This T-shirt features not only Captain America but his fellow Avengers as well in a classic comic front style.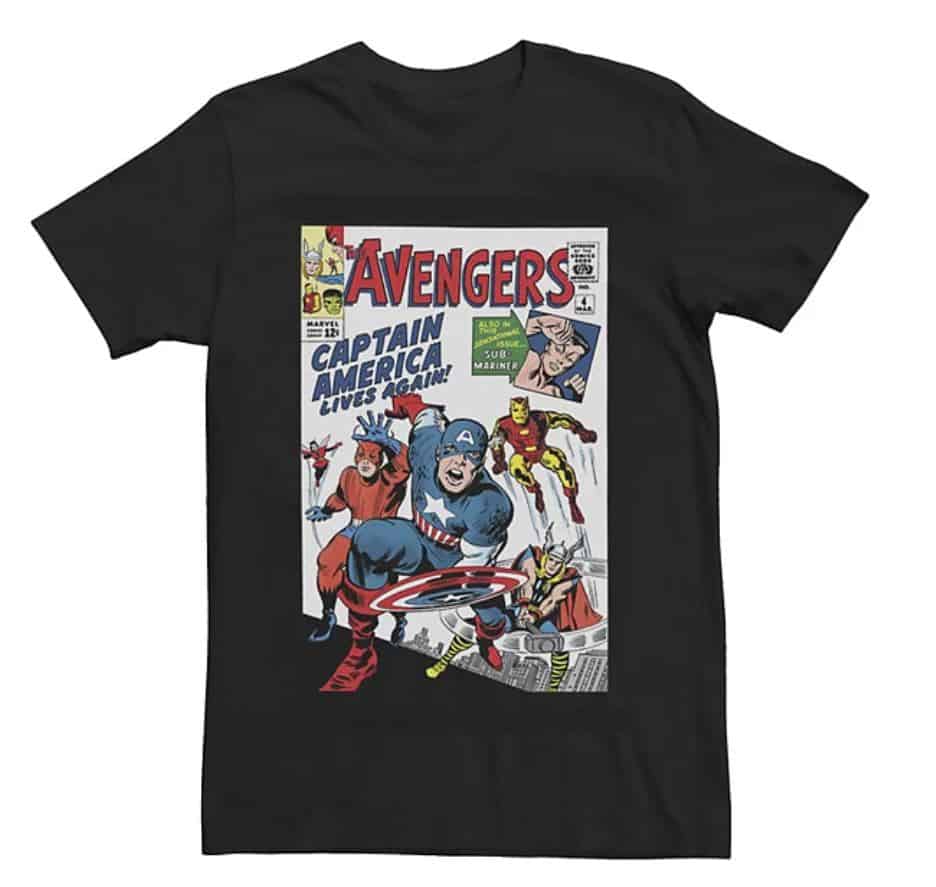 This Marvel shirt reps Iron Man, Black Panther, Captain America, Hulk, Thor, Hawkeye, Black Widow, and Wasp- all in their classic comic designs.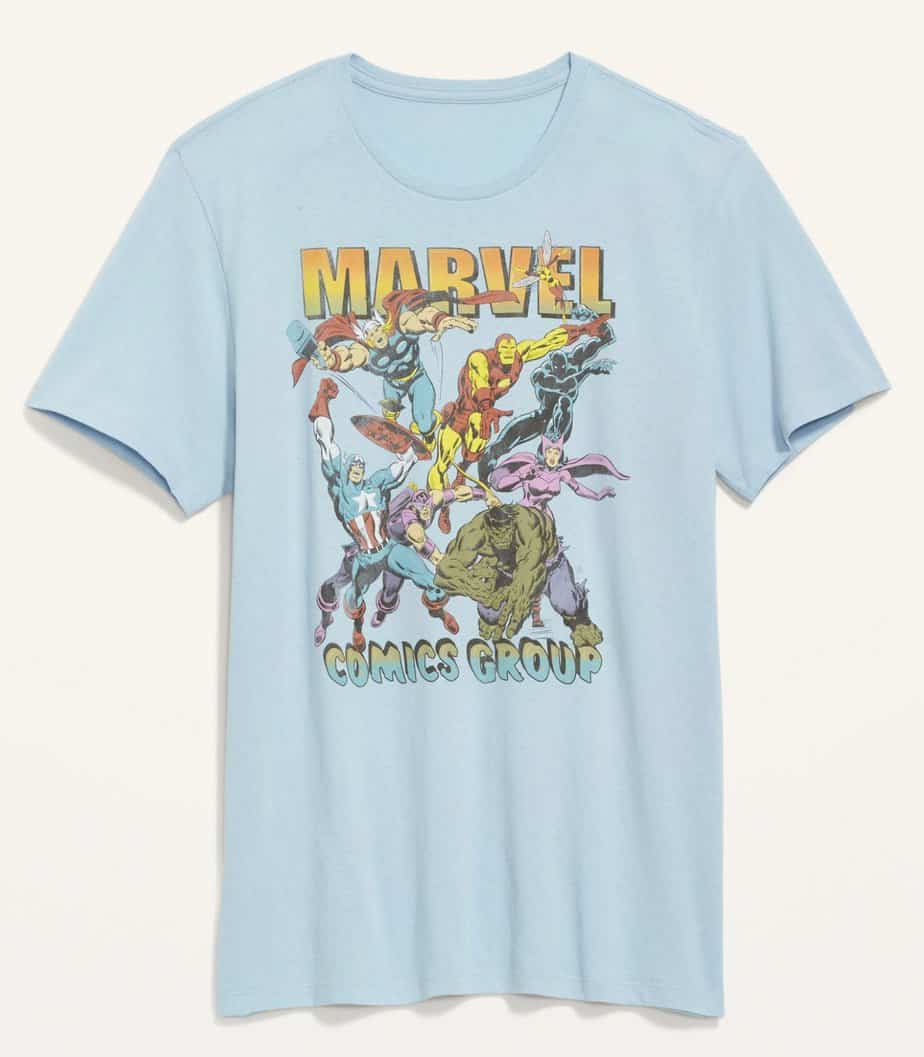 Who is Steve Rogers without his Peggy? This simplistic design pays homage to Cap's love interest, Peggy Carter. Carter is a wonderful representation of a strong woman who takes the lead in many situations. She is a true match for the leadership qualities Captain America portrays. I always wish they would have had more time together.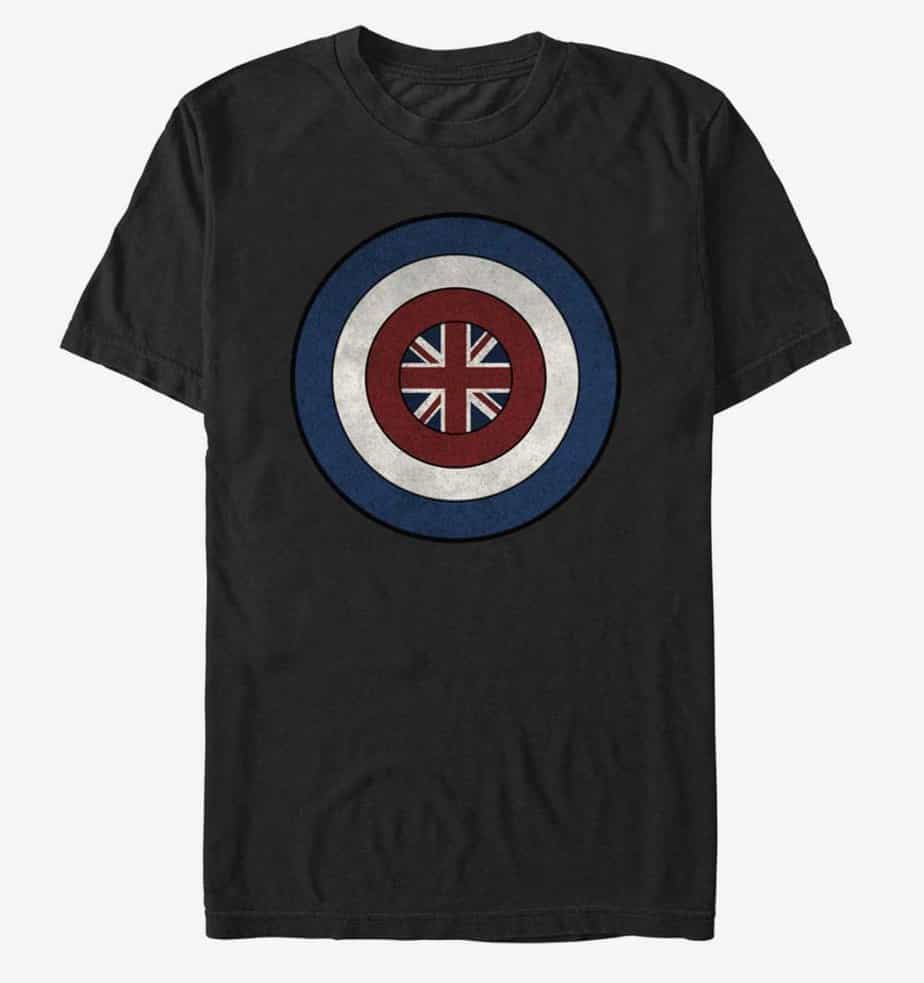 As the leader of the Avengers, it is Captain America's job to call "Avengers Assemble!" This long sleeve T highlights Cap's best tag line from the comics but also represents his fellow Avengers on the sleeves!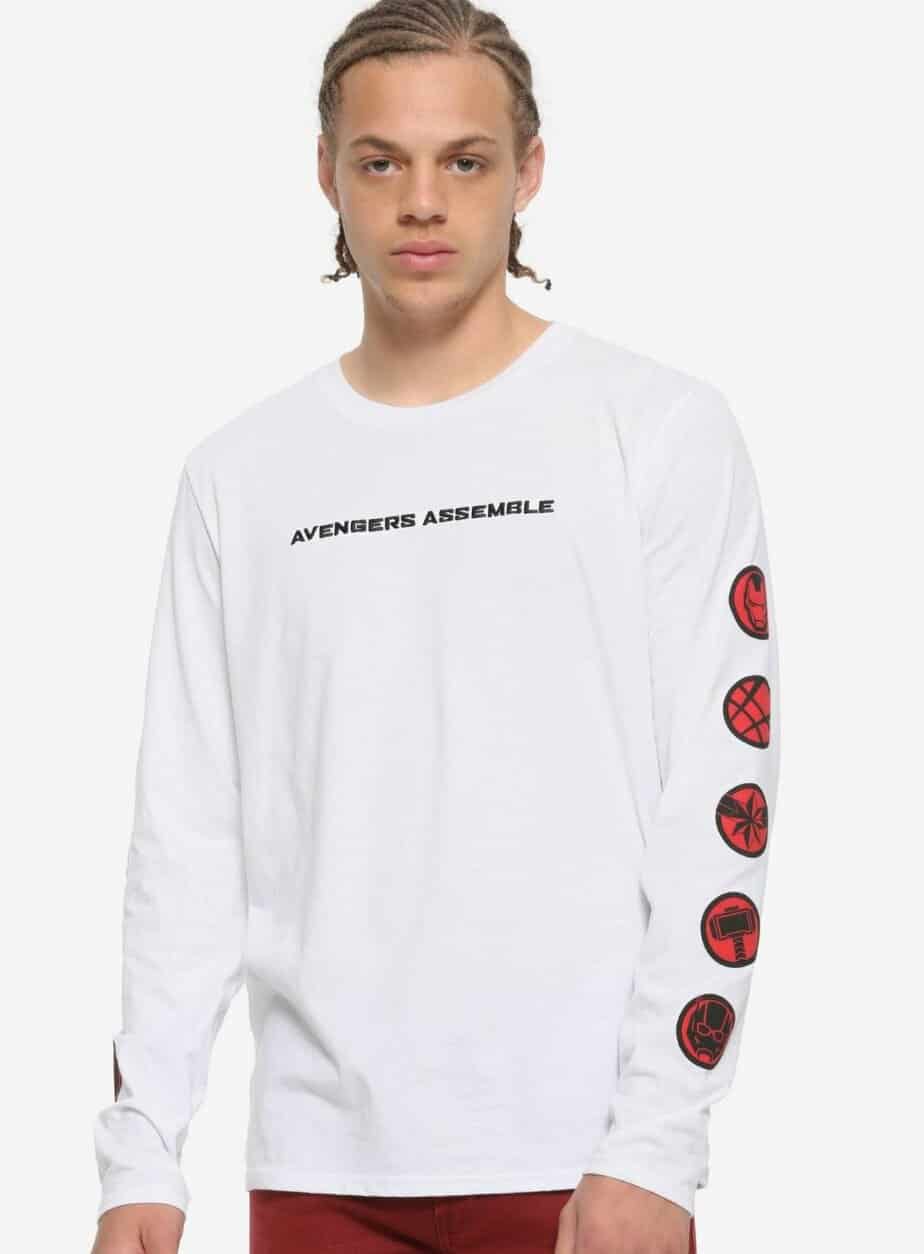 This T-shirt brings the gang all together. As the shirt says, it is for "More than just a fan."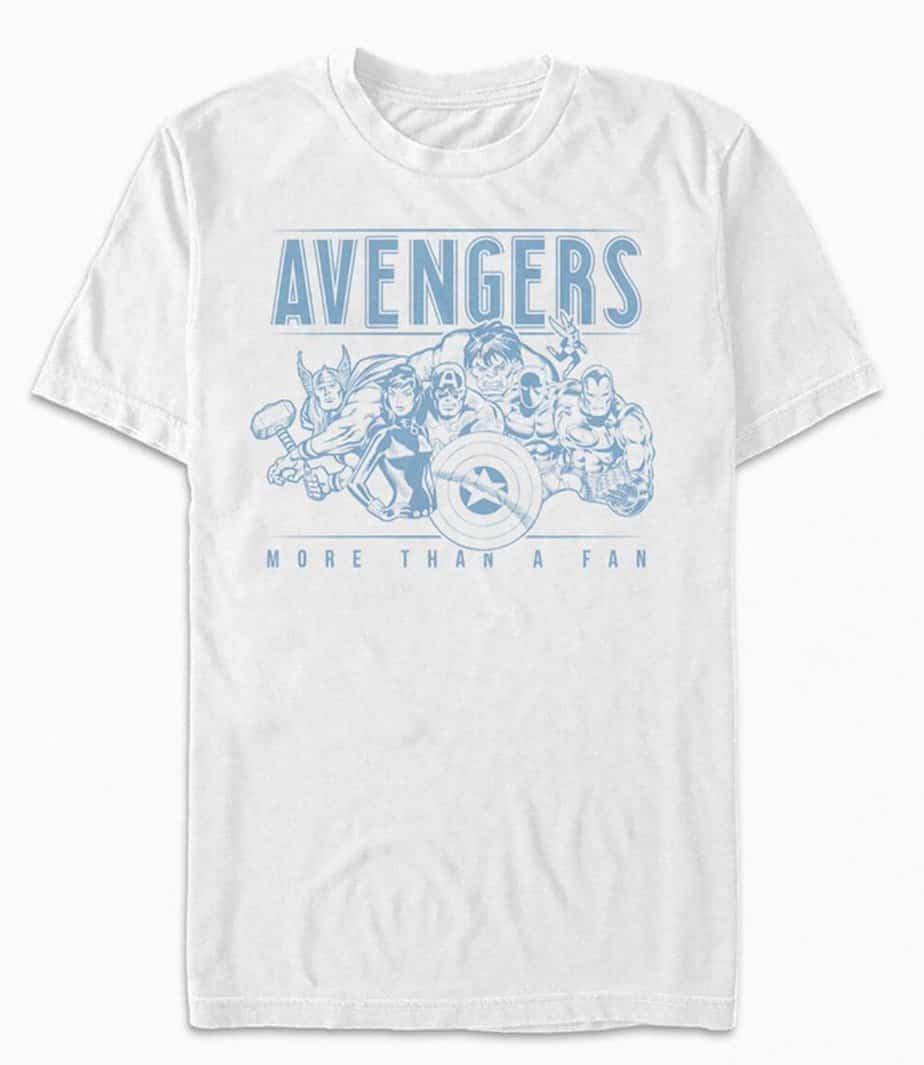 In classic Marvel type font, this shirt hints at some of the predominant members of the Avengers. In their comic styles, it illustrates Iron Man, Captain America, Hulk, Thor, Black Panther, and Black Widow.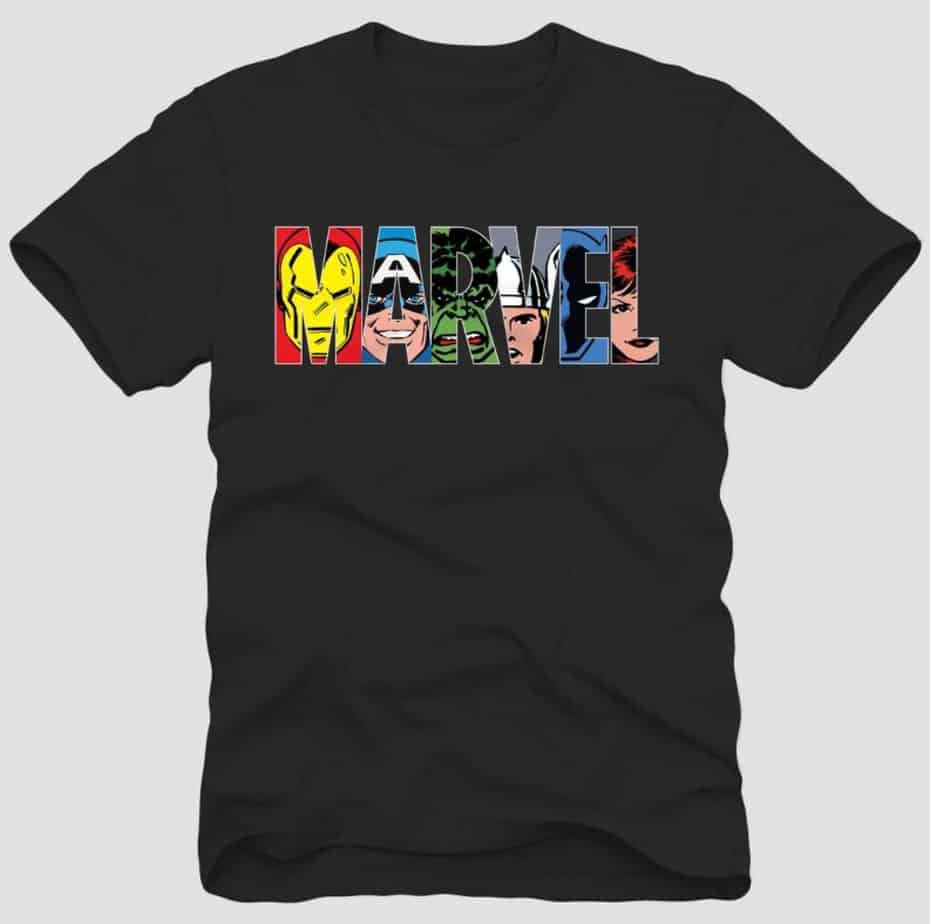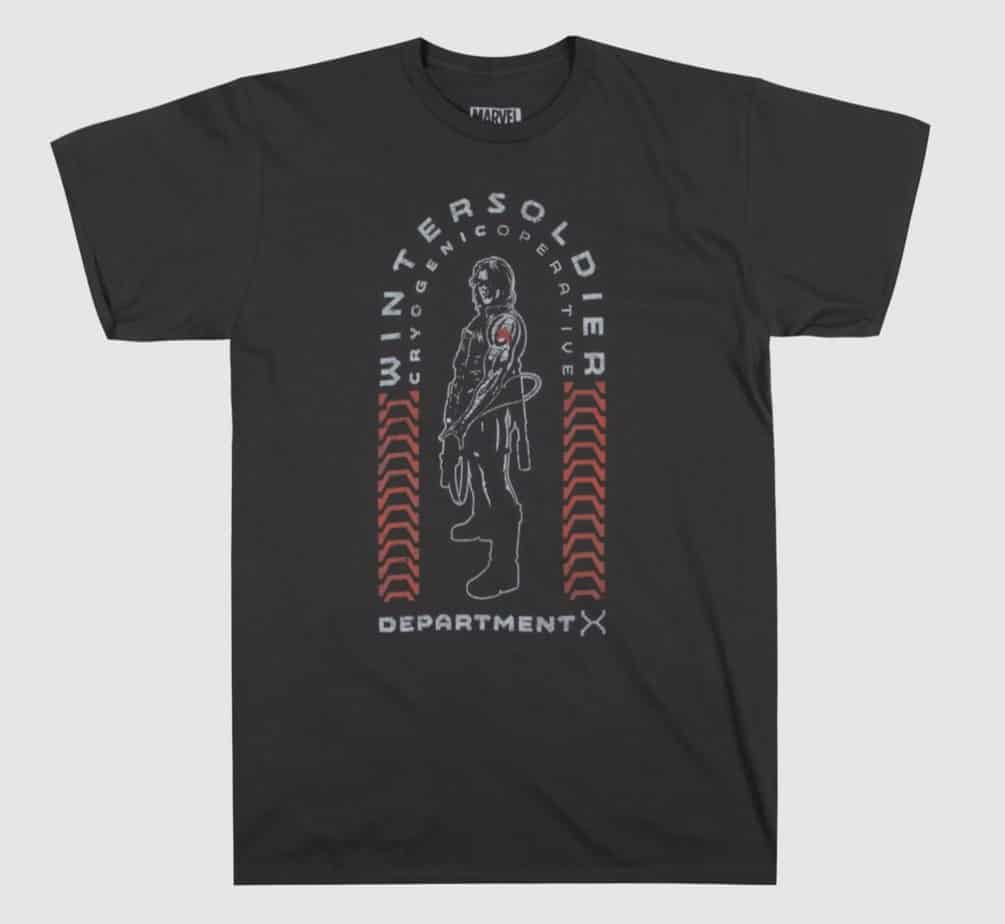 This T-shirt features the Winter Soldier, better known as Bucky Barnes. As Captain America's oldest and best friend, it's hard not to love Bucky, even as the Winter Soldier. A victim of Hydra's machinations, Barnes represents the human in all of us as we see him struggle for his redemption. This shirt illustrates Barnes as his assassin persona- the Winter Soldier.
I love this minimalistic Carter sweatshirt. Peggy Carter is one of my favorite women in the Marvel universe. She brings a strong, take no prisoners attitude to the Captain America franchise. This shirt design mirrors that in its direct style.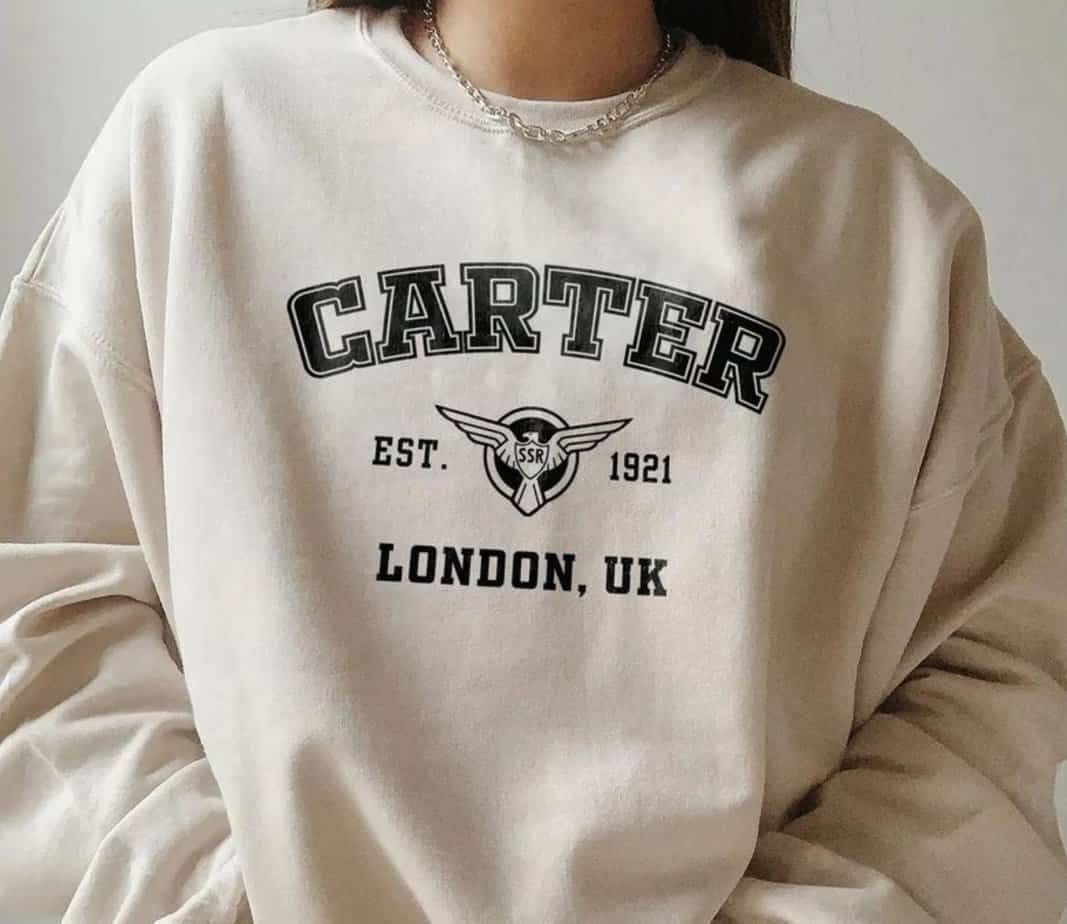 FAQs
Question: Can I get Custom Captain America Shirts?
Answer: If you're looking for something custom-made, I would check out Etsy. Often creators on Etsy have the capability to customize their products in a way large retailers cannot. So, if you want to add your kid's name or jersey number to a Captain America t-shirt, your best bet is to find a shirt you love on Etsy and message that shop owner with your request! I've found that most shop owners are just as big of a fan as you are and will be excited to work with you and create the perfect shirt!
Question: Where is the Best Place to buy Captain America Merchandise?
Answer: The best place to find great Captain America merchandise in person will be retailers like Target, Walmart, or Kohls. If you can wait on shipping time, I recommend shopping online. You will have many more options if you shop online. Google shopping is a great way to see what thousands of shops have to offer all on one browsing page.
Question: Does Merch Need to be Officially Licensed?
Answer: Within the realm of merchandising, there is often what is considered to be licensed merchandise and what is considered inspired merchandise.
Licensed merchandise is approved by the owner of the rights to a particular film, comic, character, or concept.
In the case of Captain America and the Marvel universe, it is Disney. Disney holds the rights to the Captain America concept and imaging and, therefore, can sell the rights to retailers who wish to sell merchandise featuring Captain America. This often comes with a contract in which the retailer pays Disney for the ability to create and sell Captain America-related items.
Inspired merchandise is a less restricted category. Within the area of inspired merchandise, everything is up to interpretation. While a retailer may not be able to write the words "Captain America" on their clothing, they could use the common term "Captain" with a red, white, and blue theme. This item would obviously be a Captain America item; however, because it did not use any trademarked images or names, it is not beholden to Disney and its licensing.
Often you will find inspired merchandise to be more of an artistic representation of the character or universe they are sporting. So short answer, no; merch does not need to be officially licensed.
The Bottom Line
We all want to show the world our love for our favorite things. Marvel merchandise is a great way to show your love for Captain America. I know an awesome shirt is my favorite way to do so! I will be rocking this End of the Line Tee all summer! Avengers Assemble! 
Want to find other types of Captain America Merch? Check out these links below!
Best Captain America Backpacks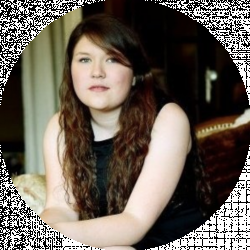 Latest posts by Kendra Gerken
(see all)