Toy Story premiered in November of 1995 and since then has been a mainstay in the hearts of every Pixar fan. Young and old, the movies resonate with us for one reason or another. I was 3-years-old when the first movie came out; I was 18 and leaving for college along with Andy when Toy Story 3 hit theaters. I grew up with the franchise and have watched as the next generations have picked up the same love for Woody and Buzz Lightyear with the same enthusiasm I had as a kid.
Any seasoned Toy Story fan knows once you've looked away, your toys are on the move. When is the best time for them to move around? When you're asleep, of course. Feel like you're missing out on the fun? I get it. As such, I've put together a guide for my favorite picks for Toy Story pajamas for kids, adults, and anyone in between.
Bottom Line Up Front
There are a smattering of options for kids and adults out there, but considering I am the latter, I went looking for myself. I'm a sucker for a comfy pair of pajama pants, and I found these bad boys. Pizza Planet Pajama Pants: simple design, maximum comfort, unisex design. Available at Target and cozy beyond belief.
My Top Picks
The Best Toy Story Pajama Picks
I've looked high and low for the best pajamas for the whole family. This list has something for everyone, and my main considerations were comfort and cost; the number one thing I look for when I'm shopping for some new pj's. Best part? All machine washable. You're welcome.
Men's Pajamas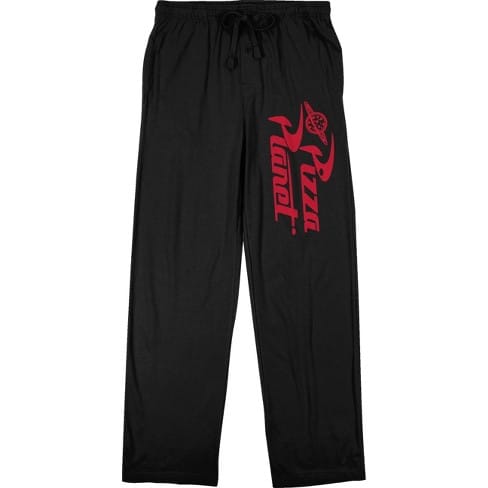 I chose these pajama bottoms as my favorite for a reason. Though they're marketed for men, they are reviewed and regarded as a comfortable unisex option (as most men's pajama pants are) they're made of excellent sleep material. Cotton is comfy, and the design is minimalistic, just the Pizza Planet logo. Pair with any shirt, and you're sleeping in style.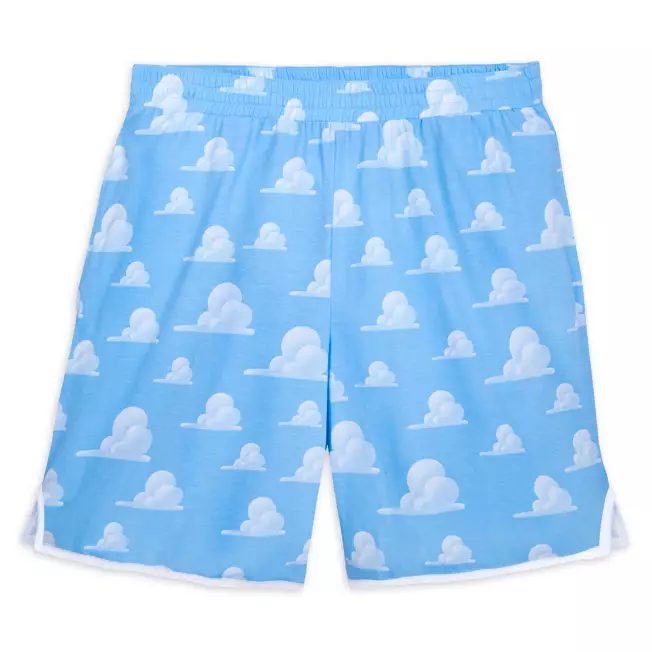 Cotton shorts with an immediately recognizable design. For the uninitiated, this is Andy's wallpaper in short form. Breathable with pockets, these shorts are great for warm nights after a long sunny day.

I love a nice set that can be worn together or act as standalone pieces. The character graphic has a comic book style with font choices that align with the characters. Toy Story has a lot of characters, our dynamic duo, Woody and Buzz are the main focus. Paired with blue bottoms that are the same color as Andy's wall, the set makes a great gift. Consider it a throwback to simpler days.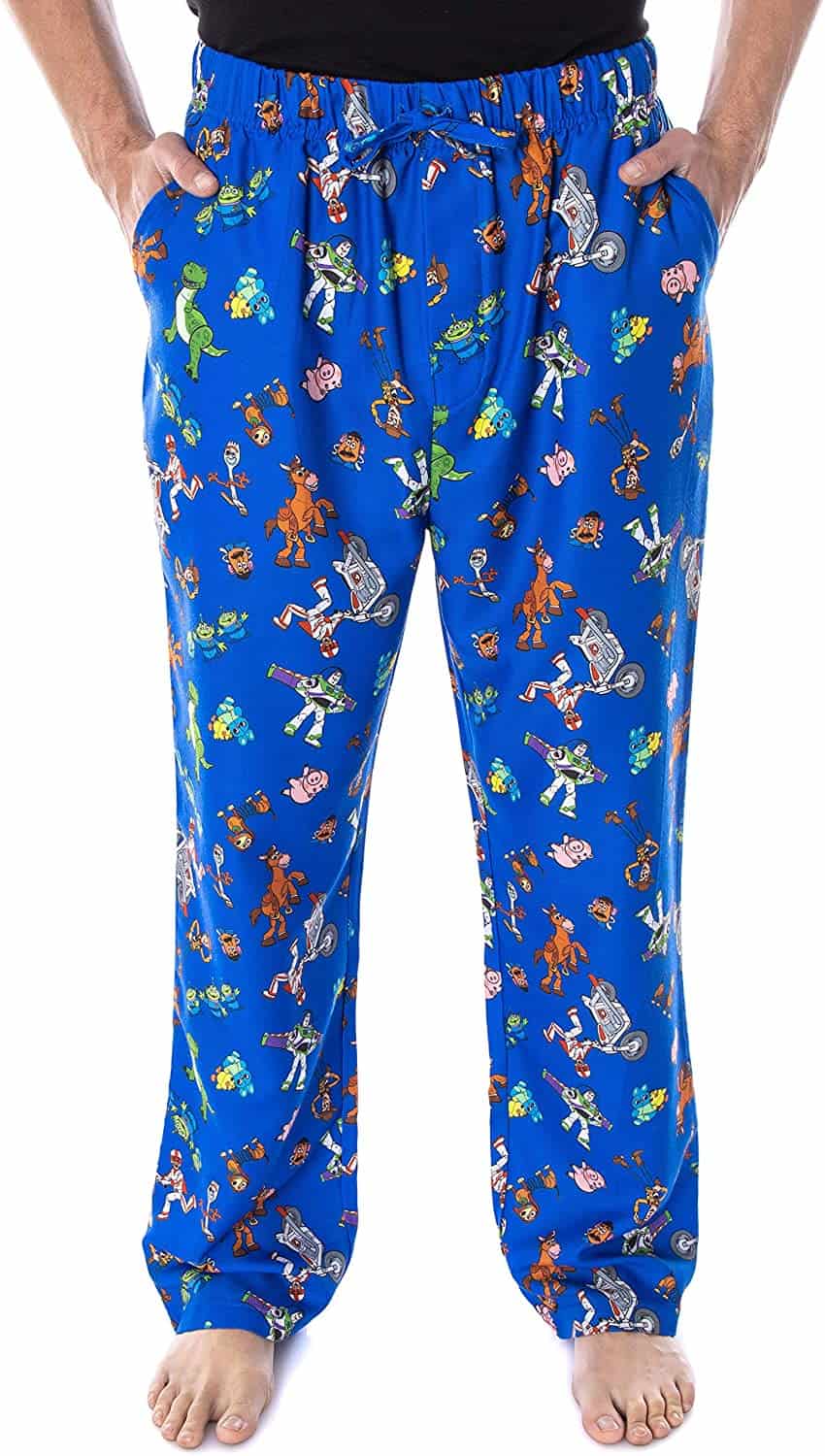 At this point, assume that the men's sleepwear pants I've found are unisex, even though they aren't always advertised as such. These are soft and smooth with deep pockets and a drawstring cinch waistband. Classic characters make these a fun, fresh pair of pajama pants; light enough for warmer nights but have a snug, cozy fabric blend for a chilly evening.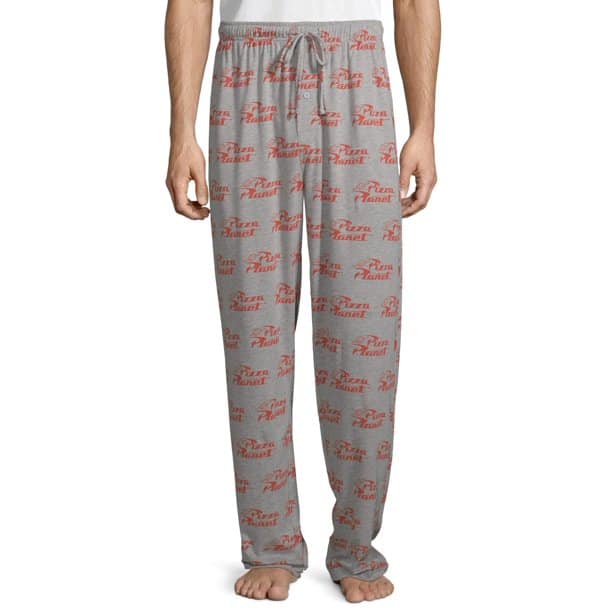 Gray and red complement each other on light fabric that is easy to relax in. These are made for early summer nights when there's still a slight chill in the air. In terms of the design, what can I say? I like Pizza Planet; it was the ultimate "I wish I could go there" pizza joint of every Pixar fan's dreams. 
Women's Pajamas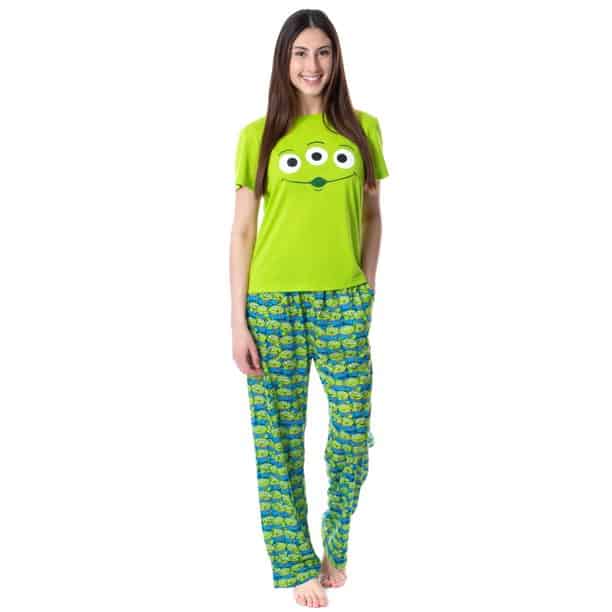 This was my top pick because I love the aliens throughout the franchise. The shirt is instantly recognizable and the pants match seamlessly. A cute option for bed or hanging around on a lazy day when you want to coordinate a set. Both work as standalone pieces as well for something fun and funky.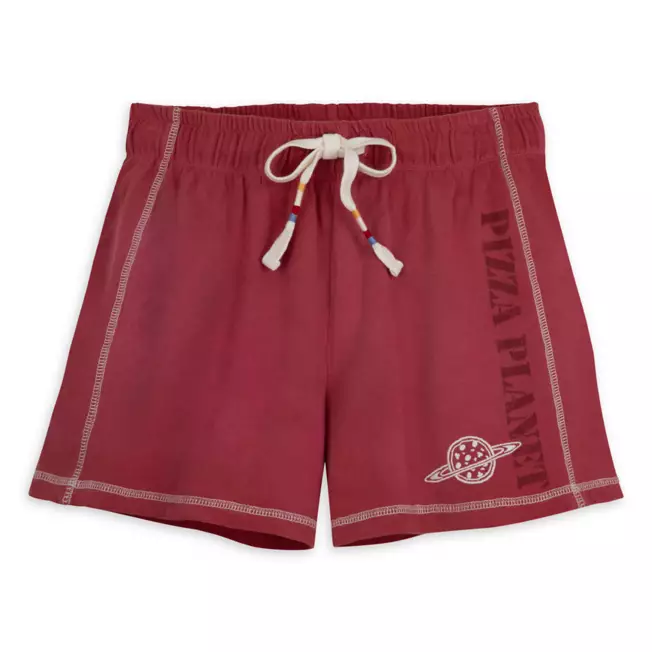 A little short and t-shirt combo never hurt anyone. I know what you're thinking, Pizza Planet again? Listen, it just works on so many levels. The shorts are French terry fabric and 100% cotton, so you know they're comfortable. Perfectly matching the shorts, the t-shirt is an optional buy and this doesn't come as a set. However, I think it's a comfy, worthwhile investment in some out-of-this-world pajamas.

Forky is a fun character, beloved by all the other toys and protected at all costs from day one. I love this set because it's cute, light, and fun. A summer look and feel, the Forky set for women is made out of breathable material and has an all-over pattern that hearkens back to days of our respective childhoods, and isn't that somewhere we'd all like to take a trip back to?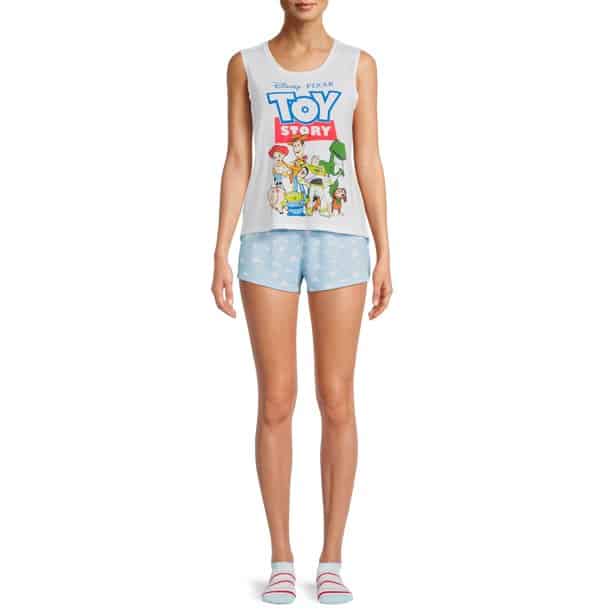 Socks are a favorite of mine, so find me a pajama set with matching socks? Count me in. This three-piece set is similar in design to the men's lounge shorts, using Andy's wallpaper as the inspiration for the shorts, but has its unique tank top. The whole gang from the original Toy Story appears with the logos and color coordinates with the socks. Honestly, I might order some of these for the summer months.
Boy's Pajamas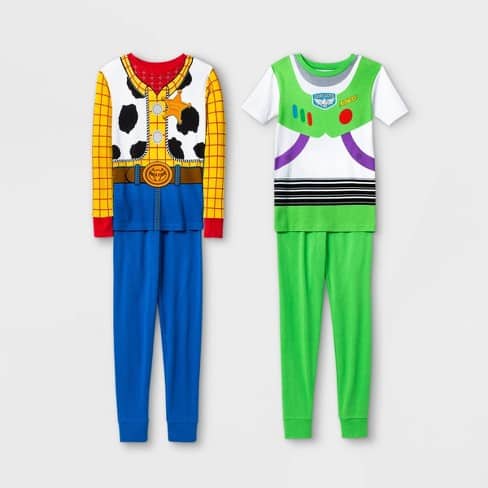 Woody and Buzz. Buzz and Woody. The sheriff and the intergalactic talking action figure. The pair we know and love, the face of the Toy Story franchise. A four-piece, two-for-one set made out of 100% cotton is a good night's sleep waiting to happen. A pajama set like this could work for siblings who want to coordinate or extra options for one Toy Story super fan. Either way, for the price and material, you can't go wrong here.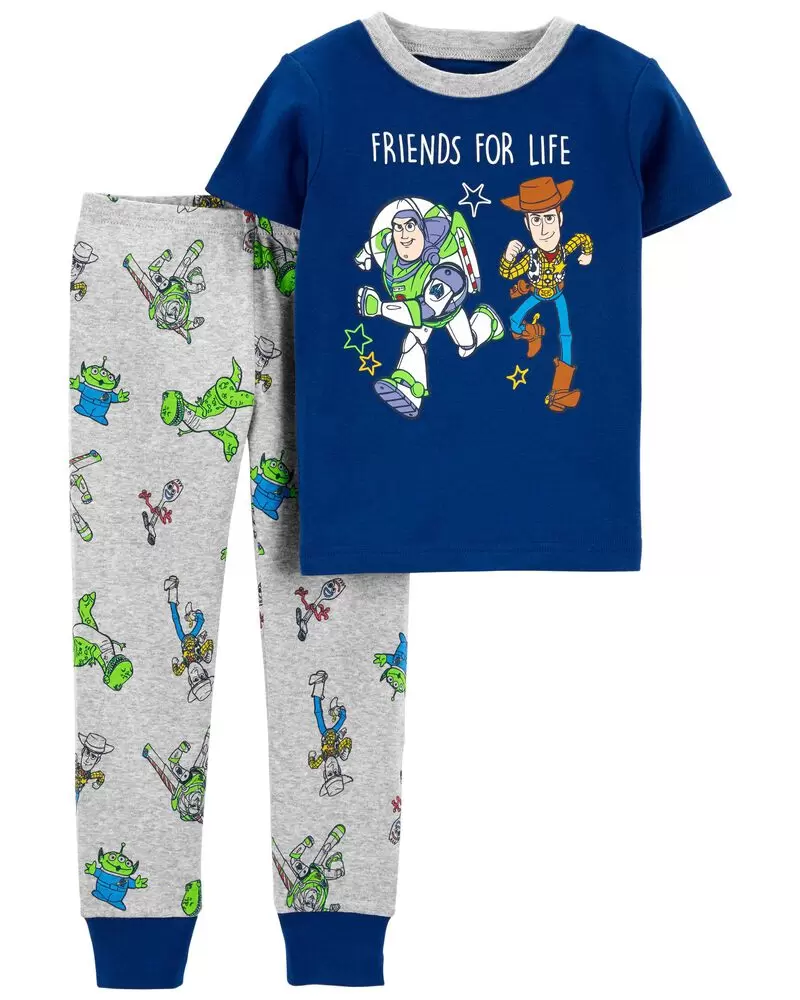 A wicked cute pajama set for a sleepy little one, ready to blast off into big dreams. Short sleeves allow for breathability and the elastic waistband allows for room to grow in and out of the set. Kids are only little once, right? Made with materials meant to be cleaned with ease, and a snug fit for safety.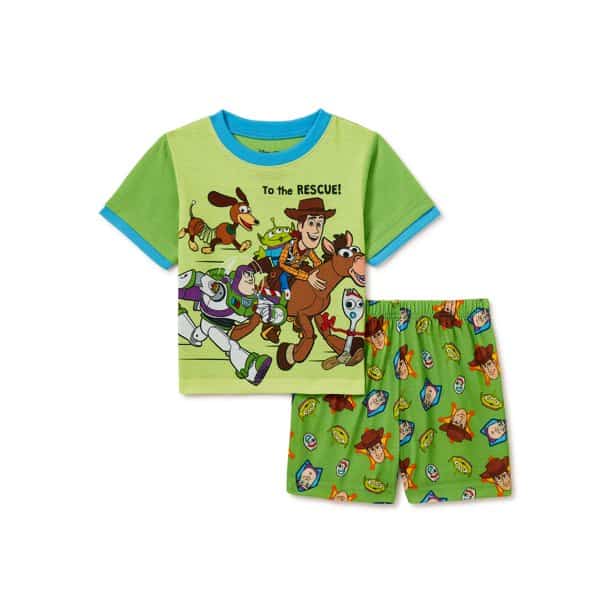 Loose-fitting shorts and t-shirt sets are all the rage right now, as we're heading towards a New England summer. Granted, wherever you live, rarely is there a bad time to snuggle down in some light shorts and a t-shirt? Woody to the rescue!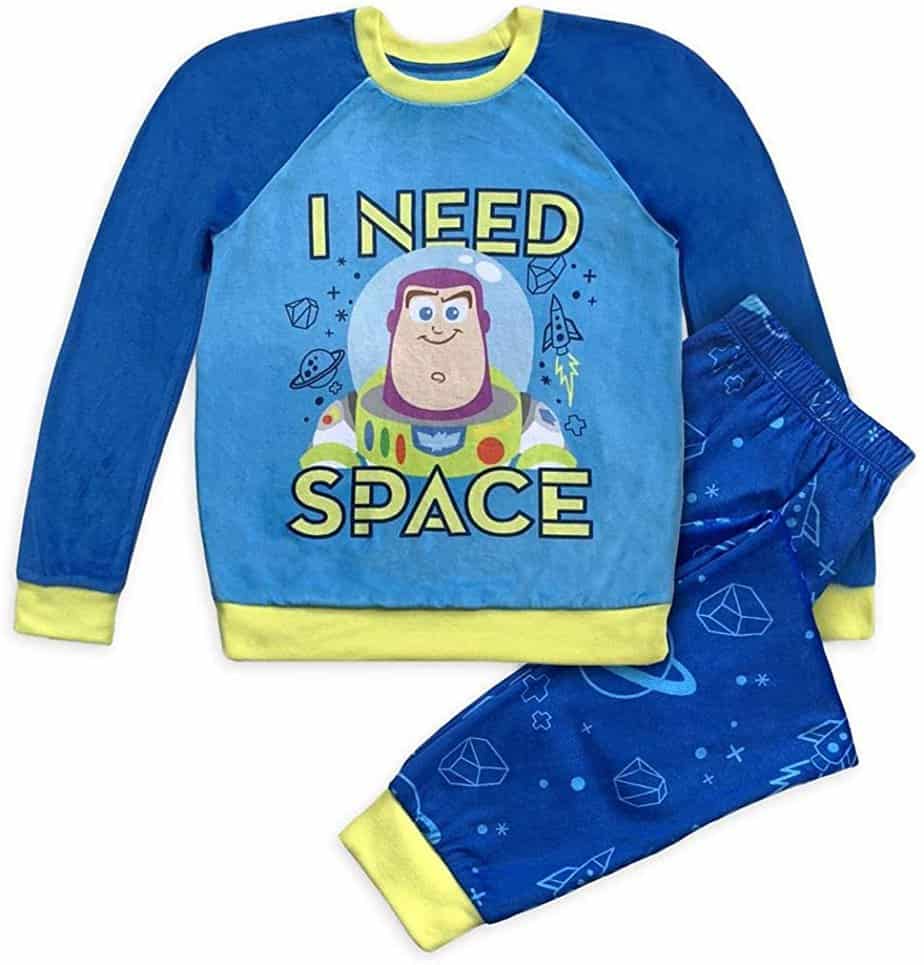 I love this. A witty graphic and a space-themed graphic for a two-piece pajama set are perfect. A velour Toy Story pajama set will be the hit of every sleepover. One of the pricier options, but for a velour two-piece, I think the cost is okay.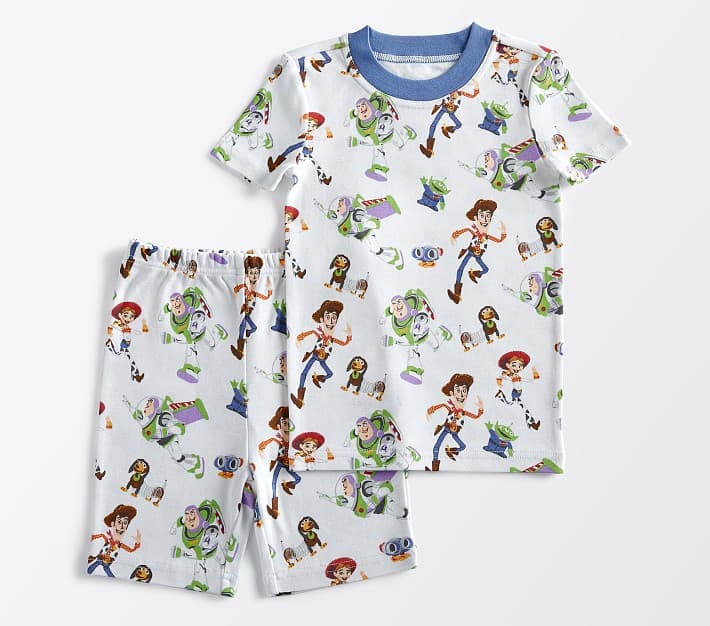 An all-over pattern is fun and vibrant, but not too busy to draw the eye in too many directions. This set is certified by GOTS (Global Organic Textile Standards) and is 100% organic cotton. For the quality of the imported product, the combo is surprisingly cost-effective. A Pottery Barn exclusive, all signs point to sweet dreams in comfy, cozy pajamas. Get them while you can; a limited edition run is rough when missed.
Girl's Pajamas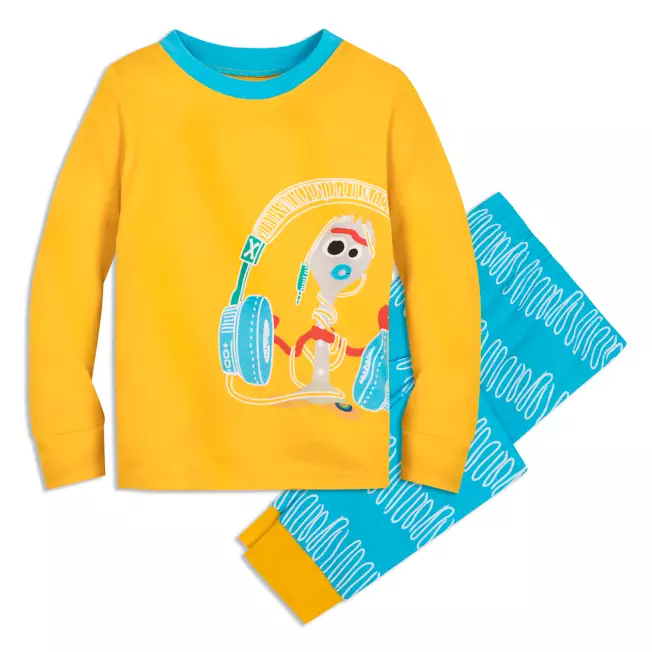 Cute and cozy, this Forky-themed two-piece set is 100% cotton and is a bright ensemble for bedtime. We're looking at my top pick, one reason, in particular, the color contrast and coordination of the crew neck and bottom cuff of the pants. A must-have for the young Forky fan, it comes in a wide range of sizes.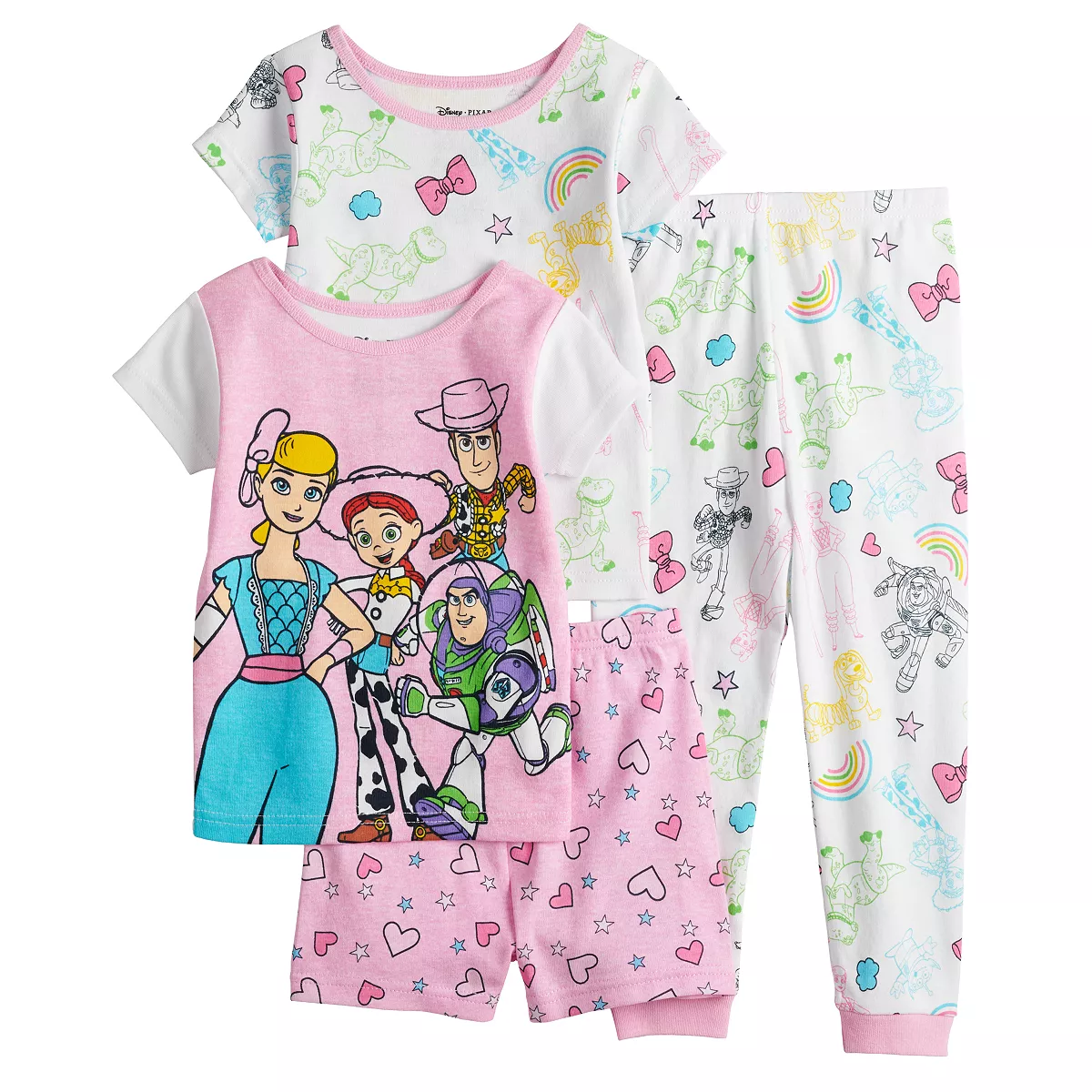 It's apparent I'm a proponent of sets, and this is no exception. Color coordination on the neck and cuff of the pants is a recurrent theme, and that rings true here. The graphics contain Woody and Buzz, along with two of the franchise-leading ladies on the short sleeve/shorts combo, and the long pants set have a more sketch-like look with more characters. Extra points here for one of my favorite toys, Rex. I enjoy the sketch theme on the pants as it acts as a throwback to when the story was in its infancy, truly on the drawing board.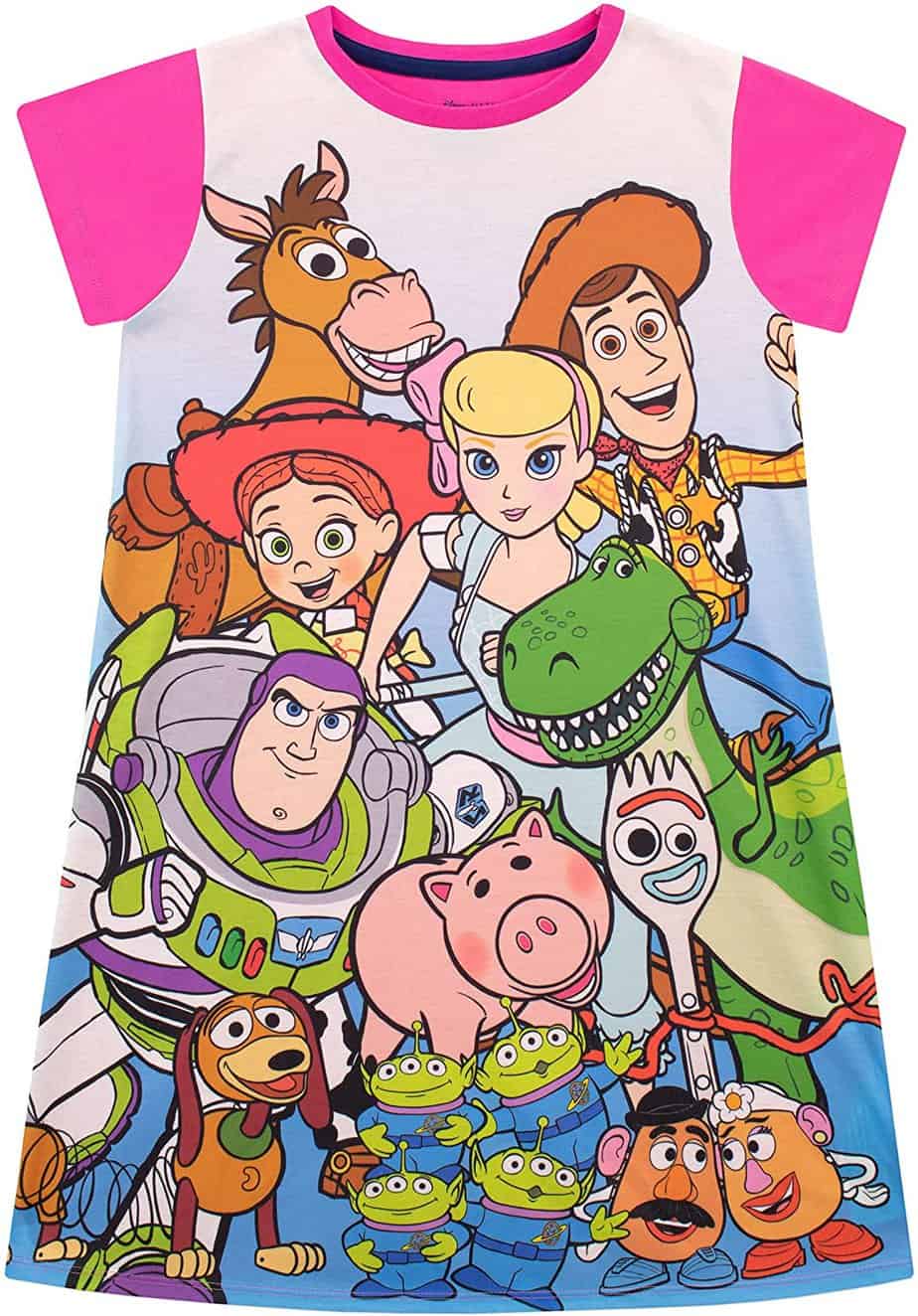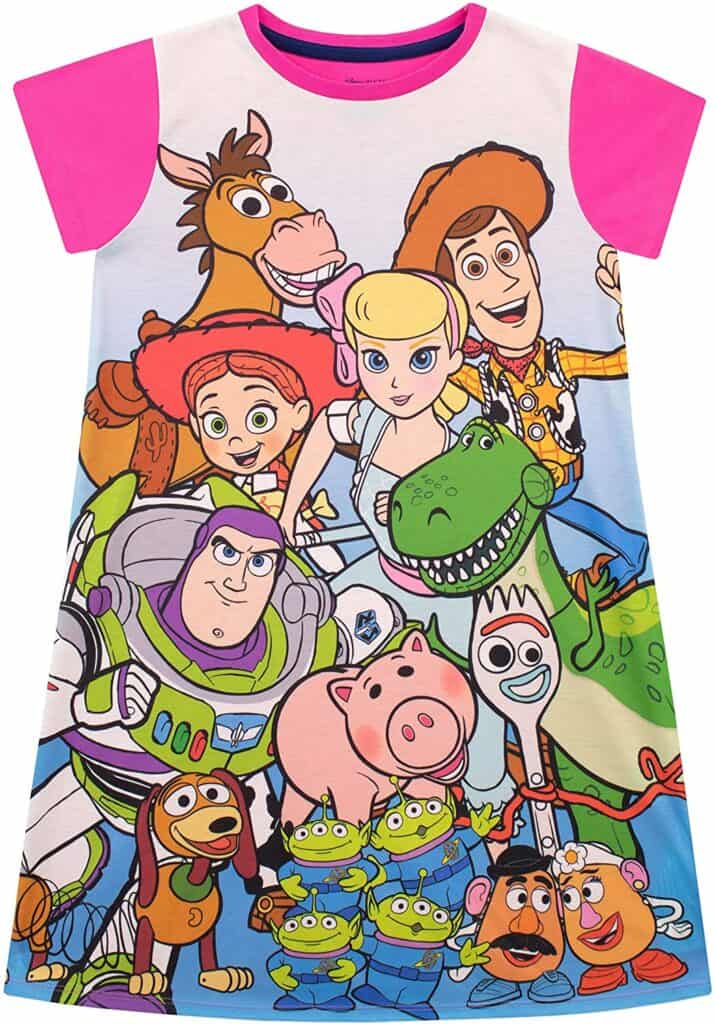 A comfy nightshirt is a mainstay for any summer nighttime slumber or a layer in the winter. The gang's all here, highlighting fan favorites from movies 1-4 while being offset by pink sleeves. The color combo works well, and the gradient backdrop is something I enjoy because it leans into the bright colors and primary standards from the movies.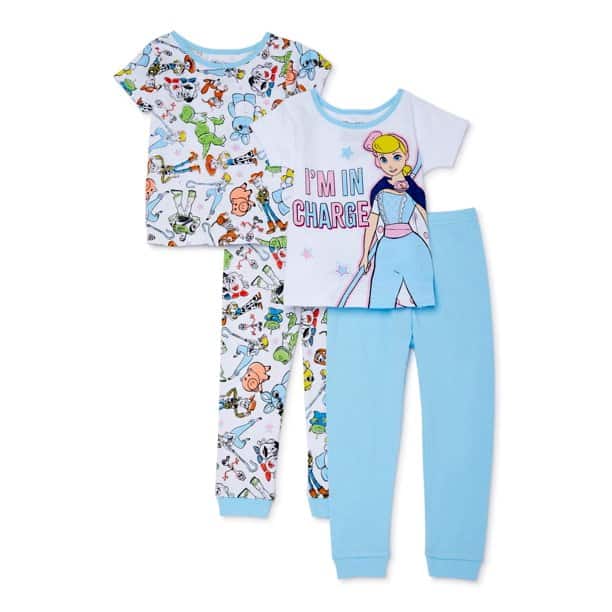 Girl power, everyone's favorite characters, and style this four-piece set. In keeping with the consistent theme, the colors coordinate between the cuff and neck. The tops and bottoms are interchangeable between the two sets, each with a snug fit. Super soft cotton knit; you can't go wrong here.
Baby Boy Pajamas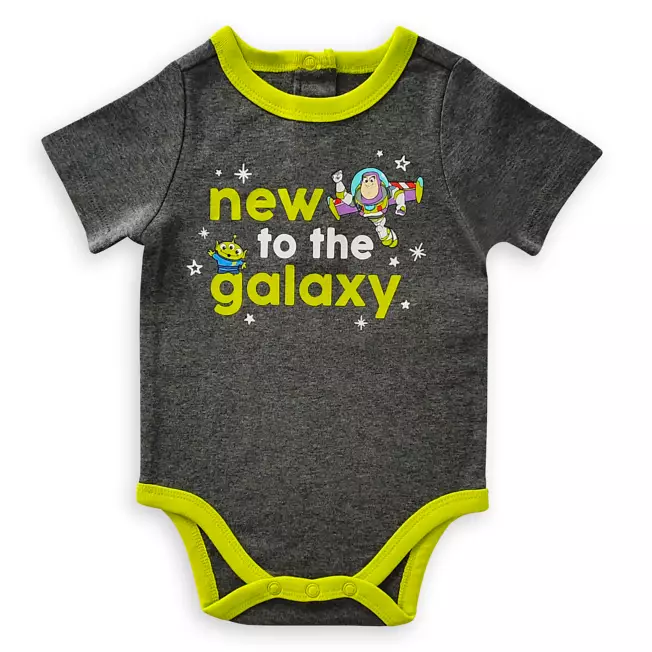 My top choice for the newest baby boy in the Toy Story family is the Buzz Lightyear Bodysuit. The space ranger comes alive on the front of the onesie, and the ribbed neck and trim are the same shade as Buzz, contrasting well against the heather gray background. It's adorable, easy on and off with a single row of snaps, and comes in sizes up to 24 months.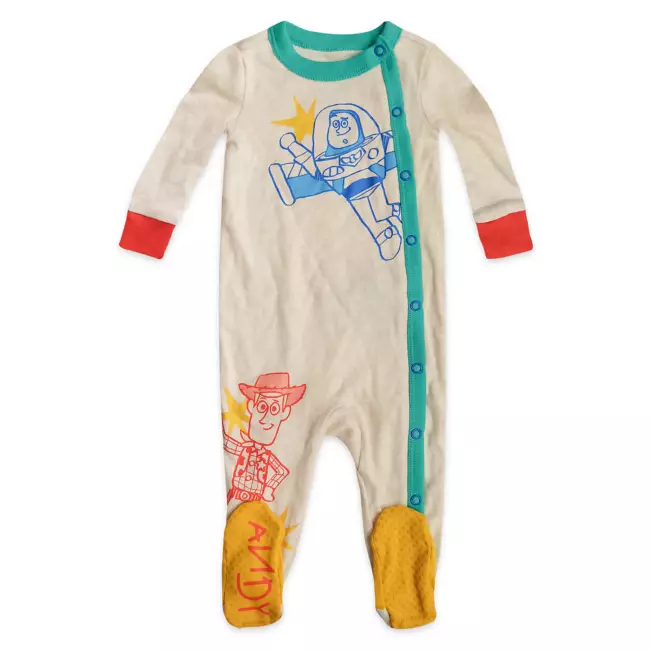 These footie pajamas can go for either gender. A one-piece sleeper, I love the simplicity of the design yet how thoughtful the detail is. On the back, "you've got a friend in me", the song we all know and love and associate with Toy Story puts the tune humming in the corners of your mind as you're getting the little one down for the night. Scrawled across the foot is the classic ANDY with the backward N. Color contrast and cartoon style Woody and Buzz make for the perfect sleeper set.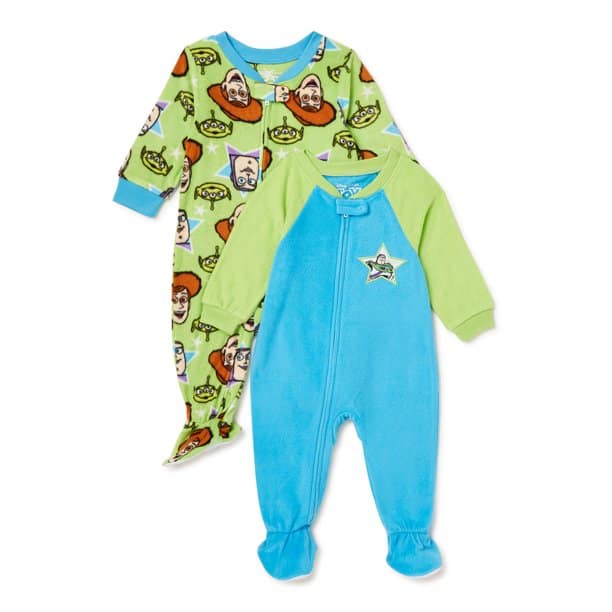 A blanket sleeper is a key for keeping little ones warm and cozy. I love this sets color coordination and style options. Minimalistic or all-over pattern, cute, cozy, and exactly what a little one needs.
Baby Girl Pajamas
A piece like this is too cute not to be my top pick for baby girl jammies. The gang's leading lady, Jessie, and her trusty pal Bullseye truly make the new little lady born lucky with this adorable design. The frill under the snaps is a nice touch to add a feminine spin to the bodysuit for the new baby. The ribbing matches the ribboning in the back, and overall is a sweet piece.
This has to be the most unique set I've seen so far. Pink stripes and matching shirt with banded cuffs; I love it. The Jessie graphic on the front is new and fresh. She has her signature hat and chaps but is carrying a skateboard and wearing some sick new kicks. It's cute and runs in sizes 6-12 months to 5 years. I call that longevity.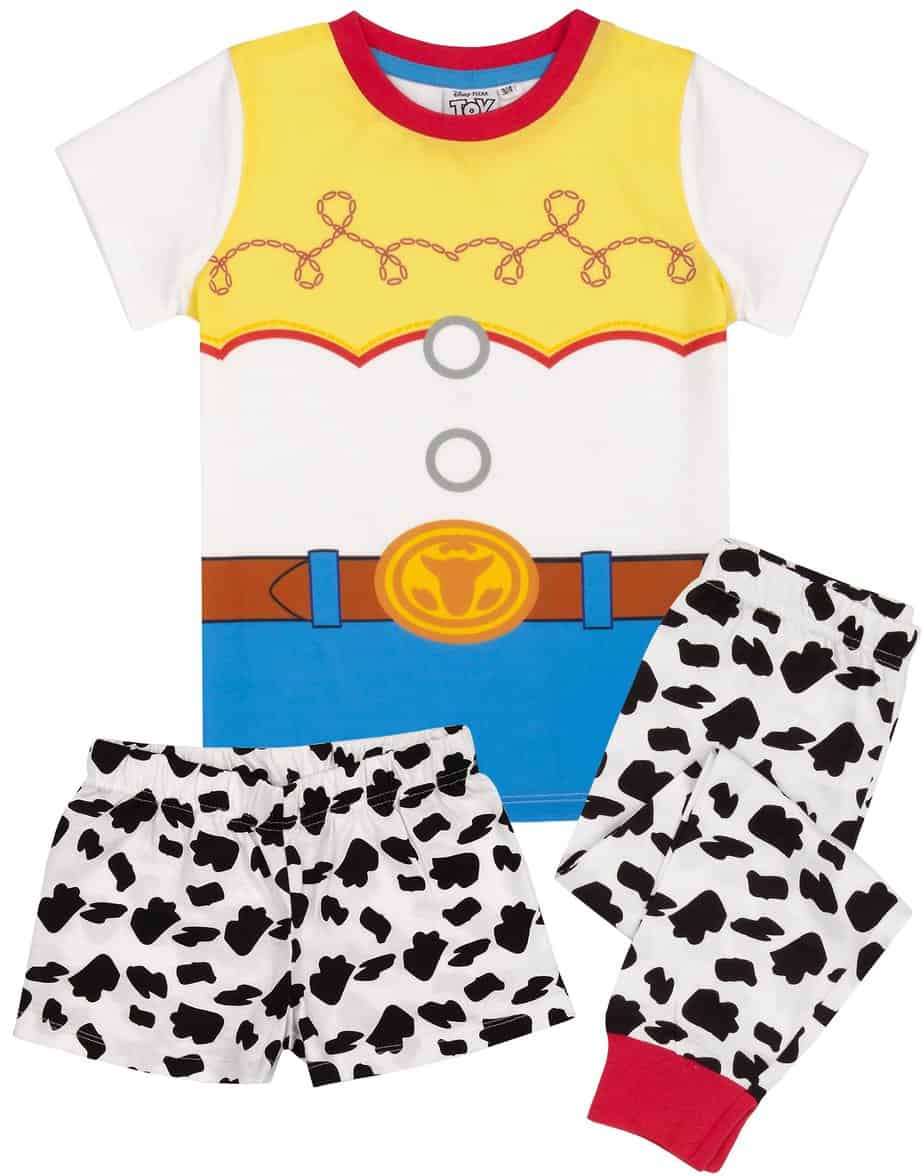 Jessie is the go-to girl of the gang after we meet her in the second movie. Here is your Jessie costume pajama set. Lightweight, short sleeves, straight out of the movie; Jessie's outfit is yours for nap time. The option of shorts or leggings gives both parent and baby more style options for this fit. With the pants option, banded cuffs match the crew neck, and in both the shorts and pant option, the pattern is the same as her chaps. Throw on a hat and wrangle a good night's sleep.
Frequently Asked Questions
Question: How can I Find licensed Disney/Pixar Merchandise?
Answer: The fastest and safest way to make sure you're buying licensed merchandise is to go to a reputable seller. While looking for these picks, I saw a fair amount of knock-off apparel. Make sure that written in the product description, that there is official licensure. For complete peace of mind, shop at Disney, big box stores, and a well-known name.
Question: What is the Best Material for Pajamas?
Answer: Supima cotton. It's the softest and coolest fabric. I would recommend that for the adult crowd of pajama wearers, because it is a bit pricier, and kids are good at growing out of things incredibly fast. I have to give credit where credit is due, kids are also phenomenal spillers; stick with a cotton-poly blend for the little ones.
Question: Where can I buy Toy Story Pajamas?
Answer: Online and in-store at places like The Disney Store, Target, Walmart, Kohl's, Amazon, Gap, Baby Gap, Pottery Barn Kids, Carters, and other fine retailers.
Final Thoughts
My pick for the best Toy Story pajamas is the Pizza Planet Black Pajama Pants in part because it's a piece of clothing I could see myself wearing until the logo fades and beyond. I like comfy clothing, but I also like a simple design when it comes to pants. The Pizza Planet pants have both of those qualities, on top of being made out of super soft material and having a variety of adjustable sizes. Pizza Planet was the birthday party dreamscape when I was a kid. Yes, it wasn't a real place, but imagining your birthday party there was like a rite of passage. Having that logo on my left leg is cool. That's the best word for it; cool. There's a certain comfort in nostalgia, and wearing it works to keep that memory alive. That's my pick though, for comfort and memory. And probably an Instagram-worthy picture eating pizza in the aforementioned pants.
Minimalistic designs aren't for everyone though, and buyers need options. I scoured the internet for the best pajama picks I could find, and here's my biggest takeaway: gendering pajama sets are by and large, unnecessary. I had a more difficult time finding options geared toward women in adult, kid, and baby sizes. Pajama pants are universal, and for the most part, tops are as well. The great thing that I have noticed about the franchise: sets are interchangeable, and what fits one person will more than likely work for the next. Now that's something to be proud of, partner.
Continue reading:
Best Toy Story Merch Guide [2022]
The Best Toy Story Costume Ideas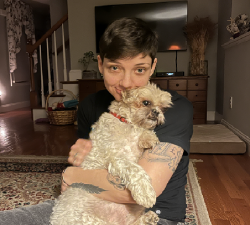 Latest posts by Sarah Weisberg
(see all)