Welcome to the ultimate Harry Styles gift ideas guide! Let's face it, the internet is saturated with Harry Styles merchandise. You can buy his face, quotes, song lyrics, and more on thousands upon thousands of shirts, buttons, bags, etc. I mean, I'm not complaining. I love Styles stuffs!
But that's why I've taken the time to assemble all the best Harry Styles gifts you can buy for a friend, family member, or yourself all in one convenient list. Each section will show products referencing a variety of Harry's looks, sayings, and bodies of work throughout his career in the limelight. Let's get started!
Bottom Line Upfront
I'm a sucker for a great backpack design. Especially if it's from a fandom I love but isn't too flashy. This Harry Styles Tattoos Backpack is the perfect example of that. I'd wear this backpack everywhere!
Top 3 Picks
First off, I want to show you these 3. Each gift I have in this master list is a shining star in its own way, but these 3 are safe bets for any Harry Styles fan. Whether you're buying for a teen, a friend, or just want the most popular merchandise referencing Styles, start here before we dive any deeper.
Best Harry Styles Gift Ideas
Alright, now let's get serious. The gift categories I have to show you today are pillows, blankets, shirts, candles, stickers, and bags. For each section, I'll show you five gifts that are fun, beautiful, and Harry-centric. Take a look so you'll get the Harry Styles fan you know something they'll absolutely love.
Best Harry Styles Pillows
Just imagine it: the Harry Styles fan in your life turns out the lights, gets all tucked into bed, and then reaches for their trusty Harry Styles pillow. They know he'll ward off any nightmares with his angelic singing and charm. I think pillows make the perfect gift because everyone actually needs pillows. They're sentimental and functional.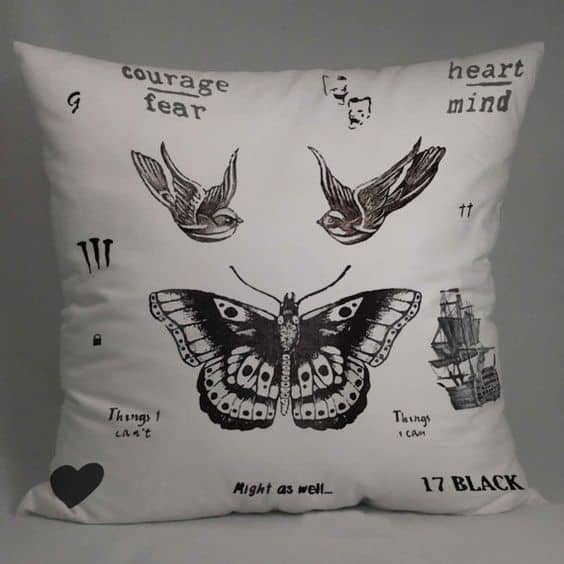 Any mega fan of Harry is going to know what this pillow case is as soon as you hand it to them. This isn't just a collection of random designs-this pillowcase shows off some of Harry Styles' most beloved tattoos! Tattoos are so deeply personal, which is why it feels extra special for us fans when we have memorabilia with our stars' tats on display. You can find this pillowcase on American Tee Shop, where you can customize the size.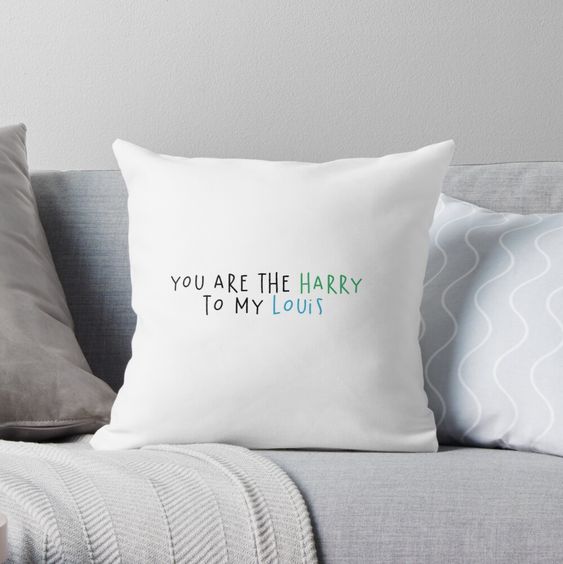 This throw pillow is referencing one of the most popular 1D ships in One Direction's heyday-Larry (Louis and Harry.) Give this throw pillow to a fan who's been supporting Harry and Louis since their X-Factor days and beyond. Fans of this ship, especially those who participated in 1D fan culture, are sure to feel nostalgic for this saying that widely circulated around Tumbler. An artist on RedBubble named notaljx sells this design.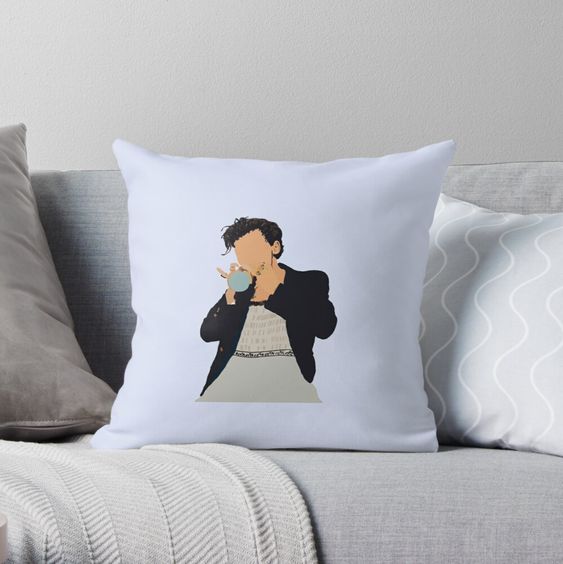 How iconic! Fans will scream when they open their new throw pillow and remember this issue of vogue featuring Harry Styles on the front cover. An even better idea might be to buy them this pillowcase and the December 2019 issue of Vogue where our lord and savior appeared as the cover model. ChiefAflac, an independent artist on RedBubble, made this design.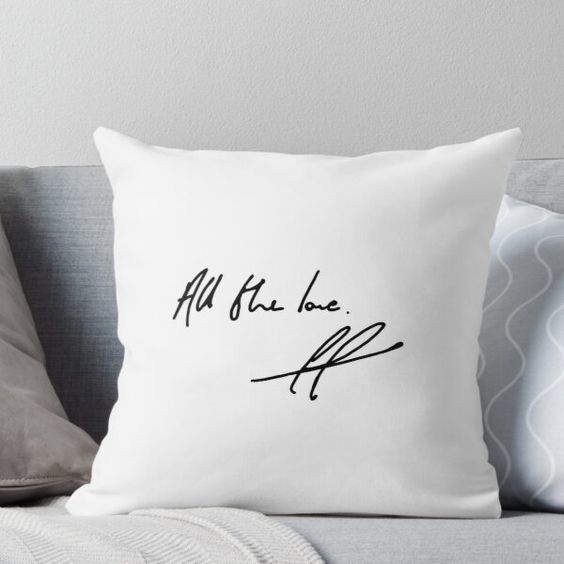 Harry Styles tweeted this one day, which is why fans have been making merchandise of it ever since. These simple heartfelt words stuck with fans, which is why artists like ayoli, the RedBubble artist who made this throw pillow, felt inspired to make the art they did. The cursive print makes the pillow feel even more personal.
I absolutely love this fun pillow cover! It's one of those fun two-toned sequin pillow covers where the design changes depending on which way you lay the sequins. Choose to let Harry Styles winning smile shine when you're amongst friends and then turn the sequins to the solid gold side when in judgmental company. It's genius. SnobNinja sells this pillow on Etsy if you're interested.
Best Harry Styles Blankets
I mean, you're going to need a blanket to go with the pillow, right? This way the Styles fan in your life can cover their bed in merch from head to foot. Blankets are warm, soft, and functional, and they show someone you care. Blankets are even better when they showcase one of your favorite singers. Let's take a look at our options.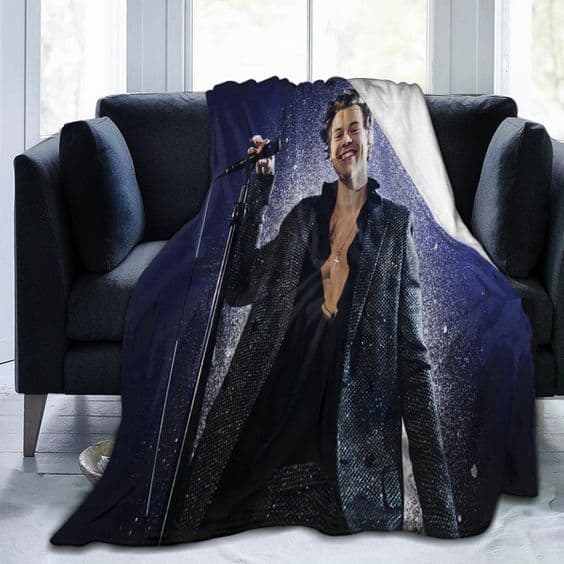 Don't you love checking out your Wish app to find the latest inexpensive yet totally unique gifts? I do. That's how I found this fleece throw blanket sure to melt any fan's heart. Harry's giving the audience his trademark Hollywood smile while his suit glimmers under the spotlight. How romantic…
Yes, Wish is hit or miss (usually a miss) but for the price…I've accumulated a ton of fun merch I couldn't get anywhere else.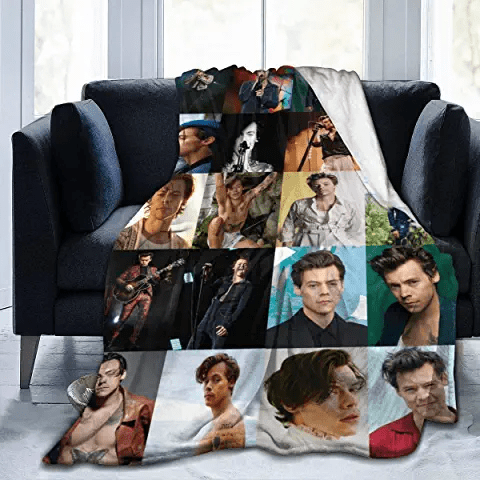 Here's a collage of Harry Styles throughout the ages compiled onto one blanket! It's fun to spot Harry's different hair styles and even fashion styles throughout the years. In some squares Harry's singing, or modeling, or just being his sweet self. You can find this blanket on Amazon, so you know that means shipping will be fast.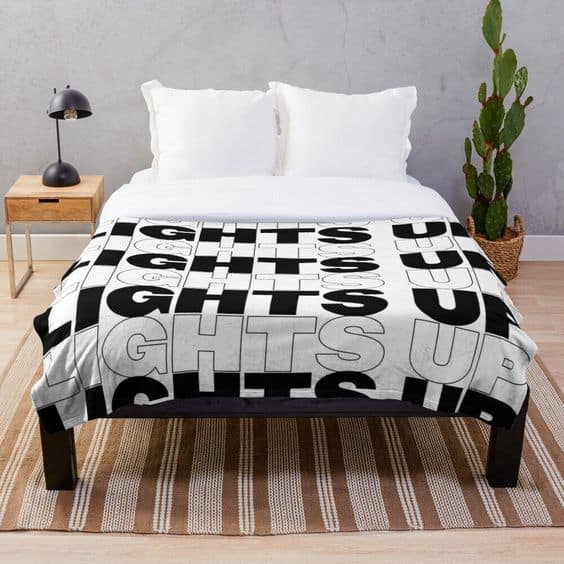 Lights Up is one of my fav Harry Styles songs. It's an inspirational song with a sexy music video and beautiful effects. Give a true Styles fan something to remember this masterpiece by with a black and white blanket printed with the song's name. If you like this design, you'll be pleased to know it's another product designed by notaljx on RedBubble.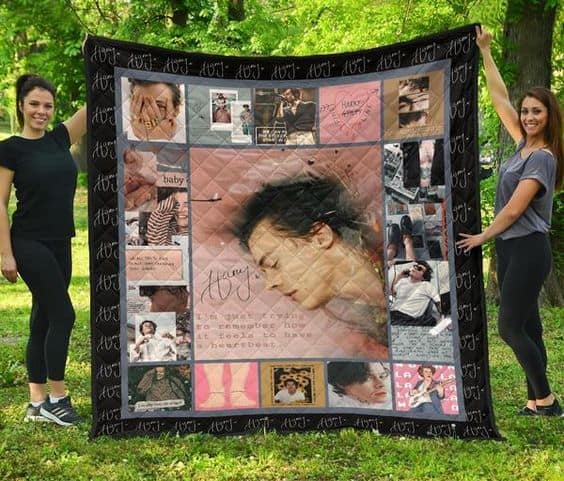 Quilts are warm, soft, comforting, and feel like love-just like a Harry Styles song. This quilt is huge, so it's perfect to keep folded up on the couch. The Harry fanatic you know can snuggle up to Styles while watching his music videos like any fan likes to do. I think this is such a cute, stylistic quilt with gorgeous pink shades throughout. You can find it on Fandom Gift.
Sweet Creature is such a beautiful, well-received song that I know any Harry Styles fan would love this blanket. I'm willing to bet they even listen to the song regularly. This pink throw blanket simply has an allover print with cursive words that read, "Sweet Creature." Someone who likes subtle décor would appreciate a blanket like this. You can buy this from harry5211 on RedBubble if you want one for yourself or a fellow fan.
Best Harry Styles Shirts
You can't go wrong with wearable merchandise. One aspect of being part of the Harry Styles fandom that can be incredibly fun is finding other fans to chat with. Wearing a shirt with Harry Styles featured on it is one of the easiest ways to find other fans, who will come up to you and compliment what you're wearing. Not to mention, it's hard for a Harry Styles shirt to look bad when Harry never looks bad.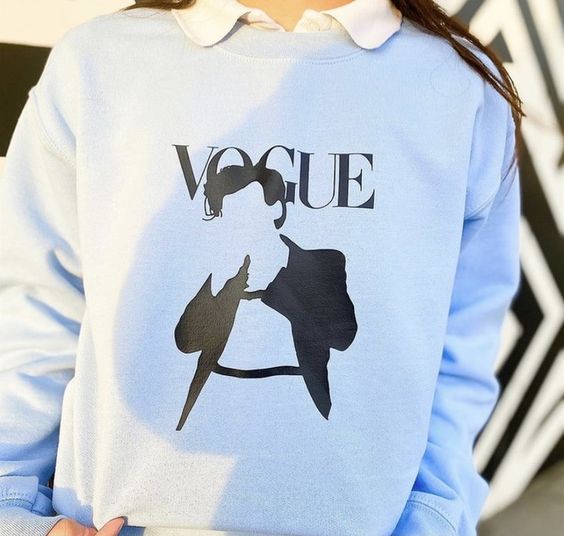 Everyone was buzzing with excitement when Harry Styles made the front cover of Vogue in December 2020 and wore a stunning white dress. Harry always takes fashion to the next level, and with this awesome t-shirt, so will you. This long-sleeve shirt by The Custom Movement is oh-so-soft and perfect for chilly weather.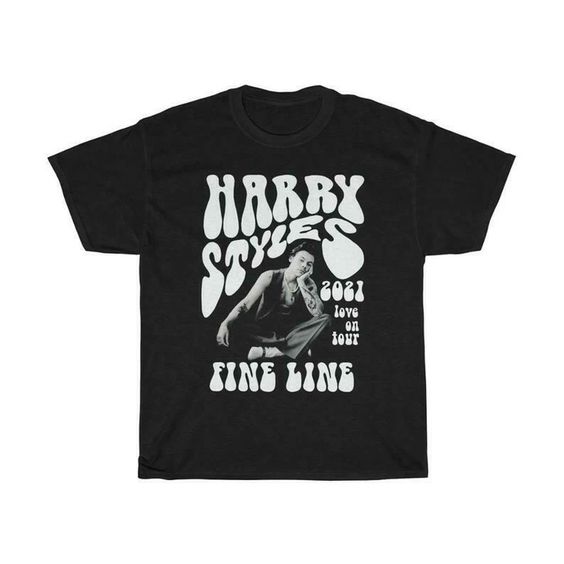 There are fan-favorite song references everywhere in this list! Here's another one: this t-shirt from Harry Styles' Love On Tour put his album name, Fine Line, in groovy bubble letters. This entire t-shirt has a retro vibe, which fits Harry's style (get it?) perfectly. NuuShirtz sells this one.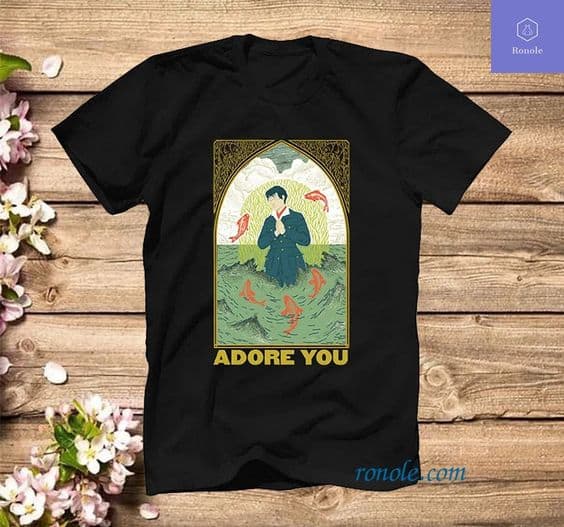 Did you know Harry Styles would walk through fire for you, just so he can adore you? Every fan knows this song! It's one of the most romantic songs ever written (at least in my opinion.) This stylistic take on Harry Styles shows him standing in the ocean in front of the sun. Head over to Ronole.com if you want to purchase this lovely Adore You t-shirt.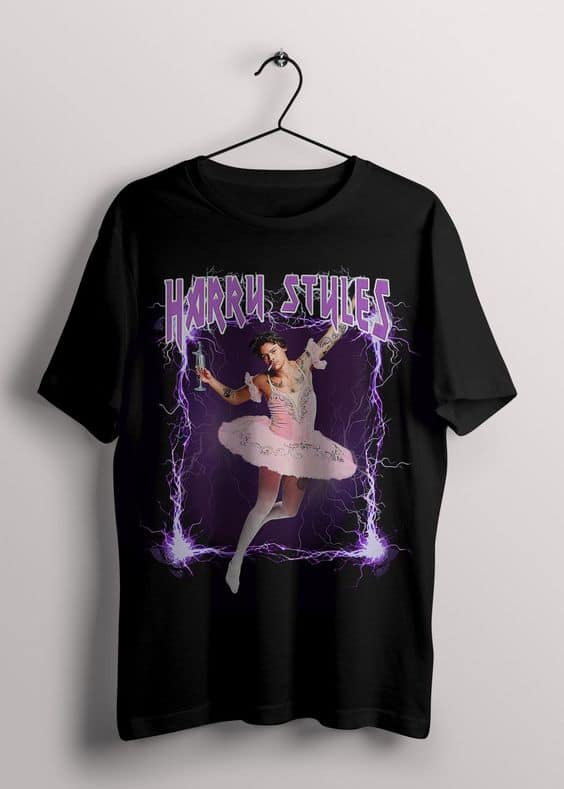 Harry is here to challenge fashion norms and break down the gender binary with this fantastic look. Styles appears suspended from the air in front of purple lightning, a cigarette hanging from his lips, and a champagne flute in his right hand. The cotton candy pink tutu contrasting with his many tattoos gives the entire look edginess and flair. You can find this shirt on Capsula Shop.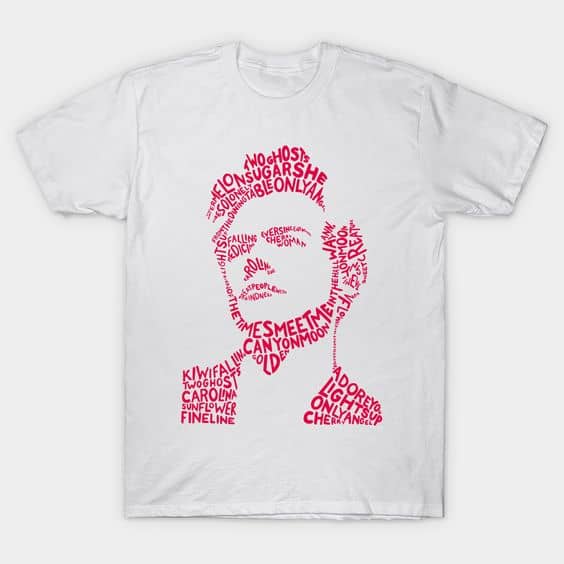 Are you one for wordplay? Perhaps you or the fan you're buying for will appreciate this white T-shirt that cleverly creates Harry's face out of red words. The words are lyrics to some of Harry's hit songs. It's cute and artsy, so be sure to check it out on TeePublic.
Best Harry Styles Candles
To represent their burning love for Harry Styles, why not get the HS fan you adore a sweet-smelling candle? You might be surprised to find out lots (and I do mean lots) of Harry Styles candles have been made. Let's run through the highlights.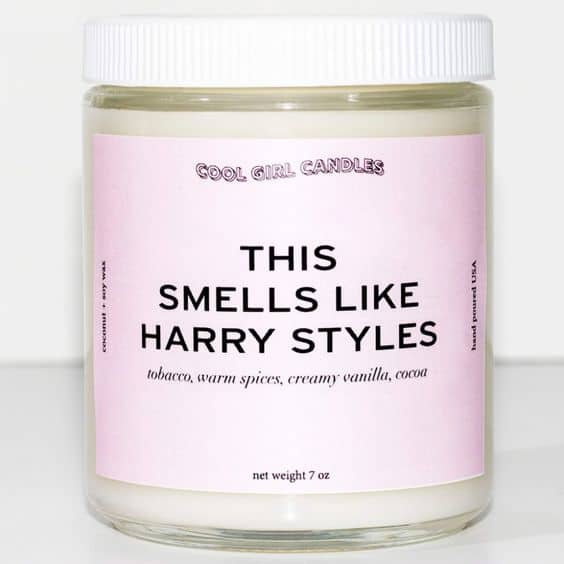 This candle smells like tobacco, vanilla, spices, and cocoa. Does it smell exactly like Harry Styles? Who knows for sure, but the candle is proven to melt fans' hearts. Cool Girl Candles sells this one. On their website, they claim that this candle will make it feel as if Harry Styles himself is gazing at you in romantic candlelight. Do you even need more convincing?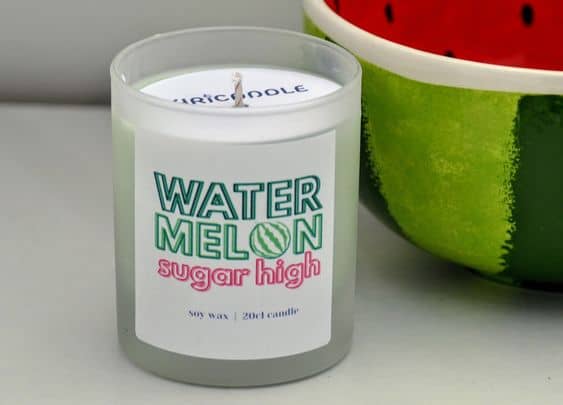 Breathe this candle in… breathe this candle out… it's a Watermelon Sugar candle! Okay, I caved and ordered this one LOL I hope it gets here soon. This fruity scent is perfect for summertime. I love that the label looks cute and inviting, yet also professional. You'll want to sing Harry's hit song, Watermelon Sugar, all season long when you buy this one from LYRICANDLE.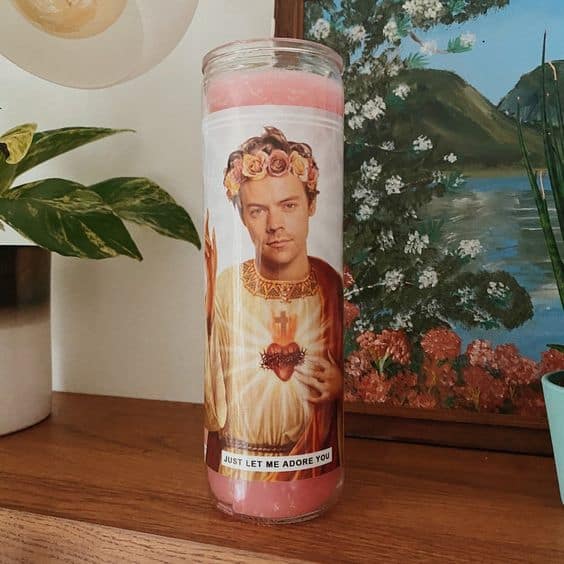 This is something every fan needs on their Harry Styles shrine. Saint Harry Styles is here to save you and just wants you to let him adore you, as the label says. This hilarious pink candle features a stunning pic of Styles in classic religious garb and a pretty flower crown. You can check out Aintsaint if you're interested.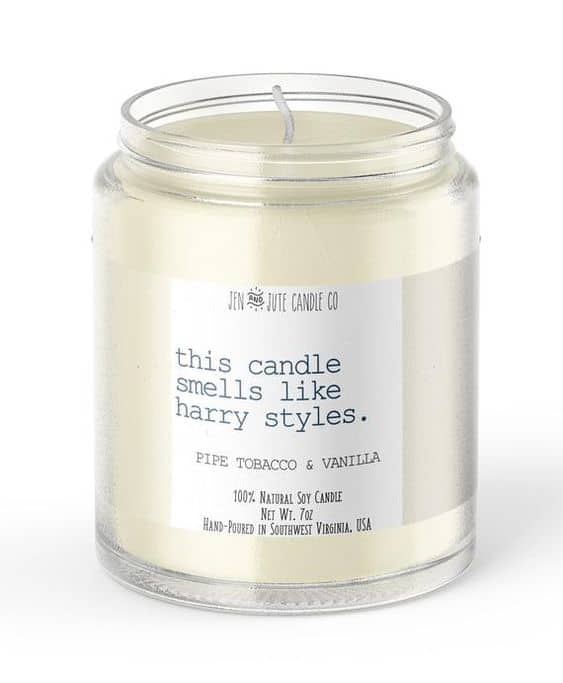 Here's another candle that claims to smell just like Harry Styles, but this one's a little different. Made by Jen and Jute Candle Co on Etsy, this candle simply smells like vanilla and tobacco. A few celebrities have said Harry sometimes smells like these scents, which is why we've got another vanilla and tobacco candle here.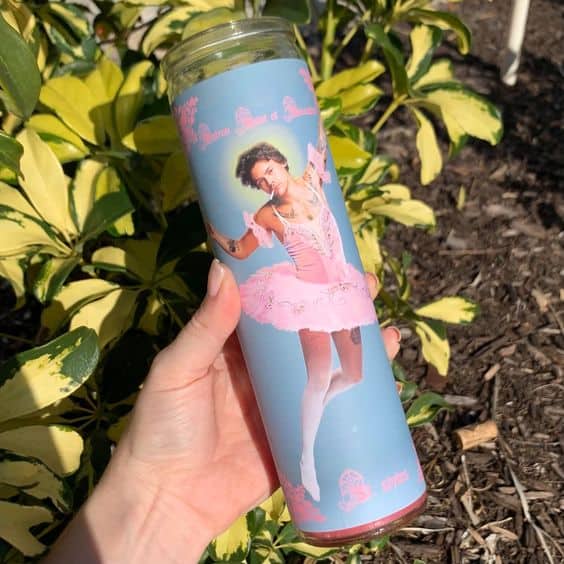 I had to give you another prayer candle option. These fun gag gifts have been all the rage ever since they were first created. This rose-scented candle features Harry in the same pink ballerina outfit we saw on a t-shirt above. Saint Harry wants to save you from your sins, so check out this candle from Pickle Heart Emporium on Etsy if you have a confession to make.
Best Harry Styles Stickers
It's a proven fact that no one in the history of the world has ever been upset to receive a sticker. It's true! Harry Styles devotees are in for a real treat because thousands upon thousands of original Harry stickers have been created by fans. Let's take a look at the best of them.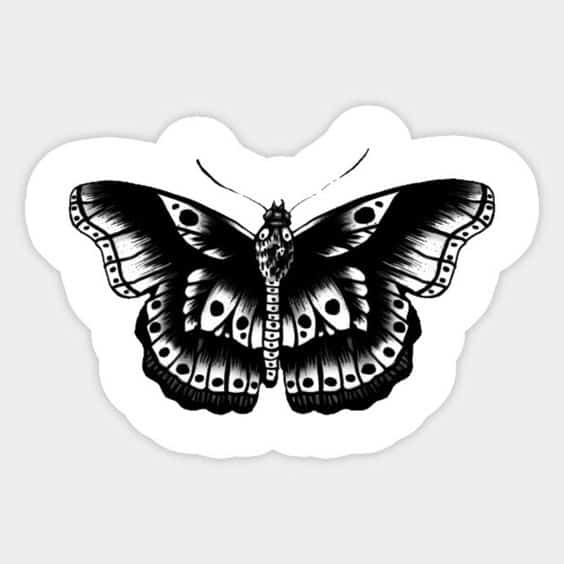 Look! It's one of Harry Styles' most iconic tattoos! This sticker is subtle enough that only other Harry Styles fans will know what it is. They'll know that this tat sits just above Harry's stomach, the wings sprawled across his ribs. Harry got this tattoo to symbolize transformation, so this sticker can be a thoughtful gift if bought for a fan who just underwent a big change.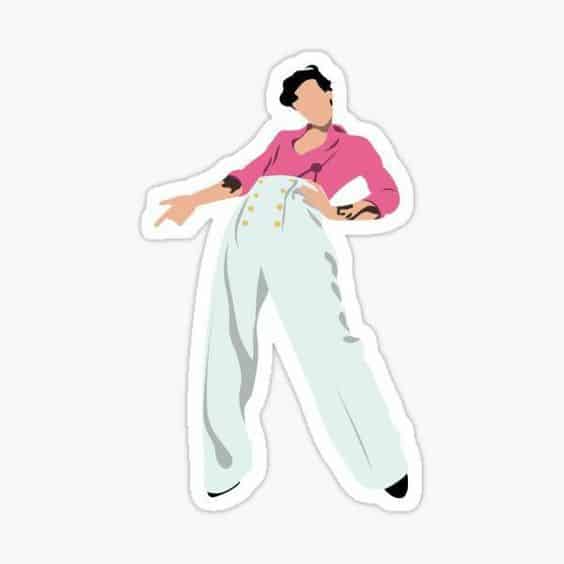 Fine Line is an album that shook up the pop music industry and broke records. It's an iconic album released by Styles in 2019 when he further captivated us all with his masterful singing. This sticker shows off what outfit Harry is wearing on the album cover. Fans would recognize that pink shirt and those high-waisted white pants anywhere!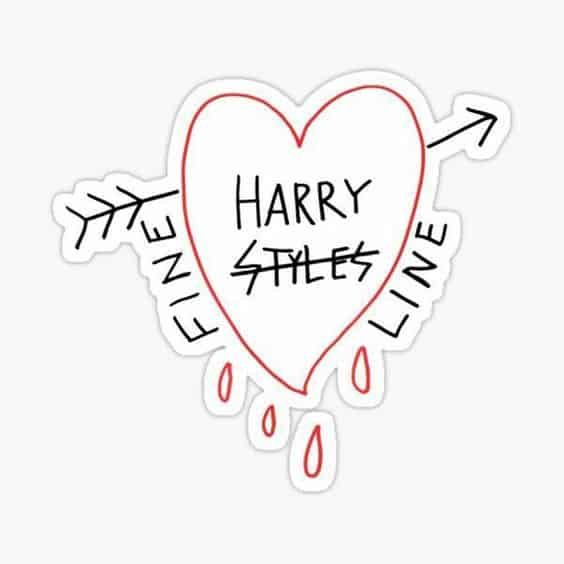 Since Fine Line was such a hit, I thought I'd throw in another Fine Line sticker. This one says, "Harry Styles" and "Fine Line" inside a red heart with an arrow piercing through it. Fans can reminisce on all their favorite Harry songs each time they peer at this beautiful sticker you bought them.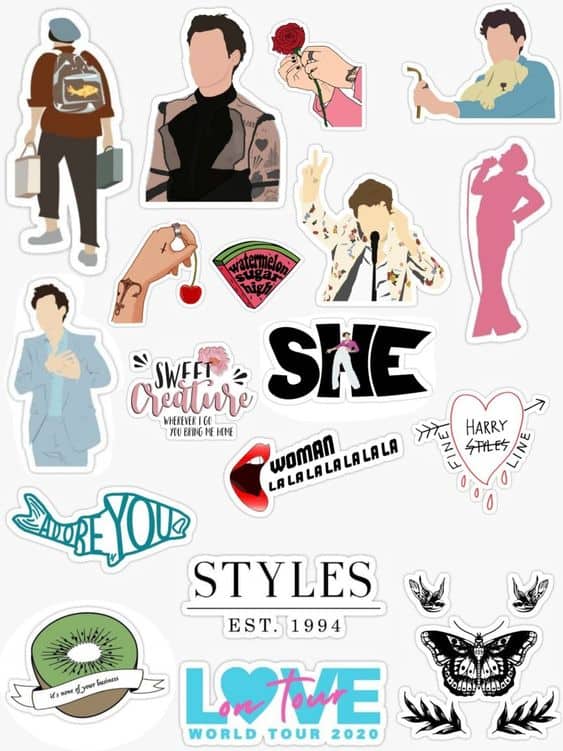 Why settle for just one Harry Styles sticker when you could get 20 of them? This pack includes the Fine Line sticker I just discussed above. The fan you know can cover their laptop, locker, or any space with their love for Harry Styles when you buy them this sticker set. There's a nice variety of different art styles, too.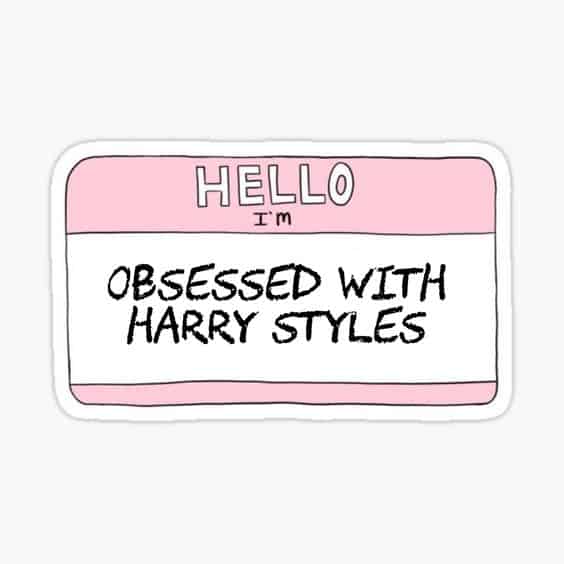 We've all seen the sticker format that looks like a nametag and says, "Hello, I'm…" with a blank space underneath. In this sticker's blank space, it says, "Obsessed with Harry Styles." Greet everyone as your true self by sticking this one on your laptop, binder, folder, etc. Check it out at vero_lezcano if this design speaks to you.
Best Harry Styles Bags
I've got one more category to show you today. It wouldn't be an ultimate Harry Styles gift ideas guide without talking about bags. Tote bags, book bags, purses, and more have all been designed to feature our modern-day prince. Let's roll them out!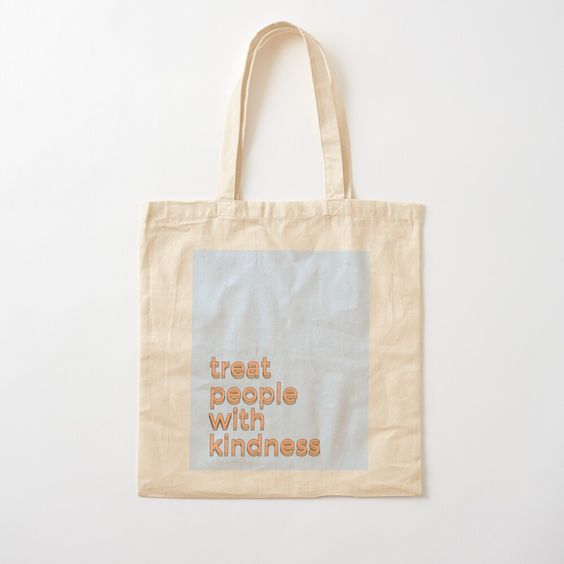 Fans will get the reference to Harry Styles' song, Treat People with Kindness, as soon as they see the words on this tote bag. The pale blue and bold yellow fit Harry's personal fashion sense, which is another reason why I like this bag. An artist named Mmikhaila created this design and sells it on their RedBubble page.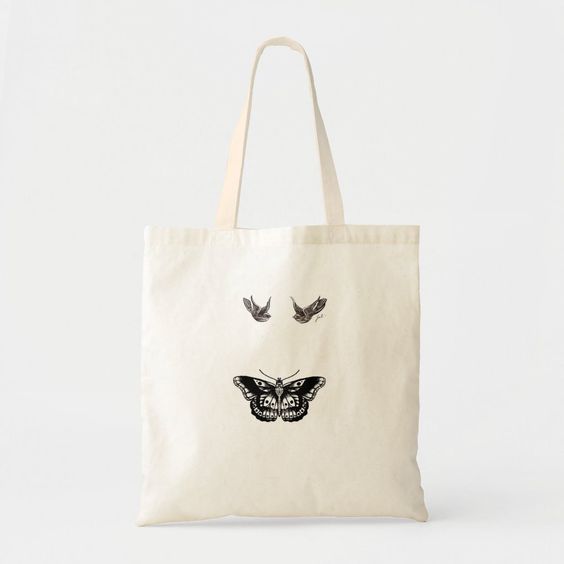 Ah, we see Harry's beloved butterfly and two birds on merch once again. Fans sell designs featuring the birds (swallows, specifically) that Harry said represented travel to him. These large swallows are inked just below both of his collarbones, which makes them stand out amongst his other 60+ tats. You can buy this tote bag on Zazzle if you want a sentimental Harry gift.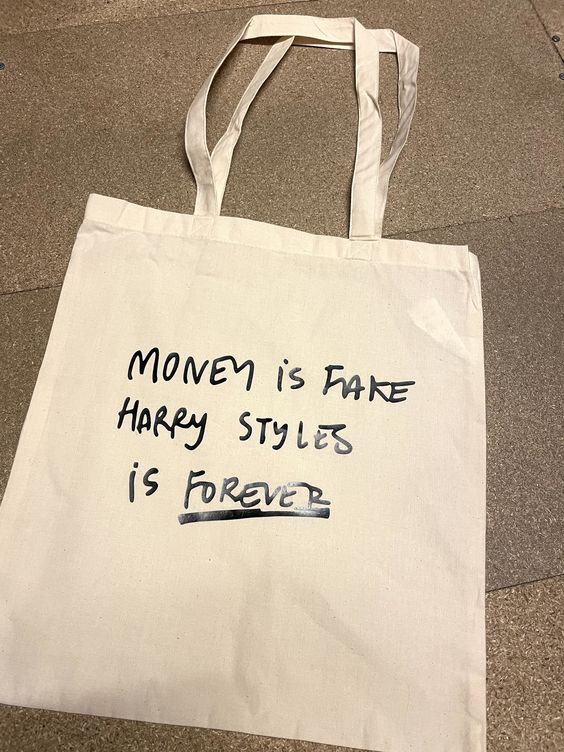 Money is fake, but Harry Styles is forever. Everyone knows that! This hilarious tote bag can be an iconic part of any Harry fan's outfit. It's referencing a picture that went viral on social media, which showed a subway station column that said, "Money is Fake Harry Styles is Forever." It was all over the Harry Styles fandom pages. Check it out on Crystals by Carly Store on Etsy.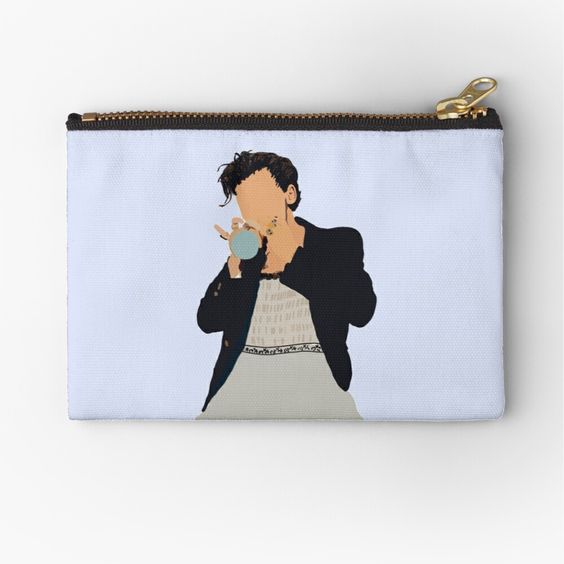 This zipper pouch, featuring a stylistic image of Styles in his iconic Vogue cover dress once again, works great as a makeup bag. If someone you know is about to travel, this would be the perfect gift for storing their travel essentials like mascara and lipstick. If you want to be extra nice, you could even buy some extra makeup to put in the pouch when you give it to them. You can buy it at ChiefAflac's RedBubble store.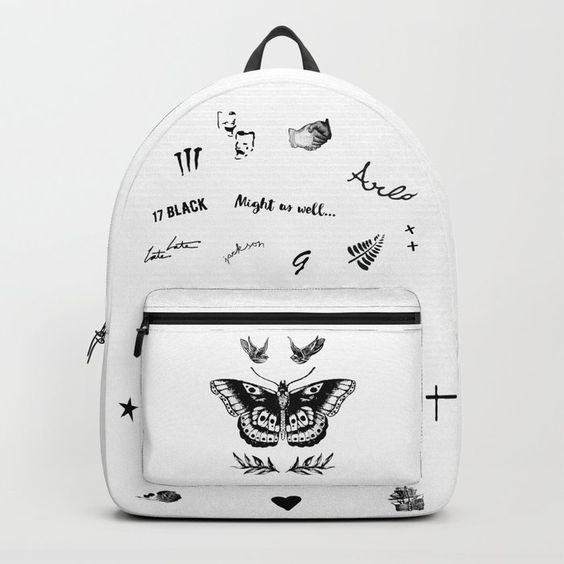 Who else loves looking through the many creative designs you can find on Society6? Well, I found this Harry Styles backpack while browsing one day and I fell in love. Lots of Harry's tattoos are printed all around the bag. His butterfly tattoo and bird tattoos are front and center on the front pocket.
Tips for Picking the Right Harry Styles Gift
Know what age you're buying for
Figure out what their favorite Harry Styles songs are
Find out their favorite Harry Styles era
Decide if you should buy them 1D merch or Harry Styles merch
Consider which gifts they'd find most useful
Try to get something unique, like the gifts listed above
Get a second opinion about your choice before buying
Types of Harry Styles Gifts to Look for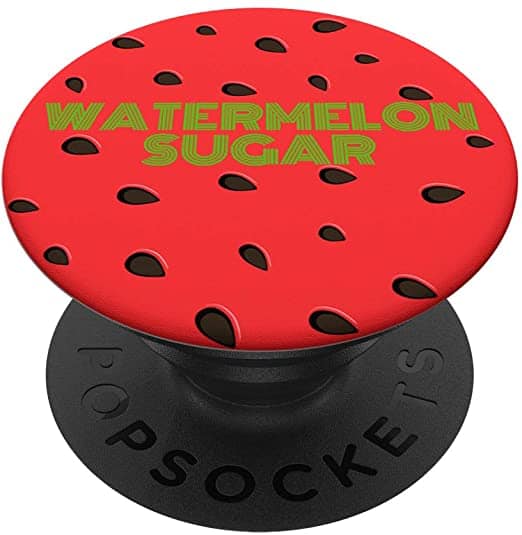 These are the most popular types of Harry Styles gifts to buy for fans. They're popular for a reason-everyone needs the items on this list! Check out these suggestions and narrow down which one you or the fan you know would like:
Pillows
Blankets
Shirts
Candles
Stickers
Bags
Buttons
Notebooks/Stationary
Pajamas
Phone Cases
Laptop Cases
Pop Sockets
FAQ
To end our search for the best Harry Styles gift ideas, I'd like to answer your most frequently asked questions about Harry's merch. Or just about Harry's lift in general.
Question: Are Harry Styles Gift Ideas Appropriate for Kids?
Answer: That depends on your parenting style and how old your children are. Harry does occasionally swear in some of his songs. A few of his songs are about sex, including his ever-popular hit, Watermelon Sugar. Take that as you will.
Question: Where's the Best Place to Buy Harry Styles Gifts?
Answer: Amazon, eBay, RedBubble, and Etsy are some of my top recommendations for Harry Styles gifts. You could also choose to buy official merchandise from Harry Styles' online merch shop. Another unique idea might be to purchase something from Harry's fashion line.
Question: What is Harry Styles' Most Popular Song?
Answer: As It Was is Harry Styles' most popular song. His Spotify streams for this song broke a world record.
Watermelon Sugar Buy
I hope you're ready to buy all your favorite Harry Styles gift ideas for friends and family! I got to show you the ultimate collection of Harry Styles merchandise referencing Harry's career and Harry himself from his One Direction days and onward.
What was your favorite gift idea you saw today? Let me know in the comments so I have a better idea of what merchandise you'd like to see in the future. If you want something practical but still show your love for Harry, I'd recommend the Harry Styles Tattoos Backpack. For more Harry Styles gift guides, please come check out our website!
Continue reading:
Your Complete Guide to the Best Harry Styles Merch
Charli D'Amelio Merch Review: Your Buying Guide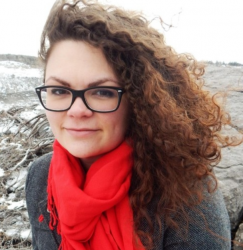 Latest posts by Candace Osmond
(see all)