Are you a fan of both Naruto and Crocs? Listen, there ain't so shame in the Croc game. I literally have six pairs with different colors and designs from fandoms I love. Whether you're wearing your favorite ridiculously comfy shoes or showing off your love for a beloved anime series, what better way to do it than with Naruto Croc Charms?
These unique charms look great on any pair of crocs (don't laugh, they DO!), and they come in various colors and designs that are sure to add some extra flair to your outfit. Read on for my list of the best Narutos Croc Charms available today.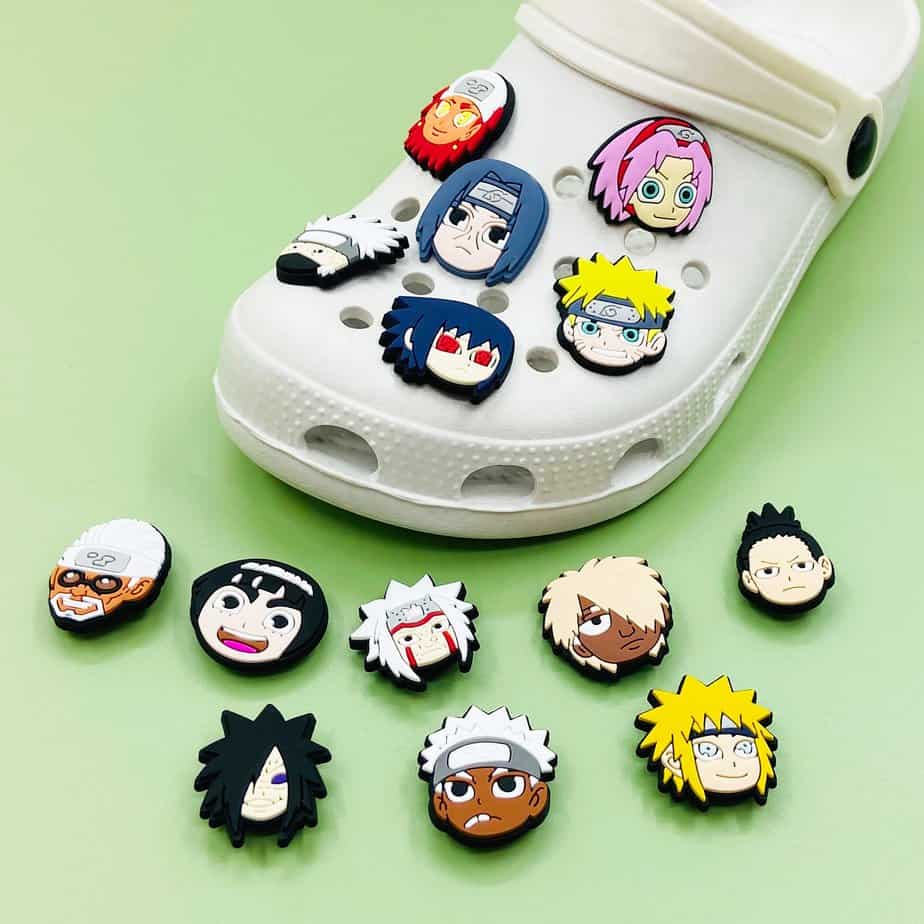 Bottom Line Upfront
I don't have Naruto Crocs, but the Determined Naruto Charm would look killer on my black Crocs. I might just have to grab it.
Top 3 Picks
What Are Naruto Croc Charms and Why Are They Popular?
Naruto Croc charms are small, colorful rubber charms inspired by the famous Japanese anime series Naruto. These charms are designed to fit onto Croc shoes and can be used to show off your fandom or express your personal style. Think of them as the weeb version of Pandora charms.
They come in various designs and colors, making them popular with fans worldwide. The fun designs also make them an excellent gift for any Naruto fan!
The Best Naruto Croc Charms
I divided the list into two sections, single charms and bulk charms, to make it easy for you. Each item on the list is made of quality, features iconic designs, and is easy to use.
Individual Naruto Croc Charms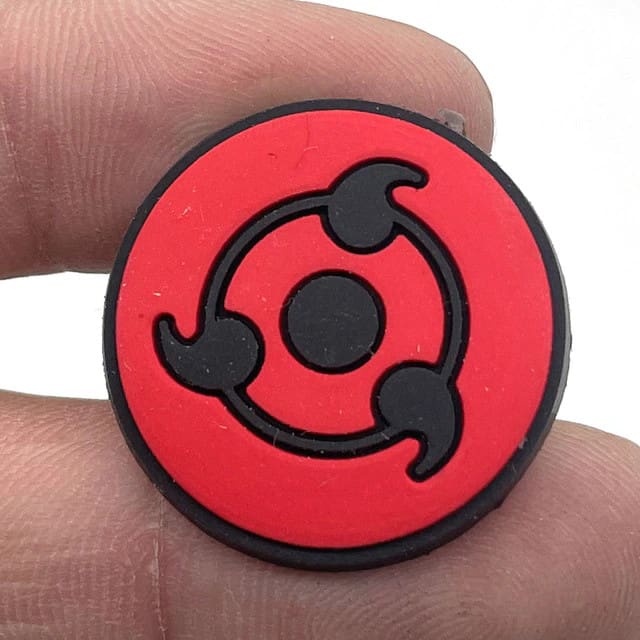 Looking for something a bit more anime in your life? The Tripe Tomoe Sharingan croc charm could be just what you're looking for! This PVC charm is about 3 cm and comes in black and red with its signature tomoe symbols. You can even see the detailing on the Sharingan engraved within each tomoe – pretty cool, right?
Key Specs
Price Range: < $5
Size: 2.5 to 3 cm
Pro
Con
Attach it to your bag, clothing, or crocs and it'll make a stylish statement. Perfect for any Naruto fans looking for a particular item that stands out from the crowd!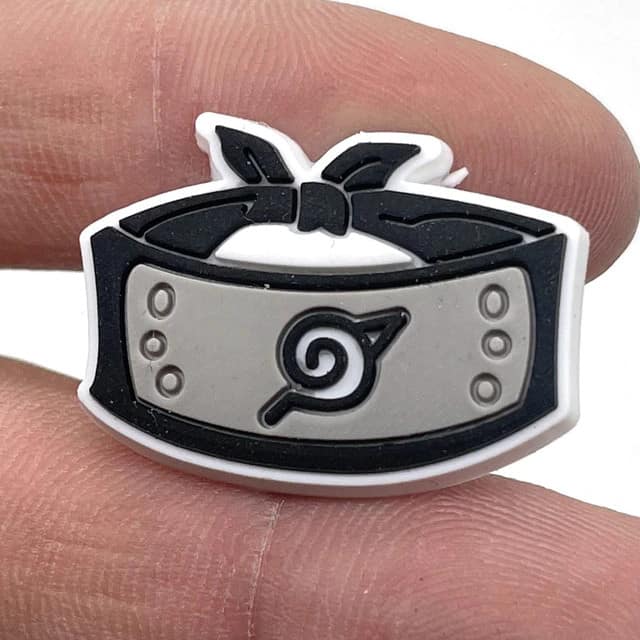 Are you a Naruto fan? If so, check out the excellent PVC Konohagakure Naruto croc charm. It takes the shape of Naruto's iconic headband and is made with PVC material. So, it is lightweight, stylish, and durable and makes an excellent accessory for anyone who loves the show.
Key Specs
Price Range: < $5
Size: 2.5 to 3 cm
Pro
Con
These charms are about 2.5 to 3 cm in size and contain the Konohagakure symbol at their center. With this charm, you can step out, flaunting your enthusiasm for Naruto while also displaying loyalty against Team 7 – an interesting conversation starter.
The PVC Uchiha Obito Croc Charm is a must-have item for any Naruto fan. At about 2.5 to 3 cm in size, it's the perfect way to show off your love of everything Naruto! It features a replica of Uchiha Obito's orange mask, complete with his traditional black anbu markings.
Key Specs
Price Range: < $5
Size: 2.5 to 3 cm
Pro
Con
For those unfamiliar, Uchiha Obito was one of, if not the most iconic characters in the Naruto universe with his bitter vendetta against Kakashi and willingness to sacrifice himself for the greater good. Whether buying this as a collectible or a reminder of one of your favorite characters, it makes a fabulous and unique addition to any collection.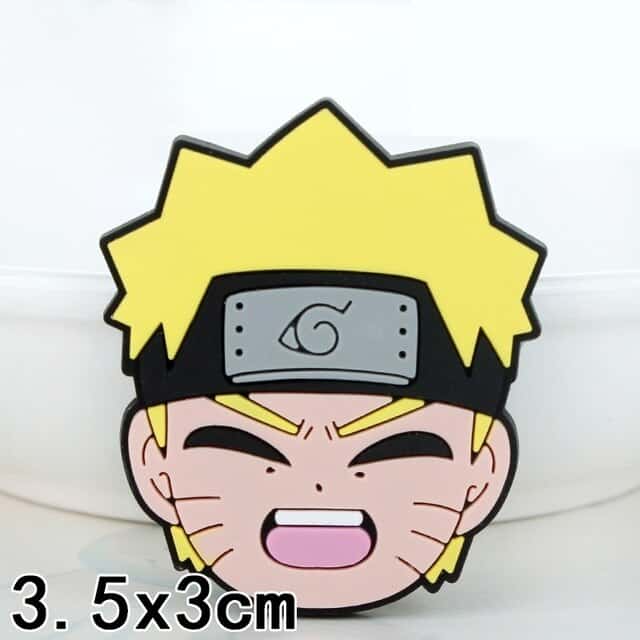 If you're a fan of Naruto, you'll definitely want one of these croc charms featuring the iconic character! These playful little charms are charming and versatile – clip it to your bag as an exceptional statement piece or attach it to something special for a thoughtful gifting option.
Key Specs
Price Range: < $5
Size: 2.5 to 3 cm
Pro
Con
The detail and craftsmanship put into these charms make them highly collectible and an absolute must-have for Naruto lovers. Crafted with fine detail, these charms feature Naruto's iconic silhouette in vivid colors and textures.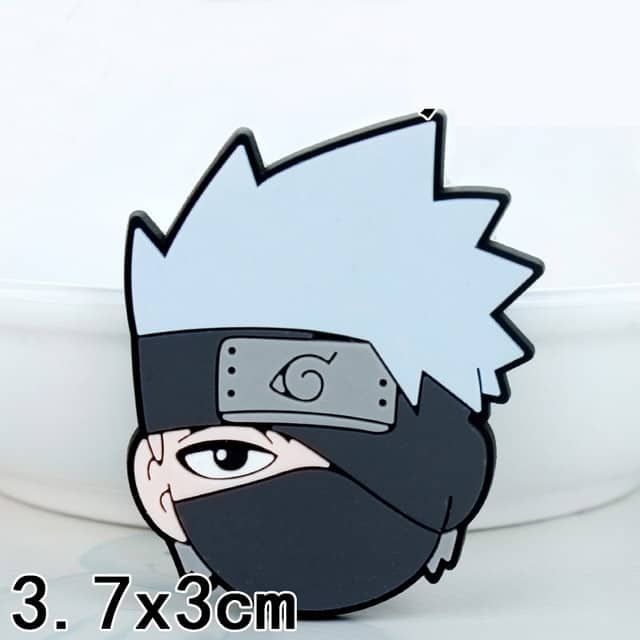 Kakashi Hatake was a ninja of the Hidden Leaf Village and a former student of the Fourth Hokage. He later became the Sixth Hokage of the village. Kakashi was born into the eminent Hatake clan and was raised by his father, Sakumo Hatake, who was also a renowned ninja.
Key Specs
Price Range: < $5
Size: 2.5 to 3 cm
Pro
Con
Kakashi became a ninja at the unprecedented age of five and quickly rose to fame as one of Konoha's most talented ninjas. Naruto croc charms with Kakashi's face are the perfect way for fans of the popular anime series to show appreciation for the beloved character.
They're also crafted with fine detail, so they will last you for years due to their high quality. Whether you wear it as a pendant or attach it to your Crocs shoes, this charm will make an impactful statement.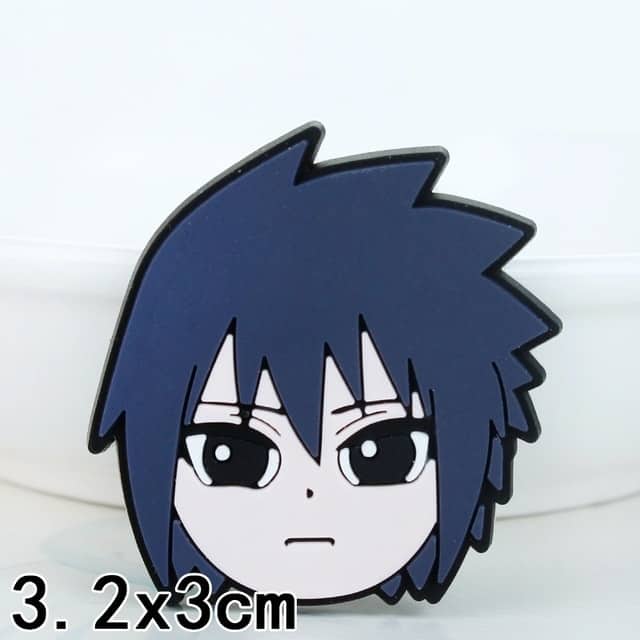 Anko Mitarashi was a Konoha jōnin and a former student of Orochimaru. After graduating from the Academy, Anko specialized in intelligence gathering and interrogation techniques.
Key Specs
Price Range: < $5
Size: 2.5 to 3 cm
Pro
Con
She is also known for her impressive mastery of taijutsu and ninjutsu, being able to go toe-to-toe with other formidable ninjas, such as Naruto Uzumaki. Despite her gruff exterior and blunt personality, she is a kind-hearted person who deeply cares about her comrades.
A Naruto croc charm with Anko Mitarashi's face is perfect for fans of the popular anime series who want to show appreciation for her bold and cunning character. This charm will make a statement and express your admiration for Anko's bravery and skill in battle.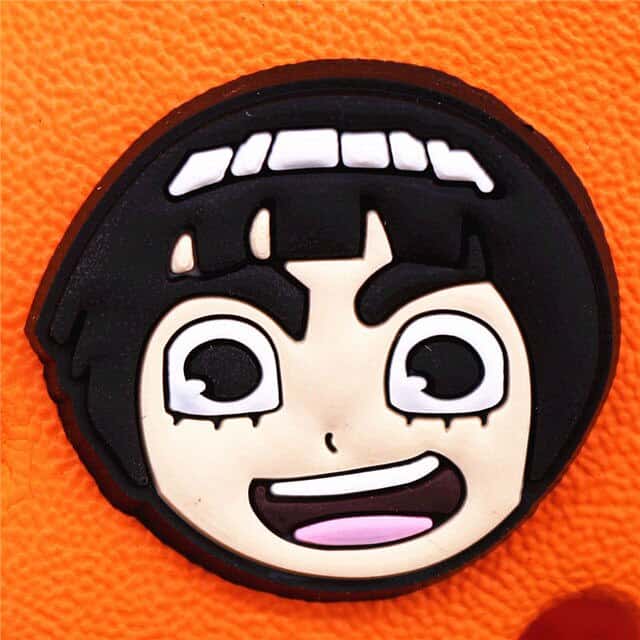 Rock Lee is a shinobi from the Leaf Village in the Naruto universe. He is known for his impressive hard work and dedication to mastering the ninja arts, despite being unable to use ninjutsu or genjutsu.
Key Specs
Price Range: < $5
Size: 2.5 to 3 cm
Pro
Con
He impresses others with his unrivaled taijutsu and masterful usage of the Eight Inner Gates technique. Bearing an eccentric fashion sense, Rock Lee quickly became popular among anime fans who adored him for his courage, determination, and never-give-up attitude.
A Naruto croc charm with Rock Lee's face is an excellent way for fans of the popular anime to show their appreciation for his bravery and incredible strength. Not only does it make a stylish statement, but its high-quality craftsmanship ensures that it will last forever as a reminder of his tenacity and dedication to reaching his goals.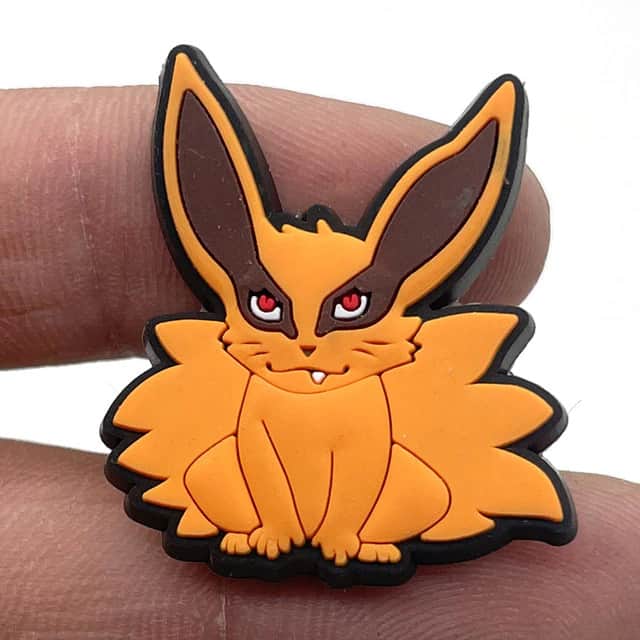 Kurama, also known as the Nine-Tailed Fox, was an entity captured by Leaf Village shinobi Madara Uchiha. One half of its chakra was sealed inside Naruto Uzumaki, and the other inside his twin brother, Menma.
Key Specs
Price Range: < $5
Size: 2.5 to 3 cm
Pro
Con
It is the source of incredible power, often compared to a god in mythology. Although initially hostile towards humans, Kurama eventually developed a bond with Naruto over time through their shared experiences.
As expected, Kurama is a powerful and meaningful symbol to Naruto fans, so having a Kurama croc charm feels almost mandatory! This adorable 3-cm charm is made from PVC, just like the others. While I love the intricate details and meaning behind the design, I feel this would require constant cleaning.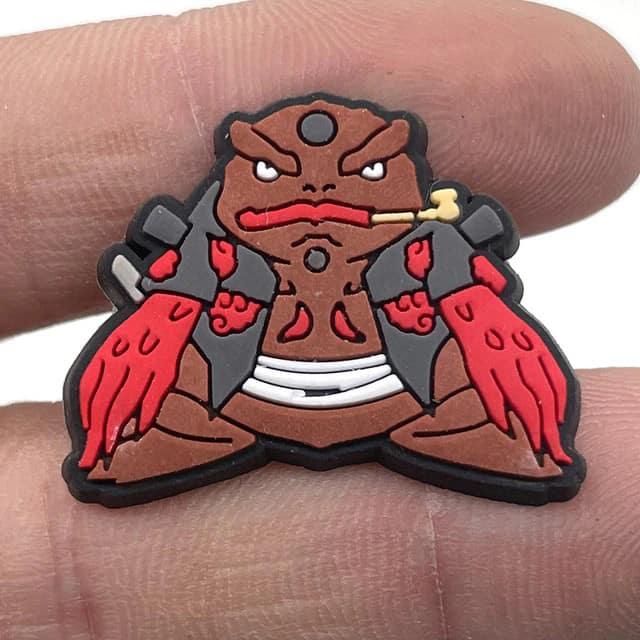 Gamabunta is one of the most iconic characters in the Naruto universe. He is a giant toad and summons of the Toad Sage, Jiraiya. He is known as the Boss of the Tailed Beasts for his intimidating size and immense strength.
Key Specs
Price Range: < $5
Size: 2.5 to 3 cm
Pro
Con
Because of his enormous size and popularity, he has become a symbol of Mokuton-style Jutsu, only capable of being summoned by those with the highest mastery of Senjutsu.
As a huge fan of Naruto, having a croc charm with Gamabunta smoking his pipe is the perfect way to show off my fandom! The intricate details that go into making this charm make it stand out compared to others. Best of all, it's made of PVC, making it both light and durable. Plus, with being so easy to put on your crocs!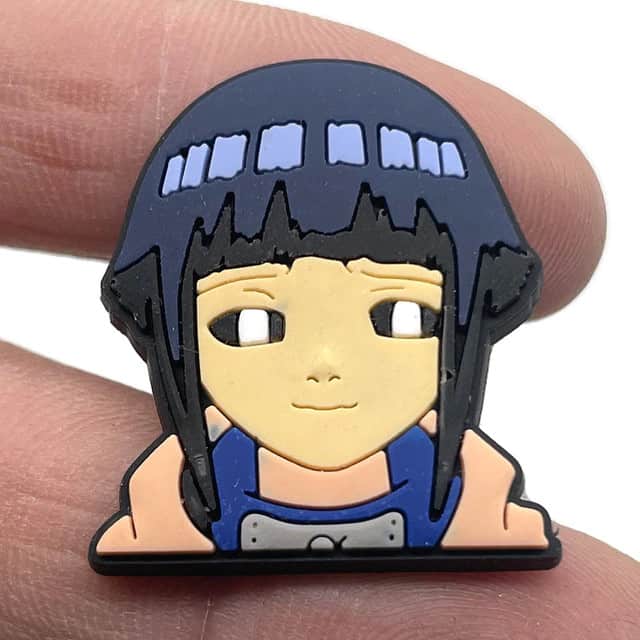 Hyuga Hinata was a crucial character in the Naruto universe. She was part of the main protagonist's group, Team 8. As a young girl, she was shy and often lacked confidence due to her family's expectations of her.
Key Specs
Price Range: < $5
Size: 2.5 to 3 cm
Pro
Con
Despite this, Hinata eventually found courage in her convictions and developed great physical and spiritual strength. Her admirable traits and loyalty quickly won over many in the series, including Naruto.
This adorable Hinata charm clarifies why Naruto fell in love with her. Through their friendship, she gained an important life lesson: never give up no matter what is thrown your way. As for the other details, the construction and size are similar to those we've seen in the other croc charms of today's list.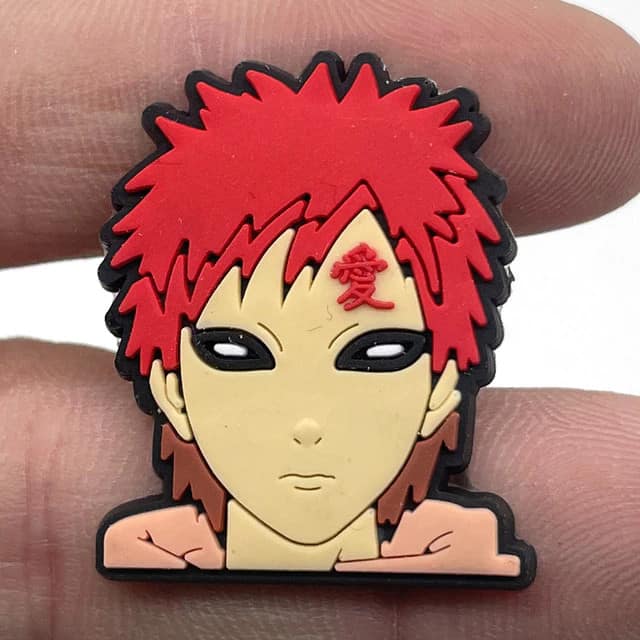 Gaara is a significant character in the popular manga and anime series Naruto. He was born as the jinchūriki of Shukaku, the One-Tailed Beast, and became one of the few to possess multiple-tailed beasts.
Key Specs
Price Range: < $5
Size: 2.5 to 3 cm
Pro
Con
Gaara is a highly skilled shinobi known for his sand manipulation abilities and strategic fighting style. He is also notorious for his violent nature, a trait he eventually overcame after being supported by his comrades.
This on-point Gaara charm is perfect for those who love a warrior's story. I love the details on this, but the predominantly neutral colors will get dirty fast (and be a nuisance to clean).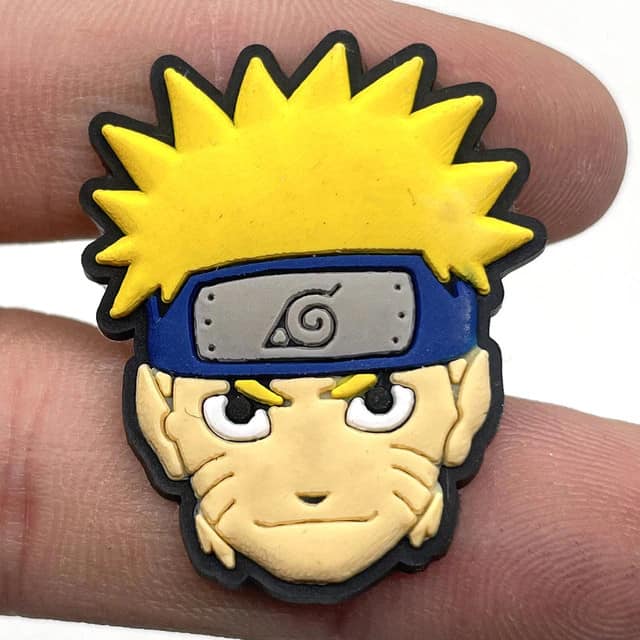 Naruto croc charms with the lovable character's face are an easy way to show enthusiasm for this well-loved anime series. Not only will it make an eye-catching addition to your Crocs shoe, but it will also bring a grin to anyone who sees it. Naruto is one of the most recognizable names in anime, and these croc charms allow fans to express their admiration for the series proudly.
Key Specs
Price Range: < $5
Size: 2.5 to 3 cm
Pro
Con
The charms are resilient materials that withstand wear and tear, which means they'll last through many seasons of use. With these unique accessories, you can proudly show off your love of Naruto while staying fashionable and on-trend.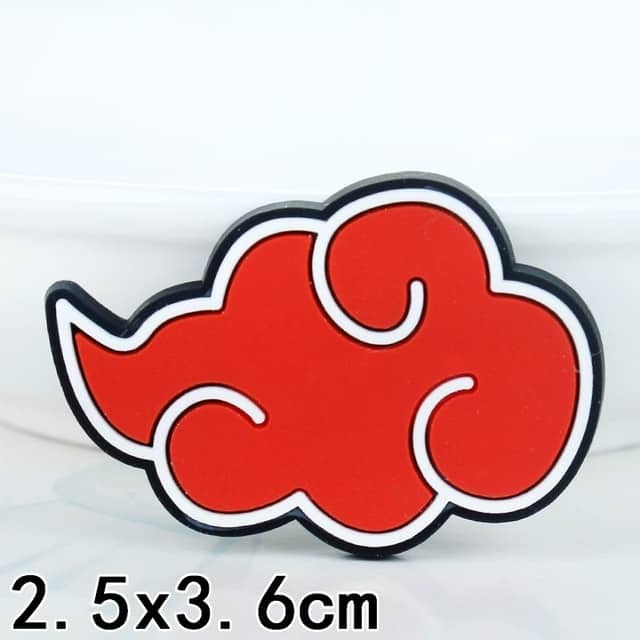 The Red Cloud croc charm is a great way to showcase your admiration for the popular anime series Naruto. This distinctive symbol, featuring a red-and-white cloud shape, has become an iconic part of the show's aesthetic and carries a sense of tradition and strength.
Key Specs
Price Range: < $5
Size: 2.5 to 3 cm
Pro
Con
It has become synonymous with overcoming obstacles, strength, and courage—all qualities found within Naruto as he pursues his dreams. It symbolizes the resilience of the human spirit, encouraging fans to strive for their goals in life just as Naruto did in his own adventures.
Bulk Naruto Croc Charms
Go for the kill and totally deck out every inch of your Crocs with a bulk set of charms. Or you could be a reasonable person and use some to gift to your friends. Whichever works for you!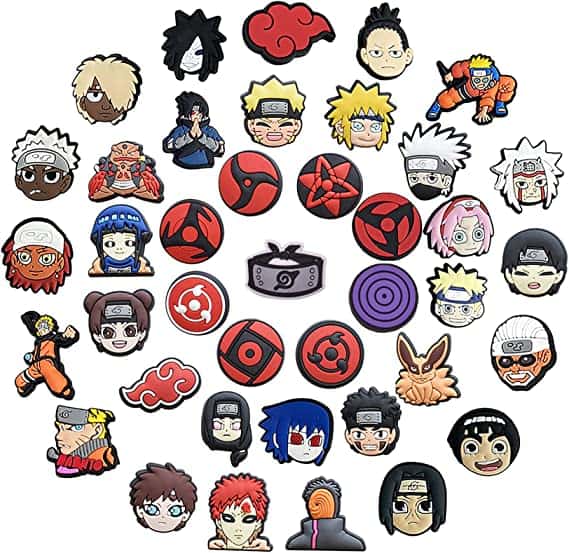 Buying Naruto croc charms in bulk is a great way to save money and get the complete accessories collection. With each purchase, you receive a set of 40 different member-exclusive models featuring iconic characters from the series.
Key Specs
Price Range: $10 – $15
Size: 4.69 x 3.54 x 1.34 inches (per package)
Pro
Con
Some character faces look really weird
From Naruto to his Six Paths Sennin mode to Sakura in her various costumes and hairstyles, having access to all these variants of your favorite characters makes it easier to show off your love for the series.
Plus, when you buy them in bulk, you get an even better deal on the price! Buying Naruto croc charms in bulk is the more intelligent choice for collectors or fans who want access to all types of figures for their wardrobes or collections.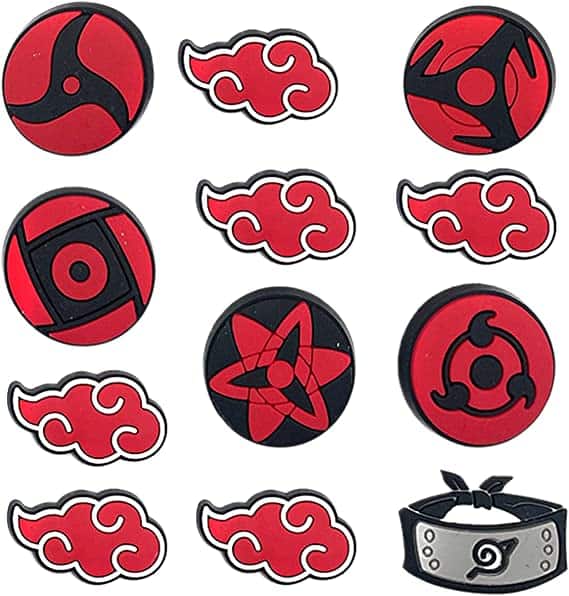 Buying Naruto croc charms in bulk is an economical and practical way to enjoy your favorite characters from the series. You get better value for your money, and the different models you get for a good price offer more variety than buying individual pieces.
Key Specs
Price Range: $5 – $10
Size: around 3 cm
Pro
Multiple designs in one pack.
Con
Some tend to fall off the crocs.
In this set, you will find charms with common and popular Naruto symbols. That includes the Tripe Tomow Sharingan, the Itachi, Sasuke, Obito, and more. While I love the variety, I've seen people complain that these charms tend to fall off the crocs out of the blue, which could mean losing many.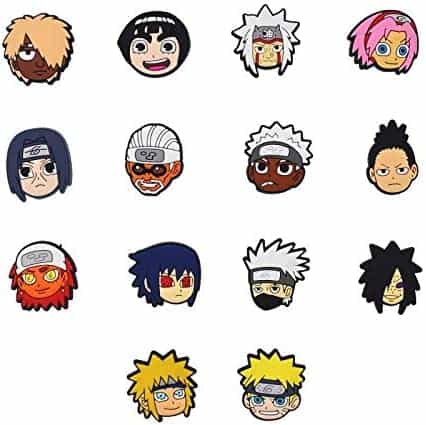 This set of 14 croc charms featuring the faces of popular characters from the anime series Naruto is a great way to show off your love for the show. These charms are stylish and fun and feature iconic characters from the series, including the main protagonists: Naruto Uzumaki, Sasuke Uchiha, and Sakura Haruno.
Key Specs
Price Range: $10 – $15
Size: about 3 cm each
Pro
14 different character charms.
Con
The charms are made from durable material, ensuring that the vivid colors stay bright and vibrant even after long use. Given their small size, you can easily attach them to any type of Crocs shoe or other items to create a personalized look.
Tips for Choosing Your Naruto Croc Charms
With stuff like this, I can easily go overboard and lose track. So this is the criteria I'd follow to make a decision; hopefully, it helps you, too!
Figure a Budget
How Much Are You Willing to Spend?
Size of the Charms
Do You Have a Preferred Charm Style?
Check the Materials and Craftsmanship
Do They Have a Professional Finish and Attention to Detail?
What Do Others Have to Say About the Charms?
FAQs
Question: What are the charms on Crocs called?
Answer: The charms on Crocs are known as "Jibbitz." These small decorative charms come in various shapes and sizes to represent your favorite characters or images. They can be secured to your Crocs shoes for a fun and customized look. New styles are added regularly to keep up with the latest trends.
Question: How do you get croc charms?
Answer: You can get croc charms in a variety of ways. You can purchase them separately as single items or in bulk from many stores selling Crocs shoes. Some retailers may also offer special promotions when purchasing a certain number of Jibbitz or buying larger quantities. Some parks and resorts offer exclusive character-based designs only available at their locations. You can make your own Jibbitz with the help of online resources and craft supplies.
Question: Are they called Jibbitz or charms?
Answer: Jibbitz is actually the name of the company that makes button-like charms. That's why people refer to these charms as Jibbitz.
Wrap Up
Naruto croc charms are perfect for showing your love of the popular anime series. These unique and stylish accessories will add a personality to your Crocs shoes, making them stand out.
If you want my opinion, the Determined Naruto Charm is a great and classic choice. Also, we've got a ton of other cool Naruto merch ideas on our site; go check it out!
Looking for more interesting readings? Check out: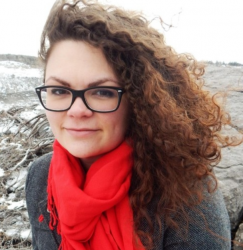 Latest posts by Candace Osmond
(see all)