Are you a fan of the famous Japanese anime series Hunter X Hunter? Me too! So, like me, you know that showing your fandom with pride is essential. You can achieve this goal in style with the best Hunter X Hunter Sweatpants!
These sweatpants are designed with characters from the series in mind and help to bring out your inner otaku. Not to mention, they all look comfy as hell!
Whether you want to express your love for Gon Freccs or show off the bright colors of HxH, these sweatpants give you a fashionable way to do just that!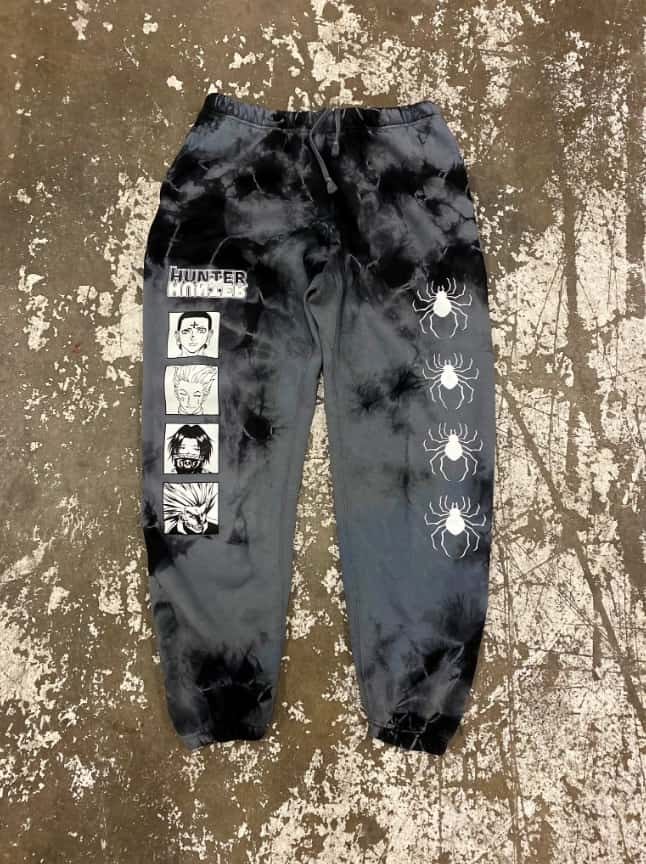 Bottom Line Upfront
I'd wear any of these, to be honest. But I think the HUNTER X HUNTER Grey Sweatpants are my fav pick because the design is simple, not too flashy, the material is soft, and it has a drawstring which I love in sweatpants.
Top 3 Picks
Why Hunter X Hunter Sweatpants Are the Perfect Choice for Fans of the Series
Hunter X Hunter Sweatpants are the perfect choice for fans of the series because they allow them to express their love for the show comfortably and stylishly. These sweatpants come in a range of colors and styles, enabling fans to find one that suits their taste.
The best part is that these sweatpants feature a unique design inspired by characters from the series, so you can show off your fandom with pride! Not only are these sweatpants made from high-quality materials, but they are also super cozy and perfect for lounging around or wearing out on errands.
The Best Hunter X Hunter Sweatpants to Wear
To be honest, I'd wear any of these pants, but I'm not super picky when it comes to my comfy clothes. They just have to meet the following criteria:
Must be made of comfy materials
Should be decently affordable
Shows off my love for the fandom
So, comfy materials can range from cotton to anything except denim. We don't do "hard pants" around here! But I also have a dog and hate any materials that become one with the dog hair; ones like that weird, itchy rayon that literally melts in the dryer. I'm looking for cotton and polyester blends here.
What I deem to be affordable is obviously going to differ from what you think is affordable. But I tried my best to find cool designs that fell under $50, with the exception of one pair.
With that being said, let's get to it and check out some of the coolest Hunter x Hunter sweatpants.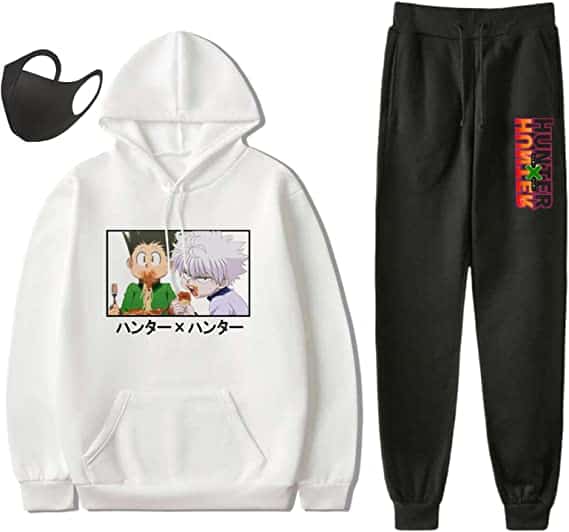 Wearing a Hunter x Hunter hoodie and sweatpants should be on everyone's to-do list! Each piece is made of a blend of 71 to 80 percent polyester to last, so you can show off your fandom repeatedly!
Key Specs
Price Range: $20 – $30
Available Sizes: 3XL
Pro
The prints are of good quality
Con
Plus, these pants have the series logo, and the hoodie has an adorable image of Killua and Gon eating spaghetti— how cute is that?! Remember, only hand wash this set and ensure the pull-on closure is securely on before hitting your neighborhood anime convention.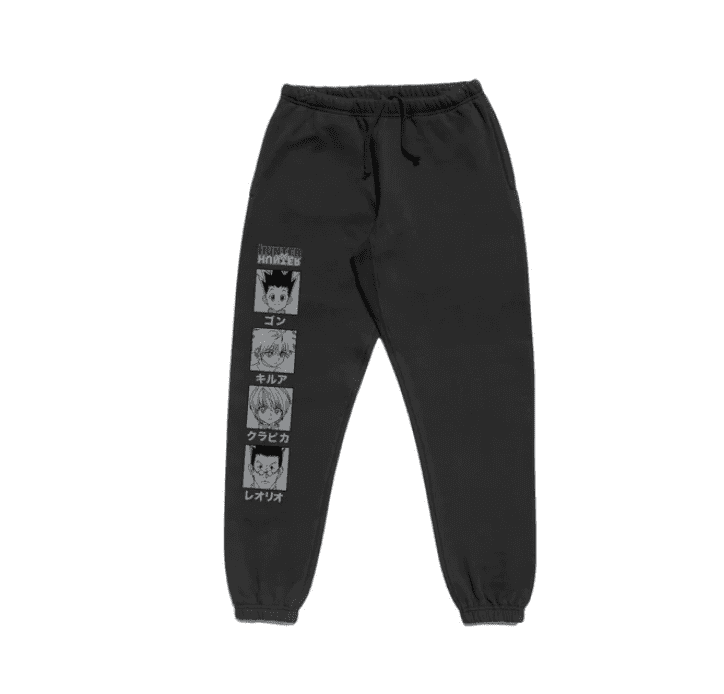 These sweatpants are made from high-quality cotton that will keep you warm while showing off your love of the show. In addition, they have some stylish features – like a pull string at the waist, and cool character faces printed on one leg.
Key Specs
Price Range: $40 – $50
Available Sizes: XS, S, M, L, XL, XXL
Pro
Con
Not available for worldwide shipping
Plus, they come in a sleek charcoal gray color, so you can get even more edge from your wardrobe. Whether you're trying to rock a trend or want just to lounge around the house, they are always a great choice.
However, styling them up can be tricky. If you're looking for some fashion tips on styling charcoal gray sweatpants without offending the gods of fashion, try pairing them with an oversized statement shirt and some cool sneakers for that perfect balance between functionality and fashionista status.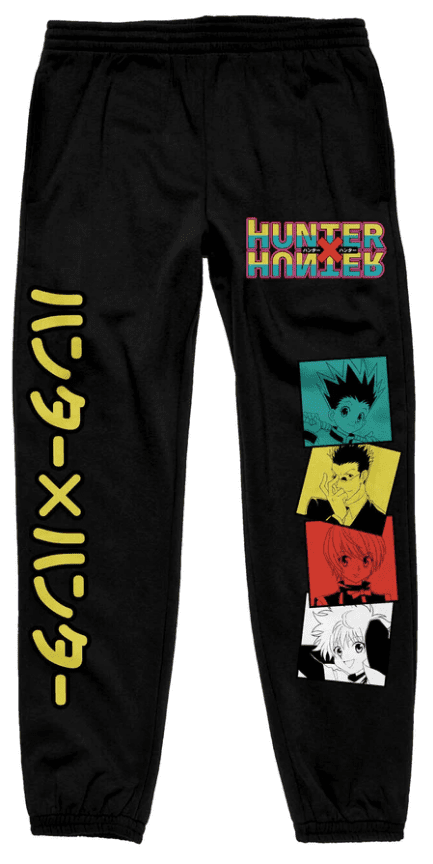 Hunter x Hunter sweatpants make for the ultimate fashion statement and wardrobe addition. They look cool, and their quality materials are sure to last. With its stylish logo on the leg, these pants offer a unique style and pay homage to a long-loved series. And if that wasn't enough, wearing them is like having the invitation to join an exclusive club of anime admirers.
Key Specs
Price Range: $50 – $60
Available Sizes: S, M, L, XL, XXL
Pro
Con
The print is smaller than shown in the pictures
These black Hunter x Hunter sweatpants with character prints have created quite a buzz, but are they worth it? Well, if you're looking for a comfy fit of 60% cotton and 40% polyester, then yes. But the prints are smaller than pictured, so if you need vast prints across your pant legs, there may be a better fit.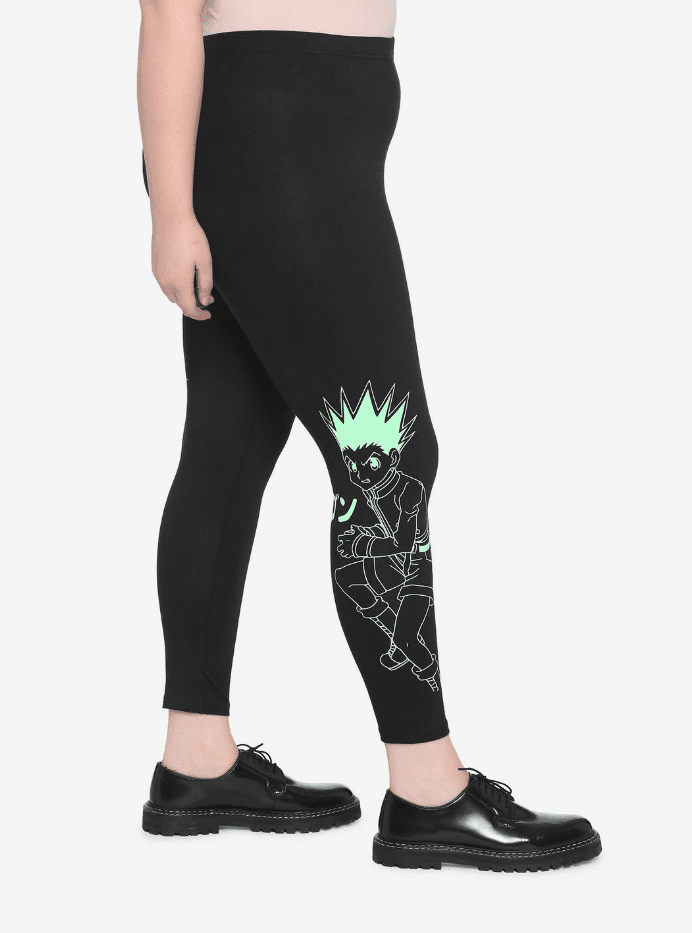 Okay, I know these aren't technically sweatpants, but if you're like me, you wear leggings as you would sweatpants. Leggings are much tighter fitting and often made from spandex or cotton materials. On the other hand, sweatpants are usually a bit looser and made from materials like fleece or French terry. Sweatpants also tend to be slightly thicker than leggings, giving them an added level of warmth and comfort.
Key Specs
Price Range: $30 – $40
Available Sizes: 0 to 5
Pro
Con
They are not sweatpants per se
However, these leggings are so true to the theme they seemed very worthy of making a list. They are made entirely from cotton and feature a print of Gon on one leg and one of Killua on the other. In terms of style, they are on point.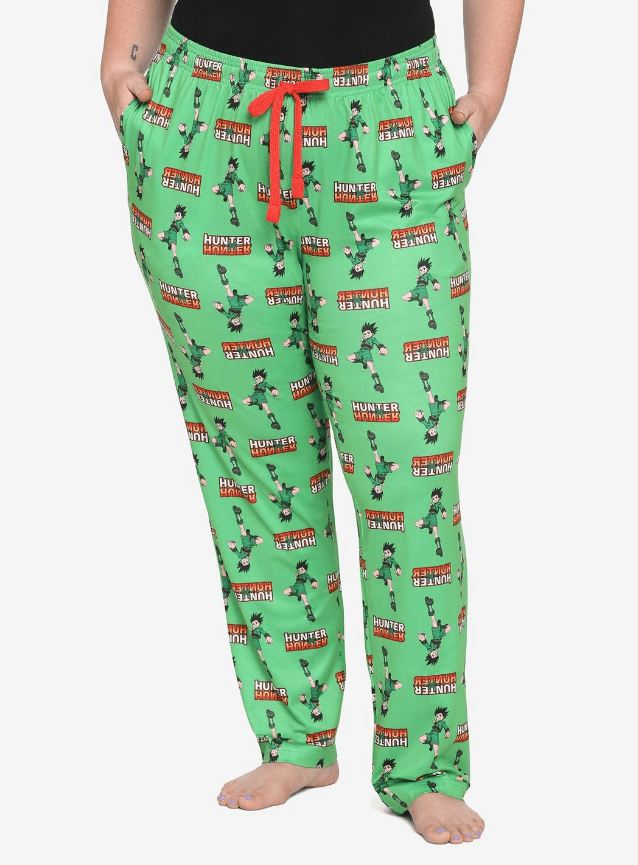 If someone is looking for 100% polyester pajama pants that are as bold, bright, and unmissable as Gon Freecss himself, then Hunter x Hunter's green pajama pants with an orange string and the beloved shōnen character's repeated print must be the obvious choice!
Key Specs
Price Range: $20 – $30
Available Sizes: 0 to 5
Pro
Comfortable and breathable
Con
They are not sweatpants per se
Not only will the wearer look like they have recently emerged from their favorite anime, but they don't have to worry about any of the hassle involved in washing or drying since these pants are 100% machine washable (cold) and low heat dry.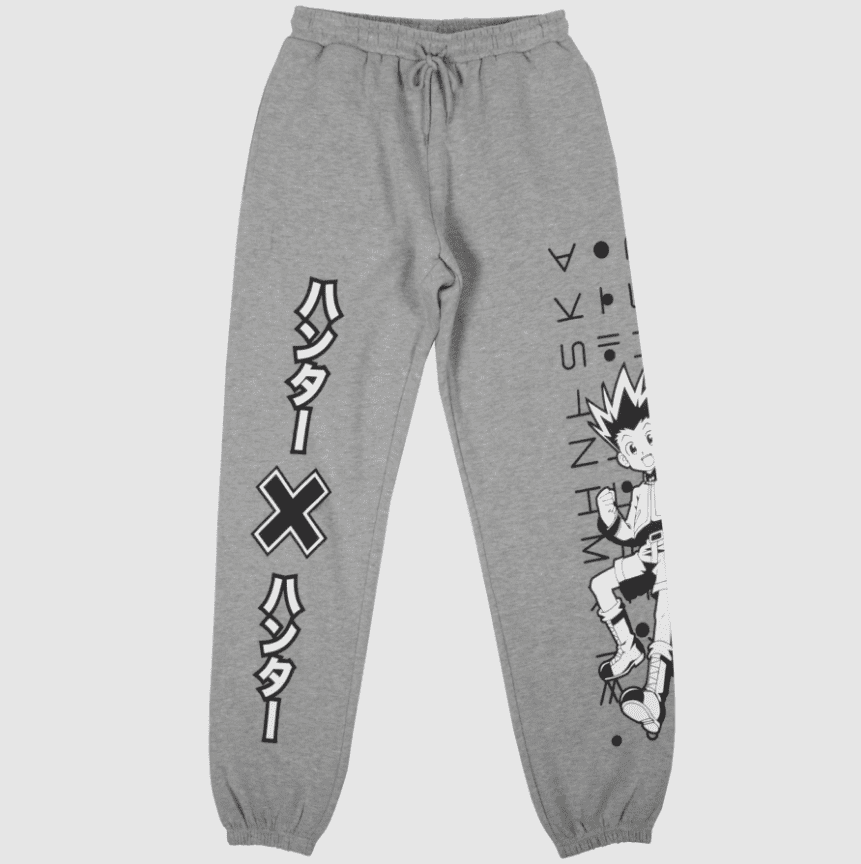 Are you a fan of the anime series Hunter x Hunter? Then why not express your fandom with some fashionable, officially licensed sweatpants?! These Hunter x Hunter green sweatpants feature a black and white Gon Freecss print, making them an undeniably stylish addition to anyone's wardrobe.
Key Specs
Price Range: $70 – $80
Available Sizes: XS, S, M, L, XL, XXL
Pro
Con
They also have an adjustable drawstring waist for all-day comfort, elastic banded cuffs that give it some extra swag, and a relaxed fit that makes it easy to move around.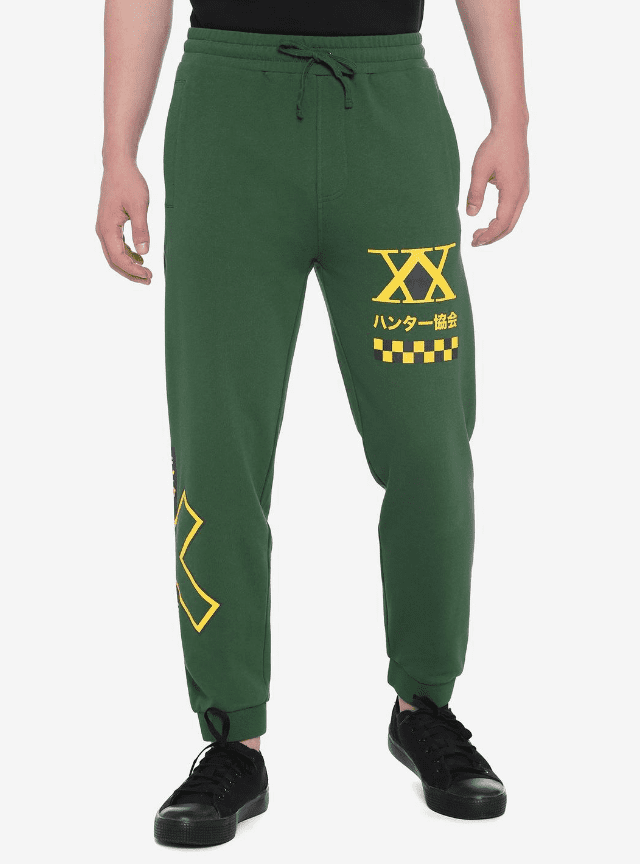 When someone sees a pair of Hunter x Hunter green sweatpants with the yellow logo, they may think it's a bold fashion choice and be hesitant to purchase them. But anyone who knows anything about cool style will tell them to go for it – because these pants have serious street cred!
Key Specs
Price Range: $30 – $40
Available Sizes: XS, S, M, L, XL, XXL, XXXL
Pro
Con
The material feels pretty thin
Not only do they show off company loyalty, but they also feature an iconic combination of colors that will make everyone give you a double-take on your next walk or jog. Any fashion enthusiast would agree that these pants are perfect for showing off your unique personality in any setting.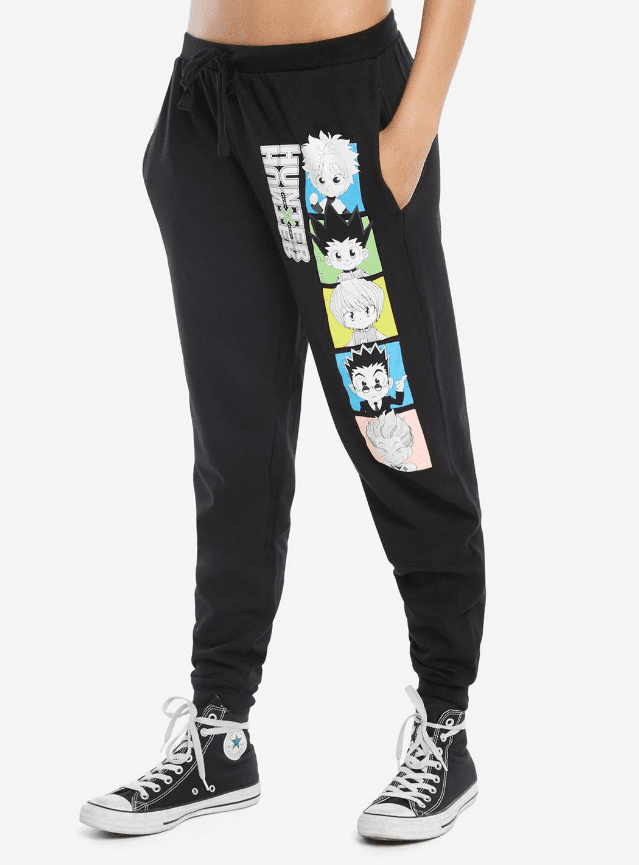 We've all been there: staring blankly at our wardrobe, ready to head out the door, wishing for something effortless yet stylish. But who knew you could find such a look in sweatpants? When you buy a pair of 100% cotton gray Hunter X Hunter girl's sweatpants, you get just that.
Key Specs
Price Range: $20 – $30
Available Sizes: S, M, L, XL, XXL
Pro
Con
Too small for men's sizes
Best of all, these black joggers show the five colorful chibi characters of Gon, Killua, Kurapika, Leorio, and Hosoka down the left leg – an added touch no one will be able to ignore!
These joggers are functional and fashionable, with an elastic drawstring waist and pockets for whatever you need on-the-fly. Remember to wash cold! You'll transform from a loungewear fashionista into a stylish streetwear sensation in a few simple steps.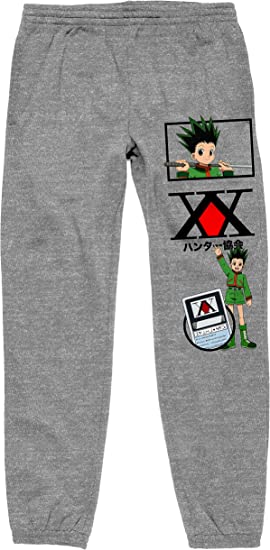 Get comfy while showing your infinite love for Hunter x Hunter simultaneously! Spotlight on your favorite anime character — Gon. Have everyone ogling in astonishment at these stunning men's grey sweatpants emblazoned with his face. Amp up your wardrobe collection with this extraordinary style and strike an eye-catching pose all day long.
Key Specs
Price Range: $20 – $30
Available Sizes: S, M, L, XL, XXL
Pro
Con
Only available in men's sizes
Made from a divine blend of 73% cotton and 27% polyester, these cozy bottoms come with an adjustable elastic waistband to give you that perfect, snug fit. I just wish these came in women's sizes too…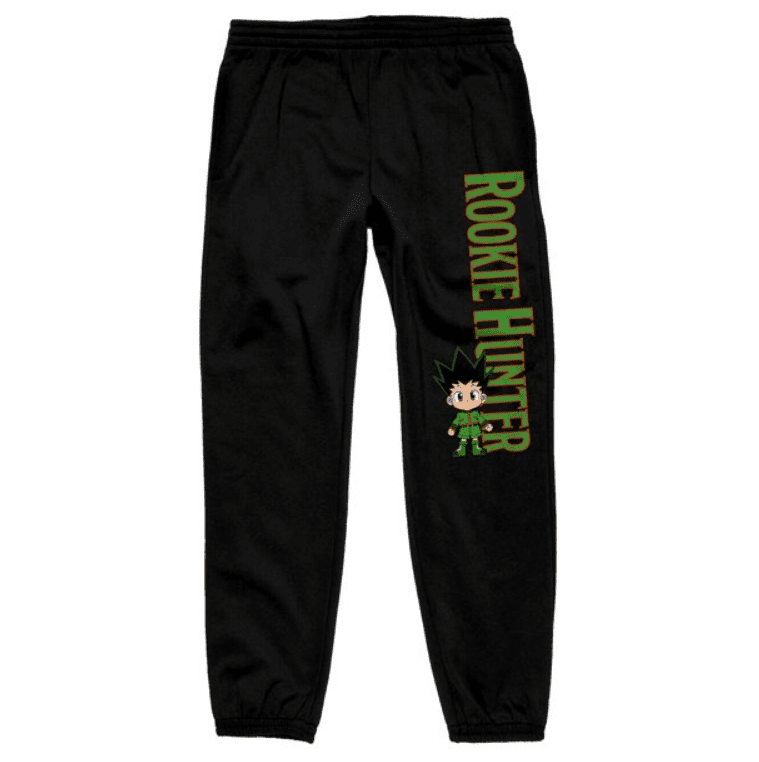 I can't handle the adorableness! If you're looking to make a sweet fashion statement, there's no better way to do it than with a pair of Hunter X Hunter black sweatpants with adorable chibi characters! These chibi-style sweatpants are the perfect way to showcase your fandom while also taking advantage of their uber-cool design and ultra-soft material.
Key Specs
Price Range: $20 – $30
Available Sizes: S, M, L, XL, XXL, XXXL
Pro
Officially-licensed product
Con
Only available in men's sizes
Not only will people look upon you with envy, but you'll also feel like an anime character! Plus, if the weather gets cold, these pants will provide warmth and an excuse for you not to join the famous gang in making snowmen.
Choosing Which Hunter X Hunter Sweatpants to Get
To me, it's easy. Do they look comfy and sport designs from the fandom? Awesome *adds to cart*. But it's not like that for everyone, and I get that. So here are some good things to consider before one-clicking a pair of Hunter X Hunter sweatpants.
Think about Your Wallet
Consider Fit and Comfort
Look for Cool Designs
Check the Durability and Quality
Read Reviews and Do Research
Buy from Official Merchandise Sources

FAQs
Question: Did Hunter x Hunter get canceled?
Answer: It has been announced that the popular manga and anime series Hunter x Hunter will be making its long-awaited return to the pages of Shonen Jump, and the return date has now been specified. Fans of the anime series Hunter x Hunter have reason to celebrate as it was revealed that the series' break would end on October 24, 2022.
Question: Is Hunter x Hunter appropriate for 14-year-olds?
Answer: Hunter X Hunter is generally suitable for 14-year-olds based on its age rating of PG (Parental Guidance). While the series contains some violence, it is mostly in fantasy battles with monsters and not realistic depictions. The themes explored in the show, such as friendship and moral dilemmas, are somewhat mature but suitable for a 14-year-old to engage with
Question: Is Hunter x Hunter similar to Naruto?
Answer: While Hunter X Hunter and Naruto are both popular Japanese anime series, they have some key differences. Naruto follows a young ninja on his journey to become the Hokage of Konoha village, while Hunter X Hunter follows Gon Freecss as he explores the world and searches for his father. Their visuals and animation styles are quite different, with Hunter X Hunter having more complex designs and brighter colors than Naruto's more simplified style.
To Sum It Up
Ultimately, the perfect Hunter X Hunter sweatpants are out there waiting to be found! Whether you're looking for high-quality materials or budget-friendly options, there's a pair of sweatpants that will suit your aesthetic and financial needs. If you want my advice, go with the HUNTER X HUNTER Grey Sweatpants for a sure win. And for even more epic Hunter X Hunter stuff, head to our website!
Find more cool merch below: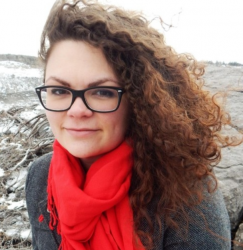 Latest posts by Candace Osmond
(see all)